2015 Belmont Stakes
| | |
| --- | --- |
| Time | 6:40 p.m ET Saturday June 6th |
| Place | Belmont Park Elmont, New York, U.S |
| Distance | 1.5 miles – 2.4 km |
| Field | 8 horses |
| Surface | Dirt |
| Track | Left handed |
| Grade | 1 |
| Age | 3 year olds |
| Prize money | ฿2108 – US$1.5 million |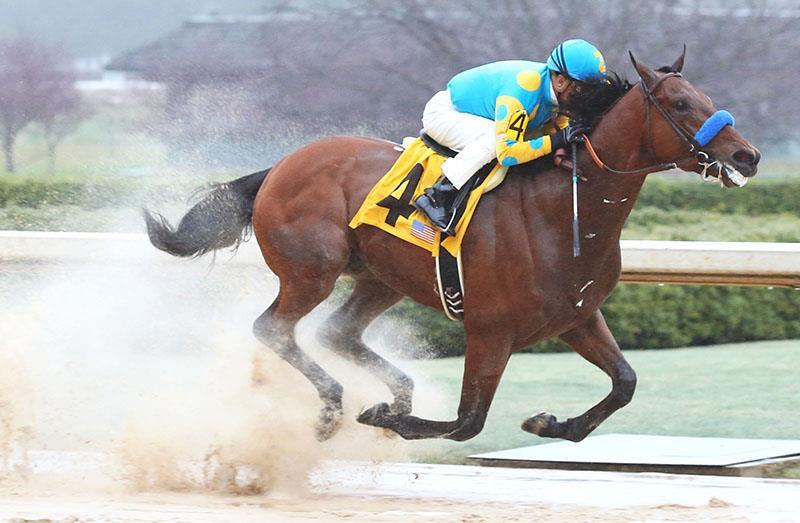 American Pharoah
| | |
| --- | --- |
| Age and Sex | 3 year old colt |
| Country | United States |
| Jockey | Victor Espinoza |
| Trainer | Bob Baffert |
| Gate | 5 |
| Form | W W W W |
| Earnings | ฿15,713 – US$3,730,300 |
| Odds to win | 1.91 (Nitrogen Sports) |
| Odds not to win | 1.83 (Nitrogen Sports) |
The 2015 Belmont Stakes will be the biggest horse race ever in terms of crypto betting. There are 3 main reasons for this
American Pharoah's (gate 5 odds of 1.91 ) shot at the Triple Crown has raised huge interest from the general public.
Crypto is more popular and widely distributed than ever before, meaning more potential punters.
The number and quality of crypto sportsbooks offering odds on this race is higher than ever before.
Where to bet
The best option is Nitrogen. Unfortunately, A lot of crypto sportsbooks are not covering the Belmont Stakes but Nitrogen is with the best odds, fastest deposits and withdrawals and anonymous signup.
It's 1.91 on American Pharoah to win and 1.83 on the field. The longest shot is Frammento (gate 4 odds of 33).
If these decimal odds don't make sense to you see our explanation of decimal, fractional and American odds, or conversion table.
The 3rd leg of the Triple crown
American Pharoah is the 14th horse to win the first 2 legs of the Triple Crown since Affirmed won all 3 legs in 1978. 4 of them were trained by Bob Baffert, the trainer of American Pharoah.
Last year California Chrome looked just as good in winning the Kentucky Derby and the Preakness but failed at Belmont.
All 3 legs are gruelling long-distance races. The reason winners of the first 2 find it so hard to win the Belmont Stakes is that they race against fresher competition. Several top class stayers skip the Preakness in order to specifically prepare for Belmont, which is the longest of all at 1.5 miles/2.4 km.
The Triple Crown sees 3 races in a little over a month. That is as long as stayers usually take to recover and prepare in between 2 races!
Last year California Chrome was obviously out of gas at Belmont and in 2008 Big Brown did not even make the finish line after winning the Kentucky Derby and the Preakness!
If not American Pharoah then who?
Legendary Trainer Todd Pletcher pulled all 4 of his contenders out of the Preakness to give them the best possible preparation for the Belmont Stakes. His runners include
Materiality (gate 8 odds of 6.75) the second favorite.
Frosted (gate 6 odds of 5) a grey who came home strongest in the Kentucky Derby for 4th place.
Madefromlucky (gate 3 odds of 16) who instead of entering the Kentucky Derby won Belmont Park's Grade II Peter Pan on the 9th of May and has not raced since. This is the same route that last year's Belmont Stakes winner took upsetting California Chrome.
Pletcher's are not the only horses with a more optimal preparation than American Pharoah here is a short breakdown of every runner from the New York Times.
The gate draw and weather
American Pharoah has drawn the perfect middle gate 5. In Kentucky, he won from the very difficult outside gate 18. This forced him to run 3 wide of the rail the whole race. He won from the very difficult inside gate 1 in the Preakness which meant he had to lead the whole way to avoid getting pinned in against the fence.
Pletcher's horse's gate well enough except for Materiality in the outside gate 8.
The forecast is for some showers in the morning but fine weather overall and some clouds at race time. So rain and a wet track is certainly a possibility. American Pharoah easily won his last 2 outings on wet tracks and experts say rain and a wet track would be greatly to his advantage.
Prediction
Coming out of the Preakness this was my exact prediction
"3 long distance races in different track conditions (Preakness was a mud pit) in 5 weeks is just too much. Racing is a game of small margins and one of the several top quality stayers that has been specifically prepared for the Belmont Stakes will probably win it away from American Pharoah, most likely one of Todd Pletcher's."
But after the favorable barrier draw, seeing American Pharoah's track work and reports he has gained weight and shows no wear and tear, I think he might actually win this thing!
So I checked the odds on Pinnacle (1.76), Betfair (1.86) and William Hill (1.85) which made me realize Nitrogen has the best odds in the world, and I went for the value. My bet slips went for a total of ฿12 wagered at 1.91 to win ฿10.92.
Incredibly government monopoly-licensed US racebooks are offering odds of 1.6! That is the price of "consumer protection". Thank goodness for crypto.
Have fun betting!
More by Maryam Jinadu

Maryam is a crypto and igaming content writer who has written over 500 web articles since starting in 2018.