The interest in fan tokens has spiked following Lionel Messi's transfer to Paris Saint-Germain (PSG) and news that part of his signing bonus would be paid in fan tokens. But what exactly are fan tokens and why are they making headlines? We'll delve deeper into this crypto phenomenon and examine how Socios.com has captured the fan token market by signing top-flight teams.

What are fan tokens?
To put it simply, fan tokens are a type of crypto that allows fans certain voting rights for their team. Think of it as membership buy-in.
The long version
A cryptocurrency is often referred to as a coin or token, however, there are distinct differences between these 2 terms.
A coin operates on its own blockchain, for example, bitcoin (BTC) operates on the Bitcoin blockchain, while ether (ETH) operates on the Ethereum blockchain.
Tokens are built and used on an existing blockchain and are normally digital assets that can represent proof of ownership or even membership. Tokens are also frequently used as a governance mechanism for voting on specific parameters. They can also hold value, be exchanged, and can represent tangible and intangible assets.
Socios.com has the first-mover advantage
Socios.com had already targeted top-flight teams in 2018. French footballing giants PSG were the first soccer club to announce a partnership with Socios.com in September 2018, followed by Juventus later that same month. West Ham was the first English Premier League team to sign in April 2019. However, West Ham cancelled their partnership in July 2020 due to their fans boycotting Socios.com resulting in not a single token being sold. Fans argued that Socios.com was attempting to monetize supporter engagement.
Prior to the COVID-19 outbreak that ravaged both economies and populations, Socios.com had already signed multiple top teams and proved that their business model was a success. Top-flight endorsements and trend-chasing enabled Socios.com to offer several sports teams attractive proposals.
Alexandre Dreyfus, the company's founder, and CEO explained that team owners determine the price of their specific token, but the revenue from the tokens sold is split 50-50 between the owners and Socios.com.
The team owners also take half the fees (currently 0.6%) charged when fans trade the tokens on Socios.com. These trading fees usually make up about 20% of the revenue paid to the owners.
Soon every top-flight team was clamouring for a price of the action. A fan token partnership would secure additional revenue streams and recoup the immense losses that teams experienced due to dwindling income during COVID-19 lockdowns.
Chiliz and Socios.com
Chiliz, the parent company of Socios.com developed the sports fan engagement platform and built it on their Ethereum-based blockchain infrastructure.
Naturally, Chiliz would want to include their native cryptocurrency ($CHZ) on the platform and that's the reason why you'll first need to convert your government currency to $CHZ before purchasing a fan token.
Chiliz charges micro-fees on trades conducted on the Chiliz Exchange as well as on the Socios marketplace. If you're familiar with exchanges you'll know that a trading fee of 0.6% isn't all that competitive. A hiked fee structure ensures that Socios.com and the team owners earn even more revenue from token transactions.
The Chiliz cryptocurrency currently has a market cap of $2.5 billion.
The politics of Socios.com
Despite their marketing campaign that would have you believe they're championing a noble cause that encourages fan interaction, gives a voice to the voiceless and "creates an emotional connection between the club and its fans" it's nothing more than spin.
The Chiliz site has indicated that soccer clubs intend to use Socios.com as part of their fan engagement strategy to continue to build their global fan bases, particularly in Asia, where the football fan community is experiencing exceptional growth.
The Socios.com CEO has made it abundantly clear in several online interviews that they're in the game to monetize fans.
"My job is to monetize the 99 percent of fans that aren't in the stadium."

Socios.com CEO Alexandre Dreyfus
"Of course it is money-driven, sports teams need to pay their players; players are more and more expensive; therefore you need more and more revenue. We are a new revenue stream – period."
In 2021 alone, Socios.com claims its fan tokens have generated close to US$200 million in revenue, meaning its partners are in line for a share of around US$100 million.
To illustrate how effective fan tokens have been at generating revenue for teams, consider how FC Barcelona generated $1.3 million from the sale of fan tokens in less than 2 hours. PSG made €30 million in a weekend from their fan tokens after signing Messi. According to former Barcelona presidential candidate Victor Font, the revenue from the PSG fan token has effectively covered the first year of Messi's contract.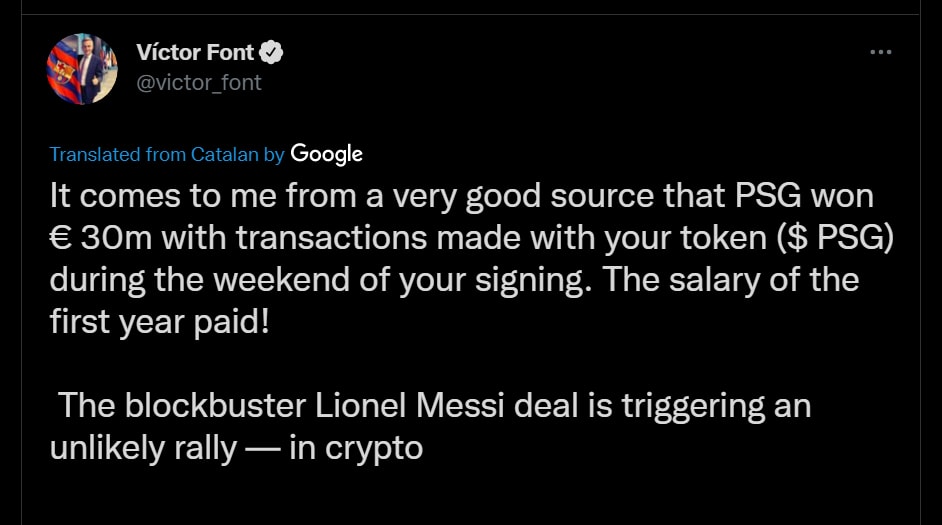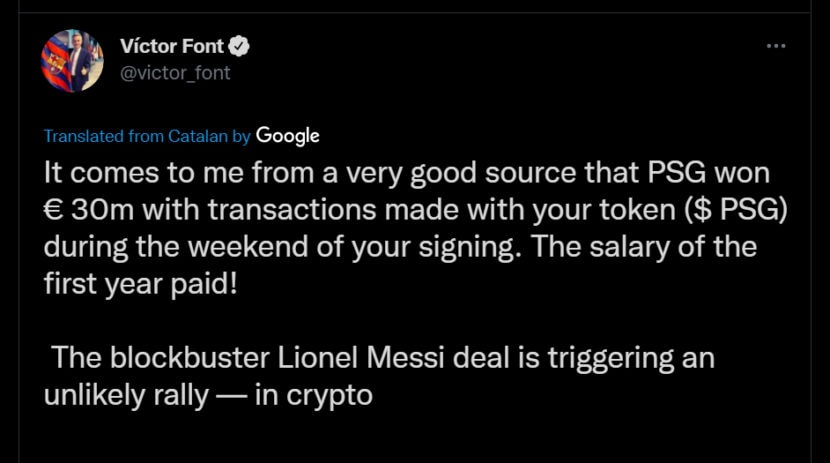 What's in a name?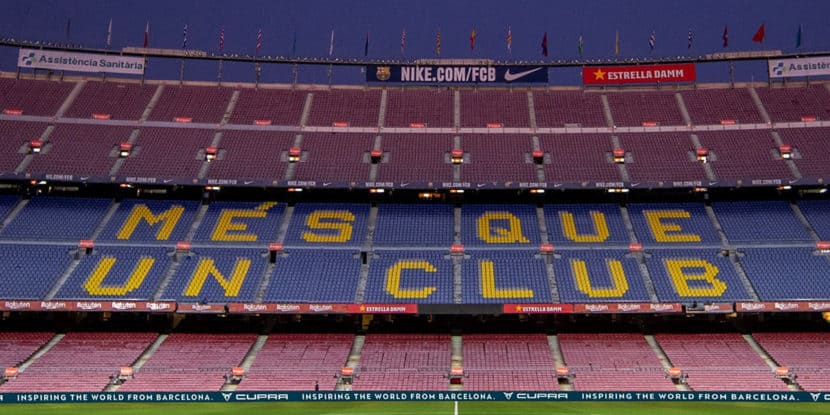 Socios commonly refers to club members in Spain. The word "Socios" means partners in Spanish and denotes the fans that form an assembly of delegates, which is the highest governing body of the club. The Socios pay an annual membership fee (usually several hundred dollars) and in exchange, the members receive benefits such as the right to vote on club issues and apply for season tickets which are reserved solely for socios.
The Socios are also in charge of electing the president and the board of directors at these clubs. There are currently 3 member clubs, namely Real Madrid, Athletic Bilbao, and CA Osasuna. FC Barcelona used to be a members' club in the true sense up until they signed away some of their members' rights by joining Socios.com.
As you can see there are several correlations between the membership model of a team such as Barca and Socios.com. Over and above the model, the company also lifted Barca's Catalan motto, "Més que un club" (More than a club), to create their strapline, "Be more than a fan".
Opposition to fan tokens
As mentioned above, West Ham cancelled their partnership with Socios.com following opposition from fans and the Football Supporters Association (FSA), which helped the Department for Culture, Media and Sport draw up guidelines for clubs to engage with fans.
West Ham fans argued that Socios.com was attempting to monetize supporter engagement, something they felt the club should be doing for free. "We hope another fan opinion exploitation scheme is never entered into by WHUFC and that our club will start to meaningfully engage with supporters going forward," said the West Ham United Independent Supporters Association.
The FSA said: "Socios attempts to monetize fan engagement which the leagues and clubs have committed to doing for free. There should be no financial barrier to engaging with your football club."
Malcolm Clarke, chair of the FSA, said the clubs are either trying to make money from allowing fans a say in how clubs are run or "they're trying to squeeze extra money out of supporters by making up inconsequential 'engagement' online polls."
Socios.com CEO, Dreyfus' rebuttal was that the West Ham fans' campaign, "Don't Pay To Have Your Say" was unsubstantiated.
"The messaging of 'we have to pay to have a say' is not true." He went on to defend Socios.com:
"The people already engaging in a traditional way (season ticket-holders and club members) get a token for free."
"Some people – just in the UK – are complaining because for the first time, they have a say and it's thanks to us."
According to Dreyfus, charging Socios.com users for influence "makes sense". "Me giving my say in something that matters – of course, it has a price. It's valuable."
The pros of fan tokens
Fan tokens allow a fan to access a variety of fan-related membership perks ranging from voting rights to rewards.
Voting on club decisions
Some of the fan-led decisions include the likes of picking:
A kit design.
The man of the match.
A team's new bus design.
A new goal celebration song.
A motto for the dressing room.
A message for the captain's armband.
The merchandise featured in a season.
A name for the team's training ground.
A team's destination for a pre-season tour.
Earning unique rewards
The more tokens a fan purchases, the higher their fan ranking, which correlates with different reward tiers. The end goal is for a fan to purchase the maximum amount of tokens as specified by the team or club to be entered into a draw for a chance to access the biggest VIP benefits on offer.
The base tier offers:
Exclusive discounts on merchandise.
The top tiers offer the chance to win:
Free home match tickets.
Guided stadium tours.
Signed official merchandise.
VIP box experiences.
Pre-match, pitchside viewing.
Meet the team experiences.
Exclusive content
Token-holders also have the opportunity to gain access to exclusive augmented-reality games, prediction games, and match-day challenges.
Trading fan tokens
Fan tokens can be traded on the Chiliz Exchange and the Socios marketplace. This allows fans to sell their tokens for a potential profit if the value has risen or they can opt to trade their tokens for another fan token.
The cons of fan tokens
Several disadvantages of fan tokens have been highlighted by the FSA and fans ranging from fan monetization to the futility of voting polls.
The more tokens a fan has, the more votes they get in the polls
The fact that a fan can hold more than one vote defies the basic principle of a voting system. A fan can cast as many votes as the number of tokens they hold, up to a certain threshold as prescribed by the club or team.
This creates a scenario where one fan with multiple tokens can definitely 'be more than a fan' when compared to another fan that only holds a single token.
Trivial polls only
The more tokens a fan holds, the more power they have in their vote. These are by no means major decisions like the signing of players, but mainly trivial decisions.
"These kind of small things, are they gimmicky? Yes, sometimes they are, but it's still more than what you had the day before."

Socios.com CEO Alexandre Dreyfus
It's important to note that some Socios.com polls are binding whereas others are non-binding. Non-binding polls grant the teams the right to reject the poll's result.
Ultimately though, the polls are decided upon by the clubs which dictates a definite power dynamic where the clubs only give fans the option to vote on something the club doesn't hold in high regard.
Fans are being monetized
It's been made abundantly clear that the main objective of Socios.com is to monetize fans. The true supporters of the teams who supposedly embody the spirit of a team are viewed as an additional revenue stream to stave off perceived financial woes created by the COVID-19 pandemic.
The combined European soccer market contracted by 13% in 2019/20 as overall revenues fell by €3.7 billion to €25.2 billion, the first reduction in revenues since the global financial crisis in 2008/09.
Season ticket holders and stadium goers are less important
According to Dreyfus, "We are not targeting the guy who has a tattoo and is a season ticket holder. Our clients are the guys who will most likely never go to the stadium and yet dream about the team but were born in Korea, Japan, Turkey, or Brazil. Not acknowledging them is discrimination."
International fans have the majority vote about matters that the stadium fans inevitably have to accept and endure. A perfect example of this is the Juventus poll that resulted in the goal music being changed to Blur's Song 2.
Your money, your choice
Naturally, the subjective merit of fan tokens differs from one fan to another. At the end of the day, it's up to the fan to weigh up the pros and cons in order to make an informed decision. It's vital to ask the pertinent questions; Are sports clubs and teams exploiting their fans' devout support for fiscal gain? And are you willing to play along or not?