I followed the Socceroos around the world to 4 World Cup qualification playoffs and the finals in Russia. I paid for it all with crypto I won betting on the games! See the introductory post for details.
2018 FIFA World Cup Asian playoff
October 5th 2017
Hang Jebat Stadium, Melaka Malaysia
Syria 1 – Australia 1
~
October 10th 2017
Stadium Australia, Sydney Australia
Australia 2 – Syria 1
State of play after the 1st-leg
The expenses
Expenses of the 2-leg trip total 886 m฿.
The bets
I won 448 m฿ on "Double Chance: Draw or Australia" bets in the 1st leg. This leaves me with 438 m฿ left to win in the 2nd leg to cover all expenses.
As pictured below, I have bet on "Australia to qualify" risking 2826 m฿ to win 438 m฿. I got the bet on before the 1st-leg at odds of 1.155. The same bet is now up at 1.11.
Just like my bet in the 1st leg, this means I have a value bet with positive expectation so I am happy with the bet no matter what the end result.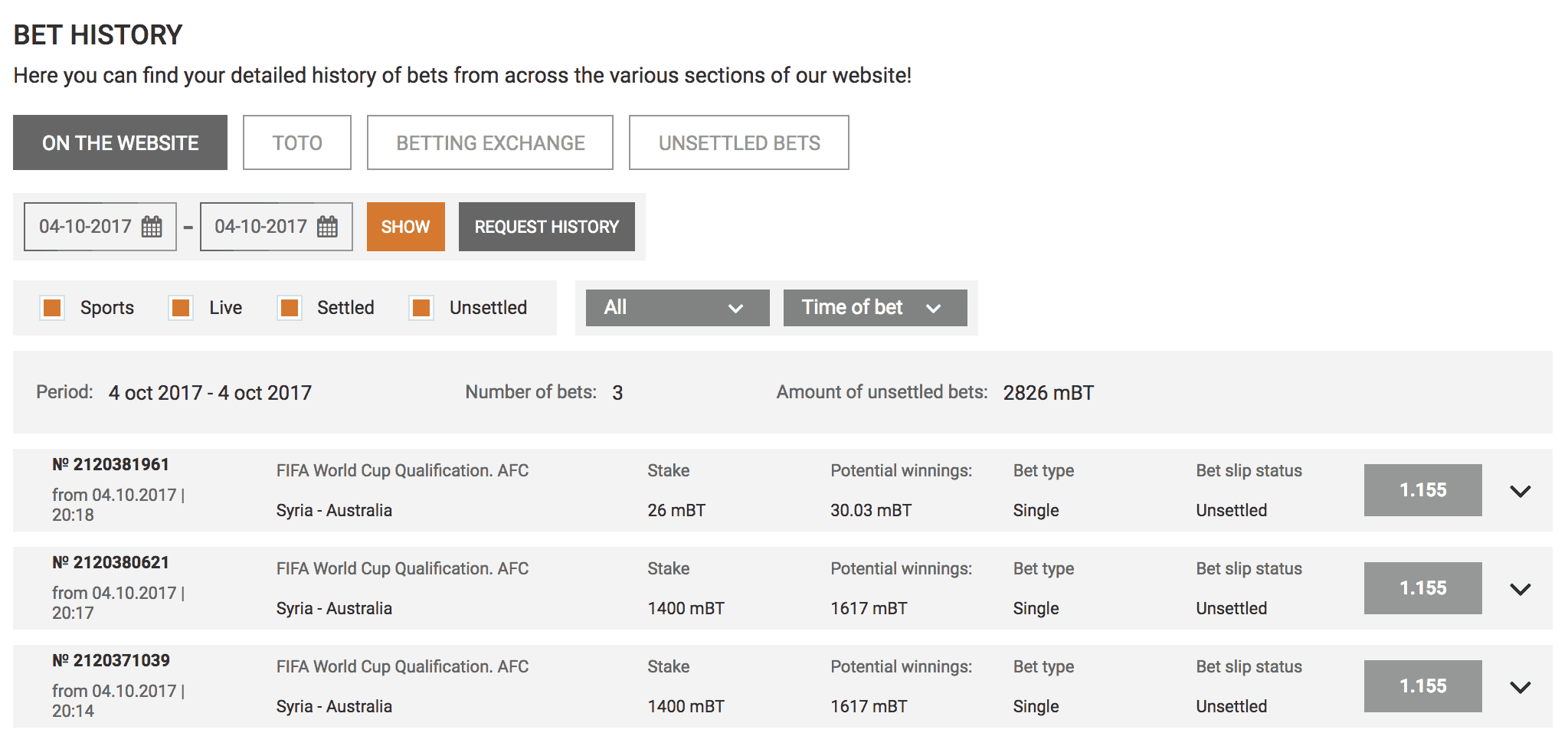 If this bet loses I will be far more disappointed from a football perspective than I will be about the money. Watching a World Cup without Australia would be a hollow experience.
If Australia play like we did in the 1st-leg and scrape through on penalties or a 0-0 draw I am not sure I can bet on them to win the intercontinental playoff. It will depend on;
The opponent (Honduras, Panama or USA).
The odds.
If we change coaches.
At the moment, we are not up to it.
The football
The 1st-leg ending as a 1-1 draw means the following.
Australia qualifies if:
Australia wins or a 0-0 draw.
Extra time and penalties if:
1-1 draw.
Syria qualifies if:
Syria wins or draws with more than 1 goal per team, like 2-2.
The last 7 Asian World Cup qualification playoff games have all been draws!
Syria has 3 top players suspended due to yellow card accumulation, and Australia has none. The Socceroos had a chartered flight home and will have optimal preparation for the deciding game.
However, the Syrians may be in a more positive state of mind. They were pleased with the 1st-leg and feel like they have momentum on their side. Whereas the Socceroos were disappointed with the 1st leg and show signs of self-doubt.
All the pressure is on Australia who are expected to advance and will be considered failures if they don't. Syria's campaign will be considered a success no matter what happens so they have nothing to lose and no pressure.
I expect Australia to qualify, mostly due to Syria's 3 suspensions. I feel like in one of these games it's going to click and come together for the Socceroos. If not, we need to sack the coach. Now would be a good time for either thing to happen.