I followed the Socceroos around the world to 4 World Cup qualification playoffs and the finals in Russia. I paid for it all with crypto I won betting on the games! See the introductory post for details.
I did it!
My betting strategy for matchday 2 was to martingale to win 50 m฿ on double chance draw/underdog. This means I win 50 m฿ if the result is either a draw or underdog win. If that bet loses I carry the loss forward to the next game and bet to win the amount I had lost, plus 50 m฿.
Chasing your loses is generally not a good way to make sustainable long term profit. If you don't have a stop loss you can lose your whole bank roll. Despite that I thought martingaling suited this particular project because
The games are not simultaneous (except for matchday 3).
There are enough draws and underdogs wins.
The value is usually on the draw or underdog.
Having a stop loss meant I would not go busto.
At the start of matchday 2 I was 150 m฿ short of my goal, meaning I should have only needed 3 draws or underdog wins to achieve it. However, it turned out to be more complicated than that.
Missclick
When my strategy called for a ฿0.0090000 bet, I accidentally bet ฿0.090000. I did not realize until after the bet lost, meaning I lost 81 m฿ more than I should have.
This was my fault but there are a couple of things Nitrogen (the sportsbook in question) should have done which would have prevented this.
Give users the option to bet in m฿ rather than full bitcoin amounts. The vast majority of crypto sportsbooks do this.
Offer double chance bets. I had to calculate and build my own double chance bets by making 1 bet on the draw and another bet on the underdog. Juggling the stakes and winnings between the 2 bets to get the right win on both results was fiddly, annoying and prone to human error.
When you manually make a large number of bets missclicks can happen, just ask online poker pros.
For this project I have made 214 bets, totaling 8340 m฿ at 5 different sportsbooks. So 1 missclick for a cost of 81 m฿ is not unreasonable, and it has turned out to be the only hiccup in the whole project.
When I realized my error I briefly considered making a special makeup bet outside of my betting strategy to win the 81 m฿. Instead I decided to continue the same strategy for longer. Since I was going for 50 m฿ per win, I would have to get 2 more wins.
Enough draws and underdogs won
Without the missclick I would have needed 3 games to result in a draw or underdog win, with the missclick I needed 5. The 5th and final win came when Japan and Senegal drew in the 2nd last game of matchday 2.
I was relieved because the martingale's accumulated loss was getting high and it would have been difficult to continue it into matchday 3, due to the simultaneous games.
My total expenses for the tournament were 629 m฿ and I was already up 480m฿ at the start of matchday 2. These were the matchday 2 bets (all figures in m฿, click on the number to see the full bet slip)
Underdog
Favorite
Draw/underdog bet
Egypt 1
Russia 3

-55

Morocco 0
Portugal 1

-71

Saudi Arabia 0
Uraguay 1

-43

Iran 0
Spain 1

-56

[1] [2]*
missclick

-81

Australia 1
Denmark 1

275

Peru 0
France 1

-31

Croatia 3
Argentia 0

80

Brazil 2
Costa Rica 0

-12

Nigeria 2
Iceland 0

62

Switzerland 2
Serbia 1

50

Tunisia 2
Belgium 5

-21

South Korea 1
Mexico 2

-58

Sweden 1
Germany 2

-78

Panama 1
England 6

-58

Japan 2
Senegal 2

264

Total
156
* This is the amount I should have lost in my betting strategy. The additional amount lost due to the missclick is counted on the next row.
So for the tournament I have achieved a betting profit of 644 m฿. That's more than I spent on the whole trip!
Australia 1 – Denmark 1

As usual Australia created enough chances (the lack of chances against France was the exception not the norm) but lacked quality on the final ball and lacked the killer instinct to score.
The draw was enough to keep Australia alive in the tournament meaning our last group game will be very exciting. This meets my minimum expectations as someone who bought tickets for Australia's 3 group games.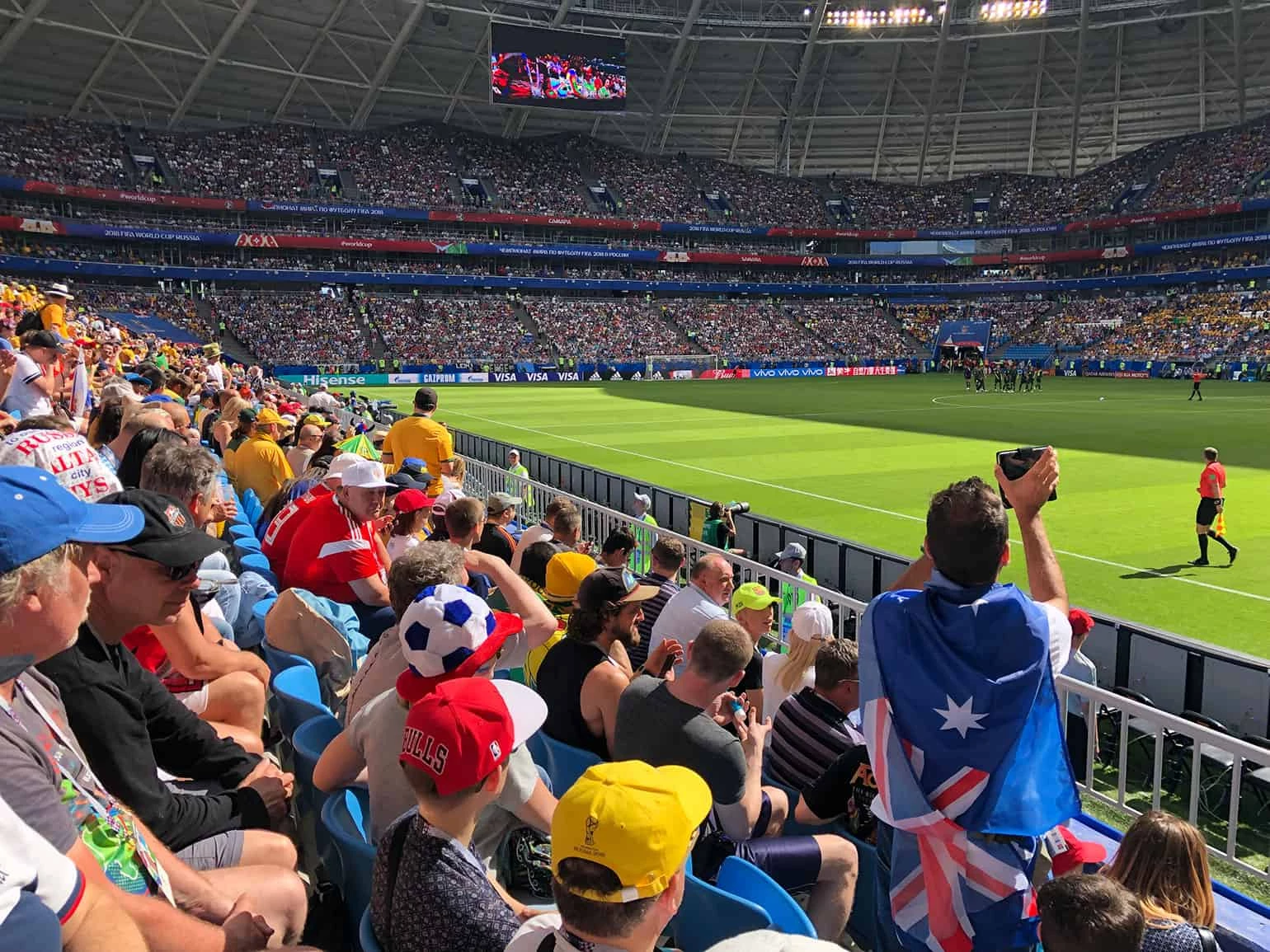 The city of Samara
Samara is the stereotypical rough old soviet cityscape that would have been depressing to live in when it was a closed city during the communist years. This is the only place I have been in Russia where the authorities felt the need to put large screening fences up to block visitors from seeing old dilapidated buildings.
In 2018 the soviet kitsch has a lot of charm (when visiting in summer, not living here in winter). Spending time in Samara is a fun adventure because it is the "real" Russia, well off the tourist trail.
The new stadium is magnificent but it's quite far from the center of the city. One gets the impression it might be underutilized and fall into decay unless the local soccer team becomes a real powerhouse and the city grows in that direction, both of which are happening!