I followed the Socceroos around the world to 4 World Cup qualification playoffs and the finals in Russia. I paid for it all with crypto I won betting on the games! See the introductory post for details.
Betting
Let's revisit a betting strategy I laid out in Matchday 1 preview. I identified 21 teams that I thought could not win the World Cup. The betting strategy is to martingale against each of these eventual losing teams individually until they lose or draw a game.
These were the teams
Australia
Costa Rica
Denmark
Egypt
Iceland
Iran
Japan
Mexico
Morocco
Nigeria
Panama
Peru
Poland
Russia
Saudi Arabia
Senegal
Serbia
South Korea
Sweden
Switzerland
Tunisia
Every one of them lost or drew in the group stages meaning the martingales would have all won.
The tricky part would have been deciding what bet to make when 2 of these teams played each other. Whatever you did in those games, the fact you avoided the martingale disaster of 1 of these teams winning 7 games in a row, means you would have made a healthy profit.
You could avoid your eventual losing teams playing each other by picking 1 team per group to bet against. There would be no way for 2 of your eventual losing teams to play each other until the quarter finals.
I might implement this strategy in this year's Champions League or Asian Cup.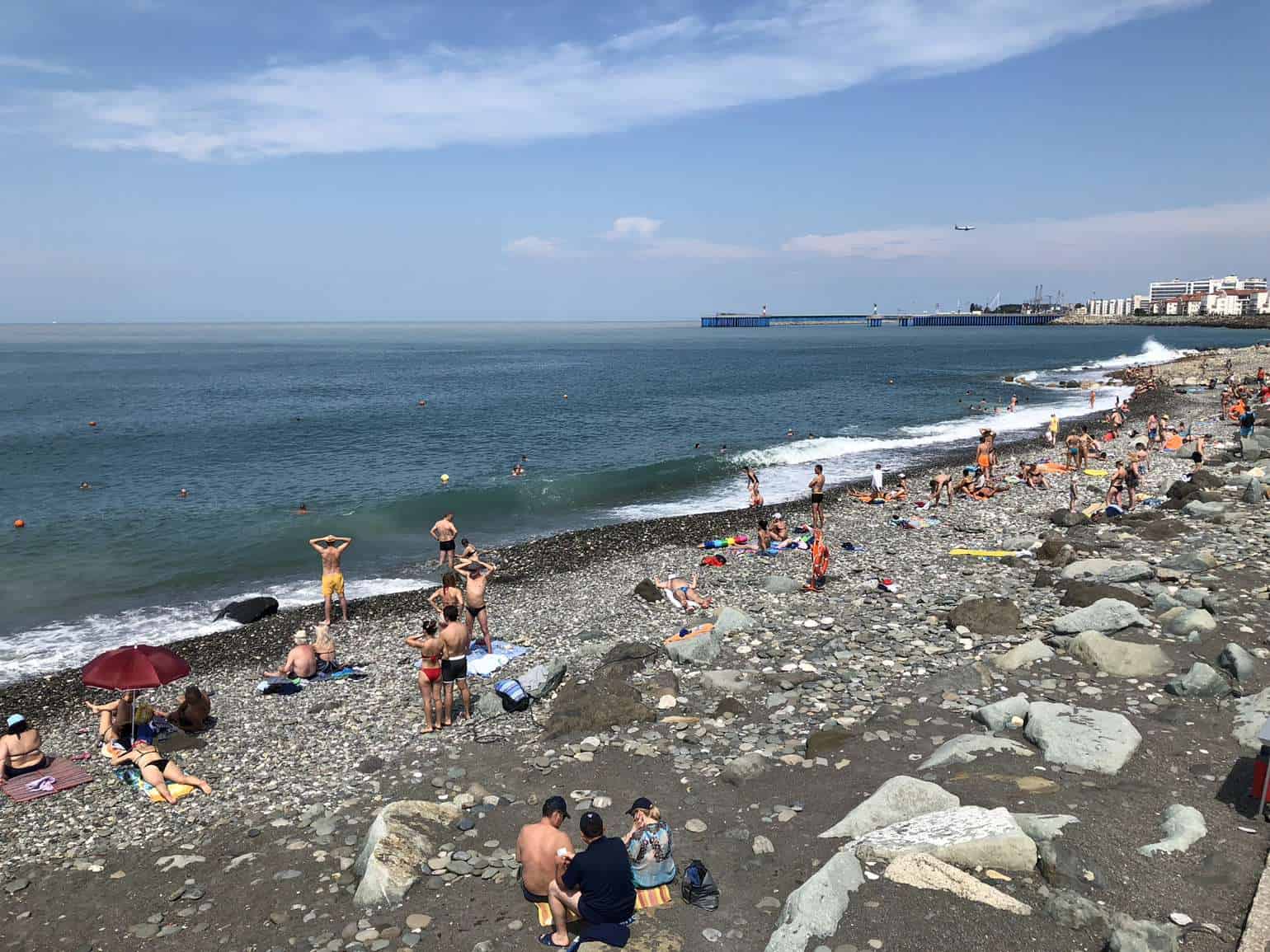 Sochi
More like Sochifornia! Green snow caped mountains plunging to a warm coastline, outdoor activities in abundance and smiling people. What a nice change from the rest of Russia!
Sochi works. It works as a summer resort town and as a winter ski destination. The Olympic precinct works, it is not a white elephant, it's used year-round for tennis, ice hockey and football as well annual events like the Formula 1 Grand Prix and special events like the World Cup.
Caucasus cuisine is delicious, with Mediterranean and middle eastern influences like fried chesse, flat breads and dips.
The stadium was very good but not perfect due to FIFAs meddling. Normally the stadium has seating for slightly fewer than FIFAs minimum 40,000 people. Organizers had to add temporary seating to meet FIFAs arbitrary demands, which meant they had to raise the big screens making them partially blocked off by the roof beams from some seats.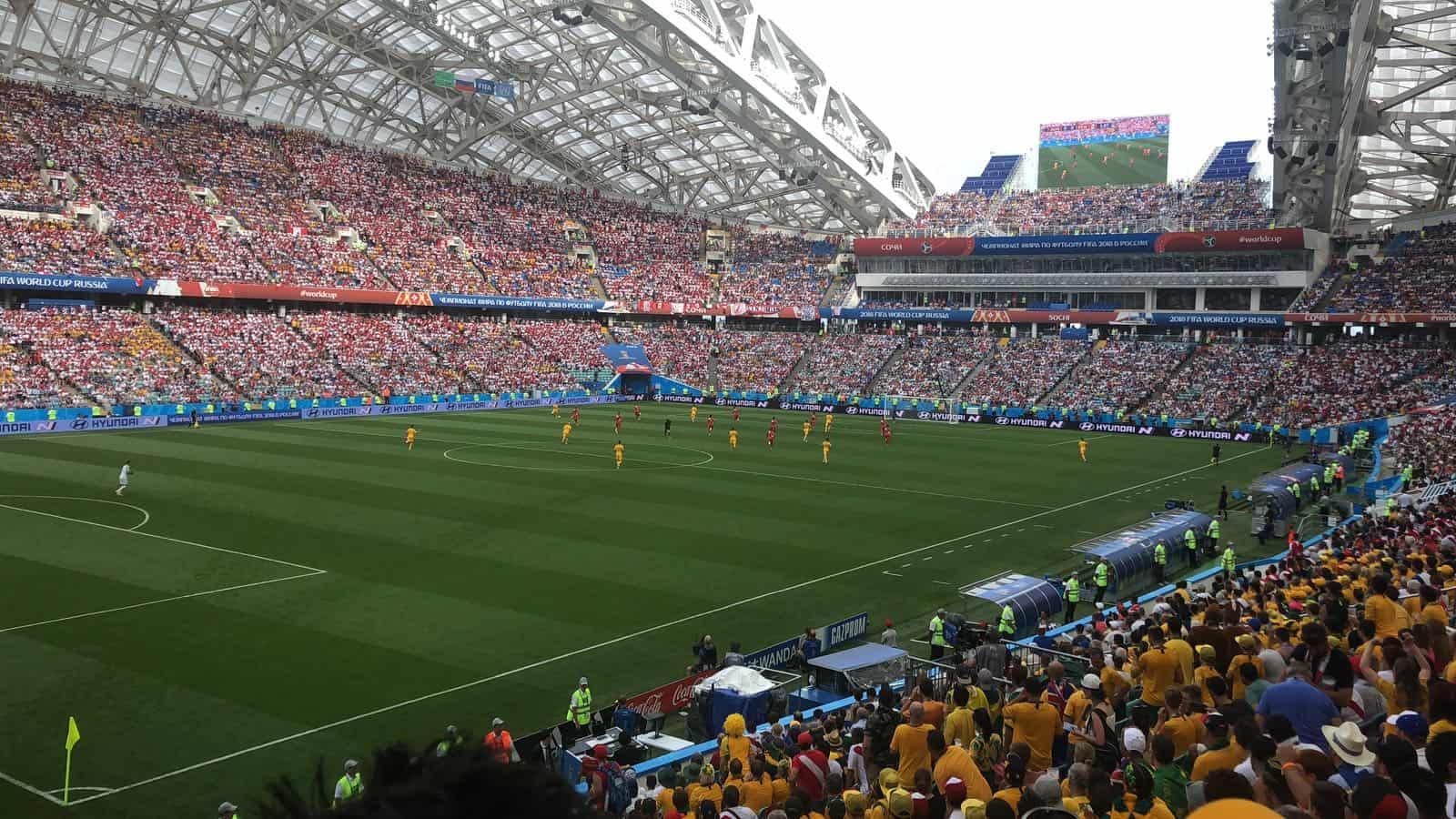 Australia 0 – Peru 2
Australia has long had problems scoring goals from open play. There is no killer instinct and no quality on the final pass, or the shot. Peru threw this into stark relief by providing a clear contrast with 2 goals that were exactly what Australia is missing.
As much as people want to talk about style of play, football philosophy and foreign managers; it's our inability to put the ball in the back of the net that caused our failure to qualify directly for the World Cup and our failure to get out of the group.
Good on Peru, they were a better team throughout the competition and it meant more to their fans. However, Peru does not need World Cup wins to be a great soccer mad nation, Australia does.