Pros
Enjoyable slots offering.
Table games integrate well.
Cons
2x turnover on deposits.
Clunky website.
Poor live dealer experience.
Privacy and security
6/10
Buff.bet are a crypto sportsbook (review) that also run a full featured casino.
If you're looking for a slots or table games casino, Buff.bet is a decent option. However, the live dealers are buggy and almost unusable on mobile devices.
Players also have to turnover their initial deposit twice before being able to withdraw. Other crypto casinos don't have such stringent rules.
Slots
Range: Huge, over 1500 slots from 15 providers.
The first thing we noticed playing slots was that your balance doesn't update with each spin. Some games do have a balance amount shown within the slot itself, which helps, but generally this is a tell tale sign that the integration isn't great.
That aside, the slots do work well and run smoothly on desktop and mobile.
Some games are geoblocked for regions that Buff.bet do allow sign ups from. These aren't filtered out automatically which can get frustrating when you click on your third blocked game in a row.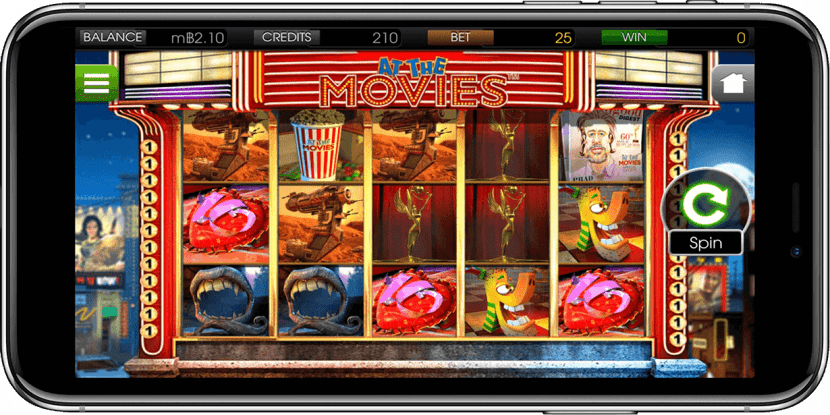 Live dealer
Range: Ezugi, TV Bet and Evolution provide a good range of live dealers.
There are a few bugs when choosing which provider to play with. We weren't able to load TV Bet due to location issues, however rather than being told that the site just crashed, leaving the player guessing as to what is happening.
The games run well on desktop, but your balance doesn't update without a manual refresh of the page.
On mobile the games become a real struggle to play. The banners at the top of the page overlay the actual game, meaning you have to keep scrolling up and down to view what is going on.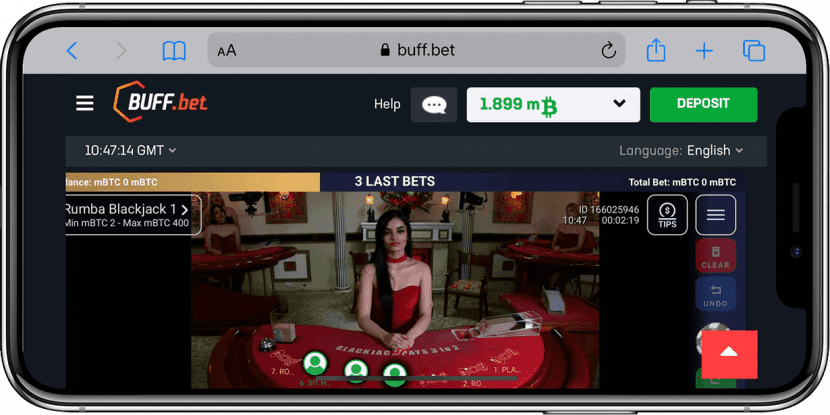 Table games
Range: Medium – enough to keep you entertained on a range of games.
Tables games are merged in with slots on the casino page, meaning you have to search for each one individually rather than being able to scroll through the whole list.
Everything works within the games. However, again, the balance is slow to update.
Table games are integrated well on mobile, allowing you to play in full screen mode – unlike the live dealers.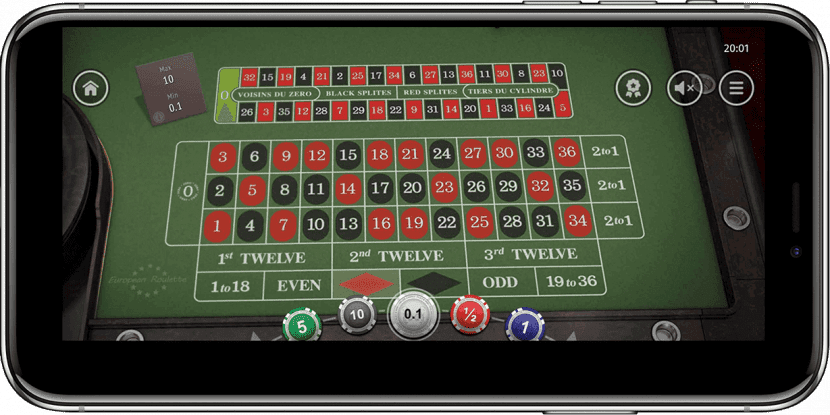 Transactions
Unique deposit addresses: Not available.
Confirmations before play: Instant.
Withdrawal time: Half an hour.
Player to player transfer: Not available.
You are required to turnover any deposit twice before withdrawal becomes available. For example, if you deposit 1 m฿ you would need to bet 2 m฿ before you could take back any of your money. Very few crypto sportsbooks have such harsh rules in place.
Amounts are denominated in Euros, meaning you have to work out how much that is in crypto. For example, minimum withdrawals are €15. This adds an extra layer of hassle for crypto users.
Customer service
Customer service channels available: Live chat.
Speed of replies: Instant.
Accuracy of replies: Not too bad – staff are generally knowledgable. You do tend to get a lot of responses copy and pasted from the site terms. This makes answers quite dry and long winded.
Real life customer service test
Question: Without any bonus, would I need to roll over my entire deposit before withdrawal?Answer:
8.4.6 You agree that prior to requesting a withdrawal of any deposited funds, you should place bets at least cumulatively equal to two times the amount deposited. This rule applies to each individual deposit you make.

This is rule for deposits without bonus activation.
Privacy and security
Information required at signup: Email address and country.
2 factor authentication: Not available.
Buff.bet does suggest identity verification may be required, in line with anti-money laundering rules. We weren't asked to provide any documents, but be aware that this could happen to you.
Geo-targeting
Players in the following countries are geo-blocked by Buff.bet:
Australia
Austria
Bulgaria
Germany
Slovakia
United Kingdom of Great Britain and Northern Ireland
United States of America
Bonuses
Make your first deposit entering the bonus code below and receive:
GET100 – a 100% bonus up to 100 Euro or any other currency equivalent.
GET125 – a 125% bonus up to 125 Euro or any other currency equivalent.
GET150 – a 150% bonus up to 150 Euro or any other currency equivalent.
FREESHOT – a stake refund up to 25 Euro if your first sports/esports bet loses.
Overall
Buff.bet's slots and table games are fun to play, however if you enjoy the live dealers this isn't the casino for you. While functional, nothing really stands out above other crypto casinos. When you consider there is a 2x deposit turnover as well, then Buff.bet becomes an even less attractive option.
Buff.bet aren't a bad casino, but there are better options available.