There are dozens of famous big budget films set in Las Vegas (for example Ocean's 11 or Showgirls) or that have 2 or 3 gambling scenes (for example Rain Man or Casablanca). They are not in this list.
We only include casino movies that really are about gambling, in which casino gambling is a central part of the storyline and featured in multiple scenes.
All these movies have quality seeded torrents available. Also see our comprehensive list of:
Let us know what you think of these films, or if we have missed any, in the comments.
Croupier (1998)
Rotten Tomatoes rating 98%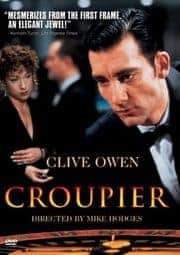 Croupier is a neo noir film featuring voice over narration in the style of old private detective movies. The story centers around Clive Owen, an intelligent, cold hearted casino croupier who is writing a novel but getting nowhere in his dingy below ground London flat.
As a thrill seeker he enters into a sexualy charged relationship with a wealthy gambler who offers him £20,000 to take part in a robbery at the casino. Eventually he publishes his book anonymously but despite its success he stays in his dead end job and dingy flat.
The film gained a cult following in the US and launched Clive Owen's career as an international star.
Mississippi Grind (2015)
Rotten Tomatoes rating 91%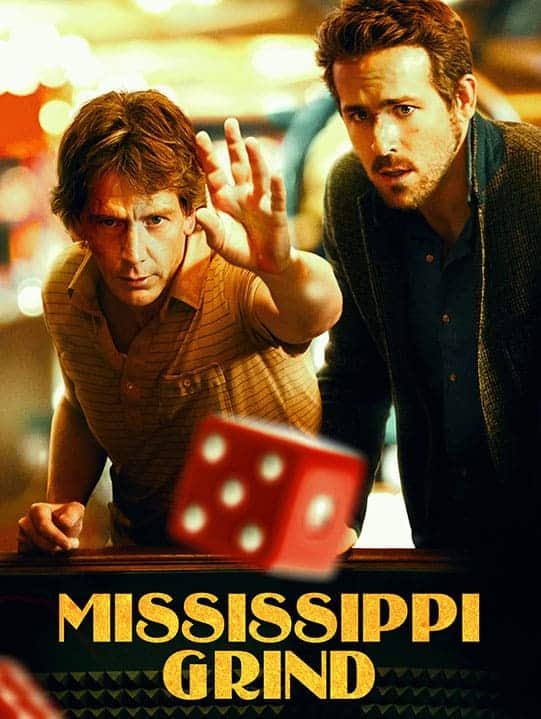 Mississippi grind is a wild ride. It follows 2 degenerate gamblers on a gambling road trip from Iowa to New Orleans. One is a charming conman and the other is a loser who is very good at poker.
The poker scenes are excellent, they are far more advanced than those in most films. It's frustrating watching someone good enough to make a living playing poker, never getting ahead because of addiction to negative expected value gambling like racing and casino bets.
The film culminates in an epic gambling binge in New Orleans and you are not sure until the end whether the pair will win big or lose it all. This film really gets the feeling of gambling better than most.
The Gambler (1974)
Rotten Tomatoes rating 86%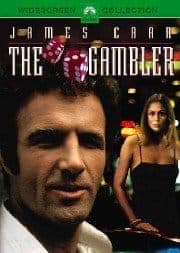 James Caan is great in this film about a brilliant college professor's fall into degenerate and self-destructive gambling addiction (he was in the grips of real life cocaine addiction at the time).
His life spirals downward to the depth of depravity, including losing big in flee ball gambling den brothels. But he is actually at the wheel and controlling it, which highlights what most people don't know about manny problem gamblers; they want to lose in order to punish themselves out of guilt.
There is a newly released version starring Mark Wahlberg which we review bellow.
Bay of Angels (1963)
Rotten Tomatoes rating 85%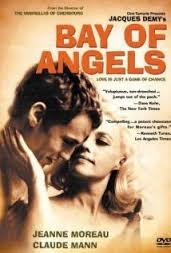 Bay Of Angels is a black and white French film shot in the casinos, hotels and beaches of Nice and Monte Carlo. It follows a frustrated Parisian bank clerk with an overbearing and risk averse father. He is seduced by a winning gambling session to seek out risk and excitement by leaving home to gamble on the riviera.
Once there he rides a rollercoaster of big upswings and downswings but more importantly he falls in love with a compulsive gambler and difficult woman. A highlight for me is when she says…

"Gambling attracts me by its absurd mixture of luxury and poverty"
The Big Town (1987)
Rotten Tomatoes rating 85%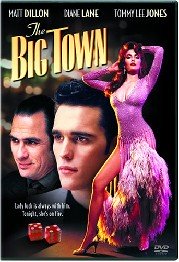 A young and dashing Matt Dillon stars as a midwest craps shooter who movies to Chicago to turn professional.
I thought that sounded ridiculous but apparently in the 1950s there was a thing called heads up craps where players made side bets between themselves separate from the house. The odds of these side bets were negotiated between the 2 parties so the strategy was to get someone betting on instinct and emotion to take your bet at 50-50 odds when the true probability was in your favor.
Of course these games were illegal which provides for the drama, intrigue, sex and violence. Such as a game taking place behind a stip club leading the star to fall in love with a stripper who turns out to be the wife of a gangster (played by Tommy Lee Jones) who they double cross and all that kind of thing.
Hard Eight (1996)
Rotten Tomatoes rating 83%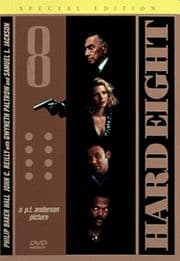 Hard Eight is a neo noir film about a veteran Las Vegas operator named Syd who meets a young desperado named John at rock bottom. Syd takes John under his wing, showing him some tricks and ways to keep afloat in the casinos and John becomes his protege. Things go awry when John falls for a waitress/prostitute and befriends a violent "security guard".
There is a whole lot of casino gambling going on by the film's stars John C. Reilly, Gwyneth Paltrow and Samuel L. Jackson with an appearance from Philip Seymour Hoffman. It was the directorial debut for Paul Thomas Anderson who went on to make There Will Be Blood.
Owning Mahowny (2003)
Rotten Tomatoes rating 79%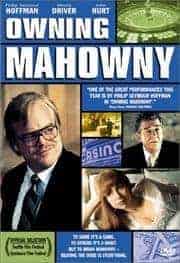 The amazing true story of a tight spending Bank of Canada employee who embezzled more than 10 million dollars of the bank's money to gamble. First on sports, then at the casino tables in Atlantic City and Las Vegas. It's not a fun Ocean's 11 style romp through stealing from the bad guys and glamorous VIP casino rooms, it's a gritty look at addiction and deceit.
The most amazing thing is how easy it was for the gambler to get the bank's money. He had a job that saw him working between and around many different branches meaning no one person could observe the irregularities.
The Cooler (2003)
Rotten Tomatoes rating 77%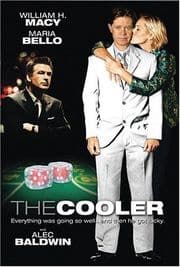 The Cooler is about an unlucky, downbeat player whose mere presence at the tables rubs off on other gamblers, causing them to lose. Bernie is such a cooler he is hired by the casino to put out other players winning steaks. He lives a dreary life in a crummy apartment paying off his gambling debts.
All this starts to change when he falls in love with a beautiful Las Vegas cocktail waitress. As he becomes happier he does not have the same unlucky effect on other players, which his boss is not happy about.
Alec Baldwin as the Casino boss is charismatic and funny with a huge screen presence. He steals the show with a subplot about the Disneyfication of Las Vegas from classy mob town to generic family vacation centre.
The Gambler (2014)
Rotten Tomatoes rating 46%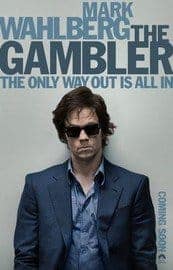 This modern remake of the 1974 classic, which we review above, features the best cinematography and sleekest effects of any film on this list. Mark Wahlberg has just as much screen presence as James Caan and John Goodman gives a star turn.
Unfortunately the script writers decided to make Wahlberg's character utterly dis-likable. He treats everyone like crap and acts like the world owes him a living. This makes it impossible to relate to or sympathies with him, as he deliberately steers his life into the gutter in order to punish himself out of guilt.
A sports betting side plot comes from the gambler being a professor and convincing a star student athlete to shave points. I do think the film is better than the Rotten Tomatoes rating indicates and I definitely recommend it if you want to watch a film that really is all about gambling rather than having gambling as just one subplot.
21 (2008)
Rotten Tomatoes rating 36%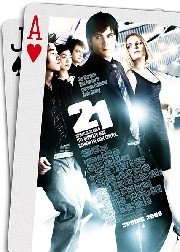 This is the true story of the MIT blackjack card counting team that cleaned out Las Vegas hotels on the weekends, complete with fake IDs and comped suites. The Hollywood version revolves around one brilliant math student who joins the team due to his need for tuition money which results in a lot of drama, sex, violence, intrigue and estrangement from his non-blackjack friends.
Kevin Spacey plays the professor who coaches the students but double crosses them after they show a lack of discipline.
Even Money (2007)
Rotten Tomatoes rating 24%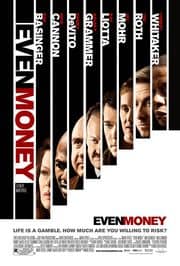 Another version of Hollywood's favourite gambling theme; degenerate gamblers owing money to criminals and destroying their marriages. Even Money is one of the higher quality flicks on this list though it is more like an anti-gambling cautionary tale.
It is very well acted with Kim Basinger, Danny DeVito, Kelsey Grammer, Ray Liotta and Forest Whitaker.
National Lampoon's Vegas Vacation (1997)
Rotten Tomatoes rating 13%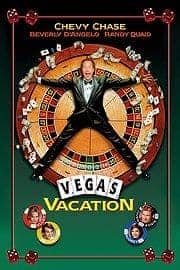 The last of the National Lampoon's films sees the family on a trip to the Las Vegas strip where they do a lot of gambling.
The film is positive and upbeat about the pastime; the son wins cars at slot machines and there is a hilarious side trip to an off the strip dive casino with games like "which hand is it in". Even when the father loses the family savings to blackjack it is in a funny, light hearted way . Finally the family make back all the money the father had lost, and more, from a hail marry lottery bet with their last $2.
I found the goofy 90s comedy much more charming than the Rotten Tomatoes rating suggests.
Kaleidoscope (1966)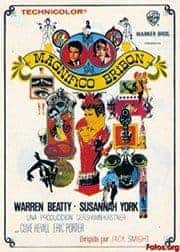 A gentleman gambler in swinging London turns gentlemen cat burglar as he breaks into the card manufacturing plant. He modifies the mold used to make cards in a way that will allow him to identify the card from the pattern on the back.
He then goes on a winning streak all over Europe and falls in love with a Brit whose father is a Scotland Yard detective. The detective sees what's happening and forces our gentleman gambler to be an informant against the villainous underground casino owner. This leads to a pretty terrific poker scene.
Warren Beatty and Susannah York are charming with warm chemistry. The detective, villain and other parts are way over acted.
The Lady Gambles (1949)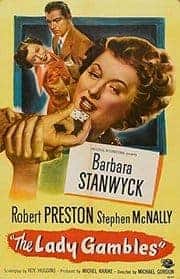 One of the few films that deals with gambling addiction in a thoughtful and accurate way. It shows what most people don't understand about problem gamblers; that many of them want to lose to punish themselves out of guilt. As the title suggests, this is also one of the few films where the problem gambler is a female.
Joan is a young reporter who accompanies her husband to Las Vegas on an assignment and falls in love with gambling. She quickly gets hooked to the rollercoaster aided by a sexually charged friendship with the casino boss. She goes through craps, poker and horse racing before winding up broke and beat up in a back alley for trying to cheat at dice.
This movie has character development, a story arc, plot twists and interesting dialog.