Our NFL betting preview features Chiefs vs Packers news, and highlights the best crypto odds and sports betting promotions.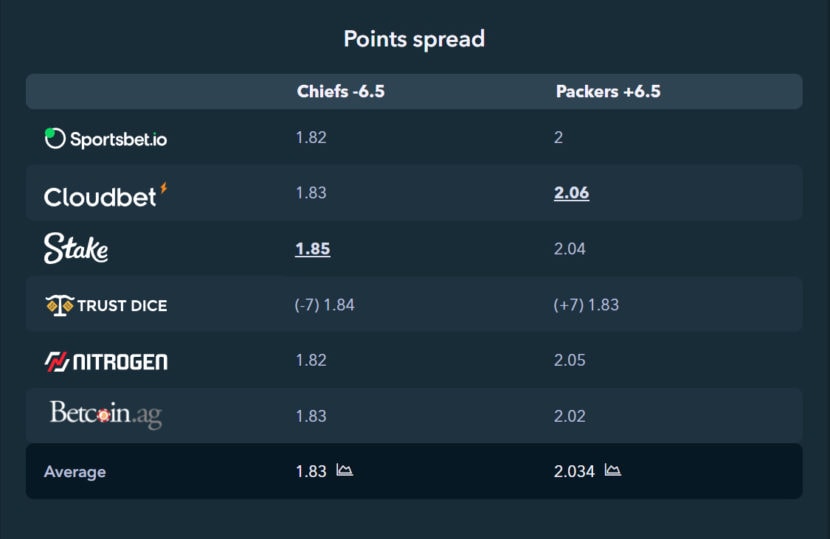 Sunday's game was set to be too close to call but that all changed after news broke that Green Bay Packers' star quarterback Aaron Rodgers would not be playing after testing positive for COVID-19. The spread changed dramatically with the Chiefs now the favorites while the Packers will have to prove yet again that they're resilient and know how to adapt to personnel changes.
The Chiefs will be playing near full strength against a short-handed Packers team but the Chiefs' performance on Monday night against the ailing New York Giants was nothing short of dismal. The Packers were able to take down the dominant Arizona Cardinals last Thursday even though they were short Davante Adams, David Bakhtiari, and Allen Lazard.
Kansas City Chiefs (-6.5)
This could be the week that Patrick Mahomes has a breakout game and puts up a lot of points, especially with the Packers missing Rodgers. The Chiefs would have focused on both their defensive and offensive woes ahead of the game and will be looking to capitalize on Arrowhead Stadium being a tough venue for visiting teams.
The Chiefs should apply a lot of pressure on the Packers' replacement quarterback Jordan Love who is more prone to throwing the ball away and taking sacks. The new trade, Melvin Ingram and a returning Frank Clark would be looking to force Love into making big plays giving the Chiefs the opportunity of coming away with interceptions.
Add to that, the Chiefs have a highly-ranked rushing attack in terms of yards per carry. They're currently sixth in the league at 4.8 and will have a favorable matchup against the 29th-ranked defense in that category, as Green Bay gives up 4.7.
Green Bay Packers (+6.5)
The Packers are riding a 7-game winning streak while the Chiefs have limped to a 4-4 record this season. Green Bay should be well-rested as they're coming off a mini-bye.
Jordan Love, the 2020 first-round quarterback pick has thrown 7 career passes, which makes it difficult to predict his performance. Veteran Blake Bortles was called up as the backup ahead of Sunday's game, as the practice squad quarterback Kurt Benkert is also out of commission due to COVID-19.
The Packers' offense is quarterback-friendly which will undoubtedly surround Love with one of the league's best offensive lines which include star players like Davante Adams and Aaron Jones.
Green Bay's offense is fifth-ranked in the league in terms of turnovers allowed (6) compared to the 19th-ranked in turnovers forced, Chiefs (8).
Score a touchdown with Stake's NFL promotion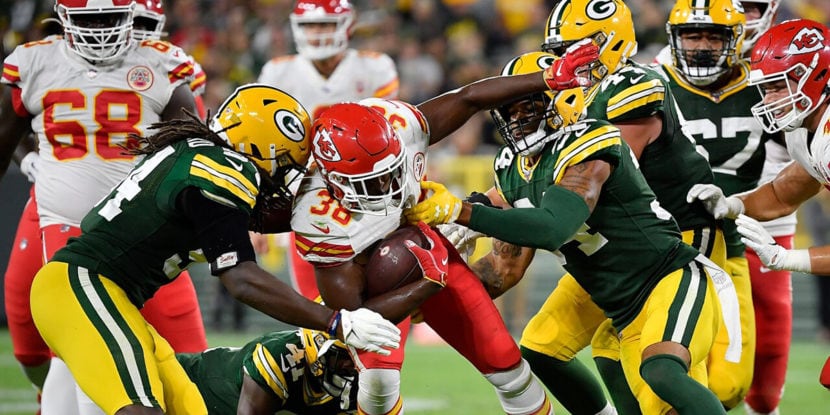 NFL bettors can take advantage of this NFL promotion available at Stake.
NFL 3Q Guaranteed Payout: This promotion allows bettors to place a pre-match single wager on the winner market. If their team leads at the end of the 3rd quarter, they're a guaranteed winner. The maximum payout is $100 which includes the stake.
Aaron Rodgers COVID-19 controversy overshadows "pay me in bitcoin"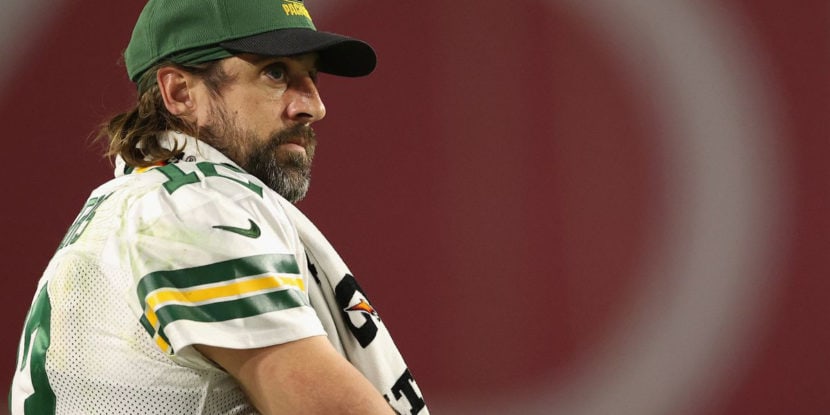 Just 2 days before the controversial COVID-19 story broke, the Packers' star quarterback Rodgers announced that he would be taking a portion of his $33.5m annual salary in bitcoin. He also gave away bitcoin worth $1 million in partnership with Square's Cash App.
Rodgers tested positive for COVID-19 and will be sidelined for a minimum of 10 days. Rodgers will in all likelihood sit out 2 primetime games against the Kansas City Chiefs this Sunday and the Seattle Seahawks next Sunday.
Depending on the result of an NFL investigation, Rodgers might be looking at several fines and worst-case scenario, a suspension. Rodgers purposefully misled the media by stating that he "was immunized" instead of being vaccinated. Rodgers opted for homeopathic treatment and was subsequently refused an exemption from the NHL COVID-19 protocol for unvaccinated players.
Under the NFL's joint protocol with the NFL Players Association, unvaccinated players who fail to wear a mask as mandated are subject to a $14,650 fine for a first offense. Repeat violators can be fined up to 1 week's salary and suspended for up to 4 games.
Media have called for Rodgers' suspension following the NHL's decisive 21-game suspension of San Jose Sharks' Evander Kane for producing a fake vaccination card. But, it seems unlikely that the NHL and Packers will take any drastic action, as they were well aware of Rodgers' vaccination status and allowed him to flout the COVID-19 protocol.
Get our Crypto Betting Preview in your inbox every Friday!
We guarantee 100% privacy, your information will not be shared.
The other way to be alerted about new editions is to follow us on Twitter or "like" our Facebook page.