It's time for another Crypto Betting Weekly news round up – brought to you every Friday right here on BitEdge.
Top tips for the Champions League final
The showpiece final of the European football season might be taking place 3 months later than expected – and inside an empty stadium – but that will mean no less excitement for bettors. Here's three Champions League final trends worth tucking up your sleeve for the big game:
Expect a cagey 1st half
Since the competition was rebranded as the UEFA Champions League (UCL) in 1993, only 19% of finals have seen a goal from each team in the first half, meanwhile, almost 70% of goals are scored in the second half of finals.
Maybe it's the big occasion nerves but whatever the reason, history tells us betting on goals in the 1st half is not a smart play.
Players stay disciplined on the big occasion
Champions League finals historically produce a sparsity of red cards – with just 3 in the last 27 years!
There's been just 1 yellow card shown in the last 2 finals combined. 180 minutes of soccer and just one booking! It seems cool heads are the order of duty when the stakes are so high.
Extra time is rarely decisive
In the previous 27 UCL finals, only once has the trophy been decided in extra time. On 7 of the 8 occasions extra time has been needed, there have been no goals scored in the additional 30 minutes.
If the match is tied after 90 minutes of normal time – the smart money will be backing a penalty shootout.
Dive in the pool with us!
The NFL Survivor Pools from Nitrogen (review) are always great fun. Whether you're an avid American football fan or a complete novice they promise plenty of excitement and no house edge.
This season we're giving you the chance join the 100 m฿ community pool for free, see all the details and gain entry here.
NBA Playoffs are here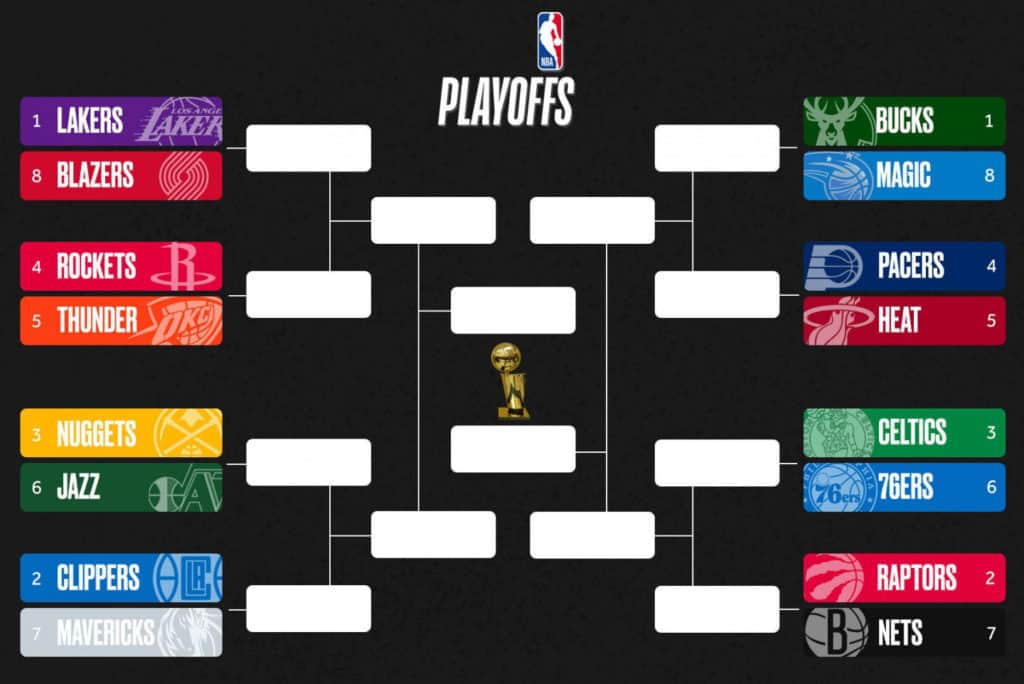 Mouthwatering 1st round playoff matchups have started in the NBA. The bubble has been a success but it's great to be back to the familiar playoff format just like every other season. 2020 NBA playoffs will be best of 7 series in an elimination bracket, like normal.
Both LA teams are amongst the top 3 favorites. It would be sad to see a Lakers vs Clippers Western Conference finals series taking place in Florida rather than in front of Jack Nicholson and 20,000 Anglicans at the Staples Center, but such is 2020.
Clubhouse for crypto bettors only

Sportsbet (review, bettors are geo-blocked) have just opened a new loyalty program called "Clubhouse" for crypto bettors. It follows the standard format where you:
Gain points by betting.
Rise up through a series of levels based on the number of points you have.
The higher level you attain, the more rewards you get.
And the rewards are good; including free bets, which is rare for crypto bettors given the anonymity and therefore the potential for multi accounting.
Get Crypto Betting Weekly in your inbox every Friday!
We guarantee 100% privacy, your information will not be shared.
The other way to be alerted about new editions is to follow us on Twitter or "like" our Facebook page.