Welcome to the 6th edition of Crypto Betting Weekly. This is your special delivery of the latest news and promotions from across the world of crypto betting, coming at you every single Friday.
Stake introduces MoonPay
The Stake has announced a new way to buy cryptocurrency directly from within its betting site.
Our number one-ranked sportsbook has joined forces with MoonPay, offering users near-instant card payments for converting funds from fiat to a range of cryptos, all under the roof of Stake's betting platform.
Ultimately this advancement brings a streamlined, simpler and speedier process for crypto bettors. Which can only be a positive in our book!
Survival Sunday in the EPL
The English Premier League season concludes with a full schedule of synchronised kick-offs at 4:00 PM on Sunday. All eyes are on the relegation zone, where 2 of a possible 3 teams will be demoted from the league alongside already doomed Norwich City.


The 19th-placed Bournemouth needs a miracle. But they're likely to find life tough on the road at Everton. Watford, in 18th position, is in disarray having inexplicably sacked their head coach this week. So don't expect them to get anything from their trip to Arsenal.
The momentum is with Aston Villa, unbeaten in their last 3 matches. They represent good value to achieve the win away at West Ham that guarantees safety.
Are you a Multi Master?
Meanwhile, as the European soccer season reaches its summit, now is the ideal time to check out the fun Multi Master promotion from Sportsbet.
Place a parlay bet to the equivalent value of $1 or more on 15 designated matches, and if you pick all 15 correctly, you'll be crowned the Multi Master and be 3,000 m฿ richer!
It's worth noting that 3,000 m฿ equates to just over $28,000. A 15-leg multi with a $15 stake and average odds of even money already returns way more than that – with a profit of $491,505.
But a $1 stake on a successful 15-leg multi with average odds of even money, would return a profit of $32,767. So effectively, in that instance, the lucky winner could be doubling his winnings!
What's more, if nobody gets all 15 correct, there'll be a 300 m฿ prize for the bettor with the most correct selections. Here's this week's schedule: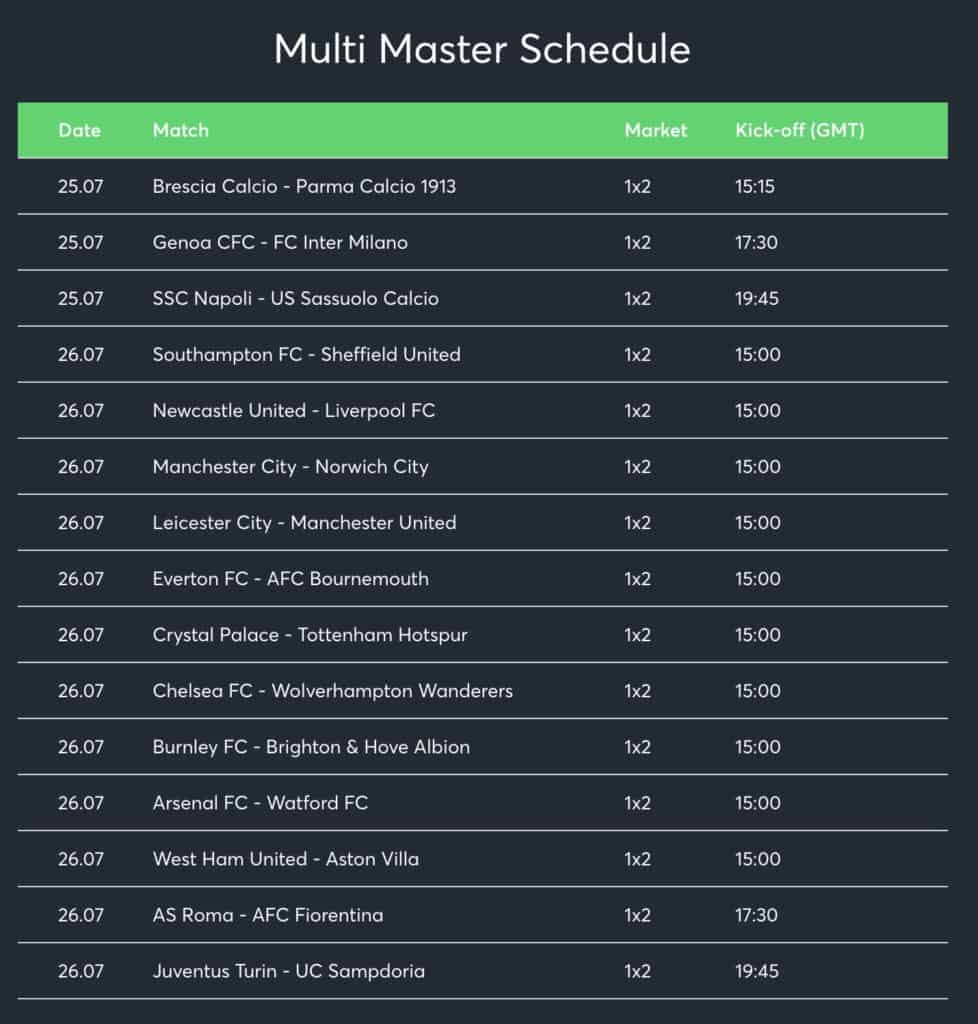 MLB makes it to 1st base
Baseball becomes the first major US Sport to make its return to elite-level action this week. A full schedule of games is already underway. And why not celebrate by taking advantage of Stake's 9th Inning Insurance promotion?
If your selection is winning at any point in the 9th inning and goes on to lose, you'll get your money back up to the value of $250.
Exodus wallet unveils built-in betting functionality
An interesting development has emerged from Exodus, offering its users the option of betting within the wallet, with the built-in app SportX.
This is a totally new concept, and we're too early to chart the adoption yet – but it certainly has our attention.
So far, you can only bet with DAI tokens. But could this innovation be a sign of the future for crypto betting?
After all, with no need for deposits or withdrawals, no fees, and no delays… this all equals no fuss – and an even more seamless experience for crypto bettors. Watch this space.
Subscribe to get Crypto Betting Weekly in your inbox every Friday!
We guarantee 100% privacy, your information will not be shared.
Every new edition is also posted across our social media channels so follow us on Twitter or check our Facebook page to see those.