Free-to-play (F2P) games are the latest tool sportsbooks are using to attract sign-ups. As the name states, they are completely free to play, only requiring an account. Some F2P games reward winners with free bets, some with physical prizes and some with cash. Large jackpots are notoriously hard to win, with large combinations required to trigger them.
At the time of writing, F2P games are rare for crypto sportsbooks. In fact, there are just 2 offered by 1 sportsbook; Sportsbet. Let's take a look at what you can win without a deposit.
The games and the prizes
Sportsbet: 4-3-Free
4-3-Free is just like placing a soccer single-game accumulator. You answer 4 multiple-choice questions on a single match, for example:
Who will win the match?

When will the first goal be scored?

How many cards will there be?

Who will score first?
If you answer all 4 questions correctly you win a $50 free bet. If you get 3 correct you get a $10 free bet. Free bets are paid out in Bitcoin.
At the end of the game, you're prompted to add your selections to the betslip and have a real money bet, but there is no obligation to do so.
Sportsbet: Bet Free-6-6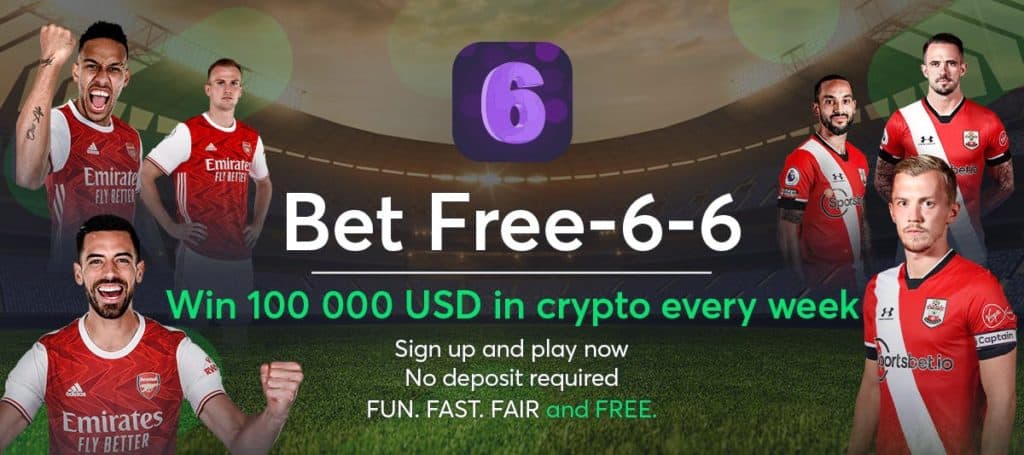 To enter Bet Free-6-6 you pick 6 correct scores from the 6 matches Sportsbet have selected. Your selections are broken down into 3 categories:
Correct score
Match result
Over/under 2.5 goals
There are 3 levels of prizes given out:
1st prize: Match all 6 correct scores and win $100,000 in Bitcoin
2nd prize: Match all 6 match results and 6 correct over/under 2.5 goals to win 2 x $10 free bets in Bitcoin
3rd prize: Match either 6 match results or 6 over/under 2.5 goals to win a $10 free bet in Bitcoin
Once you've made your submission, you're prompted to optionally add your selections to your betslip and have a real money bet. If you were to place a winning 6-fold correct score bet, it's highly likely you'd collect more than $100,000. But you would have to risk your own money on a very long-odds bet.
Why are free-to-play games offered?
Free-to-play games offer a cost-effective way for sportsbooks to get new customers. If you're a devout Cloudbet user, you might not see a reason to sign up at Sportsbet. But the F2P games give you an incentive. After all, a potential $50 free bet is certainly worth the 1 minute it takes to create an account. You might sign up with no intention of depositing but then see another offer you like – or prefer the user experience – and move across for good. It's also a great way to ease new users into gambling by introducing them to softer and more fun games.
For existing customers, F2P games help increase retention and tease bettors into placing real money bets. According to bettoranalytics.com, just over 20% of F2P players go on to click on a real money bet.
On social media, free-to-play games give sportsbooks a gentle way of marketing their product and brand. Gambling can be a touchy subject and gambling social media content is rarely shared organically. Promoting free-to-play games rather than real money gambling helps with this.
Successful government currency examples
The most successful F2P game in the United Kingdom is Sky Bet's Super 6. Launched way back in 2008, it offers a jackpot of £250,000 – with the odd £1 million jackpot cropping up. The format is very similar to Sportsbet's Bet Free 6-6, albeit slightly simpler. If you guess 6 correct English Premier League scores you get the grand prize, and there are a few consolation prizes too. In the USA, Fox has taken a similar angle with their Super 6 game, which revolves around the NFL with a very familiar mechanic.
Since the success of Super 6, it's now commonplace for UK and US sportsbooks to have F2P games. William Hill, Ladbrokes, Coral, 888, Betway and a host more all jumped on the bandwagon in Britain – albeit with smaller prizes. Action247, FanDuel, DraftKings, William Hill, and BetAmerica have all done the same in America. Some have even created casino F2P games as well, with daily free spins and guaranteed prizes. Even if these rewards are as small as 1 free spin, it gets people through the door.
Will crypto sportsbooks cotton on?
Currently, Stake, Cloudbet and Bitster use a VIP program to distribute bonuses and reward long-serving members. There's no immediate reward for newbies signing up. A F2P game would change this and evidence suggests their sign-up numbers will rise. Surely it's only a matter of time before they follow Sportsbet.
Are F2P games good for the Bettor?
Of course! As well as being fun and free they can be a good learning tool to test and refine betting strategies. And people really do win the big prizes like Sportsbet's $100,000 bet free 6-6. There is no reason it shouldn't be you.
If you are a serious crypto sports better you should have an account at the big 3 crypto sportsbooks anyway because multiple accounts give you a better synthetic edge. Since that includes having an account at Sportsbet you may as well give the free games a go.