Denied departure
I am an Australian tourist who arrived in the Philippines more than 6 months ago. Recently I decided to do a web development course in the US which was very important to me. I was all set to depart from Manila airport 2 days before it started.
I checked in my luggage and proceeded to immigration with my boarding pass, passport, permission to enter the US and an onward ticket from the US.
The immigration officer asked for my exit clearance, I asked what he meant as I had never heard of that. He told me because I had been in the Philippines for more than 6 months I needed an exit clearance from an immigration office outside the airport before I could leave.
He said I would not be allowed to depart from the Philippines and I should leave the airport and not come back until I had the exit clearance. It was Saturday night and immigration would not be open until Monday, the same day more courses started in America.
I was stunned; missing the flight and the course would cost me thousands of dollars and ruin my plans. These were the arguments I tried to persuade the immigration officer, then his supervisor, and then his supervisor's supervisor.
I had never been told about an exit clearance, how was I expected to know?
I was only on a tourist visa and I was not seeking any re-entry permission.
The required clearance was from immigration and we were in the immigration area surrounded by immigration personnel and immigration computers; let's do the clearance here and now.
I had always done the right thing according to Immigration's rules with visa extensions, forms, ID cards, fees and everything.
The last time I was at an immigration office to get an extension I told them I was going to leave soon and they did not mention anything about an exit clearance.
I would be happy to pay a fine or a penalty, like someone who overstayed their visa would do.
I did not mind if I was blacklisted or deported and never allowed back, as long as I was allowed to leave.
I have visited over 30 countries and lived in 7 countries and I have never been required to get a clearance outside of the airport before leaving, including on my previous visit to the Philippines.
Forcing me to stay in the Philippines was in no way in the national interest or anyone's interest.
I got more and more nervous as no one cared about the above point's only countering that it was my fault because I did not read all the information on Immigration's website or the stamps in my passport and guessing which country the unidentified one was from.
As pictured below, 1 of the dozens of stamps in my passport says visitors for more than 6 months are required to get an emigration clearance. All the other stamps in my passport from the Philippines Bureau of Immigration are identified as such. This stamp does not say where it's from, there is no way to know it's not from a different country's immigration department. Who reads their passport anyway?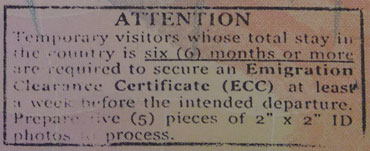 At this point, my hands were shaking and I was in shock. I tried to make them see the punishment of losing my freedom of passage and being detained in a country I did not wish to be in was disproportionate to my mistake of not reading my passport stamps.
They denied I was being detained as I was free to move around the Philippines. I countered that given I did not want to be in the Philippines and the only thing stopping me from leaving was them physically preventing me, I was being detained to some extent.
The last supervisor I spoke to was particularly arrogant, dismissive and power drunk. He made a point of telling me that Australian immigration was worse.
I gave up when my plane left. I walked out into the Manila night with nowhere to go, nowhere to stay, no local currency, and more luggage than I could carry, stressed, angry and scared, only to have to deal with the worst taxi drivers in the world.
Going to immigration and being extorted twice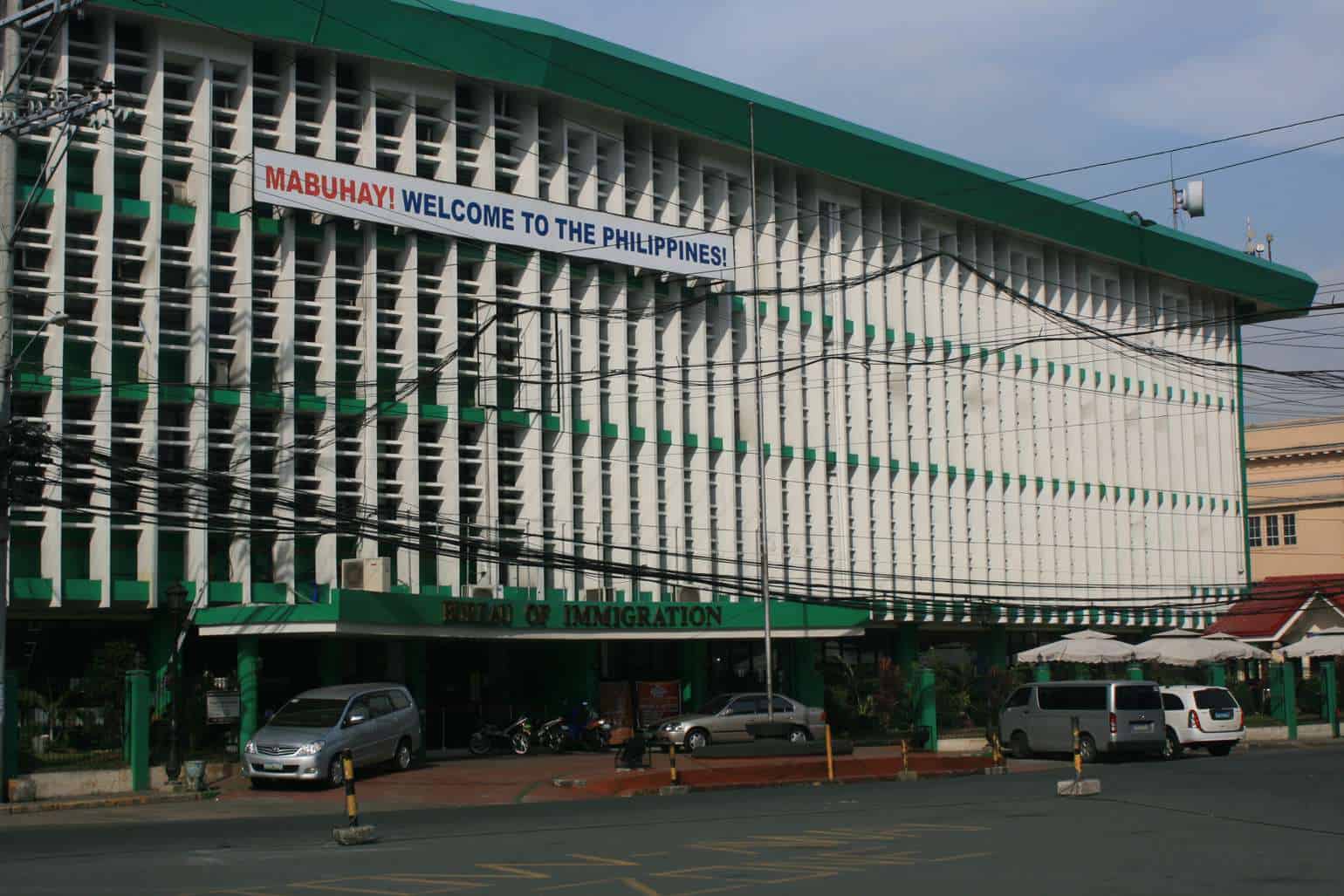 I looked up what I needed to get the exit clearance and as usual with immigration and government matters in the Philippines, there were no clear answers. Different people doing the same thing had different experiences.
Immigration's own information was inconsistent with itself and inconsistent with the reality in immigration offices. Processes and requirements change from one office to another so you don't know what you will need or if you will be able to complete your transaction on the first attempt.
The information page about the main office I had to go to does not even state its open hours and lists fax numbers instead of email addresses.
I went to Immigration first thing Monday morning and the process of obtaining an exit clearance was typically slow, frustrating and inefficient.
I stepped up to my 6th window of the day to submit one of the forms and I came across officer Mabasa (pictured below) texting socially. "Wait, wait," he said, "no problem, go ahead" I replied, seeing a chance to build quick rapport and we had a friendly chat and a joke.
He noticed I intended to leave that night and saw his chance. It's normally done in 1 day but Immigration does give itself 3 days. He seemed very "concerned" I needed the clearance that same day. "Come to discuss this with me over there," he said pointing to a corridor away from the main public space.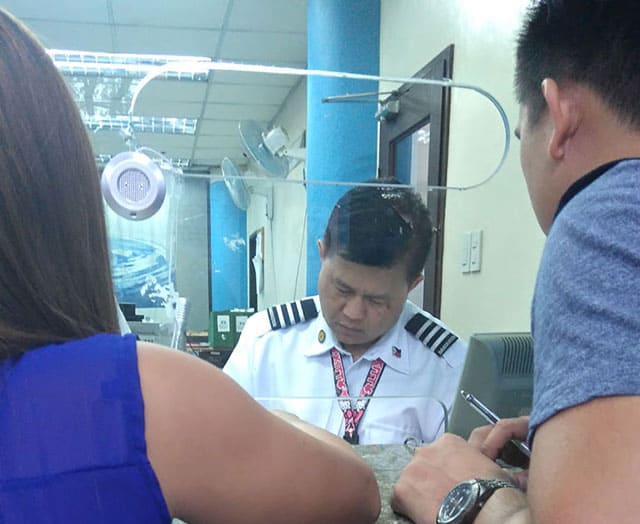 I assumed we were going to a meeting room but instead in the corridor, he told me that in order to get the exit clearance I had to put 2000 pesos ($44/105 m฿) in between the 2 pages of the form and hand it into his window.
He told me we were doing it this way because transactions, including submitting forms, could only be done at the windows, but we were talking in the corridor because there were microphones and CCTV on the windows.
I was shocked, if I thought about it I would have asked for some clarification and assurances. Instead, I just said okay, walked out of the corridor, found a quiet spot to insert 2000 pesos between the 2 pages of the form and handed it into Mabasa's window, as he had instructed.
If Mabasa pulls extortion like this once a work day then he is averaging 41,000 pesos a month in bribes. public Nurses and School Teachers make about 13500 per month which is the average salary in the Philippines.
I got the exit clearance and got out of the Philippines ASAP with no intention to return. I hope this post will make any people in positions of "authority" less likely to try to extort people.
I have emailed, Facebook messages and tweeted the Bureau of Immigration and will post any replies here.
Update: Responses from Immigration
Via Facebook message
"Hi Mr. BitEdge,

Appreciate if you can send us a formal complaint regarding what happened by sending a sworn affidavit at [email protected] for us to forward it to the right office for their investigation.

Thank you."
Via email
Dear Sir/Ma'am

Good day. We have forwarded your email to our Central Receiving Unit (CRU) for their review and proper disposition. Thank you."
Twitter
@immigrationPH I had to pay a bribe to corrupt Officer Mabasa to leave the Philippines. I will never come back https://t.co/9bAIaehDo4

— BitEdge (@bitedgeco) March 11, 2016