Denied departure
I am an Australian tourist who arrived in the Philippines more than 6 months ago. Recently I decided to do a web development course in the US which was very important to me. I was all set to depart from Manila airport 2 days before it started.
I checked in my luggage and proceeded to immigration with my boarding pass, passport, permission to enter the US and an onward ticket from the US.
The immigration officer asked for my exit clearance, I asked what he meant as I had never heard of that. He told me because I had been in the Philippines for more than 6 months I needed an exit clearance from an immigration office outside the airport before I could leave.
He said I would not be allowed to depart from the Philippines and I should leave the airport and not come back until I had the exit clearance. It was Saturday night and immigration would not be open until Monday, the same day more courses started in America.
I was stunned; missing the flight and the course would cost me thousands of dollars and ruin my plans. These were the arguments I tried to persuade the immigration officer, then his supervisor, and then his supervisor's supervisor.
I had never been told about an exit clearance, how was I expected to know?
I was only on a tourist visa and I was not seeking any re-entry permission.
The required clearance was from immigration and we were in the immigration area surrounded by immigration personnel and immigration computers; let's do the clearance here and now.
I had always done the right thing according to Immigration's rules with visa extensions, forms, ID cards, fees and everything.
The last time I was at an immigration office to get an extension I told them I was going to leave soon and they did not mention anything about an exit clearance.
I would be happy to pay a fine or a penalty, like someone who overstayed their visa would do.
I did not mind if I was blacklisted or deported and never allowed back, as long as I was allowed to leave.
I have visited over 30 countries and lived in 7 countries and I have never been required to get a clearance outside of the airport before leaving, including on my previous visit to the Philippines.
Forcing me to stay in the Philippines was in no way in the national interest or anyone's interest.
I got more and more nervous as no one cared about the above point's only countering that it was my fault because I did not read all the information on Immigration's website or the stamps in my passport and guessing which country the unidentified one was from.
As pictured below, 1 of the dozens of stamps in my passport says visitors for more than 6 months are required to get an emigration clearance. All the other stamps in my passport from the Philippines Bureau of Immigration are identified as such. This stamp does not say where it's from, there is no way to know it's not from a different country's immigration department. Who reads their passport anyway?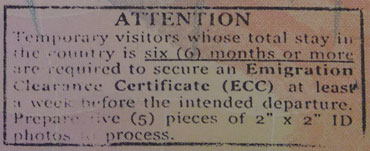 More by Vlad Hategan

In my career, I wrote for companies like Daily Coin or Crypto Banter while also writing social media content for a number of projects - including NFTs and tokens.