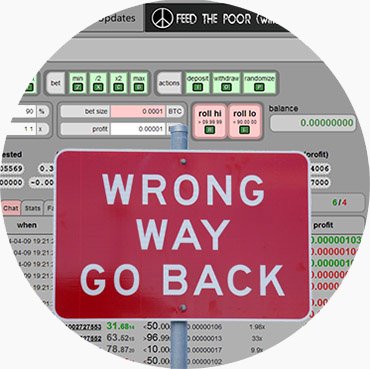 Sad news in the world of crypto gambling today with Just Dice announcing they are winding down their operations along with sister site Doge Dice.
Around midday US Eastern time on Monday the 23rd of June site operator "deb" came on to the community chat and let us know that betting and depositing were disabled leading to a rush on withdrawals which instantly cleared out the site's hot wallet making withdrawals temporarily impossible until her partner and fellow site operator "Douglas" moved funds from the cold wallet to the hot wallet.
This was followed by official confirmation on the site's blog which also advises customers to withdraw their funds. Withdrawals are now processing as normal.
There is no reason for users to panic as this appears to be a voluntary and controlled halt by a well run and trusted site. Reminiscent of the closing of Bitbook a couple of months ago, in which no one lost any crypto though we were sad to lose such a great part of the crypto gambling ecosystem.
There were more than ฿50,000 invested on Just Dice which is bigger than the entire silk road seizure that is being auctioned in a few days. So there are a lot of newly active bitcoins dispersed out into the ecosystem.
Why it happened
Just Dice has confirmed they are taking this action as a result of the new crypto legal framework unveiled today in Canada that is reported to include
Regulates Bitcoin as Money Services Business – Bitcoin dealing, more specifically referred to as "dealing in virtual currencies" in Bill C-31, will be subject to the record keeping, verification procedures, suspicious transaction reporting and registration requirements under the PCMLTFA as a money services business."

~Christine Duhaime, B.A., J.D., Financial Crime and Certified Anti-Money Laundering Specialist of Duhaime Law
This is impossible for Just Dice as their users are anonymous. Although the site operators are anonymous they are understood to be Canadians, possibly operating the service from Panama. More information on the new laws can be found in this CoinTelegraph article, also see our post about crypto gambling laws in general.
Why it sucks
Just Dice was a truly innovative gambling website with an amazing business model that licensed or government currency operators simply could not compete with in the current legal framework.
They provided provably fair gambling with a 1% house edge in which you could be the house and have players betting against you with the odds always in your favor! Anyone could anonymously invest money in a gambling operator and get their fair and equal share of the profit with no friction or barriers to entry!
Apparently this is unacceptable to lawmakers who use laws to insure only the rich and political connections are allowed to benefit from the running of gambling operations.
If you think they are interested in protecting the players note that those government licensed or owned operators offer much worse value to the player than Just Dice's 1% house edge.
The game Just Dice offered was a simple one in which a player would roll a random number between 0-100 and make a bet on what they would roll. For example a player might bet he would roll over 50. The payout was in line with true probability less 1%.
To get the full background on why Just Dice was such a big deal please see our page Just Dice – a gambling investment revolution. You can find more discussion on the Just Dice Bitcointalk Forum thread.
What's next
Just Dice will soon relaunch as a play coin site for the time being, and they will have further developments/products/projects after that. Sad to see the old Just Dice go as they were good example of how the gambling industry pushes the envelope of technology and censorship resistance moving the crypto ecosystem forward!
Personally I wish they kept operating despite the laws and used censorship resistant technology. There is now a big opportunity for the next, better service of this kind to be even more fun and innovative.
Thanks to deb and dooglus for their work and integrity.
Other operators
Check the other options on our crypto dice reviews. Check key figures and performance of other sites that offer house bank investment on our real-life investments comparison table.
Reactions
This is how one investor reacted to the news. Crypto is never boring!
Update: Relaunch as an altcoin site
In late 2014 Just Dice relaunched the same product with some alt-coin we had never heard of.