I have just finished a 12-week weight loss program (fat camp) at Palapon in Hua Hin Thailand. Here is a report on the program, paying with Bitcoin and my results.
My results
| | Healthy target | Week 1 | Week 12 | Change |
| --- | --- | --- | --- | --- |
| Body fat % | 20% | 32.9% | 21.9% | -33.4% |
| Weight | 73 kg | 110.7 kg | 87.4 kg | -26.7% |
| Visceral fat | 12 | 15 | 7.5 | -50% |
| Metabolic age | 33 | 47 | 38 | -19.1% |
| BMI | 24.9 (normal weight) | 36.8 (obese) | 29.6 (overweight) | |
As you can see my results were excellent. I look better, feel better and am healthier.
This was a bloody hard 12 weeks, I hate diet and exercise to start with then during the program I got blisters, sunburn, food poisoning, a cold, pinched a nerve in my shoulder and sharted my shorts.
However, this was actually the quick and easy way to lose 23kg. Everything was put in place for me and I just had to do as I was told. The hard way would be to do it yourself.
Pay with bitcoin
One of the things that made me choose Palapon is that they accept Bitcoin for payment. They receive bitcoins directly rather than through a payment processor and hold them as Bitcoin rather than cash them out to government currency.
They tried bitcoin for the first time on my suggestion and they have become real bitcoiners! They trade it, talk about it at the dinner table and encourage other local businesses to accept Bitcoin as well! A local real estate agent started accepting crypto after talking to Palapon about it!
Part of the credit goes to coins.co.th for their excellent, easy-to-use and well-integrated service. I recommended Palapon use Coins as their first Bitcoin wallet and it's made for an easy introduction. Later it was useful for cashing out and spending some of the funds.
Coins also allow you to pay for most fat camps in Thailand with Bitcoin. This is because most of them accept payment by bank transfer and Coins will send your Bitcoin as Thai baht to any bank account in Thailand. This lets you avoid the fees and delays of overseas bank transfers.
The program
This is a destination camp meaning most participants come from overseas specifically to do the program and then go straight home again afterwards. Most participants are Westerners.
The exercise
This is an intensive program that completely takes over your life for the 2 – 12 week duration. This was my schedule.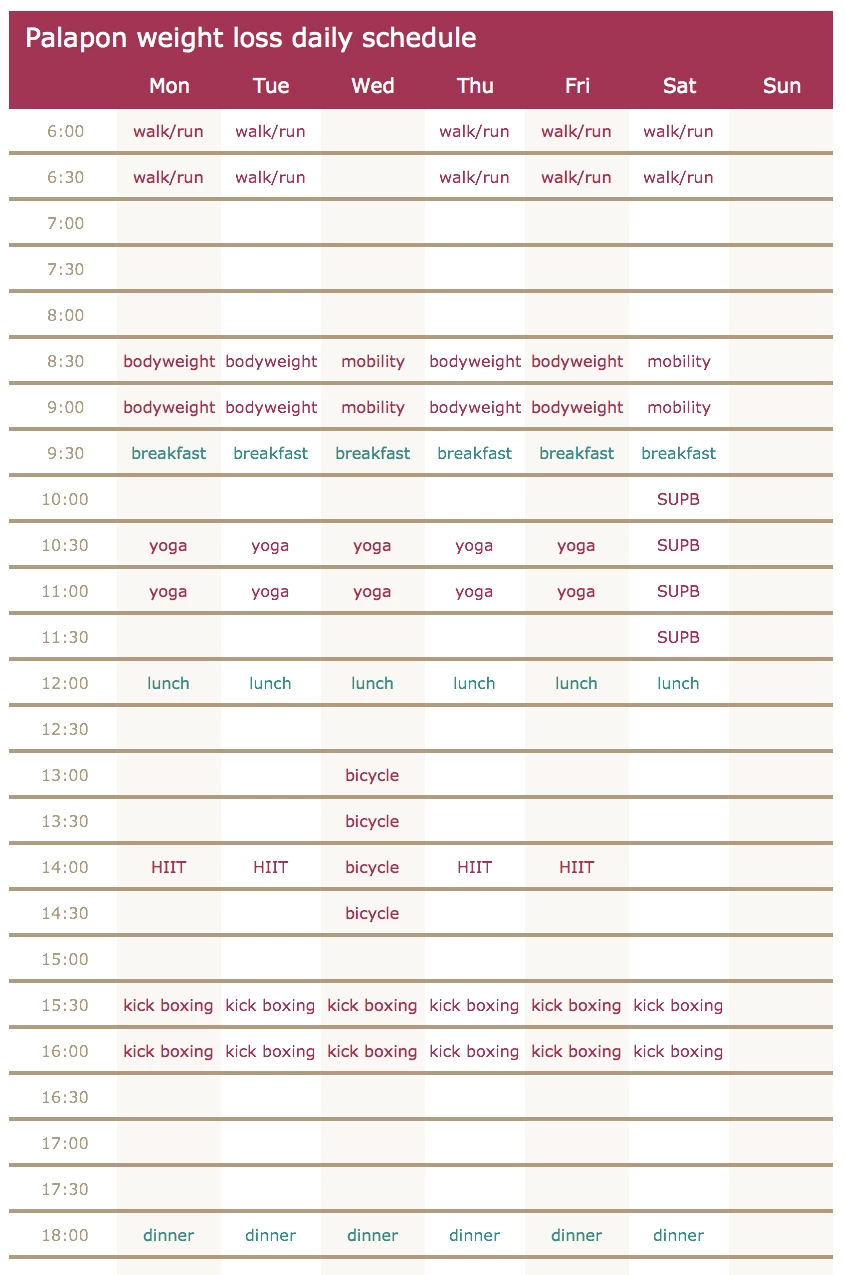 SUPB = stand-up paddle boarding
HIIT = high intensity impact training
The workout program is fantastic, yoga improved my posture, kickboxing was fun and the bike ride and stand-up paddle boarding let me explore beautiful tropical scenery. This is a hard slog but if you put the effort into this many workouts you will lose fat and gain muscle.
My only complaint is that after a couple of months, it gets boring and repetitive, especially considering most people in a program like this naturally don't like to do exercise.
There could have been some spontaneous variation like doing a workout at the beach or playing a game of basketball rather than yoga or kickboxing for the 60th day in a row. This would not be a concern for anyone staying less than about 6 weeks.
The trainers
The trainers are top-notch and really care that you lose weight. They will force you to push yourself and won't let you slack off. They are experts in their respective fields such as kickboxing or yoga so they can help you improve your skills without risking injury.
My only complaint is that occasionally a trainer would suggest I do a little less exercise at the end of a session just so they could finish sooner.
The diet
For 6 days a week, you eat only what Palapon gives you, which is fresh homemade Thai and Mediterranean food. It's low in calories, sugar and oil and high in protein and all the nutrients you need. The portions are large enough that I rarely felt very hungry.
On Sunday you do your own thing for food.
The camp
Palapon is a lovely, clean and green spot with good facilities and the owners are continuously improving it.
The camp is in a bustling neighborhood, so outside noise from construction and parties does come in.
The only problems I had with the camp were people smoking in common areas (smokers will like it) and the rescued street dogs that the owners keep around (dog lovers will like it).
You have the option to sleep at the camp or at a hotel down the road. The only downside to staying at the hotel is that it costs a bit more.
Overall I enthusiastically recommend Palapon to anyone who wants to lose weight and get fit. As always you should pay with Bitcoin whenever possible. You can do it!
Disclaimer
I have no commercial relationship with and receive no payments of any kind from Palapon, Coins or any business mentioned in this post.