Betting on the English Premier League (EPL) affords soccer fans a thrilling experience especially if they know their way around the best soccer betting markets. Naturally, the average bettor would first consider the 3-way bet (1×2) in order to weigh up the probability of one team beating the other. However, the 1×2 bet is fraught with risk as the 'x' which signifies a draw happens more often than you think.
Picking a team based solely on the odds can become tricky when they're evenly matched or there isn't all that much difference between the odds. So how do you get around the risk of a 1×2 bet? Do you bet on 1 team or do you place your wager on the draw? The answer is neither. This is where the draw-no-bet wager comes in.
Draw-no-bet explained
Draw-no-bet is an incredibly useful market as it eliminates a portion of the risk associated with a traditional 3-way bet. Draw-no-bet scratches the draw function leaving you with a 2-way bet with your bet being pushed (refunded) if the match results in a draw.
Think of it as built-in insurance on your bet, especially when you consider that an average of 23% of matches over the last 5 EPL seasons ended in a draw.
So what's the catch? Naturally, you'll have to pay for the insurance in the form of shortened odds. Consider the difference in odds for the Liverpool vs. Man City match found at stake.

In the example above, you would have won $195 off a $100 3-way wager on Liverpool versus $110 off a $100 draw-no-bet wager. However, if you opted for the 1×2 bet and the match ended in a draw you would have lost your entire stake.
Why it's worth it
During the 2019-20 EPL season 92 of the season's 380 matches resulted in a draw – that's a draw percentage of 24.21%. The results for the 2020-21 season weren't much better with 83 of the 380 matches ending in a draw – that's a draw percentage of 21.8%.
The table below highlights the extent of draw occurrences during the last 2 seasons. Each of the teams played against the remaining teams 76 (38 matches x 2 seasons) times.
| Team | Draw % |
| --- | --- |
| Brighton & Hove Albion | 36% |
| Wolverhampton | 30% |
| Manchester United | 30% |
| Arsenal | 28% |
| Newcastle | 26% |
| Tottenham | 25% |
| Crystal Palace | 24% |
| Burnley | 24% |
| Everton | 24% |
| West Ham | 22% |
| Chelsea | 21% |
| Aston Villa | 20% |
| Sheffield United | 18% |
| Leicester City | 18% |
| Southampton | 18% |
| Liverpool | 16% |
| Manchester City | 11% |
If you're particularly brave you might want to consider placing 3-way accumulator bets on the draw, when the teams with a draw percentage of 25% and above face each other.
+0.5 Handicap is another draw buster
Another market that eliminates the risk of a draw, is the +0.5 spread wager. This particular wager is also knows as a +0.5 handicap and effectively adds a half a goal to a team's score. This is often used to level the playing field between a superior and inferior team but it can also be used when teams are evenly matched and a draw is anticipated.
For example, if you're betting on the Liverpool vs. Man City match and want to bet on Liverpool, you'll place a +0.5 spread wager. The match ends in a 1-1 draw. However, your spread bet will win as the final result with half a goal added to Liverpool's score will be 1.5-1.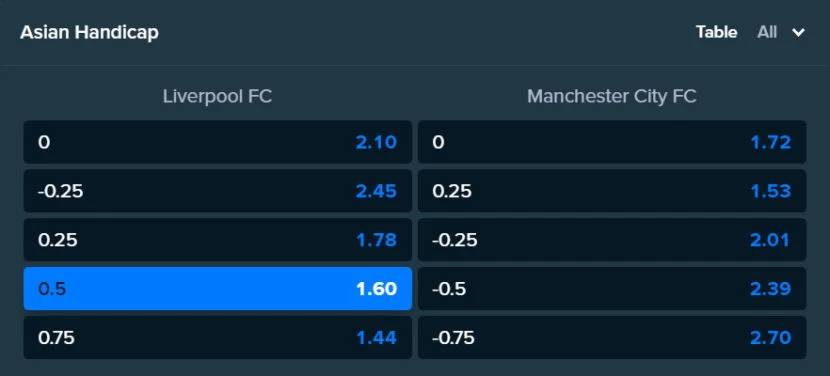 If you're wagering on the Premier League and your gut feel is that it could go either way, why not consider placing a draw-no-bet or a +0.5 spread wager at one of these top crypto sportsbooks.
More by Vlad Hategan

In my career, I wrote for companies like Daily Coin or Crypto Banter while also writing social media content for a number of projects - including NFTs and tokens.