Boxing has long been a cesspool and this fight matches up a woman beater vs a member of one of the most unrepresentative, incompetent and corrupt congresses in the word. Even so the contrasting styles and proven champion material of these fighters make this one of the most interesting matchups ever.
Boxing bet types
The most common bet type in boxing is picking the winner. However, boxing has one of the worst scoring and decision-making systems of any sport. Fights are decided by the opinion of a few old dudes and the only way to guarantee a victory is by knocking out the opponent. So a great boxing bet is to wager if your fighter will win by knockout or decision.
Pacman has not knocked out an opponent in his last 9 fights, that's all of them since converting from Catholicism to Evangelical Christianity. Money has not knocked out an opponent for 6 fights.
Another popular bet is whether the fight will go the full distance regardless of who wins. This fight is favored to go the full distance due to Mayweather's patient style which is built around defense and points scoring rather than knockouts.
Given Many is 37 years old and Floyd 38 years old there might be value in betting against these senior citizens going the full 12 rounds at odds of 3.3.
Live betting during the fight
Live betting is exciting and well-suited to boxing because of the natural betting opportunities during the break between rounds. The breaks give you 11 one-minute chances to analyze the fight, compare the odds and act accordingly.
It's well known you should ignore the TV commentators and Twitter pundits in any betting scenario. Still but most people can't help but be influenced by the "experts". TV producers tell these exerts which fighter to talk up to make the broadcast more interesting.
You will be able to bet crypto live during the fight at Nitrogen.
Where to bet
Check the boxing odds comparison to see who has the best odds.
One of the best options for this fight is Nitrogen as they have by far the most prop bets and betting options as well as live betting during the fight. You can bet anonymously without providing an email and they have a fantastic poker room and dice game.
The other great option is Cloudbet, they are a great sportsbook with good odds and the highest bet limits on this fight as well as a first deposit bonus of up to ฿5 and an awesome casino.
Full written and video reviews of several crypto sportsbooks that are offering odds on the fight can be found in our crypto sportsbook reviews.
Analysis and prediction
Styles make fights. Mayweather's style is patient, methodical and low-risk. Whereas Pacquiao is all action, his style is a lot busier and more exciting. Most importantly he is left-handed and it's a fact that Floyd is not as good against Southpaws.
The value is usually on the underdog and Manny is tempting at the odds but I think Mayweather is simply too good like he has been all his career. With Mayweather's height and reach advantage I think he will be patient and win by decision.
50 Cent to bet ฿6500 on Mayweather
Bitcoiner 50 Cent said on a morning radio show that he will bet $1.6m on his on-again off-again frenemy Floyd Mayweather.
50: I got champ, champ gonna smoke him. It's gonna look like it [the fight] was pumped up for no reason.

Host: You gonna bet?

50: Probably like 1.6… I've been thinking this out. I've gotta make a real bet. He focused right now.
50 Cent has made multiple positive statements about crypto and accepted Bitcoin for his last album. However, we can assume he will forgo the advantages of crypto betting and instead bet at a Las Vegas Casino, something that Floyd Mayweather himself is famous for doing.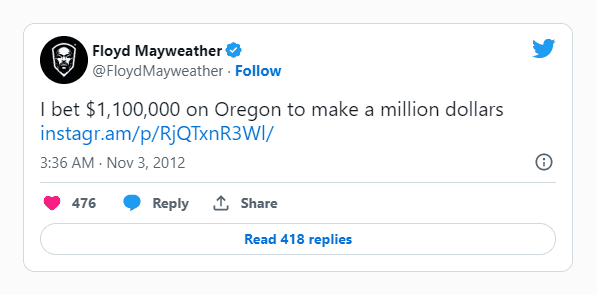 P.Diddy and Mark Wahlberg bet ฿1050
P. Diddy and Mark Wahlberg have bet $250,000 with Diddy on Mayweather and Marky Mark on Pacquiao. Because this is an even money bet Wahlberg has been made a huge sucker as our odds comparison shows he could be getting odds of 2.81 on Pac Man meaning he only needs to bet $138,000 for a $250,000 win.
Meanwhile P. Diddy could arbitrage by making another bet against this original bet for a guaranteed profit of $72,000 no matter what the result!
I smell bull shit as Mr Whalberg is actually knowledgeable about gambling and boxing, having starred in movies like The Fighter and The Gambler which is included in our list of sports betting movies. I suggest Wahlberg is just promoting Ted2 and P.Diddy is promoting himself.