Our MLB betting preview features Game 3 news, and highlights the best crypto odds and sports betting promotions.
Atlanta Braves vs Houston Astros betting preview
After losing their last 5 world series home games the Houston Astros won at Minute Maid Park on Wednesday by beating the Atlanta Braves 7-2 in Game 2. With the series tied at 1-1, we shift to Atlanta for Games 3, 4, and 5.
Historically, teams that take a 2-1 lead in a best-of-7 series go on to win 70% of the time, making Game 3 a significant swing game.
Atlanta Braves (1.88)
The Braves will now have the home-field advantage where they have a higher batting average, slugging percentage, and on-base plus slugging (OPS) than away. Truist Park should be buzzing with this Friday's game being the first World Series game in Atlanta in 22 years.
The Braves need to focus on fixing the porous pitching and the uncharacteristically erratic defense they displayed in Game 2. They also need pitcher, Max Fried to snap out of his funk and eat innings to take some strain off the bullpen.
The infield shift might not be as reliable a tactic as they once thought, especially against the Astros who capitalized on it to the Braves' detriment. Despite their loss, Atlanta came away with a win by not having to use their bullpen pitchers leaving the following players with 2 days' rest ahead of Game 3:
AJ Minter.
Tyler Matzek.
Luke Jackson.
Will Smith.
With Charlie Morton out for the rest of the series, Ian Anderson is the starting pitcher and we've yet to see him have a bad postseason start. Anderson hasn't been able to pitch more than 5 innings just yet, which might be problematic.
It shouldn't be discounted that Truist Park is an underrated hitters venue, which should bode well for both teams and result in a high run total.
Houston Astros (1.92)
With a loaded lineup, the Astros have the potential to beat the Braves if they make mistakes. The Astros offense has a high ceiling with the firepower to deliver a big power game. But they're not at a full strength lineup due to the game being played under National League rules. Even if the Astros fail to impress in the early innings they can rely on their clutch hitters Kyle Tucker and Yordan Alvarez to get runs.
Luis Garcia is the starting pitcher and despite being a bit spotty so far, has the ability to keep a lid on the Atlanta offense. Garcia throws his fastball or cutter 67.2% of the time, but will in all likelihood increase this percentage to neutralize the offense. Atlanta's offense is ranked 21st against fastballs and 27th against cutters which makes for easy pickings.
The top of the Astros order is dangerous, with the following players all posting big numbers this season:
Jose Altuve.
Michael Brantley.
Alex Bregman.
Yordan Alvarez.
What sets the Astros apart from the rest is the fact that their hitters struck out less often than anyone else – at 19.4% they were the best in the majors.
Stakes MLB World Series Double Winnings promo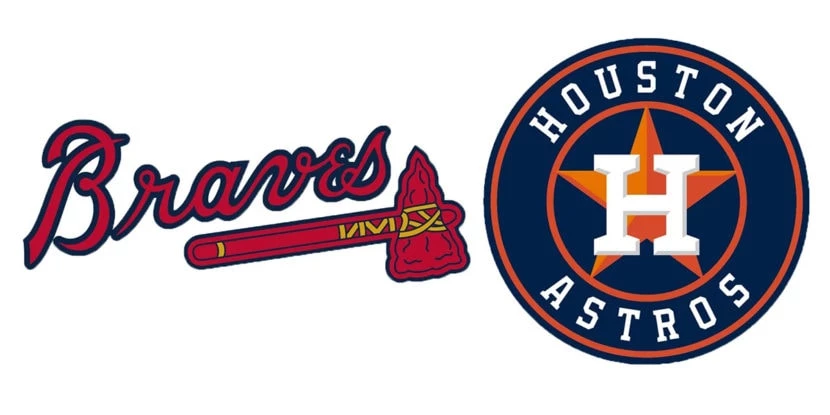 With stake you'll have the opportunity to earn Double Winnings on specific MLB World Series bets tonight.
They're offering player prop doubles for each game of the series, which gives you the chance of betting smarter and winning bigger with pre-match single bets. The prop doubles offer maximum double winnings of up to $100.
Friday's eligible bets are:
HOU win & Luis Garcia Over 4.5 Strikeouts
ATL win & Ian Anderson Over 3.5 Strikeouts
Get Crypto Betting Preview in your inbox every Friday!
We guarantee 100% privacy, your information will not be shared.
The other way to be alerted about new editions is to follow us on Twitter or "like" our Facebook page.
More by Nakul Shah

In 2016, I worked on my first client to help write a white paper for a crypto and blockchain project they were building, and started delving deeper into blockchain and distributed ledger technology.