Gambling is a big part of my life story; at times it has provided me great opportunities and at other times it has cost me a lot. I have been a bettor, worked at sportsbooks and run this gambling information site.
As a bettor, I have been everything from a consistently profitable professional to a degenerate loser. All from my laptop, all around the world.
I have had great wins and periods of disciplined smart betting resulting in a consistent profit. However, I have also gone broke gambling 5 times.
Spanning 11 years, in chronological order, here are my biggest wins and the times I lost almost everything I had. The Bitcoin-to-Dollar figures show the value of the bitcoin at the time of the bet.
Big Loses
Laying the hottest team in baseball
2007 – Lost $10,000
I had a successful MLB regular season winning about $10,000, which was enough given I was a single young man living in Nicaragua. I was not going to bet on the playoffs, my last play was Martingale against the Colorado Rockies as they went on one of the greatest winning runs of all time.
They were a middle-of-the-table team that looked like they would miss the playoffs. Until they won an unheralded 21 out of 22 games to make the wildcard spot and go all the way to the world series.
The heartbreaker that did my nuts was a game in which the Rockies were heading for defeat until an obviously wrong home plate call gave them an undeserved walk-off win in the bottom of the 13th inning.
Horse racing
2010 – Lost $7000
Living in Australia I left my boring 9-5 and started back up as a full-time sports bettor. It was going well until I tried martingale the ponies and lost all my savings. I went back to the boring 9-5 to save up a bankroll to try again as soon as possible.
Roulette
2011 – Lost $10,000
I moved to Thailand with a $10,000 bankroll I had saved to bet on the NBA. I needed the income I planned to generate but a player pay dispute delayed the start of the season by 2 months. It looked like there would be no season so I thought I needed to try other types of gambling. I tried my hand at roulette, and martingale and went broke.
Wimbledon
2013 – Lost $8000
I had been betting small and struggling to break even for all of 2013. I lost my patience and decided to bet big. By betting on tennis I broke one of my rules to not bet on individual sports.
At the start of the day's play, I picked 7 players I liked. The first 3 were short-priced favorites and I put a third of my bankroll on each of them, planning to roll winnings over to the other 4 that played later.
All 3 bets lost, one due to the player being injured but hobbling on until the end of the match. A perfect example of why I have a rule against betting on individual sports.
Of course my other 4 picks all won, when I had no funds left to bet on them.
Just Dice
2014 – Lost 18 bitcoin ($15,000)
I had just put all my savings into Bitcoin after falling in love with the technology, politics and philosophy of the community, which at that time was positive, idealistic and unified.
I lost all my bitcoins martingale on Just Dice. I was betting to roll over 33.33 which should win 2 in 3 times. I went broke on my 36th consecutive losing roll. I did 1 more roll with a 0 stake and won on the 37th roll, 1 after I had lost it all. If I had started with a smaller stake I would have been fine.
I was crushed, this loss affected me deeply, I remember the hollow feeling in my stomach and thinking that I was a piece of shit. I could have gone to a dark place if not for the fact that I was still passionate about Bitcoin and running this website, so I had something positive to dedicate myself to.
How I turned it around
For all the big losses I had some excuse how it was unlucky or not my fault. Those excuses are meaningless; if I did not go broke on those occasions I would have gone broke on some other bet in the next couple of months. I had a losing gambler's mentality and habits. I broke my rules, chased losses and bet with no edge.
It's notable that I had all my big losses in the beginning, and since then I have been profitable. What allowed me to turn the corner was improving my gambling IQ, so now I only bet if I have an edge.
I also found ways to make crypto income outside of betting. So now if I am in the mood to bet, I do it for fun with no pressure. It's a lot easier to win in that state of mind rather than thinking you have to win to pay the bills.
Big wins
American Pharaoh triple crown
2015 – Won 11 bitcoin ($2500)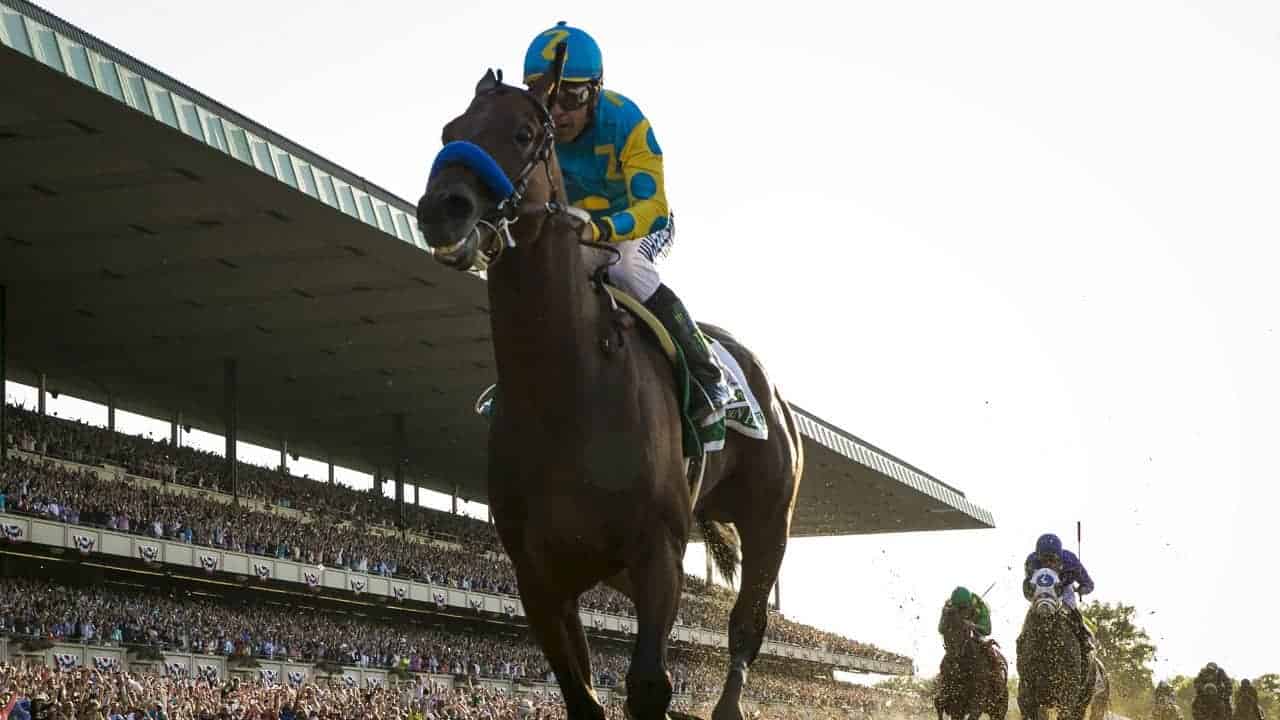 American Pharaoh was obviously the best horse in the 2015 Belmont stakes. The question was would the gruelling triple crown schedule of 3 long-distance races in 5 weeks, plus travel, take its toll?
When I saw American Pharaoh's track work leading up to the race and heard he had put on weight, I knew the answer and placed my bets.
NFL survivor pools
2016, 2018, 2019 – Won 40 bitcoin ($13,000)
2016 – won 40 bitcoin
I knew nothing about NFL betting or survivor pools until I saw the free ones at Nitrogen. I loved the idea so I jumped into the deep end and entered multiple high-stakes pools.
Every weekend of that season was exciting with a different team to root for. I was living in the Philippines and watched the games with a group of American friends at a beachside bar. I won 2 pools outright and came equal first in another.
2018 – won 14 bitcoin
In the last week of the season, I hedged against my survivor pool position. I lost the survivor pool but won the bets.
2019 – lost 14 bitcoin
I tried simply buying a survivor pool by making an overwhelming amount of entries. I ended up making an overwhelming amount of mistakes and lost an overwhelming amount of Bitcoin.
Mayweather vs McGregor
2017 – Won 5.4 bitcoin ($23,500)
This is the easiest money I have ever made. There was never any doubt about what the result would be and I was able to make bets with a huge edge.
The 2018 FIFA World Cup
2018 – Won 2.5 bitcoin ($18,500)
The winning bets paid for the trip of a lifetime to
for the Socceroos World Cup qualifiers, then to Russia for the finals!
When I am not betting big
The vast majority of my gambling outside the big wins and losses has been profitable. When I have been disciplined and followed my rules I have ground out consistent profit on low-stakes sports betting.
This made the big losses all the more frustrating. I knew I could succeed and achieve stability in my life if I could cut them out, which is exactly what happened.
Conclusion and lessons learnt
| | |
| --- | --- |
| Total big losses | -$50,000 |
| Total big wins | $57,000 |
| Balance | $7000 |
There are a few lessons from all of this
Do not martingale without a stop loss. That was the cause every time I lost big! If you can't win without martingale it means you don't have an edge.
Stick with what you are good at. Most of my big wins are sports betting and most of my big losses are not sports betting. I should stick with sports betting.
If you are not a successful gambler right away, you can learn, improve and become one. Start with the sports betting guide.