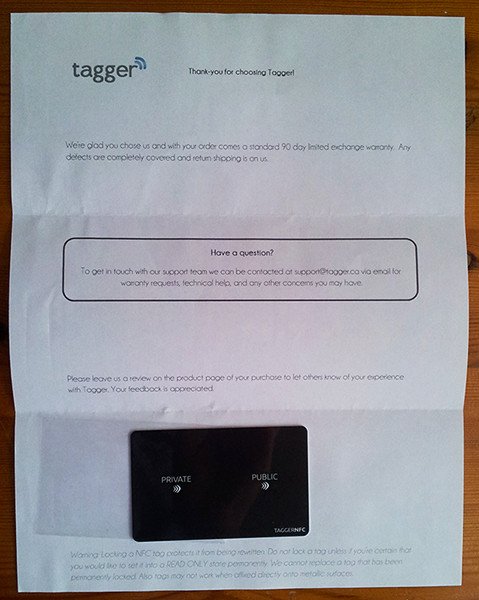 I think 2014 will be a big year for crypto because dozens of high-quality, innovative and passionate startups were founded in 2013. They will start to offer user-friendly crypto products and services that will be easily adoptable by the non-technical masses.
One such startup may be Tagger, a Canadian near-field communication (NFC) company that makes a physical Bitcoin Wallet. It can be used for receiving bitcoins face to face and for storing and transporting bitcoins in a physical form. When they announced the product on the Bitcoin subreddit they offered a free unit to the first 5 respondents, of which I was one 🙂
The card is standard wallet size like a driver's license. It has a minimalistic black design that some will find sleek and some will find boring, but it definitely won't cause any confusion.
Limitations
You will need an NFC-enabled smartphone to put your address on the card. It does not have to be your phone. You can use someone else's phone because you enter any address you specify, not an address that is pulled from a Bitcoin wallet on the phone.
The card is not transactional, you cannot send from it so you cannot pay someone with the card. They can pay you, it's like carrying a QR code around. It will only store data for 15 years. Heat would destroy it. Many people consider NFC an insecure technology and payment method.
Getting started
The card is delivered tucked into a piece of A4 paper with no instructions, no getting started guide and no link or information on what to do with it.
I went to their website and found a quick setup for an Android device. If I did not have an Android device I would have been stuck and had to email support as there are no other options or information.
I do have an Android device so started following the instructions. They were not detailed or clear enough for me to follow and I got stuck.
I emailed support and they replied promptly with more information and tips like how to enable NFC on Android devices and apps I would need if I had a Windows or Blackberry device. The delivery package should link to or include all of this.
Overall
If you are familiar with NFC technology and think this sounds like something you would like then great, the Tagger NFC wallet is for you.
For crypto to gain wider adoption the next generation of crypto products and services have to be easy to use. I am confident many products and services that just work will be released this year. However, the Tagger NFC physical wallet is not one of them.
Having said that, support was so helpful, prompt and knowledgeable that I would not be surprised if Tagger improve the delivery package and setup guide based on feedback.
Update
December 17, 2016
Tagger appears to have shut down. Their website is gone and I can't find any presence of them anywhere else. Anyone who had Bitcoin in one of these wallets would not have lost any funds. The devices would continue to work as normal.