We have made a point of seeing every sports betting movie that we can get our eyes on and we review the most notable and relevant examples here. These films are made for mass audiences, not for sports bettors. They are largely inaccurate and none of them goes into detail about wagering, for that see our list of bitcoin gambling videos.
We have only included sports betting movies for which there are quality seeded torrents available. For your viewing pleasure also check out the best:
Let us know what you think of these films, or if we have missed any, in the comments.
Movies all about sports betting
Bookies (2003)
Rotten Tomatoes rating 67%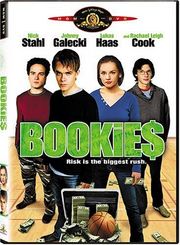 Bookies revolve around college buddies who start a sportsbook from their dorm. They live the dream until the bets and profits escalate and things get out of hand.
The naive and likeable lads are drawn into an underworld of violence, match-fixing and mobsters that they are not equipped to deal with.
Two for the Money (2005)
Rotten Tomatoes rating 22%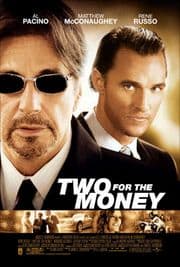 A young up-and-coming tipster (Matthew McConaughey) gets taken under the wing of a veteran (Al Pacino). Two for the money shines a light on the nasty money-grubbing nature of the paid tips industry. Such as hassling previous customers to buy pics and pressuring gambling addicts to stake more than they can afford.
Pacino is good, but the film is not.
Lay the Favourite (2012)
Rotten Tomatoes rating 19%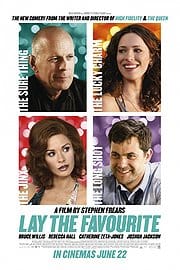 The only film in this list that shows sports bettors who study form and crunch numbers to make selections and then carefully consider the appropriate stake. Rather than showing sports bettors as degenerate bums losing their life savings betting on things they want to happen.
Lay the Favorite tells the story of a Las Vegas professional sports betting operation led by Bruce Willis and a more entertaining side story of an underground bookmaking operation led by Vince Vaughn that becomes an offshore sportsbook in the Caribbean.
Vaughn is charismatic and enjoyable to watch but the film is a letdown overall, it also stars Catherine Zeta Jones and Joshua Jackson.
Big Shot - Confessions of a Campus Bookie (2002)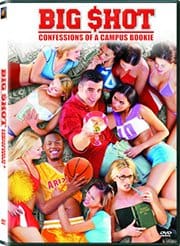 A far inferior version of Bookies. Same story but every character is much less likeable.
Movies partly about sports betting
Uncut Gems (2019)
Rotten Tomatoes rating 92%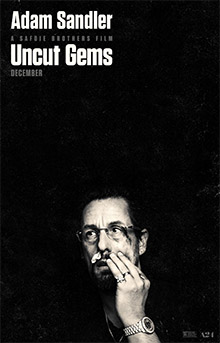 This film was such a wild ride I had to catch my breath after watching it. Chaos! This man's life is in utter chaos and it seems he wants it that way.
Adam Sandler is a jeweller specializing in bling for rappers and ball players. He is also a degenerate gambler whose marriage is falling apart.
He is constantly juggling everything from fake Rolexes, having an affair, traditional Jewish family commitments, illegally importing black market gems from Ethiopia hidden in fish intestines and all kinds of madness.
A couple of scenes have you riding what feels like life-or-death bets. The feeling of having to bet and the joy of winning is wonderfully portrayed.
Uncut Gems is the best film and performance of Adam Sander's career (equal to Punch-Drunk Love) and Kevin Garnett is a revelation in his acting debut.
The Gambler (1974)
Rotten Tomatoes rating 86%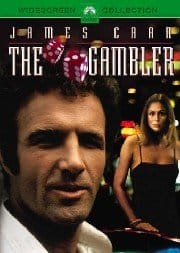 James Caan is great in this film about a brilliant college professor's fall into degenerate and self-destructive gambling addiction (he was in the grips of real-life cocaine addiction at the time). His worst vice is sports betting and he tries to get out of debt to his bookie by convincing a student to underperform in college athletics.
The man's life spirals downward to the depth of depravity but he is actually at the wheel and controlling it which highlights what most people don't know about many problem gamblers, that they want to lose in order to punish themselves out of guilt.
There is a newly released version starring Mark Wahlberg which we review below.
Eight Men Out (1998)
Rotten Tomatoes rating 86%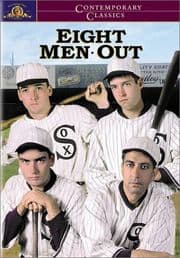 The amazing true story of the 1919 Chicago White Sox team that threw the Major League Baseball World Series for crooked gamblers and sportsbooks. Before you deride the players as greedy cheating bastards as we do with today's match-fixers realise the players were mostly uneducated and their contracts, pay and conditions were grossly unfair and exploitative.
As the players left the grand jury a 7-year-old Chicagoan newspaper boy tugged on his hero's jacket sleeve, looked up with tears in his eyes and said
"Say it ain't so Joe, say it ain't so"
US sports had forever lost their innocence.
Owning Mahowny (2003)
Rotten Tomatoes rating 79%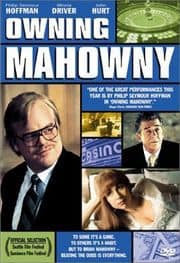 The amazing true story of a tight-spending Bank of Canada employee who embezzled more than 10 million dollars of the bank's money to gamble, first on sports, then at the casino tables in Atlantic City and Las Vegas. It's not a fun Ocean's 11-style romp through stealing from the bad guys and glamorous VIP casino rooms, it's a gritty look at addiction and deceit.
The most amazing thing is how easy it was for the gambler to get the bank's money. He had a job that saw him working between many different branches meaning no 1 person could observe the irregularities.
White Men Can't Jump (1992)
Rotten Tomatoes rating 76%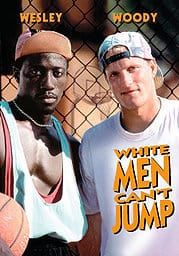 White Men Can't Jump follows Wesley Snipes and Woody Harrelson as they bet against each other or with each other against others on pickup basketball games in 90s Los Angeles. The film features the earliest recorded 'yo momma' jokes in pop culture and radical 90s fashion and lingo.
Woody Harrelson's character mirrors the way problem gamblers are depicted in many Hollywood flicks, he is in debt to violent bookies from a college basketball fix gone wrong and just when he gets ahead he self-destructively acts as if he wants to lose.
Hard Times (1975)
Rotten Tomatoes rating 73%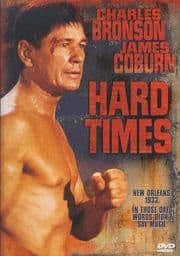 A film about bare-knuckle boxing in Southern USA during the great depression. It features a travelling boxer who rides box cars, considers coffee a meal, and wears a duffel cap, you get the idea.
Hard Times shows the scummiest of douchebag mobsters pitting desperado boxers against each other like their private playthings and betting on them.
Diggstown (1992)
Rotten Tomatoes rating 54%
A movie about a hustler (James Woods) and a corrupt small-town boss betting on a special boxing match. The film keeps you guessing who is rigging what and who is scamming who and there are surprising plot twists and intrigues.
It also has a young Heather Graham going for it.
The Gambler (2014)
Rotten Tomatoes rating 46%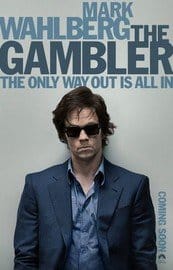 This modern remake of the 1974 classic, which we review above, features the best cinematography and sleekest effects of any film on this list. Mark Wahlberg has just as much screen presence as James Caan and John Goodman gives a star turn.
Unfortunately, the scriptwriters decided to make Wahlberg's character utterly dislikeable, he treats everyone like crap and acts like the world owes him a living. This makes it impossible to relate to him or sympathise with the man as he deliberately steers his life into the gutter in order to punish himself out of guilt.
The sports betting plot comes from the gambler being a professor and convincing a star student-athlete to shave points. I do think the film is better than the Rotten Tomatoes rating indicates and I definitely recommend it if you want to watch a film that really is all about gambling rather than having gambling as just 1 subplot.
Hardball (2001)
Rotten Tomatoes rating 46%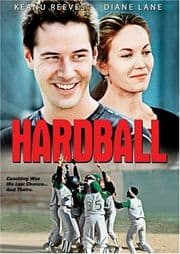 Keanu Reeves is a stereotypical degenerate sports bettor with debts to cliché unsavoury characters who has to coach a stereotypical underprivileged minority little league team from the projects. Everything that follows is painfully clichéd and obvious.
Worst. Movie. Ever.
Even Money (2007)
Rotten Tomatoes rating 24%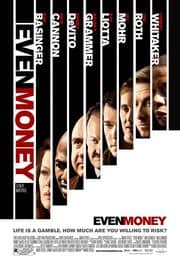 Another version of Hollywood's favourite sports betting theme, degenerate gamblers owing money to criminal sportsbooks and getting wound up in match-fixing.
Even Money is one of the higher-quality flicks on this list though it is more like an anti-gambling cautionary tale. It is very well acted with Kim Basinger, Danny DeVito, Kelsey Grammer, Ray Liotta and Forest Whitaker.
Player 5150 (2007)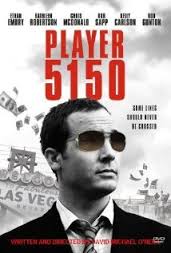 Standard Hollywood treatment; degenerate sports bettor goes into debt with a violent illegal bookie and almost loses his wife and job. If you believed Hollywood you would think that is a prerequisite for betting on sports.
This flick does have more likeable characters than most of the others that follow the same formula though