The reign of the Big 3
The reign of the Big 3 is nothing short of remarkable. Their dominance spans 17 years with Roger Federer, Rafael Nadal, and Novak Djokovic winning 61 of the past 76 (80%) Grand Slams.
Federer took 12 Grand Slams out of a possible 20 from 2003 to 2007 while Nadal's peak lasted from 2008 to 2010 when he won 6 slams while Federer claimed 4 during the same period.
Djokovic also began to rise in stature during this time, winning the 2008 Australian Open and losing to Nadal in the 2010 US Open final. However, the balance of power fell in his direction from 2011 through to 2016 when he won 11 Grand Slams to Nadal's 5 and Federer's 1.
Their dominance was unwavering until the 2020 US Open marked the first time that none of the Big 3 featured in the semi-finals.
When only one of the Big 3 enter a grand slam
You would assume that any time only one of the Big 3 entered a Grand Slam they would probably win; in fact that has not been the case. Since the first time all 3 entered a Grand Slam in 2005 there have been 3 Grand Slams in which only 1 of the 3 played:
2020 US Open loss
Joker was the only Big 3 participant after Rafa chose not to defend his title due to COVID-19 concerns and Federer was recovering from knee surgery. Djokovic was the clear favorite but succumbed to his temper during his fourth-round match against Pablo Carreño Busta. After being broken to trail 6–5 in the first set, Djokovic frustratedly hit a ball towards the baseline before the next game started which struck a lineswoman in the throat. Djokovic was automatically defaulted from the match per the tournament rules.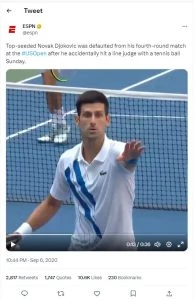 https://twitter.com/espn/status/1302709155329986560?lang=en
2021 US Open loss
This time round, Joker was set to become the second man in the Open Era, after Rod Laver in 1969, to complete a calendar-year Grand Slam. Not only that he was also attempting to win an outright record 21st major singles title and surpass his Big 3 counterparts. Rafa withdrew due to a foot injury and Federer was still recovering from surgery. But it didn't work out in his favor as Daniil Medvedev defeated Novak Djokovic in the final. Once again Djokovic lost his temper and smashed his racquet which drew a code violation warning.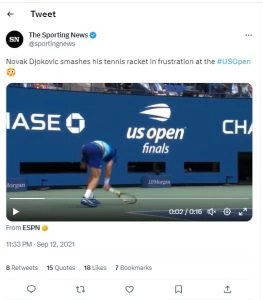 https://twitter.com/sportingnews/status/1437167574433898505?lang=en
2022 Australian Open win
Following Djokovic's deportation due to not being vaccinated and Federer's ongoing recovery, Rafa was the sole member of the Big 3 playing in the tournament. When Djokovic was expected to play Rafa's odds to win were around 10.0, however, when Djokovic was ruled out Rafa's odds came to around 3.5.
Rafa faced Daniil Medvedev in the final and after more than 5 hours claimed the title. Rafa came back from being 2 sets down to win and break his tie with Djokovic and Roger Federer in men's singles major career victories. Nadal now holds the all-time total titles record at 21 while Djokovic and Federer are at 20 each.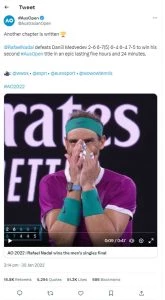 https://twitter.com/AustralianOpen/status/1487791222299242502
Looking to the 2022 French Open
What lies ahead for the Big 3? Nadal is in great form heading into his best major while Djokovic will probably not be allowed to play and Federer will not be fit. So this will be the 4th time since 2005 that only 1 of the Big 3 enters a Grand Slam. The "King of Clay" having won 13 French Opens and 62 clay court titles, will be the favorite to win, which will take him 2 grand slams clear ahead of his rivals.
However, there's a new crop of tennis superstars waiting in the wings that will soon take over from the Big 3. Younger players like;
Daniil Medvedev
Alexander Zverev
Stefanos Tsitsipas
Andrey Rublev
Casper Ruud
Felix Auger-Aliassime
Are making inroads and will target the Big 3, particularly when one is out on his own.
More by Nakul Shah

In 2016, I worked on my first client to help write a white paper for a crypto and blockchain project they were building, and started delving deeper into blockchain and distributed ledger technology.