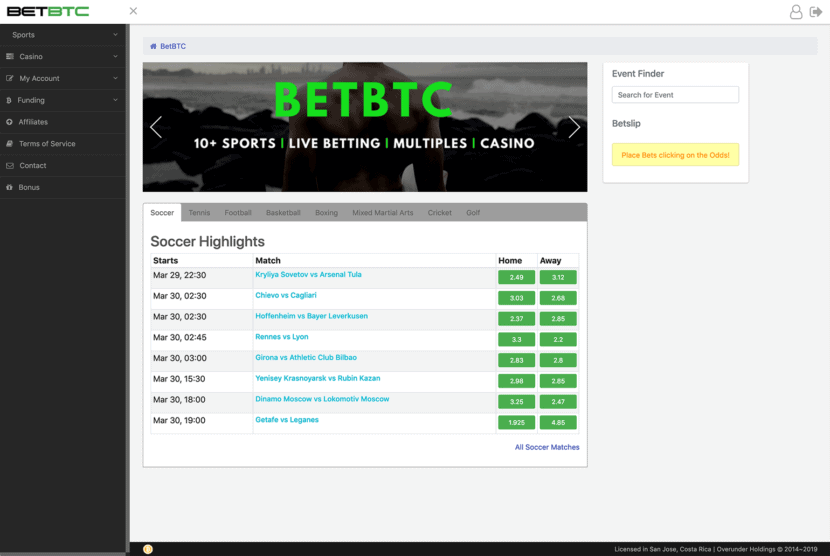 Pros
Good odds.
Good support.
Good dice game and binary options.
Fast withdrawals.
Good privacy.
Cons
High min bet and low max bet.
Clunky basic website.
BTC only.
Small range of bets and live betting.
Privacy and security
8/10
Established
2016
Located
Germany
Min bet
1 m฿
Max bet
500 m฿
Currencies

:
BTC
BetBTC was one of the best crypto betting exchanges but they recently changed their model to that of a traditional sportsbook. In this case it was a good move.
They also have binary option trading on major cryptos (review) and a dice game (review).
User experience
BetBTC has a simple, clear layout and options. There is zero wow factor or fun factor, the design is basic and functional.
There is no clutter and BetBTC make navigation easy with clear menus, breadcrumbs and a search function. The exception to that is that all soccer competitions are listed in no discernible order; not alphabetically, not by country, we cant figure out how they are ordered.
The bet history, profit and loss and account statements are fantastic.
The min bet of 1m฿ is much too high and the max bet of 500 m฿ is much too low
Odds
Sportsbook's overround: 4.08%
50:50 equivalent: 1.92
BetBTC odds are very good, amongst the best of all crypto sportsbooks.
Range of bets
Range of sports, leagues and events: Medium; they only have the big sports but within those sports they have a large range of leagues and competitions.
Range of bet types per event: Small; only winner/moneyline, spread/handicap and totals.
Live betting
BetBTC has a small range of live betting available. There are no live scores, streams, trade out button, accept odds change button or any live betting specific features.
Again the advantage to the lack of features is that it does give a clear layout with no bugs.
Transactions
Unique deposit addresses: Available once every 2 hours...strange.
Confirmations before bet: 1.
Withdrawal time: Instant!
Player to player transfer: Not available.
You can only withdraw full m฿ amounts, that means if your balance is 20.9 m฿, you can only withdraw 20 m฿, having to leave 0.9 m฿l (~$4 USD) in your account. This is really not okay, it's your money, you need to be able to withdraw it.
Customer service
Customer service channels available: On-site contact form.
Speed of replies: Our tickets took about 15 hours to be replied to.
Accuracy of replies: Very good, most questions seem to be replied to by senior staff.
Real life customer service test
Question: What happens with NHL hockey bets if the game ends in a draw and is won in overtime or in a penalty shootout?
Answer
:
In Ice Hockey Events we usually have 2 "winner" markets, one is the Moneyline, which has no draw (result after OT/Penalty) and we have the match odds market that includes the Draw and is the result after the regulamentar time.
Notes: Apart from the spelling and grammar errors this is a good answer for its detail and accuracy.
Privacy and security
Information required at signup: Email address.
2 factor authentication: Not available.
Geo-targeting
BetBTC does not block any bettors based on country, just like it should be!
Bonuses
100% first deposit bonus of up to 3000 m฿. The bonus is released into your account gradually depending on your bets. That stops after 365 days or when you make a withdrawal.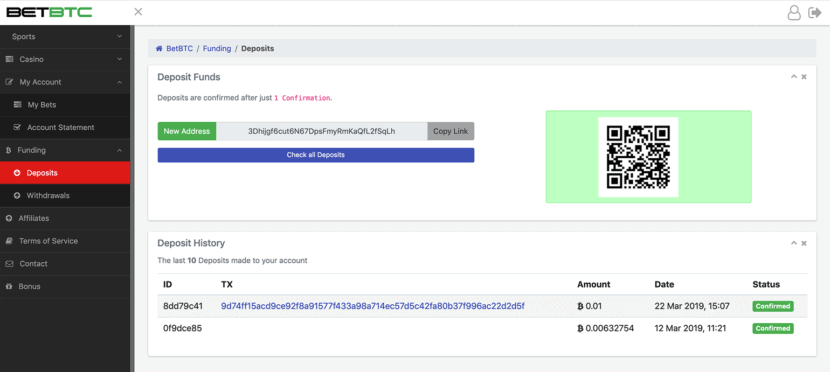 Overall
BetBTC is a simple solid sportsbook with great odds. It's not the most beautiful or fun site but it's great for serious bettors.
Visit BetBTC
Sportsbook walk-through
More crypto gambling videos