American bettors are geo-blocked. Enable or disable geo-targeting in the settings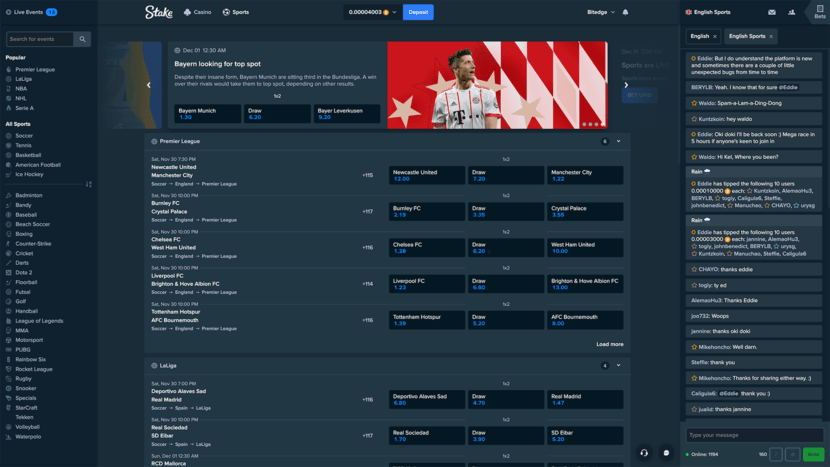 Pros
Good live betting.
Beautiful on all devises.
Simple and easy to use.
Small min bet and large max bet.
Good dice and casino games.
Longstanding trusted operator.
Privacy and security
9/10
Established
2017
Located
Australia
Min bet
100 satoshis
Max bet
7000 m฿
Currencies

:
BCH
BTC
DOGE
EOS
ETH
LTC
TRX
XRP
Stake came from the team at Primedice (review), one of the oldest and most trusted crypto gambling sites there is. Stake has long been one of the best crypto dice sites (review) and HTML5 casinos, now they have added a fantastic sportsbook. Stake is a full featured dedicated sportsbook, not a casino with a sportsbook squeezed in as an afterthought.
One great feature is the smallest min bet and largest max bet in the industry. At the time of writing the min bet of 100 satoshis is less than $0.01c USD, less than 1 cent! This is perfect for testing new betting and staking strategies  you are working on. Meanwhile the max bet on regular events is more than $50,000 USD!
User experience
The design is beautiful and intuitive on all devices. You will never be confused or left looking for something that is not where you expect it. Everything works and flows perfectly. The dark theme allows for long sessions in total comfort. The community chat is always active and helpful with the sports betting chat kept separate from the casino chat.
Stake has the best user experience of all sportsbooks.
Odds
Sportsbook's overround: 4.8%
50:50 equivalent: 1.91
The odds are good value and competitive. Like everywhere, the live odds have quite a bit more overround built into them than the pre-live odds do.
Range of bets
Range of sports, leagues and events: Great. All the sports and esports are there, we are only missing horse racing.
Range of bet types per event: Huge, over 100 different markets on the big soccer leagues.
Stake has the equal best range of bets of all sportsbooks.
Live betting
The live betting is wonderful. You get a clear detailed scoreboard, real time odds changes and rising/falling odds indicators. The cashout feature is the smoothest and easiest we have ever used.
The coverage is very comprehensive including minor sports and leagues.
Transactions
Unique deposit addresses: Not available.
Confirmations before bet: 1.
Withdrawal time: Instant.
Player to player transfer: Available.
You can deposit with any of the hundreds of cryptos supported by Coinswitch and have it converted to any of the half a dozen main coins of your balance.
We love the max withdrawal button which saves you from having to enter your full balance down to 8 decimal places.
Stake has the best transactions of all sportsbooks.
Customer service
Customer service channels available: Live chat and community chat.
Speed of replies: Nearly instant.
Accuracy of replies: Good, staff are well trained and knowledgeable.
Real life customer service test
Question: Hi, what is "Vault" in the cashier box?
Answer
:
You can think of the vault as a separate personal bank account. You can store funds in there that you don't want to play with. Also in case you suspect your account has been compromised you can store funds in it since a confirmation from your email is required to withdraw them from the vault.
Privacy and security
Information required at signup: None, not even an email address.
2 factor authentication: Available.
Stake has the equal best privacy and security of all sportsbooks.
Geo-targeting
Bettors in Australia, Cuba, Curaçao, the Czech Republic, France, Iran (Islamic Republic of), Italy, Korea (Democratic People's Republic of), Netherlands, Poland, Portugal, Slovakia, Sudan, Syrian Arab Republic, the United Kingdom of Great Britain and Northern Ireland, the United States of America and Venezuela (Bolivarian Republic of) are geo-blocked by Stake.
Bonuses
EXCLUSIVE
You can only get this bonus here at BitEdge!
$100 USD worth of crypto in reloads for depositing more than $100. The reload consists of $5 per day, spread across 20 days that can be claimed with a simple click of a button on Stake. This bonus does not have any strings attached, no turnover requirements or anything like that.
Conditions: Total deposit amount has to be higher than $100 USD (the equivalent in crypto at that time). You have to be email verified. Only one bonus per person.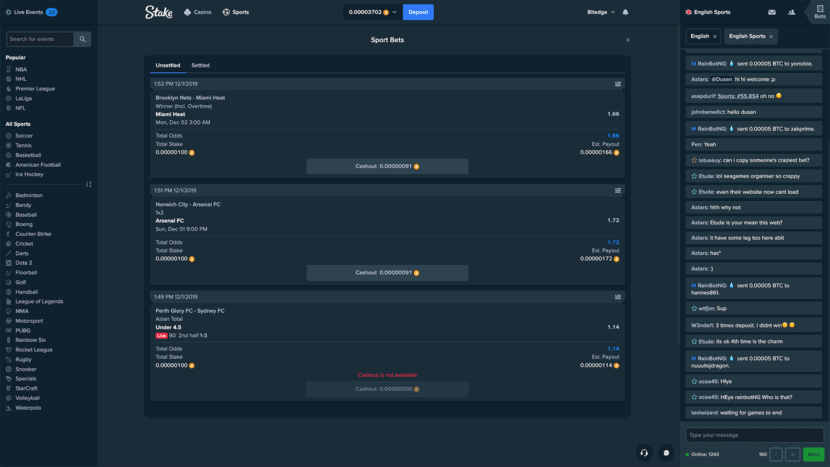 Overall
Stake is a fun sportsbook to bet on with good odds, huge max bets and tiny min bets. The sportsbook is close to perfect and as a bonus you get great dice and casino games to play from the same account balance. The overall high quality of operation and how everything just works lets you know you are in good hands and your funds are safe.
Visit Stake