Privacy and security 8/10
Established 2015
Located RUS
Min bet 20 satoshis
Currencies:
BCH
BCN
BTC
BTG
BTS
DASH
DGB
DOGE
ETC
ETH
GAME
LTC
QTUM
SIB
STRAT
TRX
XEM
XMR
XRP
XVG
ZEC
1xBit first ran a government currency site, 1xbet. Instead of just adding crypto transactions like a lot of government currency sites have, they took the right choice and made a stand-alone end-to-end crypto site.
There is a lot going on here
Dice game.
Sports betting and live betting including a betting exchange, horse racing, trots, greyhound racing and cockfighting!
Casino including live casino, XXX games and games like rock-paper-scissors and Russian roulette.
Poker room.
Sports betting is decent, everything else is bad.
Dice game
There is a cool slider to select your target range. That means rather than just betting to roll over or under a number you can also bet to roll in between or outside any 2 numbers, for example, you can bet to roll in between 25 and 75.
There is a nice 3D dice graphic to display the result. The auto-betting bot is good too.
The max-bet is an absurdly low 13 m฿. I suspect 1xBit decided to start with a very low min-bet and then made the max-bet a multiple of that. It's so low it eliminates running most betting strategies or just having a big exciting bet.
Auto betting bot
1xBit has the most detailed and complete auto-betting bot available. You set, well everything! It starts with a range slider, this is a novel and visual way to set the top and bottom of the range of numbers you hope to roll. You can also set this the standard way by entering numbers into input fields.
The bot displays your chance of winning and payout odds.
These first things are redundant as they are present on the normal, not auto-betting interface, and the settings you set in one place are automatically applied to both places.
The other auto-betting settings are
Base bet.
A number of rolls (optional).
In case of a loss or a win you can

Return to base bet.
Do not change your bet.
Increase bet by a %.
Decrease bet by a %
Switch between betting over or under, for example. switch from betting over-50 to under-50.

Stop loss or stop profit (optional).
Unfortunately, the auto-betting experience is partly ruined by the ridiculously low 4 m฿ max-bet. However, that is matched with the incredibly low 20 satoshi min-bet. This means you can run betting strategies but not win meaningful amounts in a short time.
User experience
The website is cluttered and clunky, trying to cram too many things into 1 place. There are too many options and they don't always work as expected.
We did not like it at first but it grows on you as you use it. You will not feel disorientated after you figure out where things are and how they work and some parts of the site are actually pretty cool.
Just finding the dice game is an example of this, it's buried away and there is another game called "Dice" which is not the one you are looking for (you are looking for "PF Dice"). However, after you find it for the first time, you will find it easily from then on.
It's a pain that you have to transfer funds between your main balance to your dice balance and back for no good reason. In the dice game your m฿ balance is tracked to 7 decimal places (which is impossible, m฿ only has 5 decimal places) then when you want to transfer out of dice balance you can only transfer amounts to 2 decimal places so some dust will be left behind.
Trust
1xBit has the trust advantage of being a large and long-running business (long-running as 1xBet, before crypto). The site's obvious Russianness might put some people off.
1xBit has the same thing up at multiple URLs. The main one is 1xbit.com but they also use and link to addresses like 1x-bit.com and 1xcrypto.com. This is confusing and insecure.
Transactions
Unique deposit addresses: Not available.
Confirmations before play: 6 for casino games, 1 for everything else.
Withdrawal time: Not instant but less than 1 hour.
Player-to-player transfer: Not available.
The minimum withdrawal is way too high, at 5 m฿! There is no withdrawal fee so this policy may have come about when bitcoin transaction fees were very high.1xBit supports a huge range of 18 different cryptos!
Customer service
Customer service channels available: Live chat and email.
Speed of replies: Live chat usually reply instantly but are slow to actually help, or sometimes they just forget about you. Emails are quickly replied to.
Accuracy of replies: Okay if you are asking a question about 1xBit's products and rules. Bad for anything else. They are not knowledgeable about crypto and they are useless if you have a bug or issues. Live chat will waste your time getting nowhere and ask you to email support instead.
Real-life customer service test
Question: How many confirmations do a Bitcoin deposit need before it can be used to bet? Answer:
Deposit via Bitcoin may take up to 24 hours depending on the priority you have chosen. There is no confirmation limit however.
Notes: This is incorrect and shows a lack of understanding about Bitcoin transactions. After I tried to explain the number of confirmations is not a limit but rather a requirement they will have set, probably between 1 and 6, the customer service staff would still not get the correct information.
Privacy and security
Information required at signup: Email address.
2-factor authentication: Available.
Geo-targeting
Players in the United States of America are geo-blocked by 1xBit.
Bonuses
100% first deposit bonus up to 1000 m฿. The funds go into your account gradually as you bet and you can easily opt out.
There are several different bonuses and special offers depending on your interests. It's nice that the terms and conditions are explained fully and clearly.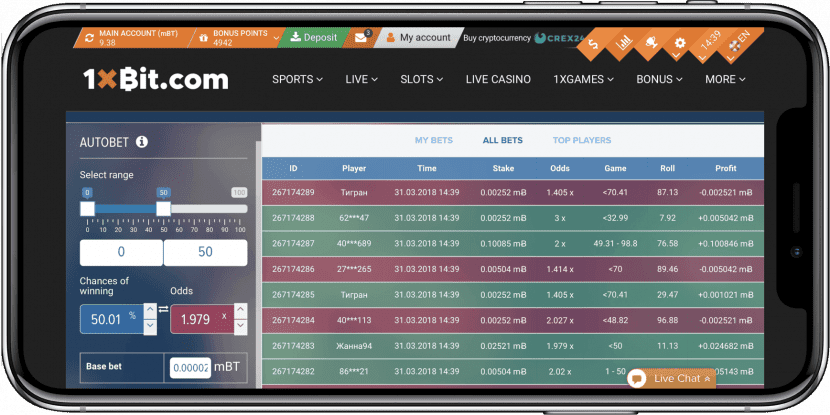 Overall
The main reasons to use 1xBit are if you want to use altcoins or if you want lots of different kinds of gambling from the one account, like sports betting and casino, as well as dice.
Even if that applies to you the higher-ranked options on this site are much better.
Dice site walk-through