Pros
Beautiful design on all devices
Easy to use
Fast transactions
Cons
Low max bet
3% house edge
Time delay on roll
Poor search
Privacy and security 7/10
BitCasino is one of the best and most trusted crypto casinos around, and it's now branching out to crypto dice. This casino pedigree gives BitCasino a decided edge over other crypto dice sites.
Dice game
BitCasino's dice game is clean and simple, but there's a time delay between pressing the roll and the roll happening. If you select a bet more than the max bet, it will automatically adjust down to the max bet and place the bet. There's no way to set a 50% chance of winning as you can only adjust the value with a slider. It's also a 3rd party game and comes with a house edge of 3%, which is significantly higher than the industry standard of 1%.
The auto-play feature is simple and easy to use but doesn't come with any pre-built strategies. However, you can set up a good range of popular strategies, such as Martingale or d'Alembert, on your own with the options that are available. It's the same 3rd party game that Cloudbet uses with the same 3% house edge.
User experience
The dice game is very well made and is clearly laid out. It works well across desktop, mobile and tablet devices. That being said, it feels more like a mobile-focused game as on desktop it doesn't fill the full screen like a lot of other dice games we've seen.
Your balance is displayed in crypto, but your bet value and win amount is displayed in Euros when playing the crypto dice game, which makes for a horrible experience. You'll also have to go through the providers to find the dice game as it doesn't appear in the search bar when you type in "dice".
Trust
BitCasino has had an impeccable record since 2014, never witnessing a major incident or unexpected downtime. This makes them one of the safest crypto dice sites around.
Transactions
Unique deposit addresses: Generated automatically.
Confirmations before play: Instant.
Withdrawal time: Less than 15 minutes.
Player-to-player transfer: Not available.
There is a minimum withdrawal of 1 m฿, but withdrawals are virtually instant, which more than makes up for this high minimum withdrawal. It's refreshing to see 0 confirmation deposits as you can get straight into the action.
Customer service
Customer service channels available: Live chat and email.
Speed of replies: Live chat replies instantly 24/7. Our emails took about an hour to be replied to.
Accuracy of replies: Okay, the staff are just about knowledgeable and well-trained enough.
Real-life customer service test
Question: How do I get a fresh Bitcoin deposit address?Answer:
After each deposit, a new bitcoin address is automatically generated.
Privacy and security
Information required at signup: Email address.
2-factor authentication: Available.
There is a section where you may be asked to upload documents to verify your identity. However, we weren't asked to do this for our deposit, playing or withdrawal.
Geo-targeting
Players in the following countries are geo-blocked by BitCasino:
Australia
Germany
Netherlands
United Kingdom of Great Britain and Northern Ireland
United States of America
Bonuses
All bonuses are awarded through BitCasino's loyalty program. When you play you earn points which progress the player through various milestones. When you reach a milestone, you earn free spins or cashback. This is easy to follow on a well-presented tracker.
The points reset on the first day of each month.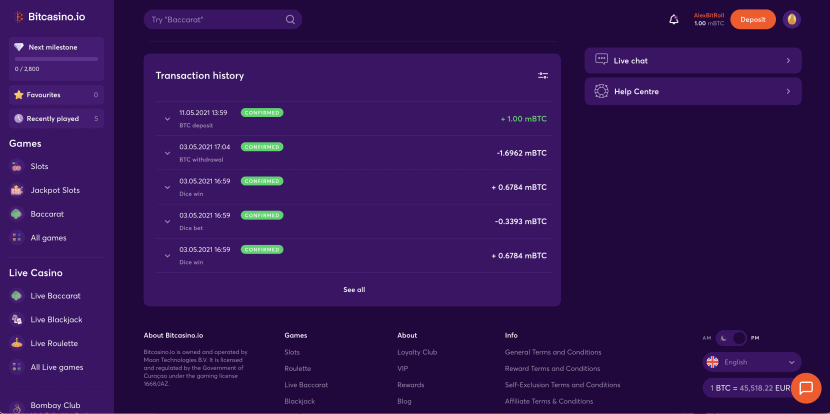 Overall
BitCasino has a pretty average crypto dice game. Its high house edge of 3% and time delays make it hard to enjoy, especially as you've got to hunt to find the game.
That being said, deposits are instant and the design makes it one of the best-looking crypto dice sites around.
Dice site walk-through