Pros
Simple and easy to use
Attractive design
High max bet
Good privacy
Cons
Bitcoin only – altcoin converter available
Complex deposit bonus
Variable customer service accuracy
Privacy and security 9/10
Established 2015
Located POL
Min bet 1 satoshi
Currencies:
BTC
OneHash was first known as a sports betting site but they have a lovely dice game and binary options.
Dice game
The dice game is a pleasure to use. The site just gets out of your way and lets the fun come from the gambling.
The auto-betting bot is super easy and nice to use. It has a slow roll in keeping with the relaxed atmosphere of the site. I like that because you can spectate and follow your auto-rolling as it happens.
Auto betting bot
The OneHash autoroll bot is very easy to use. The animation is slower than most which I really like, it's slow enough that you can follow your rolls in real time. The dice game is so well designed in general that the bot is just a pleasure to use.

User experience
The design is open, clear, simple and beautiful. Everything is where you expect it to be and works how you expect it to work. The one exception is the sportsbook, which takes some to get used to, but apart from that the site is great to use.
Trust
OneHash is very trustworthy. They have been operating incident free since 2015. They are real bitcoiners, actively engaging with the community where we live. I have never heard a bad word about them.
Transactions
Unique deposit addresses: Available.
Confirmations before play: 2.
Withdrawal time: A few hours or more.
Player-to-player transfer: Not available.
Customer service
Customer service channels available: Live chat and on-site submission. The chat pops up when you open the site with a prompt asking if you need assistance.
Speed of replies: Live chat takes around an hour to reply if you're lucky.
Accuracy of replies: Variable.
Real-life customer service test
Question: What is the max bet/max win on dice?Answer:
The maximum amount you can win is the maximum Bitcoin that you can have in the service which is 1 Bitcoin multiplied for the minimum multiplier x1.010. You can make with every roll 0.01 Bitcoin.
Notes: This is incorrect. As per OneHash T&Cs the max you can have in your account was 3 Bitcoin (it's now 9.9999 Bitcoin). Customer service corrected himself after I pointed that out. After the incorrect figure of 1 Bitcoin is given the answer gets confusing.
Privacy and security
Information required at signup: Email address.
2-factor authentication: Available.
OneHash has the equal best privacy and security of all dice sites.
Geo-targeting
Players in the following countries are geo-blocked by OneHash:
Curaçao
France
Netherlands
Poland
United States of America
Bonuses
OneHash offers a sliding scale welcome bonus that's based on the value of your first deposit:
Make a first deposit in the range of 0.7 m฿ – 1.49999999 m฿ to get 30 Free Spins.
Make a first deposit in the range of 1.5 m฿ – 2.49999999 m฿ to get 75 Free Spins.
Make a first deposit larger than 2.5 m฿ to get 150 Free Spins.
Free Spins are only available on Treasures of Egypt, Wild 7 Fruits and Lion the Lord.
Funds won will have a 40X rollover requirement. The max winnings paid out from Free Spins will be the equivalent of 100 EUR in BTC.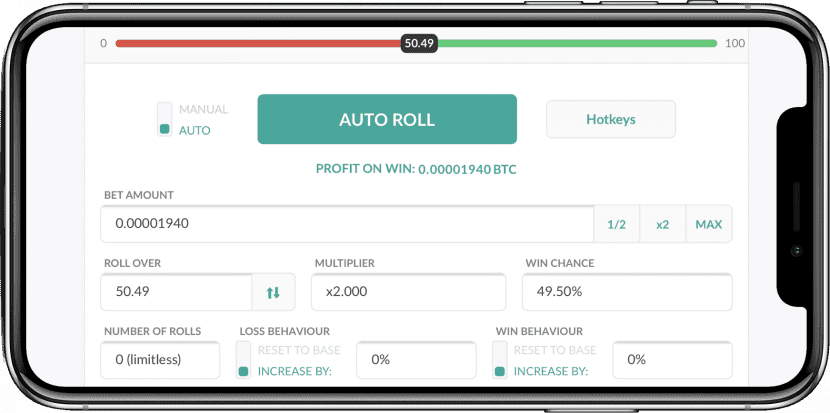 Overall
OneHash is a pleasure to play dice on! The other games are great as well. We would recommend giving OneHash a try.
Dice site walk-through