Pros
Dedicated dice site
Simple and easy
Fast support
Instant withdrawals
Cons
No built-in staking plan
High minimum withdrawal
Privacy and security 8/10
Established 2013
Located AUS
Min bet $0.00057
Max win $141,502
Currencies:
BCH
BTC
DOGE
EOS
ETH
LTC
TRX
XRP
It's easier to do something well if it's the only thing you do. Primedice only does crypto dice and they do it well.
Dice game
Primedice's betting interface is really good. It's attractive and intuitive with all the options and information you want on an easy-to-use display.
There is a cool liner graphic display of your dice roll target and result which makes betting fun. The automatic betting bot is great – everything works perfectly every time. Couple this with a low house edge of 1% and you've got a strong offering.
Primedice's auto-betting bot does not have staking plans built-in or a way to automate your betting strategies as other dice sites do.
Auto betting bot
Primedice has one of the best auto-betting bots. Like everything on Primedice, it looks, flows and performs like a dream. It's so intuitive you will not accidentally miss-set an option or have any frustrations using it.
I enjoy the option to limit the number of rolls in order to run martingales in chunks of 10 rolls rather than individual rolls. So you can bet a series of 10 rolls at a stake, then if you lose you can bet the next series of 10 rolls at twice the stake until you are up overall or reach your stop loss. This can withstand losing streaks much longer than martingale on individual rolls and when you have a losing chuck of 10 bets you almost never lose the full amount risked (10 loses and 0 wins) like you do when you lose a bet in the normal martingale. Primedice has the equal best auto betting of all dice sites.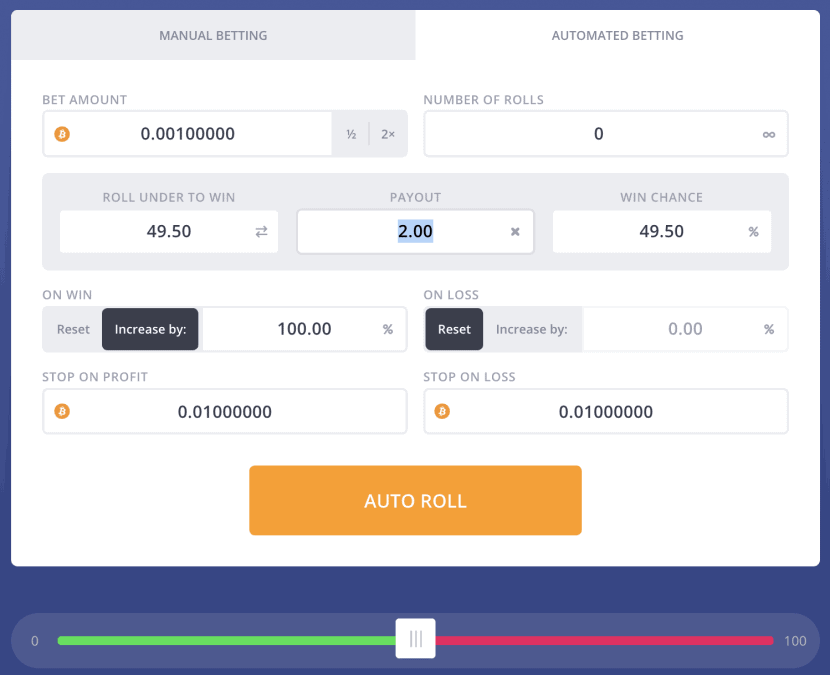 User experience
All of the options and stats are accessible from tabs on the accounts page. This makes everything convenient and easy to find and the layout is nice.
We especially like the friendly and active chat and the lifetime stats including how lucky you have been.
Trust
Primedice has had a couple of hiccups in the past, including when they lost thousands of accounts in database migration. They recovered by finding most, but not all of them.
Before that, a hacker got the better of the dice game by exploiting a bug allowing him to win as much as he wanted. This resulted in some downtime.
Primedice tries to do the right thing for customers but a few problems here and there over the years raises some concern about their competence.
Transactions
Unique deposit addresses: Not available.
Confirmations before play: 1.
Withdrawal time: Instant.
Player-to-player transfer: Available.
The Coinswitch service is offered so players can exchange a wide range of altcoins into a Primedice-accepted currency.
The minimum withdrawal is 2 m฿ which is on the high side.
Customer service
Customer service channels available: Live chat is available to speak to a member of staff, or you can post in the community chat or on the Primedice forum for player support.
Speed of replies: Live chat replies within five minutes.
Accuracy of replies: Normally good, support staff are well trained and knowledgeable.
Real-life customer service test
Question: How can I get a new deposit address? Will a new one be generated after I deposit it into the current address?
Answer: You have one deposit address and you can send your deposits to that address. Your deposit address will not change until we change our wallet.
Notes: This is bad privacy and security, Primedice should know better.
Privacy and security
Information required at signup: Email address.
2-factor authentication: Available.
Players can sign up by linking their Facebook, Google or Twitch accounts.
Email verification is required when depositing and when signing in – but not for withdrawals.
Geo-targeting
Players in the following countries are geo-blocked by Primedice:
Australia
United Kingdom of Great Britain and Northern Ireland
United States of America
Bonuses
Primedice offers weekly, monthly and level-up bonuses through their VIP program.
Players have to earn their way to the bronze level for the rewards to start. Bonuses gradually get larger as progress is made right the way up to the diamond level.
You can see how close you are to the next level on the VIP Club page, which clearly shows what's needed to climb up the ladder.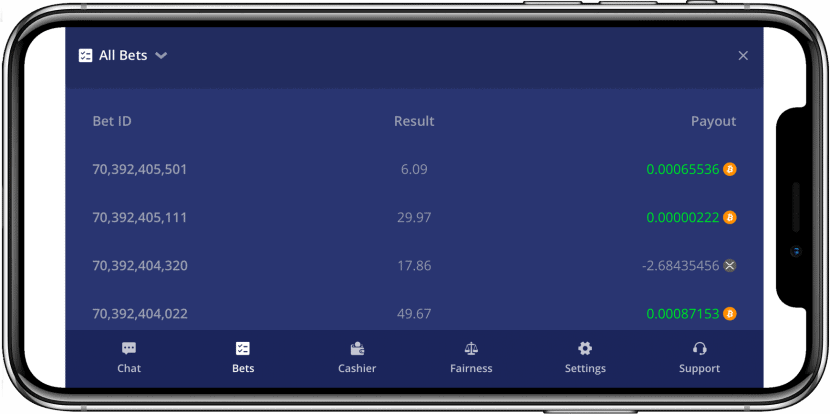 Overall
Primedice makes playing dice as simple and user-friendly as possible. The game runs really well, its only fault is the auto-betting bot's lack of built-in staking plans.
Primedice's website and dice game are clean and reliable, and a good choice if you want an easy no-frills experience.
Dice site walk-through
https://www.youtube.com/watch?v=qWYkfXxp9so