Pros
Working Bitcoin faucet
Jackpot available
Great looking site
Good privacy & security
Cons
Slow live support
House edge of 1.5%
Privacy and security 9/10
Established 2018
Min bet $0.03
Max win $28,300
Currencies:
BTC
EOS
ETH
USDT
TrustDice began life as a crypto dice site, eventually adding a full casino and a sportsbook. With a great design, a jackpot and lots of bonuses, TrustDice's dice game is one of the best out there.
Dice game
TrustDice offers a slick and feature-rich dice experience, which makes this an enjoyable game. The gameplay is smooth, free of glitches and comes with both manual and auto-play features. The Autobot options are slightly limited, for example, you can't simply set it to keep betting until you lose.
There's a jackpot that you can win by rolling 7777. The jackpot takes 7% of the site profit, meaning it can get rather large. At the time of writing, it's just over 2 ฿. However conditions of this jackpot a such that even if you win it you will only win a percentage of it, probably a small percentage.
The lowest you can bet to roll over is 5/100 with a 95% chance of winning. Almost all other dice games allow you to bet to roll over 1 with a 99% chance of winning (same at the top end of the range). This blocks some betting strategies such as the optimal way to bet to win the jackpot.
TrustDice has the best transactions of all dice sites. has the equal best dice game of all dice sites.
Auto betting bot
TrustDice has a decent auto-betting bot, giving you a good deal of features to customize your betting strategy. You can adjust how your bet value changes on losing and winning rolls, stop when the bet amount reaches a certain value and once you hit a certain number of bets.
Unfortunately, the auto-betting experience is hampered by the fact that the lowest you can bet is over 5 with a 95% chance of winning. The same goes for betting under, with the cap being under 96 with a 95% chance of a win. This prevents certain strategies from working well, especially if you're after the jackpot.
You also can't set it to keep rolling while you win and stop rolling as soon as you lose.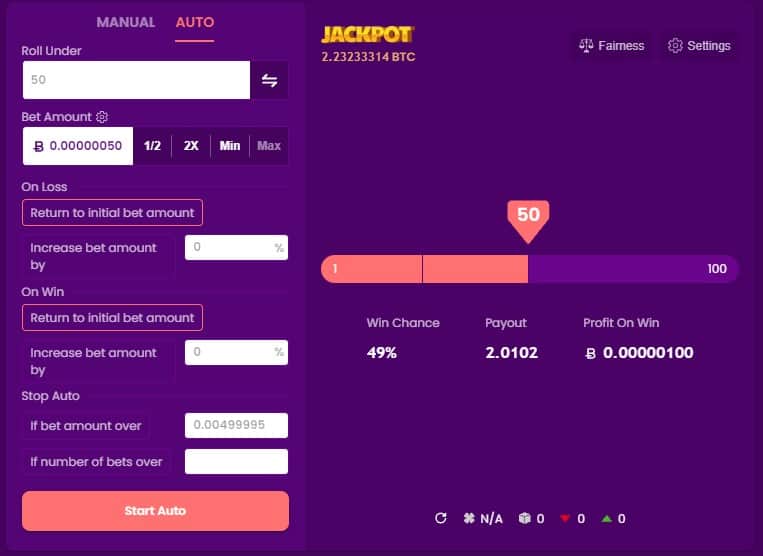 User experience
As far as dice sites go, TrustDice is one of the nicest-looking and most functional. It's a clean experience that has just enough going on to stop it from feeling baron.
Seeing your name pop up as a winner in the global bet table is a great rush. You can also see your total wins and losses for the session, which is a cool feature to have.
Trust
TrustDice is a reputable dice site and has no records of hacks or thefts from player accounts. It launched back in 2018 but has built up a good reputation in that short space of time.
Transactions
Unique deposit addresses: Available by manual request to support.
Confirmations before play: 1.
Withdrawal time: Virtually instant.
Player-to-player transfer: Not available.
You will need to contact customer support to get a new deposit address. Also, if TrustDice gets a lot of withdrawal requests at once for a particular cryptocurrency and they don't have enough in their hot wallet, you could have your withdrawal delayed while they top it up.
TrustDice has the best transactions of all dice sites.
Customer service
Customer service channels available: Live chat.
Speed of replies: Slow. We waited 15 minutes for replies at times.
Accuracy of replies: Accurate and helpful.
Real-life customer service test
Question: What is the house edge on your dice game?Answer:
Hello sir, how are you? Our house edge on our Dice Game is of 1.5%.
Response times are erratic, even within a chat session.
Privacy and security
Information required at signup: None, not even an email!
2-factor authentication: Available.
You need to add an email address if you wish to claim free tokens from the task center and faucets.
TrustDice has the equal best privacy and security of all dice sites.
Geo-targeting
Players in the following countries are geo-blocked by TrustDice:
Aruba
Bonaire, Sint Eustatius and Saba
China
Curaçao
France
Netherlands
Sint Maarten (Dutch part)
Spain
Bonuses
After creating your account, you can get 30 free spins by entering the bonus code FS202106151419 in the bonuses section of your TrustDice account.
TrustDice has a working Bitcoin faucet that you can claim. Depending on your level, the time delay between claiming can be as long as 6 hours and as short as 1 hour.
You can also unlock increasing levels of cashback by simply playing dice and improving your player level. You'll need to climb up 5 levels to unlock 1% cashback. The top tier of cashback is 11%.
There is also a sportsbook bonus and casino bonus available.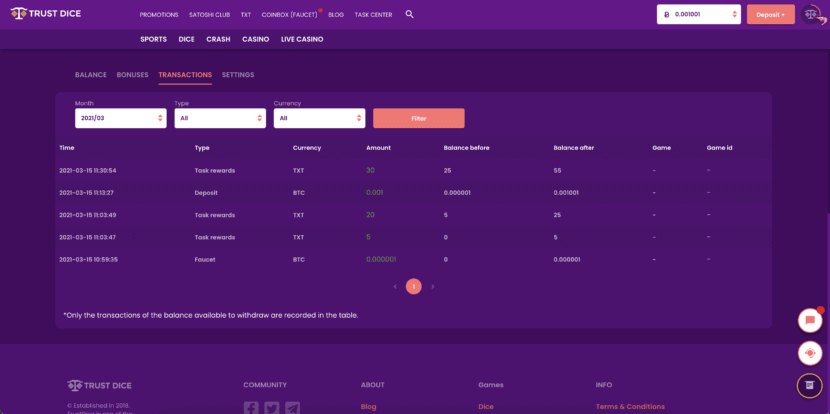 Overall
TrustDice is a great crypto dice site, packed full of features and bonuses that not too many other dice sites offer. Its clean user interface, slick performance and jackpot make TrustDice a top-quality site.
The slow customer support is a pain point, although when you do get a reply the answer is pretty helpful. The house edge is 1.5% which is a lot higher than the industry standard of 1%. The working Bitcoin faucet is great to see – it's free Bitcoin, after all.