The competition is a series of 8 challenges that are completed by making specific types of winning bets. Whoever completes the most challenges wins the 20,000 m฿ prize! Each challenge is represented by a letter of the word N.I.T.R.O.G.E.N, they are listed below.
To help you understand the different bet types you will have to make to win, read our blog Sports bet types explained.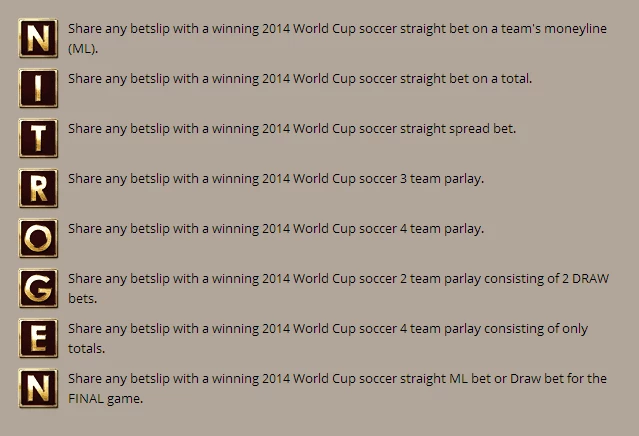 Check the full terms and conditions and have a go at winning the 20,000 m฿ yourself while adding some excitement to the tournament and improving your soccer betting.
The chance to win 20,000 m฿ is not the only reason to join Nitrogen. They are an industry leader with instant deposits and withdrawals, strong security and good support. You can verify that they usually have the best odds by checking our odds comparisons.
I will bet on this competition and update this post with my strategies and results for each challenge. Nitrogen Sports will display a leaderboard on which I am displayed as user 189.
Update 1: At least 10 people will share the prize
June 23, 2014
About halfway through the tournament I have completed all possible letters and am sitting on top of the leaderboard, guaranteed to win the prize. Sounds good? Not really; there are 8 other bettors in the same position and 8 more right behind us! So many bettors will have to share this 20,000 m฿ I suspect we will only get about 1000 m฿ each.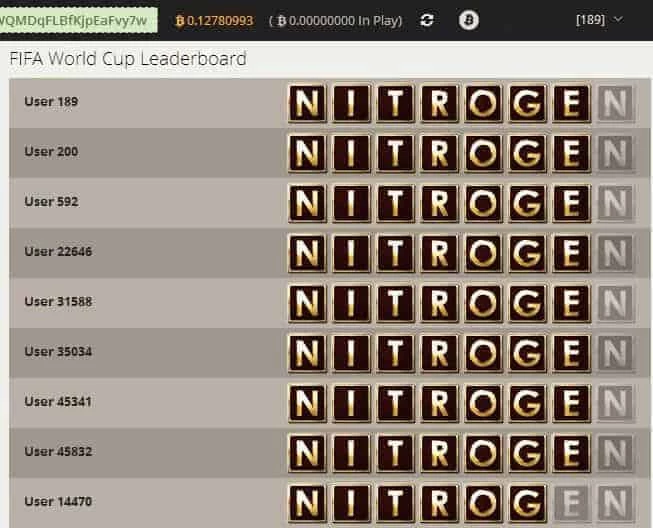 It all started so promisingly. I got the first 3 letters in the very first game with a nice profit to go with them. The following letters came easily enough, except for one that was painful and cost me almost as much as the eventual prize will be. The problem letter was G.
2 leg parlay consisting of 2 draws
Those of you who have been enjoying the World Cup, with its high-scoring matches and upset underdog wins, might have noticed this has been the least-drawing World Cup ever!
This is usually good for the bettors and bad for the sportsbooks because most bettors just pick which team they think will win, and bet on that team, ignoring the draw. Well, I could not do that having to complete this 2 draws parlay challenge.
It took 11 games before there was a single draw and 14 until the second came up. Probability said it should have only taken 8 games for the second draw! Multiple even contests were snatched from my grasp by last-minute and extra-time winners. Such as Switzerland beating Ecuador and the USA beating Ghana by single goals in the death throes of games I had bet to be drawn.
While I knew Nitrogen Sports would make money from players who lost in this competition, I did not expect to lose money by winning it but that seems like the most likely outcome.
Nitrogen has been okay to bet with, they have usually had the best odds but early in the tournament, they were DDoSed by an extortionist! There were very slow load times and bet slips not populating properly. This often meant it took so long to get a bet, that the odds would change and I had to reload the page, starting the same problem over again.
Nitrogen Sports made this much worse by paying the extortionist! They fixed the problem after about a week.
Edit: It turns out this problem was due to a DDoS attack by an extortionist that Nitrogen made much worse by paying him!
Read more about parlays
Final update: We won 1538 m฿ each
June 23, 2014
13 bettors completed all the challengers, meaning we each received 1538 m฿. One bettor was 1 challenge short, one bettor was 2 challenges short and one bettor was 3 challengers short. No one else came close, which means almost everyone who tried to win, did win.
Well done to Nitrogen Sports for paying promptly and not putting any turnover requirements on the prize. We were able to withdraw anonymously, instantly and for free, just like Satoshi wanted!
I am sure internally Nitrogen Sports are calling the competition a success as it generated a lot of extra betting and even the winners lost money overall. We lost willingly by chasing the prize that turned out to be much smaller than we expected!
I imagine Nitrogen Sports will follow this up with similar competitions in the future. They will need a much bigger prize pool because people have seen 20,000 m฿ become 1538 m฿, and because the Nitrogen Sports user base just keeps growing.
Well done to the other winners and Nitrogen Sports, a valued member of the crypto gambling industry. An industry which pushes the limits of censorship and technology driving the whole crypto ecosystem forward.