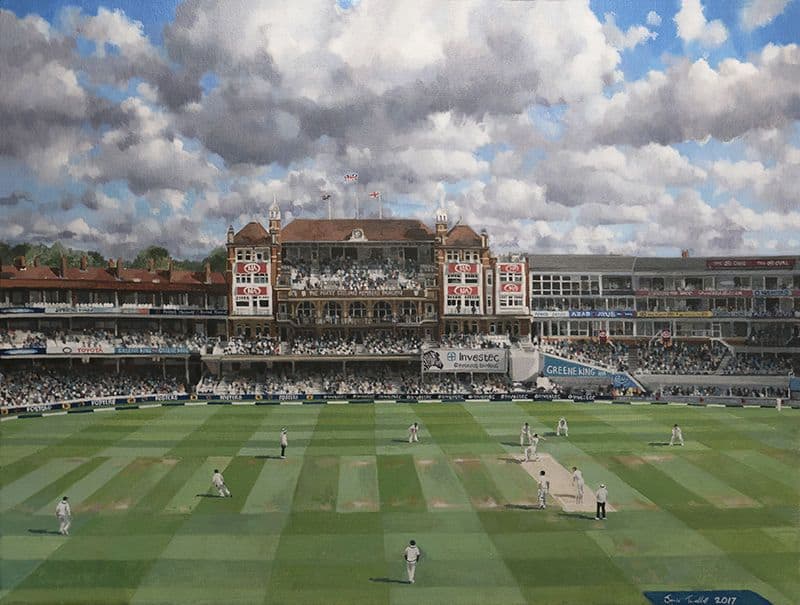 Cricket is one of the most traditional games in the world, with its roots in 18th-century Britain. The game has since flourished and is now considered the second most popular global sport, behind only soccer.
Cricket is a statistician's dream, with averages, totals and run rates constantly used to illustrate the state of play. This can allow a clear perspective on potential winners or individuals who should perform well – perfect for betting.
Whether you're a complete newbie to the game or have copies of Wisden Cricketers' Almanack stacked up on your bookshelves, this guide will help give you an edge when betting on cricket with crypto.
Different forms of the game
Test Cricket
The most traditional form of the game, test cricket is usually played over 5 days (sometimes 4). It's considered the pinnacle of the game, with only twelve nations granted test status. The pace of play is slow, with batsmen eager to wear down their opponent's bowlers and create a big total run score.
Test cricket is a great game to lose yourself in, with bets giving you potential entertainment for days on end. Due to the long nature of the game, shocks are less likely as teams have time to recover from a momentary lapse or freak occurrence (although that's not to say they never happen). From a betting point of view, this is helpful.
On the other hand, your money can be tied up for a long time with test cricket betting. Rain is always a threat too, with nailed-on results sometimes finishing as a draw as play gets suspended. Conditions can change throughout the match, potentially throwing any solid pre-match research out the window. Instances like the follow-on can also hurt certain bets. For example, if you backed a player to score over 100 runs in a test but their team only bats once then you're left short-changed.
One-Day Internationals (ODIs)
Starting out in 1971, 50-over matches were created when England and Australia's test match was declared a washout. The 2 sides played a one-off limited-over match and the format stuck.
Unlike test Cricket, there is a World Cup to decide the strongest nation. 10 countries take part in a month-long tournament that occurs every 4 years. Here are the previous winners:
| Year | Winner | Runner up |
| --- | --- | --- |
| 1975 | West Indies | Australia |
| 1979 | West Indies | England |
| 1983 | India | West Indies |
| 1987 | Australia | England |
| 1992 | Pakistan | England |
| 1996 | Sri Lanka | Australia |
| 1999 | Australia | Pakistan |
| 2003 | Australia | India |
| 2007 | Australia | Sri Lanka |
| 2011 | India | Sri Lanka |
| 2015 | Australia | New Zealand |
| 2019 | England | New Zealand |
This format encourages increased aggression from batsmen and bowlers alike – great for betting on boundaries and wickets. It gives punters more excitement and a quicker turnaround on their bets. The required-run-rate stat makes winner bets easy to track and gauge.
Should rain interrupt a match and reduce the number of overs, the Duckworth-Lewis method is introduced to calculate the chasing team's target. This is a complex method, which can throw all pre-match calculations into disarray. Additionally, The shorter form of the game allows for more shocks – which can be positive or negative depending on how you bet.
Twenty20 (T20)
The shortest form of the game, T20s was introduced in 2003 to help spread cricket around the world. The quick format makes for great viewing, with batsmen trying to slog the ball over the boundary and regularly giving away cheap wickets.
Much like the ODIs, there is a World Cup for T20 cricket which follows a similar structure to decide the best nation. Batting averages and overall totals are much lower, with run chases often going right down to the last over – or even the last ball. A perfect example is West Indies winning the 2016 World Cup with 4 straight 6′ in the final over.
T20s are great for punters wanting a short burst of entertainment. Betting on boundaries can be great fun, with deliveries frequently flying out of the stadium. Winner markets bets can hinge on a couple of deliveries meaning it's hard to ever count your bet as a loss until the fat lady sings.
Conversely, the Duckworth-Lewis method is thought to favour the side going into bat second. The method works well in ODIs, but it attracts criticism in T20s. So, again, rain can wreck a bet which looked dead set. It's always important to check the sportsbook's rules regarding matches affected by weather e.g. is there a minimum requirement for bets to be valid? These can differ between sportsbooks.
Where to bet?
Who has the best cricket coverage?
The 2 sportsbooks with standout cricket coverage are Stake and Sportsbet. Both have a strong range of in-play markets and matches ranging from the Pakistan Cup to the Momentum Cup in South Africa.
If we were forced to pick, Stake would edge it (no pun intended…) thanks to their superior number of in-play and pre-match markets. With Stake, bettors can bet on each player's score total, how many runs will be scored on a specific ball/over and a whole lot more. Their in-play graphics are tidy with ample information neatly packaged to the right of the odds.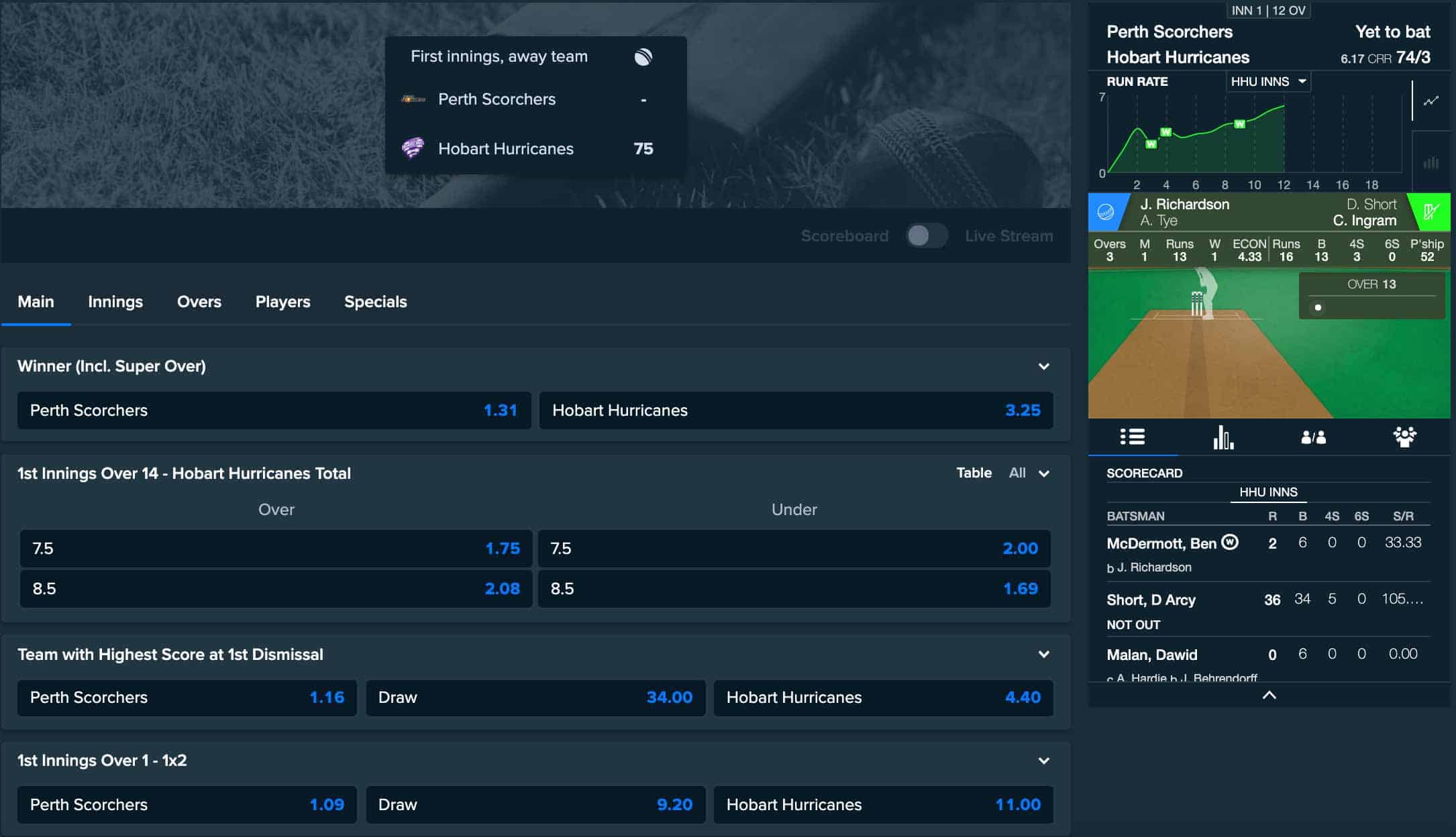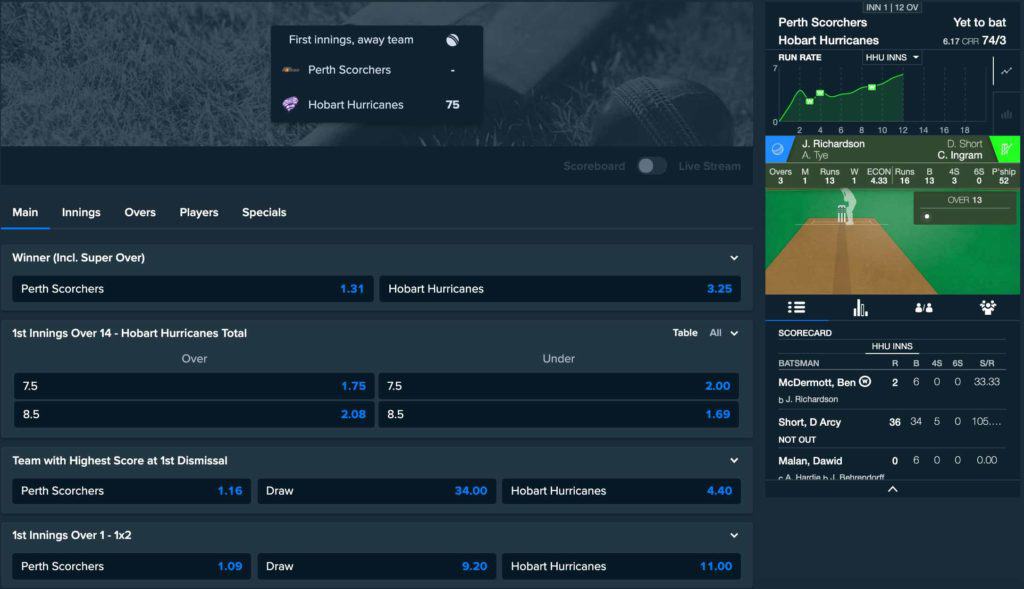 Who has the best cricket odds?
It's easy to find out who has the best cricket odds. Just head over to cricket odds comparisons on BitOdds, which list all key upcoming international matches.
Or, for a more general outlook, head to BitOdds and check the crypto sportsbook odds comparison to see who offers the best odds across the board.
Who is the best all-around sportsbook?
We've done all the leg work so you don't have to. Our extensive crypto sportsbook reviews give you all the details on each crypto sportsbook. The 3 operators we'd highly recommend are, in order, currently BC Game (review), Coinplay (review) and Sportsbet.io (review).
Types of bet
Winner
For test matches, this is simply whichever team wins the test. Be wary though, draws come into play more frequently than other sports.
For ODIs and T20s it's a little more complex. A tie means a Super Over – where the 2 sides each play 1 additional over with the highest score winning. Be sure to double-check whether your winner bets include the Super Over. Usually, there is a "winner" and a "1×2" market on offer, with the latter allowing for a tie.
Top Batsman/Top Bowler
This is a popular market as clear trends emerge with certain players. You can bet on a player to be top batsman/bowler of the whole match or just within their team.
The top batsman is the player who scores the most runs. The top bowler is the player with the most wickets taken. Should multiple players have the same number of wickets, then the bowler with the least runs conceded wins.
Should 2 players tie, dead heat rules usually apply. This means your stake is divided by the number of players tied. For example, if 3 players tied and you staked 3 mBTC on a 12.0 pick, you'd get paid out on a 1 mBTC stake at 12.0. This could vary between sportsbooks so it's always worth checking their rules.
Totals (over/under)
These markets are a huge part of cricket betting. You're able to bet over or under a certain total for team's overall scores, individual player scores, runs in a specific over or even runs from a specific ball. The latter 2 give quick settlements in an otherwise long-form game.
Top tips for cricket betting
Beware of the rain…
Always be sure to check the weather before betting on cricket (especially if you're looking at a test Match in the UK). Rain stops play and sometimes can wipe days off a test. This, obviously, has a huge knock-on consequences for your bets, with a draw potentially becoming the most likely result.
Damp conditions can give an advantage to bowlers. They're able to get more swing on the ball and benefit from an unpredictable bounce and outfield. Although, a slippy ball is harder to grip. A dry, dusty pitch will favour spin bowlers as the ball grips the surface. The batsman is favoured on flat, predictable wickets where run scoring becomes fluid.
Ground conditions
Much like the weather, ground conditions are key to matching the outcome and player/team totals. Some grounds, for example, the SSC in Sri Lanka or the Sheik Zayed in Abu Dhabi, have a history of playing flat. This means draws are more likely in tests and high scores are the play when betting on batsmen.
Certain players favour certain ground conditions. For example, India great MS Dhoni averaged over 100 runs in ODIs at the M. A. Chidambaram Stadium in Chennai. He also scored 224 against Australia there in 2013 – his best test innings. It's always worth keeping an eye out for these opportunities.
The coin toss
In other sports, like soccer, the coin toss is a mere formality with little bearing on the match result. This is not the case in cricket. The toss-winning captain can take advantage of better pitch conditions or put pressure on their opponents by putting them into bat on a tough wicket. This has a greater effect in ODIs or T20s where small details often decide matches.
How to win
Cricinfo is a great source of information for stats to assist you.
Be sure to check the weather and pitch conditions before placing any cricket bet.
Follow the points on how to be a winning sports bettor.
Media pundits are there to entertain – don't take what they say too seriously.
Try both pre-game betting and live in-play betting, to find out which suits you better.
Get the highest possible payout for every bet by using our odds comparisons.