Top Monero Betting Sites
888 Starz: Best Overall Monero Crypto Sports Betting Site
MyStake: Best Bookie for Multilingual Support
Betcoin: Bookie with Minimalist Design
Best Monero Sports Betting Platforms Reviewed
1. 888 Starz: Top New Sportsbook
888 Starz is a Curacao-licensed firm launched in 2020. Its comprehensive betting options and dedication to offering players a safe and reliable wagering environment have caused it to expand across Asia, Africa, and Europe rapidly. One of its unique selling points is the instant bet feature that allows players to wager on their favorite teams in real time. This is complemented by the live betting feature, where you can wait for a game to start, and place your wager while watching it, based on the match's progress. The dashboard also offers live commentary and streaming for several games, including soccer, rugby, basketball, rugby, and tennis. Apart from that, you have access to more than 1,300 sports and over 250 esports. The bookie also offers odds for real-life happenings in the entertainment and political fields. No wonder it's growing popular faster than Fire in the Wild. We were not so impressed by the 888 Starz dashboard. It appears cluttered and can easily confuse beginners. We recommend taking some time to understand it before starting to bet. For those who love betting on the go, this operator has a first-class mobile app compatible with Android, iOS, and Windows.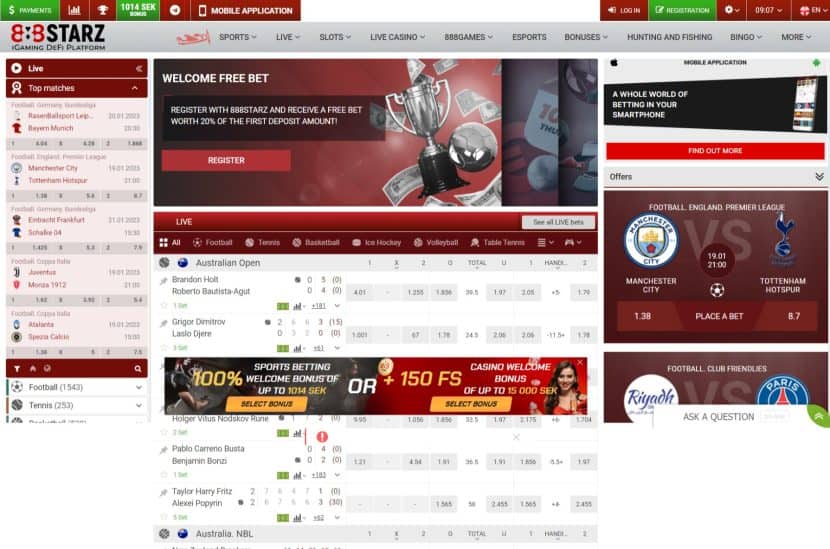 | | | | |
| --- | --- | --- | --- |
| Crypto Bonus | Wagering Requirement | Minimum Deposit | Payout Time |
| Approximately 1,500 USDT | 35x | 0.0000001 BTC | Instant |
Pros and Cons
Pros
Live commentary and streaming
Mobile app available
Bet on real-life events
Huge welcome bonus
Supports 30+ cryptocurrencies
Cons
2. MyStake: Best Bookie for Multilingual Support
MyStake is a 2019 established casino and sportsbook known for excellent user experience. It is owned by OnyxioN B.V., a company licensed and established under the laws of Curacao. The bookie offers multiple offers and promos to attract, retain and help players bankroll their betting. It's safe, reputable, and highly reliable, with no record of fraud in the past. In terms of sports available, users are spoilt for choice with more than 14 leagues, including UEFA Championships, UEFA Europa, Premier League, La Liga, Bundesliga, Serie A, League 1, NBA, NHL, and Euroleague. When writing this review, there were 1129 soccer events, 172 baseball games, 117 tennis, 79 basketball, and 81 ice hockey events. Futsal, snooker, field hockey, rally, and cross country are among the least popular sports on the bookie. Scroll the vertical menu on the left side to view games according to the time of the match, your favorites, all sports, and top leagues. We did not find a search bar function meaning you will need some patience scrolling through the different sports.

| | | | |
| --- | --- | --- | --- |
| Crypto Bonus | Wagering Requirement | Minimum Deposit | Payout Time |
| Up to $1,500 worth | 25x | 20 USDT | Instant |
Pros & Cons
Pros
Highly reputable and safe
Multiple soccer events
No deposit fees
User friendly
Cons
Withdrawals at times delay
No VIP program
3. Betcoin: Bookie with Minimalist Design
Betcoin is one of the oldest bookmakers offering sports betting for XMR coins. Thanks to its many years of operation, it has gathered enough experience, which it now uses to provide players with a first-class betting environment. It's home to one of the broadest collections of live and pre-match events totalling 3000+ in a single day. So whether you are looking for famous tournaments such as Premier League, La Liga, and NBA or less celebrated games like Bandy, Sumo, and Valorant, Betcoin has you covered. We found out that the operator accepts eight cryptocurrencies in total, including ETH, DASH, BCH, and BTC. Regarding security, the site is SSL-secured, meaning all data is transmitted in an encoded format. You also have a 2FA to add an extra security layer to your account. While the site doesn't offer a welcome bonus, Bitedge has negotiated a 50% first deposit bonus for customers up to 100m฿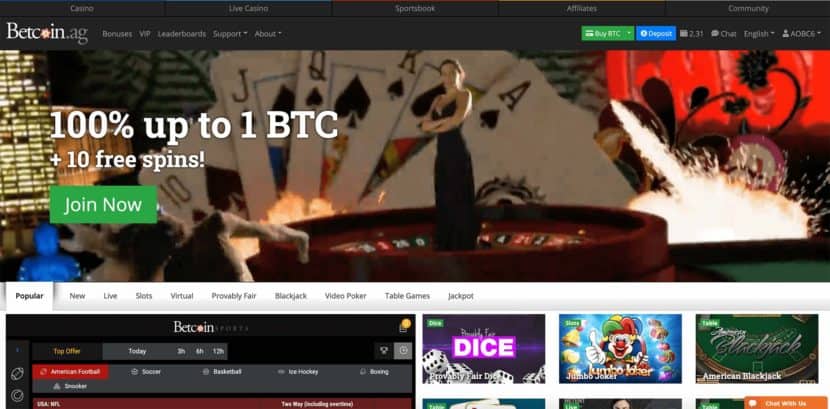 | | | | |
| --- | --- | --- | --- |
| Crypto Bonus | Wagering Requirement | Minimum Deposit | Payout Time |
| Bitedge 50% exclusive bonus on 1st deposit up to 100m฿ | 25x | 5 USDT | Instant |
Pros and Cons
Pros
Exclusive welcomes offer
Diversified sportsbook
2FA security available
Cons
What is Monero?
Monero is an open-source 2014-launched cryptocurrency focusing on privacy. It's represented by the ticker symbol XMR and had a price of $142 as of writing this, with a total market cap of about $2.5 billion. Over 18 million XMR are already in circulation, and no maximum supply exists. It belongs to a group of digital currencies called privacy coins because users are 100% anonymous when using it. All transactions and accompanying information is private and can't be traced even on the blockchain. Data such as senders and receivers' identities, the value of the transaction, and user addresses are masked. The XMR coin is also highly fungible compared to other digital currencies like BTC, ETH, and LTC. Using real-world examples, most virtual coins and tokens have unique identities, just like a dollar bill has a serial number. They are hence not fungible. XMR coins are like water. If you pour clean water into a fresh spring, you won't be able to tell the difference between what was flowing and the water you introduced. This property is called fungibility. Gold bars also possess the same characteristics. Two gold bars of the same quality have equal value but no unique identifiers. This means XMR coins can't be traced back to any users once transacted. While coins like BTC boast of privacy, it's possible for a technical person to track transactions back to specific addresses and possibly link them with the owners. Stolen coins, or even BTC, used for activities like gambling can be identified. This is not possible with Monero, as there are zero transaction histories. The Monero network achieves all these using ring signatures and stealth addresses. Ring signatures are a form of anonymous virtual hashing that hides the details of whoever signs a transaction. On the other hand, stealth addresses are randomly generated for specific transactions, hence offering improved secrecy.
Monero Use On Betting Sites: Is It Worth The Risk?
Are you wondering whether Monero sports betting is a good idea? Many gamblers are already jumping onto it while the coin price is still low. If you are looking for a good crypto for betting, XMR should be among your top choices. It comes with multiple instant benefits and a future possibility to pay you a return exceeding hundreds of percentages. Let's talk more about why XMR matters.
Why do People Love to Bet with Monero?
Financial Privacy
Most online gambling providers offer decent payment options on their platforms. You will typically find different crypto methods, credit cards, prepaid cards, online banking, and e-wallets like Skrill and PayPal. While these methods appear convenient, they lack privacy as users have to reveal their personal info to the bookie or even intermediaries, like e-wallets. Your bank will discover that you are gambling and could potentially deny you a loan whenever needed. The anonymous nature of Monero allows bettors to send and receive cash without a trace of who they are. The privacy level is also higher than other cryptos such as BTC, LTC, and ETH since payments can't be traced or linked to any identity.
Fast Transactions
Every player would like to make deposits into their favorite bookie instantly and start betting. The feeling of waiting for an extended period before being able to play after signing up is inconvenient and frustrating. XMR offers near-instant transaction speeds, with payments taking less than 20 minutes to complete. Keep in mind that the network might take longer to process a transaction during times of high traffic. However, the duration will still be faster than traditional bank transfers, which could take up to five business days.
Decentralized Payments
Monero uses a decentralized and distributed public ledger enhanced with privacy-enabling technologies that offer fungibility and anonymity. There are no middlemen, meaning all your payments are safe, fast, affordable, and free from central authority control. No government can freeze your money, seize it or control it in any way.
Low Fees
Compared to fiat, where you would pay as much as 2.8% to 4.5% per transaction when using cards, or even other cryptos like BTC, whose miner's fee per byte is about $1.73, XMR users pay as low as $0.0142 per transaction. This leaves your capital and winnings largely unaltered by deposit and withdrawal charges.
Play from Anywhere
The simplicity of cryptocurrencies and XMR sports betting sites makes it easy for players from anywhere in the world to bet. You don't need to go through lengthy procedures to open a crypto wallet. Additionally, digital coins don't have geo-restrictions. You only need an active internet connection to purchase and use them. Even gamblers in strict communities like the US, UK, Philippines, and Russia have made a fortune betting, thanks to virtual currencies like Monero. On the other hand, we highly discourage playing on restricted sites. These are bookies that have clearly stated that citizens of your country are banned on their platform. While you may successfully bet with digital tokens, your account may be closed without refunding your money if you are caught.
Bigger Bonuses
While this is not the case for all XMR bookies, you will realize that most of them offer huge welcome bonuses and other regular offers and promos to players. Eliminating third parties through virtual currency betting helps companies significantly reduce their costs. They also become more efficient and profitable. Eventually, they share part of their success with clients through great bonuses. This is one of their ways of giving back to the player community.
Drawbacks of Crypto Betting Sites
Lack of Regulation
There's a high potential of falling for scams since the industry is still not well-regulated. Apart from Curacao, Malta, and the UK, which have come out aggressively to try and license virtual coin betting, most authorities have yet to make much progress in this sector. Since virtual money is also highly unregulated, and XMR payments are private, scammers could easily create a fancy website, collect funds from players and go under with all the money. So ensure you only wager on sites with a license, like Curacao operators, even if they are offshore.
No Chargebacks
Monero transactions, like other networks, are immutable and irreversible. Once a payment record is hashed, it's added to a block that becomes part of the blockchain. This action can't be undone, making transactions permanent. If you send your money to an incorrect address, there will never be a refund. You also can't initiate a chargeback like in the case of fiat money; suppose someone steals your coins. In fact, the private nature of XMR won't even allow you to know where the thief sent your cash.
Crypto Price Volatility
The entire digital money market experiences unusual price fluctuations from time to time. On 7th May 2021, XMR's price reached $435 per coin, and within 14 days, it dropped by about $244. So if you had invested $10,000 in your betting account when the price was at its peak, you would have lost more than half your capital in just two weeks. These are common occurrences in the digital money sector. Although the coin's value may improve and pay you off handsomely, we place this on the con because you can never tell when that will happen. Crypto volatility is mostly associated with the negative since most people are usually on the losing side when sudden price swings occur. Only a few early investors benefit.
Where to Buy Crypto for Betting
You probably already know that one must buy digital coins to start betting. The challenge many players face is finding the best place to purchase crypto. There are many exchanges offering these services. While finding a suitable one, you need to consider the security of your data and funds, transaction speeds, associated fees, and, most importantly, the availability of the coin you want. We have compiled the three best exchanges where you can purchase Monero coins for your sports betting.
Binance Exchange: Best Overall
Coinbase Exchange: Most Beginner Friendly
Kraken Exchange: Most Recommended for US Citizens
How Do I Get In On the Action and Start With XMR Betting?
Step 1: Choose a Site & Create an Account
As you may have noticed from this review, there aren't many Monero sports books. However, this does not make your job any easier. You must still investigate your options until you find the best fit for your betting requirements. The simplest option would be to choose something from our XRP sportsbook reviews. Then, proceed to the registration page and create an account. Because there isn't much to it, you should be able to finish this step in a matter of minutes. Most operators only require your username or email address and a strong password. Some may also request that you specify your primary transaction currency, which is XMR.
Step 2: Deposit Crypto
Once your account is fully set up, go to the payments page and hit the deposit button. The casino will generate a unique address for your account. Copy it, log in to your wallet, and use it to send funds to your gambling account. Remember, depending on the network status, the Monero network could take up to about 20 minutes to complete a transaction.
Step 3: Choose Sporting Market
Once funds are reflected in your account, you are good to go. Now scan through the different sports offered and select your favorite. If you love more than one market, rank your options based on potential returns, risk level, and even according to the time and date of the match. Being your first bet, you want to start with one sport.
Step 4: Place Sports Bet
Now that you know where you want to put your money, waste no time. Divide your capital into reasonably small stakes, then place your first bet. The rule of thumb is to start small and increase your wager size after accumulating some profits. You don't want to lose all your money on the first bet.
Factors to Consider Before Selecting an XMR Sportsbook
Secure Crypto Payments
The security of your funds is a crucial aspect to consider when selecting a digital coin operator. You don't want to lose your funds to scammers online. All good bookies are SSL-certified, meaning all the data you share on the payment page or anywhere on their website is encrypted and safe from unscrupulous persons. You can confirm this by copy-pasting the website's URL onto a Word document. You are safe if it starts with "HTTPS." Some sites also display a padlock icon next to the URL bar to signal that they are safe and secure.
Fast Transactions
Before you sign up with a bookie, find out how fast transactions are. You want to deposit money and start betting right away. Withdrawals should be quick as well. In most cases, the payment page will include a section indicating how long it takes the company to process deposits and withdrawals. You should also make sure that the platform you choose has multiple withdrawal options and is compatible with a variety of crypto wallets. While some platforms accept multiple deposit methods, withdrawals are limited to a single coin type. That may be inconvenient for you.
VIP Programs, Bonuses, and Promos
Many bookmakers provide appealing bonuses, promotions, and VIP programs to players. Examine the various offers, such as welcome bonuses and other regular perks. Remember to carefully read the bonus terms and conditions. An operator may offer massive rewards to players while imposing stringent requirements that make it difficult for anyone to benefit. Compare what different betting sites have to offer and go for the best deals without sacrificing other important factors like security.
Restricted Countries
You may be lucky to be in a country where sports betting is legal. Unfortunately, in many parts of the world, wagering is a legal offense. That means some operators might be restricted from serving clients offering services in your region. For example, many gambling sites restrict players from the United States, the Netherlands, Finland, and France. So, ensure you are signing up with a trustworthy operator that accepts players from your region. Of course, you can always contact customer support to find out or simply read through the terms and conditions.
Low Crypto Transaction Fees
You are going to encounter different types of charges depending on the operator you pick. You may need to pay deposit, withdrawal, and XMR network fees. Although Monero fees might be insignificant, network congestion could lead to higher transaction fees. With that in mind, you want to reduce any minimizable costs. The best Monero sports books offer free deposits. You may pay a withdrawal fee, but it will be insignificant. Avoid platforms that charge unreasonably high transaction fees, which could affect your capital.
Equitable Deposit & Withdrawal Limits
All operators specify the minimum and maximum limits for deposits and withdrawals. These caps could be a significant factor in your overall betting experience. High minimum stakes mean you need a lot of money to start wagering. Similarly, if withdrawal minimums are hefty, you won't be able to cash out your winnings until you accumulate the least acceptable cashout amount. On the other hand, you want a platform that allows you to deposit reasonably large amounts. You should also be able to cash out significant amounts without restrictions. You don't want your money held by the operator for an extended period the day you win big.
Diverse Selection of Crypto Betting Markets
Even if the currency you want to start betting with is offered by a bookie, it pays to ensure that other cryptocurrencies are supported too. This shows your platform's commitment to offering users a good experience. Multiple payment options will also be useful when you feel like trying out a different coin. Instead of signing with another site, you will simply switch to your desired crypto and continue betting from the same platform.
Reputation and Trust
Never accept to wager on bookies with lousy reputations and trust ratings, even if they offer attractive perks. Reputation says a lot about how safe your money is when using a Monero bookmaker. You can check this by reading customer reviews. Avoid a site with multiple client complaints, especially genuine ones related to security, payout, and customer care. You may also read professional reviews like the ones we offer to find out what experts say about that platform. Reputable websites like Bitedge invest time to bet on different platforms and share primary data from their findings with readers. Our experts have years of experience in crypto gambling. That is why we are the number one choice for numerous gamblers and crypto enthusiasts across the industry.
Sports, Lines, and Odds Available
You should consider this factor whether you are using XMR or any other coin. Anyone can claim to want the best sports, lines, and odds, but the specifics can make all the difference when it comes to winning. Some platforms may only offer a small selection of sports or esports. You should ensure that whatever you want to bet on is available. Finding a bookmaker who offers a diverse range of betting options is preferable. Also, make sure you're comfortable with the odds, as this will determine how much you win if your bets are successful.
Good Betting Features & Resources
Finally, avoid basic betting sites for a better experience. With the industry's level of competition, there are many sites with unique features to try and gain a competitive edge. Look for a reputable, safe, and affordable site with the most betting options. Payment options, bet types, and even features like in-play games and early cashouts may be included. A website that provides resources such as match analysis and free cryptocurrency and betting education should be considered a plus. Before you agree to sign up, everything should be top-notch.
Why use Monero for Sports Betting?
Immediate Payouts
Most Monero sports betting sites offer fast payouts. This is the time it takes for winnings to reflect in your account after a successful bet. In the fiat gambling sector, some of the best providers take up to three days to process payments. Betting with XMR gives you instant access to your winnings, as most operators credit your account within minutes. Waiting days or weeks to collect your funds could frustrate, inconvenience you and make betting less exciting.
Anonymous Transactions
One of the main selling points of Monero is privacy. While cryptocurrencies such as Bitcoin claim to be anonymous, transactions can be traced on the blockchain and potentially linked to associated identities. Information such as the sender's and receiver's addresses and the amount being transacted is visible on the public ledger. Monero, on the other hand, uses stealth addresses to conceal the identities of transacting parties and hides all data, including the amount being sent. Since the coins are fungible, linking coins to any identities or activities is theoretically impossible.
Better Betting Odds
XMR sports books such as Betcoin commonly offer better odds than their fiat counterparts. This is partly because the digital coin allows them to cut down substantial transaction costs that would have been incurred were they using traditional banking methods. The high level of competition in the industry also leaves companies with no choice but to offer attractive perks to gain an edge in the market.
Which Cryptocurrencies Are Accepted for Online Betting?
Stellar: Most digital coins are designed to offer alternatives to the fiat system, but Stellar is different. It's an international blockchain-based remittance system intended to provide interoperability by enabling all fiat or virtual currencies to work together. The native coin is called Stellar Lumen. It can be used to send USD, EUR, BTC, or any other currency. Stellar was created and launched in 2014 by Joyce Kim and the founder of Mt. Gox, Jed McCaleb. It has since processed over two billion transactions and registered more than 6.5 million unique accounts, as per information on its official website. It's safe, fast, and highly beneficial in the gambling sector.
Dash: Dash is a virtual coin that was created as a low-cost, private, fast, and user-friendly cryptocurrency for sending, receiving, and making payments around the world. Evan Duffield launched it as XCoin in January 2014 but later changed its name to Darkcoin. It was rebranded again in 2015 to Dash, which came from the word "Digital cash." Gamblers like it because it is inexpensive, with a transaction cost of about $0.15, and highly secure and private. Unlike Monero, payments are not automatically anonymous unless the "Privatesend" feature is enabled, which conceals transaction details.
Ethereum Classic (ETC): As you may have imagined, Ethereum Classic is related to Ethereum. It was developed in 2016 as a fork of the Ethereum blockchain after a $50 million hack of "The DAO" led to a strong disagreement in the ETH community. The original network was split into two resulting in the formation of Ethereum Classic, which is basically the original mainnet. A new team, including the founder Vitalik Buterin, then proceeded to create a new network which we now call Ethereum. ETC is decentralized and distributed and also runs smart contracts. It's one of the coins used to bet and is accepted by many sportsbooks.
Zcash (ZEC): Like Monero, Zcash is a privacy coin. It's fast, affordable, and anonymous. However, the difference with its counterpart is that the privacy function doesn't come by default. Users must determine whether to transact publicly on the blockchain or hide their details. The Zcash network was built on the original BTC code base as a safer, cheaper, and faster alternative. It processes payments in as fast as 75 seconds at a low fee of only 0.0000ZEC. However, it needs 24 confirmations for irreversibility, which could take up to 60 minutes. Bettors love using this coin mainly due to the freedom to remain anonymous or visible on the public ledger.
Bitcoin Cash (BCH): As the name sounds, Bitcoin Cash is a hard fork of BTC. That means it was branched off from the main Bitcoin mainnet. It was released in 2017 after the Bitcoin community disagreed on its future, following concerns about unsustainable mining fees. Transaction costs had hit a high of about $5 and later went further up to over $50. BCH's primary goal is to offer a cheaper payment method without deviating from the original BTC tenets. Payments cost about $0.1 and are confirmed within approximately seven seconds. The network's 32MB public ledger allows it to complete 100 transactions per second.
Is Crypto Betting Legal?
Crypto betting is considered legal in most parts of the world. Unless cryptocurrencies and fiat betting are outlawed, it's unlikely that you will be committing an offense to wager using virtual currencies. Even in countries like Russia and India, where some states ban gambling, players still wager using crypto on offshore sites. Since cryptocurrencies are highly unregulated, most nations lack a specific framework addressing their usage. This creates a legal vacuum that can be exploited by bettors who want to wager using digital money. Countries like the US and the Philippines have made enforcement bodies blocklist offshore sites in an attempt to control gambling within their boundaries. Nevertheless, no laws would incriminate anyone found betting on these platforms. As long as you are using a licensed operator to place your bets, you are safe. Curacao, the UK, and Malta are currently the most robust authorities issuing licenses to crypto betting companies. That said, the risk of engaging in illegal gambling could be tremendous. So, before you start wagering, ensure you review your regulations for clarity on betting matters.
The Increasing Popularity of Sports Betting with Monero
Sports betting with digital money gained popularity during the COVID-19 pandemic. Players lost hope that things would return to normalcy and sought an alternative betting method. Virtual currencies were the best option, with promises of security, privacy, affordability, and speed. However, Monero was not among the first coins to be adopted. Because virtual currency gambling was new, most people chose Bitcoin and Ethereum. Players began diversifying their options as the industry became more familiar with digital coins. Even though XMR has been around for nearly a decade, it is still not widely accepted by casinos and sportsbooks. Nonetheless, as players demand greater privacy and speed, its adoption is increasing. It is becoming clear to gamblers that coins like BTC and ETH are not as anonymous as they claim. So it's only a matter of time before Monero sports betting becomes widespread.
What is the Projected Growth of Monero Betting in the Future?
A lot is happening behind the scenes that could lead to the rapid adoption of XMR and other top cryptocurrencies in betting. Policymakers in the United States, the United Kingdom, and even Russia are debating a framework for regulating the virtual currency sector. Positive regulation will result in the widespread use of virtual coins in a variety of industries. Even before that happens, some experts predict a massive bull run before the end of the year. Remember that one of the main reasons gamblers choose a digital currency is its projected value. With predictions that the coin will soon reach $380, you can bet that more bettors are buying it. Industry statistics will soon show increased use of XMR sports betting, prompting more operators to accept it for payments.
The Best Mobile Apps for Monero Sports Betting
As more gamblers enter the scene, Monero mobile sports betting is advancing. Bettors want to be able to place bets while going about their daily business. This has compelled operators to create top-tier mobile apps that, like the PC versions, provide secure, fast, and reliable gambling. 888 Starz delivers the best mobile app for Monero sports betting. It works on iOS, Android, and Windows devices. The app is light and simple to download and install. It is more organized than the PC terminal. It's quick and easy to use and includes all of the features available through a PC web browser. There are no mobile apps for MyStake or Betcoin. However, they provide highly responsive mobile web-browser websites that are as effective as mobile apps.
Conclusion
The vast majority of people no longer believe cryptocurrencies are dangerous. They now have a variety of applications, with gamblers leading the way. Although Monero betting is still in its early stages, its numerous benefits will be a key driver for its adoption in sports betting. Because privacy is a major concern for all gamblers, more people will start using this coin as soon as they realize its benefits. If you're not sure where to begin, consider signing up with 888 Starz. It is our preferred XMR sports betting platform. You can expect to begin with a bonus of up to $1,500, over 1,300 sports, and 250+ esports. Finally, if you found this article helpful, please share it with your friends and family.
FAQs