Binance is one of the biggest names in the crypto exchange world. It's undoubtedly become more than just an exchange at this point, with the Binance token rising toward the top of many market cap lists. It offers some impressive features and an excellent choice of cryptos. It also has relatively low fees and even the opportunity to reduce them further! It's massively popular with users for a reason, so follow our guide to find out why Binance has risen to the top of the pile.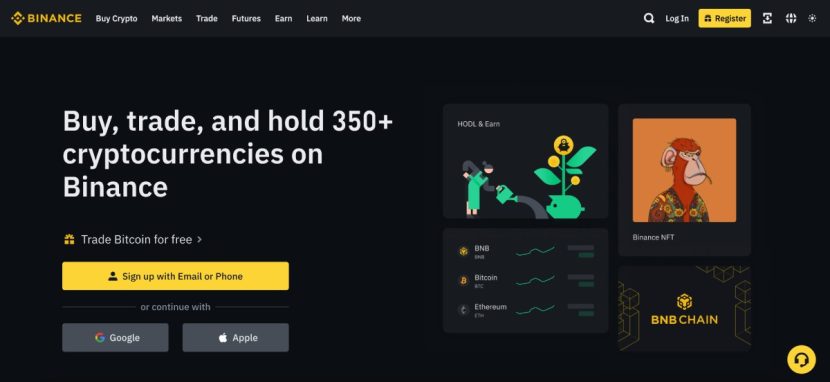 Introduction to Binance Exchange
Binance offers plenty of features to users, with standard trading features, staking opportunities, and the chance to reduce fees. It's not a decentralized platform and has regulation from multiple different licensors.
Traders can add many different cryptos to their portfolio with Binance. It provides more than 600 cryptocurrencies and over 1,000 trading pairs. As a result, it's arguably the most comprehensive crypto choice on the market. Of course, the brand also has its own coin, which provides plenty of benefits.
In our Binance exchange review, we have covered all of the most vital details to ensure we cover all essential information. With our experts checking it with a fine-toothed comb, it has everything any new or experienced trader needs, so start reading!
| | |
| --- | --- |
| Founded date | 2017 |
| Native Token | Yes |
| Listed Cryptocurrency | 600+ |
| Trading Pairs | 1,000+ |
| Supported Fiat Currencies | 65 including GBP, USD, EUR, and CAD |
| Supported Countries | 100+ |
| Deposit Fees | Only gas fees |
| Transaction Fees | 0.1% |
| Withdrawal Fees | Yes |
| Application | Yes |
| Customer Support | Live chat, request form, Discord, help center |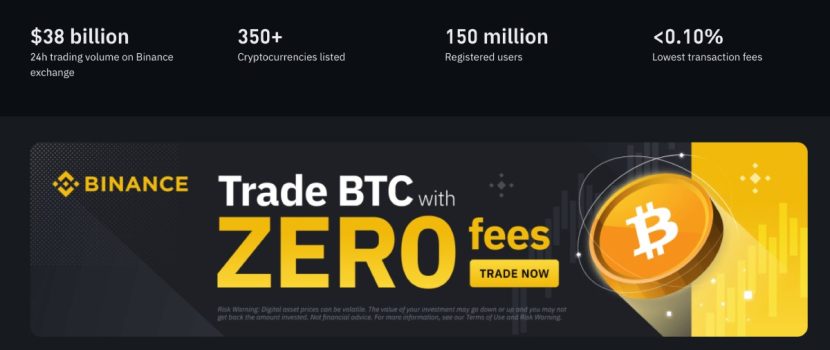 Type of Exchange
Binance is a centralized exchange with mobile and desktop platforms.
Price
Free.
Fees
0.1% maker and taker fees and varying withdrawal fees.
Binance Crypto Features
Crypto to fiat trades
Staking options
Native token
NFTs
Number of Cryptocurrencies Supported
BTC
ETH
BNB
USDT
APE
BLZ
& 600+ more
Earn
Traders have plenty of earning options. It covers trading, staking, and native token benefits. Users can also trade NFTs, which provides another potential income stream. Our Binance exchange review covers all possible earning options.
Customer Service
Binance has superb customer service provisions. It offers a 24/7 live chat feature, which is extremely helpful. Additionally, it provides users with plenty of social media channels, such as Discord, Facebook, and Twitter. There's also a superb helpdesk with FAQs and learning areas.
Hardware Compatible
Binance exchange provides users access on both desktop and mobile devices. So, however users want to use the service, there's an option available. The mobile option covers browser sites and apps, so it covers all forms of mobile users. As a result, the platform doesn't leave anyone out.
SPV or Full Node
Binance tends to use SPV as it attempts to complete transactions as quickly as possible.
Who is Binance Crypto Exchange Best Suited For?
It covers one of the most comprehensive crypto selections in the industry. As a result, it potentially caters to all forms of trader. Whether it's an experienced day trader looking to make substantial profits or a beginner looking to create a modest passive income. It's one of the most diverse exchanges available.
Binance Crypto Pros & Cons
Pros
There are extremely low fees
Traders can lower their fees with the native token
Lots of opportunities to create a passive income
Massive selection of regulatory licenses
Cons
Isn't a decentralized platform
Binance has withdrawal fees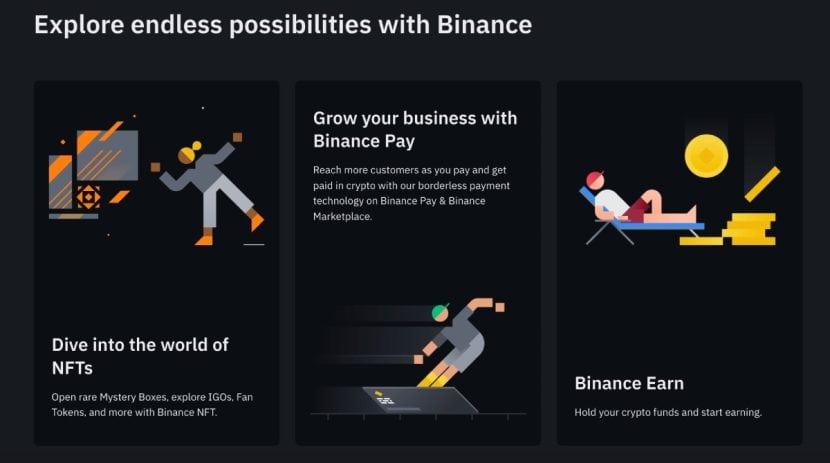 Services Offered by Binance Crypto Exchange
Binance covers a diverse range of options for crypto users, going from the basics of trading to more complex operations. In our Binance exchange review, we have pored over the site to ensure we provide the most thorough rundown possible.
Obviously, traders will expect to see the ability to exchange crypto at Binance. What makes it so impressive is twofold. Firstly, the fees are some of the lowest around. Starting at 0.1%, they come in below many other exchanges. Additionally, there is the chance to decrease them further, but we'll cover how later. Secondly, Binance has one of the most comprehensive crypto selections in the industry. So, anyone looking for crypto trading is likely to find it here.
Traders can also create a passive income.Many stakeable assets are available, which can significantly boost a portfolio. Some cryptos can even provide a yield as high as 24%, which outstrips any other investment. However, there are risks involved, even with a 24% yield. Market volatility can reduce the value of a holding, even if the physical amount of crypto increases. The trading platform also provides NFTs and leveraging as extra ways to earn funds.
The Binance token (BNB) is one of the most impressive options available here. Our Binance review discovered a way to reduce fees with it! When carrying out a trade, if traders use the BNB token to pay the fee, it can reduce the cost by as much as 25%! As a result, there's an excellent chance to increase potential profits through cost reduction.
How to Create an Account
It's not too challenging to create an account with Binance. Traders can complete the process using multiple platforms, adding to the user-friendly nature of the exchange. Our guide covers the desktop and mobile versions. Follow these steps to create an account:
Step One: Open up the Binance website
Step Two: On a desktop, click the register button
Step Three: On mobile, click the button to navigate to the correct app store
Step Four: Still on mobile, download the app and click the register button
Step Five: Complete the registration process, entering the correct information
Step Six: Complete KYC and connect the desired payment method
Because Binance has multiple regulatory licenses, KYC is a requirement. It does tarnish the experience slightly, particularly for crypto users wanting to remain anonymous.
How to Proceed with a Transaction
After creating an account with Binance, it's a simple process to begin trading. Users don't have to go through too many steps, although the KYC process is a requirement before making a trade. Our Binance review covers the essential steps to making the first trade.
Step One: Click the buy crypto button
Step Two: Choose the appropriate payment method. Bank transfer, bank card, or wallet
Step Three: Select the amount of crypto to purchase
Step Four: Check the transaction is correct and complete the process
Of course, traders must ensure they include the fees when calculating their exchange. It will add some extra cost, so it's critical to remember this when completing a transaction.
How to Make a Deposit
Traders don't technically make deposits with Binance. Instead, when purchasing crypto they can connect their fiat payment method. Whether this is a bank card or transfer will vary between users.
How to Make a Withdrawal
A withdrawal is just as simple as a transaction. Users just need to go through the trading menu to exchange their crypto for fiat. After completing this process, the funds will be available for withdrawal. Traders must use the transaction method as the deposit to complete the withdrawal.
If traders have any funds involved with staking, they can't simply exchange the crypto. The staking period has to complete before making the exchange, or there will be a cost. So, traders looking to keep their costs as low as possible should avoid ending staking periods early if possible. However, in emergencies, the option is available.
Payment Methods
There's an incredible selection of crypto and fiat options available at Binance. Traders can choose from over 600 crypto and 65 fiat currencies. It's one of the most impressive choices on the market, ensuring Binance users have plenty of variety. Bank transfers, cards, and wallets are all acceptable payment methods.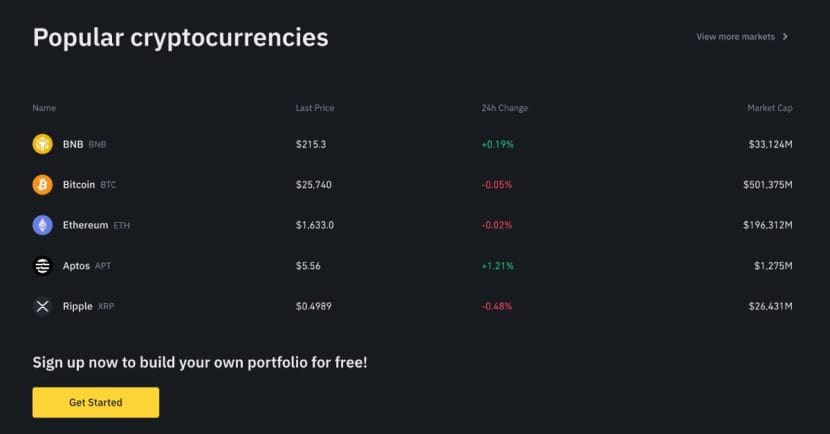 Binance Crypto Exchange Supported Tokens
Binance features over 600 cryptocurrencies. It's an incredible choice, marking it as one of the very best sites on the market. With such a vast choice, covering all of what's on offer is challenging. However, our Binance review covers the most significant options available at Binance:
BNB
BTC
ETH
USDT
XRP
ADA
DOGE
SOL
USDC
There's a huge amount more available at Binance, so traders can look at the Binance market overview for a full rundown.
Is Binance Crypto Exchange Safe and Legit?
We found Binance to be one of the most secure crypto exchanges on the market. In the time it's been on the market, it has an excellent reputation with users and a fantastic track record of providing high-quality services. A massive selection of regulatory licenses is in place, covering many different jurisdictions.
It doesn't have any complaints against its name, which is surprising as it's such a large exchange. All connections are encrypted by DigiCert, which ensures traders can remain calm when using the site. Additionally, the regulations mean there's insurance on any lost funds, so traders don't have to worry about hacks or thefts.
Of course, it's still essential to be careful with security keys and to protect their wallets.
Security
The security at Binance is absolutely fantastic. Users can set up 2FA when creating an account, which protects connections very well. It's always a substantial positive to have 2FA, as it removes some of the risks of logging in on multiple devices. It also makes it much more difficult for outside influences to access accounts.
The regulatory licenses also add lots of protection for users. The regulator often covers any issues, which gives users more peace of mind using the site.
User Interface
The user interface at Binance is excellent. The site provides easy access at the top of the screen, with all menu options available here. It's extremely responsive, ensuring all areas of the site will open with a single click. It also has many drop-down menus, so a wide range of options are available without cluttering the page.
With our simple-to-follow guides, traders can easily use Binance on their preferred platform.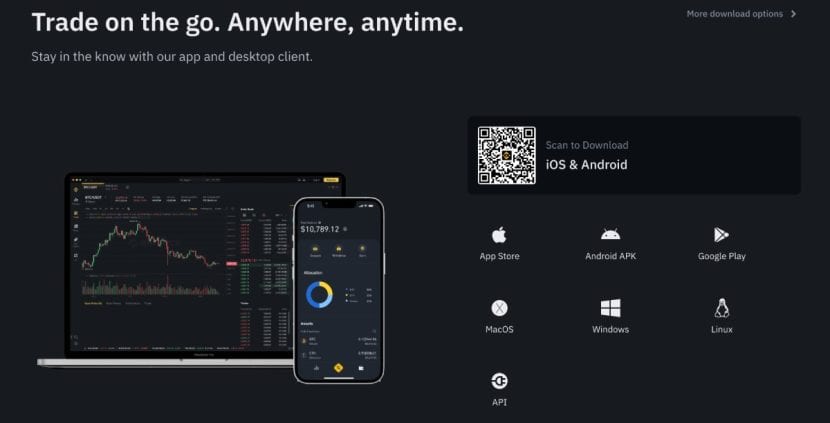 How to Use Binance Crypto Exchange on Android & iOS
After creating an account, it's easy to begin trading on a mobile device. With our simple guide, users can load up their mobile and start trading in no time.
Load up the relevant app store
Download and install the mobile app
Login to the Binance account, or register first if without an account
Find the trading section with a connected wallet
Pick the correct cryptocurrency and complete the trade
It's straightforward for traders to use, making mobile trading easy with Binance. With modern trading taking place in a fast-paced environment, it's essential for the app to be user-friendly.
How to Use Binance Crypto Exchange on Desktop
The desktop version of the site provides a similar experience. Traders can easily get up and running once the site loads up, it's just a few clicks to create an account. After registering, users can follow these steps to begin trading:
Find the trading platform
Select the desired trade
Choose a payment method
Check the trade details and complete the process
It means traders can go from identifying an asset to owning it in just a few clicks.
Backup & Restore
Creating a backup is critical for crypto users. However, Binance doesn't provide backup options. Traders must create their own backups, which are available through different wallets. With so many available, there isn't a one-size-fits-all approach. Each wallet has its own settings, so there are varied ways to create backups. So, our guide selects one of the most popular options to offer a generic guide to creating a backup.
Our guide covers Metamask users, providing a simple guide to creating a backup:
Open the wallet menu for Metamask
Find and open the settings menu
Discover the security section and open the menu
Search for the protect the wallet button
Click to create a wallet backup
It's a simple process which provides traders with protection if there are any technological issues. While this method works for Metamask, other wallets may have minor differences. So, users must check the specific instructions for their chosen wallet.
Troubleshooting
Binance has a relatively user-friendly platform but can still occasionally throw up issues. So, the most common issues traders come across have excellent answers available. We've found the most regular problems for users with simple answers. To get a head start with Binance, keep following our guide.
Not receiving emails is often an issue for Binance users. So many email providers have extreme spam control, and it can make it hard for emails to get through. Fortunately, there is a way for users to whitelist the Binance email address. All they need to do is navigate to the junk email settings and then choose the senders and domains page. Here, traders can set the Binance email address as an accepted domain.
Verifying a residential address is often an issue with Binance. Many letters aren't acceptable, with users providing unacceptable correspondence. As a result, traders must find a letter with appropriate clearance. Any bills or government correspondence are acceptable, ensuring complete user verification.
Of course, there are more issues than just these, but they're equally simple to resolve. Traders can find a full list of solutions at Binance.
Binance Crypto Exchange Alternatives
While Binance is one of the biggest names on the crypto exchange market, other options are available. So, traders looking for something different do have other options available. We have put together a comparison of other options currently in the industry.
Binance Crypto Exchange Vs. SwissBorg Exchange
There are a number of differences between Binance and SwissBorg. Firstly, SwissBorg offers more freedom to users than Binance due to the primarily decentralized nature of the platform. However, both sites require traders to complete KYC, so anonymity isn't a possibility for either operator. However, there's a much bigger emphasis on personal responsibility with SwissBorg, as users must connect their own wallets and deal with their own protection.
There's a lower cost at Binance, so it offers a superior service financially. Additionally, the Binance native token provides savings on trading fees, which can enhance profit potential. SwissBorg allows direct wallet connections, which Binance doesn't support. The most significant difference is SwissBorg is a mobile-only platform, so traders who prefer to use a desktop computer won't be able to enjoy the SwissBorg experience.
While SwissBorg is a perfectly adequate platform, Binance provides advantages in important areas. However, SwissBorg is preferential for traders looking to enjoy decentralized services.
Binance Crypto Exchange Vs. Trader Joe Exchange
Trader Joe offers a totally decentralized experience to traders. So, crypto users can experience more benefits here. It leans harder onto personal responsibility for safety but also provides the advantage of fully owning all coins. Additionally, high-volume traders have the advantage of maximum fees. It allows traders to hit this limit, and fees won't increase any higher, which can lead to low costs for substantial trades.
Traders can access slightly more features with Trader Joe, but the two sites have no considerable gap. Although Trader Joe doesn't have a mobile app, it is still accessible through a mobile browser. So, both Binance and Trader Joe offer services to mobile and desktop users. The biggest advantage to Trader Joe is the lack of KYC, which Binance can't compete with.
Final Thoughts
Binance is one of the top crypto exchanges on the market for a reason. It offers fantastic features, has low fees, and provides one of the most comprehensive crypto choices on the market. As a result, there are well over 1,000 currency pairs, which gives traders an incredible range to choose from. The features available are also industry-leading, with some of the best passive income options on the market.
There's both a desktop site and a mobile app, so all traders can enjoy Binance. The low fees also provide the chance to decrease costs further, as the Binance token reduces the price of trades. It makes for an overall impressive service, particularly for users who want to keep their expenses to a minimum.
Binance is a site which stands out to both beginners and experienced traders. Because it's an exchange with a low barrier to entry but the potential for high performance, it's excellent for any type of crypto investor.
Q&A Session
In this section, Will Wood will address your inquiries and the most common questions regarding Binance and offer guidance to newcomers in the field. Feel free to submit your questions through our contact form, and we will strive to respond within 48 hours.