The Exodus wallet is an interesting option for users looking to store their crypto. Although it's a software wallet, it allows for cold storage with a connection to a hardware wallet, making it highly appealing. So, users who want the advantages of a software wallet with the security of a hardware wallet can combine the two. It's free to use, so it is an excellent online crypto wallet for traders on a budget.
There's excellent Exodus crypto support, making it more than just an online bitcoin wallet. The range of cryptos combined with the ability to create an Exodus cold wallet ensures it stands out.
In our Exodus wallet review, we have looked closely at everything it offers. Anyone looking to start using a software wallet should take this journey with our experts to discover all it has to offer.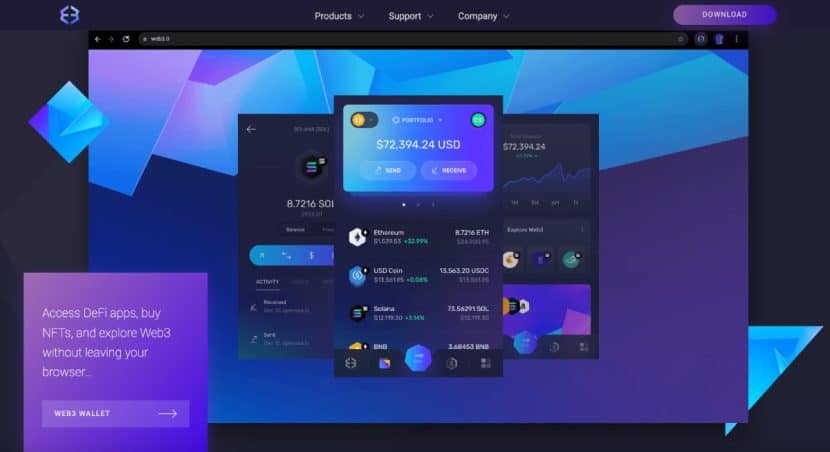 Introduction to Exodus Wallet
Exodus provides an excellent option for users looking for a simple-to-use wallet. It's a decentralized wallet offering custodial services. Perfect for users who want to enjoy features on their devices without needing a complicated setup. It also connects to Trezor wallets, so users can use hardware wallets.
As it's available on hardware devices as well, it offers the best of both worlds for features. It has fantastic security, many crypto choices, and an impressive interface. It ensures users can get a lot from Exodus without too much effort.
Our Exodus review covers the wallet's most pertinent points while offering insight into how to get the best from it. Sit under our learning tree to discover what the Exodus wallet can do!
Type of Wallet

Software and Custodial

Price

Free

Fees

Gas and exchange fees

Exodus Features

250+ cryptos supported
Trezor hardware wallet support
Security is fantastic
Mobile and desktop compatibility

Number of Cryptocurrencies Supported

250+

Earn

Staking is a possibility with Exodus

Customer Service

Live chat, email and social media

Hardware Compatible

Desktop and mobile

SPV or Full Node

SPV

Who Exodus Wallet Best Suited For?

New traders, low-budget users and experienced investors
Exodus Pros & Cons
Pros
Able to connect to Trezor hardware wallets
Support for 250+ cryptocurrencies
No cost to download Exodus
Traders can stake crypto through the wallet
Cons
Additional app bolton required for NFTs
Is a hot wallet if without a hardware wallet
Services Offered by Exodus Wallet
The Exodus wallet has a great choice of features for users. Although it's a software wallet, it goes above and beyond the usual selection of services. To help our readers get entirely up to speed, our Exodus wallet review covers the most vital factors.
The Exodus wallet has a built-in exchange, which makes things much more manageable. Users can complete trades within the app instead of connecting to an outside exchange. Additionally, traders can stake with Exodus, allowing for passive income.
Exodus has over 250 cryptos available, which is a solid overall selection. However, seeing an increase in what's available would be positive. Because it's free, it appeals to users with a smaller budget, but it offers the option to connect Trezor hardware wallets.
Finally, there's an NFT marketplace available through Exodus, which adds some extra functionality.
How to Create an Account
It's not challenging to create an account with Exodus. Users all need to do is download the app or browser extension, then they can start. They can then log in and link the wallet to exchanges or their hardware wallet.
How to Proceed with a Transaction
Completing transactions is another simple process. Sending the funds is the only actual requirement. It's essential to ensure the cryptocurrency is compatible with the wallet, but as long as it's accepted, there's nothing complicated here. To complete the process, users must use our guide:
Either connect to an exchange or use the built-in exchange
Choose the cryptocurrency to send
Select the right amount
Choose where to send it and enter the address
Double-check the wallet address
Complete the transaction
Generally, this process will work for any exchange, but it's vital to check as some may have additional steps.
How to Make a Deposit
Making a deposit is simply a case of sending the funds to the Exodus wallet address. Once it processes, it will be available.
How to Make a Withdrawal
It's a reverse transaction for withdrawals. Instead of sending funds to the Exodus wallet, users send it to an outside wallet.
Exodus Wallet Supported Tokens
Although there's a solid selection available, at 360+ options, Exodus doesn't quite compete with other names out there. However, many prominent cryptos and some smaller tokens are still in place. Some of the most popular crypto choices are as follows:
BTC
ETH
LTC
USDT
XRP
BNB
ADA
DOGE
TRX
SOL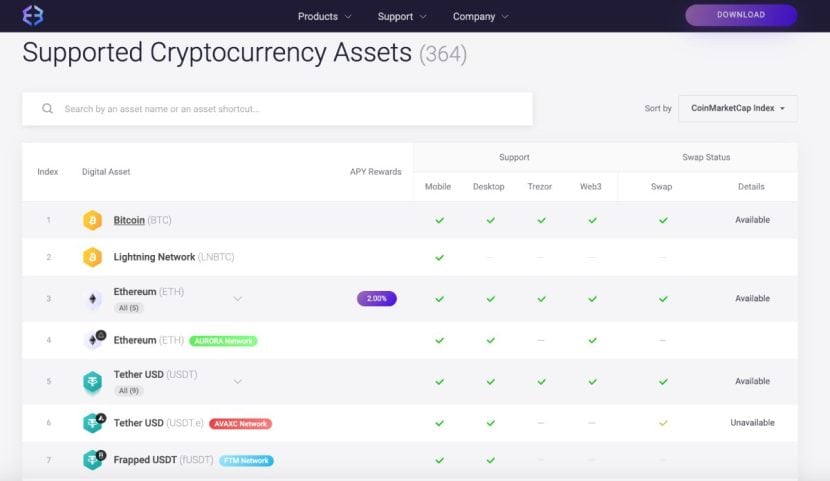 Is Exodus Wallet Safe and Legit?
While creating our Exodus wallet review, it became apparent the wallet is totally legitimate. Not only does it provide industry-standard security, but it also has a superb reputation. With so many options available, seeing Exodus taking customer safety seriously is fantastic.
Security
With security in the crypto world at a premium, it's no shock to see Exodus putting in excellent protection. Because it's a hot wallet as standard, it requires excellent security as standard. However, our Exodus wallet review found more than just the basic protocols.
A partnership with Trezor means users can connect any hardware wallet from the company to their Exodus wallet. As a result, it allows cold storage features to become live. While it makes it more expensive, it's also worth it if the budget allows it.
Unfortunately, there's no 2FA available with the Exodus wallet. However, from the company's perspective, it protects the user's privacy. With 2FA, Exodus would have to keep data on users, so it's an acceptable risk for anyone looking to remain private.
User Interface
There's a fantastic user interface with the Exodus wallet. Whether on the mobile app or desktop, it's simple to use. While each version looks slightly different due to the limits of each platform, the mobile version has a slightly better design.
How to Use Crypto Wallet on Android & iOS
The Exodus wallet is simple to get up and running. As it's a software wallet as standard, it's designed to work as an app. We found the mobile app simple to use when putting together our Exodus wallet review, so follow these steps to begin holding crypto.
Either search the relevant app store or use the Exodus website
Download the Exodus app and install it on the device
Log into an existing account or create a new one
Choose the crypto to hold in the new wallet
How to Use Crypto Wallet on Desktop
The Exodus wallet is just as easy to set up on desktop as on mobile. It takes a few easy steps to begin holding with a PC.
Open the Chrome browser
Use the Exodus website to download the browser extension
Install the app
Log in or create a new account
Begin the crypto-holding process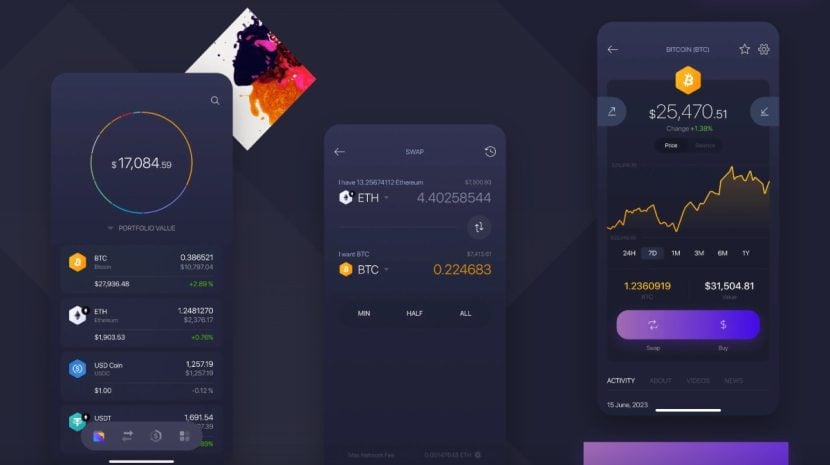 Backup & Restore
Exodus wallet allows users to set up a backup when downloading the app. With hot wallets being vulnerable to cyber attacks, a backup is vital. The process is extremely simple to follow:
When first loading up the Exodus app, users get a 12-word phrase
If the device is ever lost, stolen, or broken, users will need to create a backup
Just enter the 12-word phrase into the app on a new device to return the device to its original form
As a result, users can have their backup up and running within minutes!
Troubleshooting
All devices have slight issues from time to time. The Exodus wallet is no different. Fortunately, it has excellent support in place. However, we've collected some of the best troubleshooting options for users who want simple solutions to issues.
Traders who see the "cannot connect to P2P network" message must take the following steps.
Step One: Check to see if a VPN or firewall is interacting with Exodus
Step Two: If this doesn't work, check the DNS settings and change them to a less restrictive provider
Step Three: If this one doesn't work, restart the Exodus wallet
Step Four: If there's still no connection, then users should check their router
While this is a simple enough process, there may be other issues which arise. If they do, Exodus has an excellent, complete troubleshooting guide.
Exodus Wallet Alternatives
The Exodus wallet uses software to store crypto, which makes it a hot wallet. However, it does offer the opportunity to connect to hardware wallets. Despite this, it's not right to compare it with hardware wallets, and we should only compare it to other software wallets.
Exodus Wallet Vs Coinbase Wallet
The security between the two devices is interesting. While Exodus has a link-up with Trezor, Coinbase allows other hardware wallets to create connections. As a result, the security is high for both wallets, ensuring there's not a massive gap between them.
Where the Exodus crypto wallet does jump ahead is the customer support. It offers some of the best support in the entire industry. It helps to resolve issues exceptionally quickly. Despite this, Coinbase provides a superior choice of cryptos.
So, there's not much between each option, so it's entirely down to the user which wallet is most suitable.
Exodus Wallet Vs Trust Wallet
Trust Wallet is a software option which primarily appeals to businesses. It makes it more for specific users. However, Exodus is a better option for the majority of crypto traders.
It means even though Trust Wallet provides an excellent option, Exodus covers a far more diverse collection of users.
Final Thoughts
The Exodus wallet is an excellent option for users. It provides some fantastic crypto options and has excellent security. Additionally, traders can connect their Trezor wallets to the app. It helps to increase security levels and provides some cold wallet features.
It's free to download the Exodus app, which helps to keep costs low for traders. However, anyone who wants to connect a Trezor app will have to purchase one, which increases costs. But it's worth the extra fees to provide a superior level of security.
Overall, Exodus is an excellent crypto wallet, ensuring users have the highest quality service available to them. It's one of the top software solutions, something most Exodus crypto wallet reviews agree on, ensuring traders can easily access their funds and other features.
Q&A Session
In this section, Will Wood will address your inquiries and the most common questions regarding Exodus Wallet and offer guidance to newcomers in the field. Feel free to submit your questions through our contact form, and we will strive to respond within 48 hours.