Phantom Wallet is a popular Solana native wallet that allows users to easily purchase, sell, and exchange digital assets on the Solana blockchain. The wallet works with popular apps such as Serum DEX, OpenSea, and Magic Eden, making it an excellent solution for DeFi, NFTs, and GameFi. This discussion and more is what you will find inside our exclusive Phantom Wallet review. Keep reading.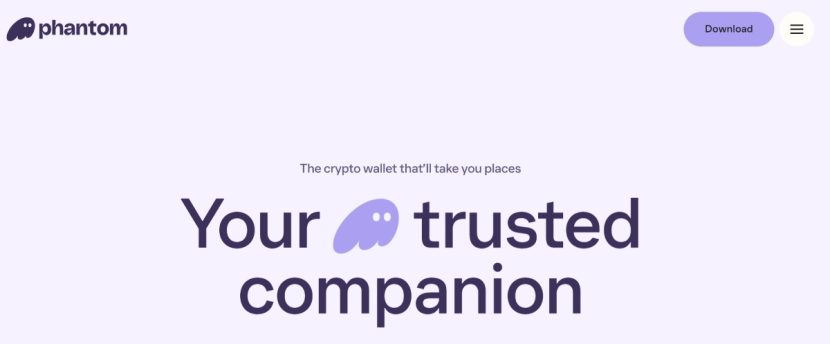 What is Phantom Wallet?
Phantom is a digital hot wallet that has established itself as one of the pioneering wallets in the Solana ecosystem, catering to both mobile and desktop users. It is now EVM compatible, after adding Etherum and Polygon to its networks. The support for Ethereum and Polygon allows users to trade, receive, and swap tokens in its wallets, as well as collect NFTs across all three blockchains. Phantom wallet is a non-custodial browser extension and crypto wallet, and it offers a simple and secure way of interacting with multiple blockchain networks.
Type of Wallet

Price

Fees

Phantom Features

User-Friendly Interface
Solana and Ethereum Support
Wallet Security
Browser Extension
Cross-Device Accessibility

Number of Cryptocurrencies Supported

1,000+ ERC, SOL and MATIC tokens

Earn (Staking/rewards)

Customer Service

Email, knowledge base, Phantom community and social media platforms.

Hardware Compatible

Yes, including Ledger Wallets

SPV or Full Node

Who is it Best for?

Best for Crypto Users of All Skill levels

Pros

No history of exploits or hacks
Cross-platform availability
Vast crypto compatibility
Multi-signature feature

Cons
.
Services Offered by Phantom Wallet
Secure storage: Phantom Wallet offers encrypted private keys stored on the user's device, ensuring the safety of users' digital assets.
Multi-chain support: Phantom Wallet supports Solana, Ethereum, and Polygon networks, allowing users to manage digital assets across multiple networks.
Decentralized application integration: Phantom Wallet allows users to access decentralized applications on Solana, Ethereum, and Polygon networks.
Token swaps: Phantom Wallet offers a built-in exchange feature that allows users to swap tokens conveniently.
NFT compatibility: Phantom Wallet is NFT compatible, allowing users to store, manage, and trade NFTs.
Crypto staking capabilities: Phantom hot wallet supports crypto staking, allowing users to earn rewards by staking their digital assets.
How to Create an Account
Go to the Phantom.app website and click Download.
Install it in your browser. The wallet window will automatically open a new tab.
Hit the "Create New Wallet" button and follow the instructions.
Choose a strong password and confirm it. Write down the seed phrase provided.
After writing down the seed phrase, confirm it by entering the words in the correct order.
That's it! You can start using Phantom crypto wallet to manage your digital assets and access decentralized applications on Solana, Ethereum, and Polygon networks.
How to Proceed with a Transaction
How to Make a Deposit
Launch the Phantom app and sign in using the right credentials.
After signing in, find the "Deposit" button in your account.
Select the coin you want to receive, such as ETH, MATIC, or SOL.
Copy the wallet address provided by Phantom Wallet
Send the cryptocurrency you want to deposit to your Phantom Wallet address.
Wait for the transaction to be confirmed on the blockchain. The time it takes for the transaction to be confirmed depends on the cryptocurrency and the network congestion.
How to Make a Withdrawal
Open the Phantom wallet application on your desktop or mobile device.
Click on "Withdraw" and search for the cryptocurrency you want to withdraw.
Copy your withdrawal address by clicking on the "Copy" button next to it.
Send the cryptocurrency you want to withdraw to your Phantom Wallet withdrawal address.
Once the transaction is confirmed, you can withdraw the funds to your bank account.
Phantom Wallet Supported Tokens
Here is a list of cryptocurrencies supported by Phantom Wallet:
Solana ecosystem: Phantom Wallet supports all the cryptocurrencies on the Solana ecosystem, including USDT, USDC, Serum, Raydium (RAY), SRM (SRM), and every utility token launched with Solana.
Ethereum network: Phantom Wallet supports all the cryptocurrencies on the Ethereum network.
Polygon network: The platform is compatible with all the cryptocurrencies on the Polygon network.
Is Phantom Wallet Safe and Legit?
Phantom Wallet has undergone extensive security audits by credible third-party firms, so you can be confident that its codebase is stable and secure. Of course, when it comes to cryptocurrencies, it's always a good idea to be cautious and use excellent security measures. So, keep your software up to date, use two-factor authentication, and keep an eye out for phishing efforts and harmful websites.
Security
Here are some of the security features we came across during this Phantom wallet review:
Encryption: Phantom crypto wallet protects customers' digital assets with industry-standard security methods, including strong encryption.
Two-Factor Authentication: Users can set up two-factor authentication as an added degree of security.
Cold Storage:Phantom Wallet stores cryptocurrency in cold storage, which means that private keys are kept offline and away from internet threats like hacking and phishing.
User Interface
The wallet interface incorporates a clean and organized navigation system, typically located on the left or top of the screen. It allows users to access different sections of the wallet, such as the wallet balance, transaction history, staking, swapping, and other functionalities. Phantom Wallet offers customizable settings and preferences, allowing users to tailor their wallet experience to their preferences. This may include options to adjust security settings, language preferences, network configurations, and more. Generally, the user interface (UI) of Phantom crypto wallet is designed with user-friendliness and simplicity in mind.
How to Use Crypto Wallet on Android & iOS
Download the Phantom wallet app.
Open the Phantom wallet app on your device and create a new wallet by following the on-screen instructions
Fund your wallet by sending cryptocurrency to the wallet address provided in the app.
To send cryptocurrency, click on the wallet icon on the app's interface. Then, click on the "Send" option and enter the recipient's wallet address.
Explore additional features of the Phantom wallet, such as interacting with decentralized applications (dApps) and participating in the Solana decentralized finance (DeFi) and NFT communities.
How to Use Crypto Wallet on Desktop
Open the Phantom Wallet extension and click on "Create a New Account." Follow the prompts to set up a new account.
Once your account is created, you'll be directed to the main interface of the wallet.
To send or receive cryptocurrency, click on the "Send" or "Receive" button on the wallet interface. Enter the recipient's address or scan a QR code to send funds, or share your wallet address to receive funds.
To interact with decentralized applications, navigate to the dApp you want to use and connect your wallet by clicking on the wallet icon or following the provided instructions on the dApp's website.
Backup & Restore
Creating a Backup:
Open the Phantom Wallet on your desktop computer.
Click on the three horizontal lines in the top-right corner to open the menu.
Select "Settings" from the dropdown menu.
In the settings menu, click on the "Backup" tab.
You will be prompted to enter your password for security purposes.
Once entered, click on the "Create Backup" button.
A backup file containing your wallet information will be downloaded to your computer. Make sure to store this file in a secure location, preferably offline or on a hardware device like a USB drive.
Restoring your Wallet:
Open the Phantom Wallet on your desktop computer.
Click on the three horizontal lines in the top-right corner to open the menu.
Select "Settings" from the dropdown menu.
In the settings menu, click on the "Backup" tab.
Click on the "Restore" button.
You will be prompted to select the backup file you previously created.
Locate the backup file on your computer and select it.
Enter your password to decrypt the backup file and restore your wallet.
Your wallet will be restored, and you will regain access to your funds and transaction history.
Troubleshooting
Ensure that you have the latest version of the Phantom Wallet app installed on your device.
Restart your device and try opening the wallet again.
If the issue persists, uninstall and reinstall the app.
Check your internet connection. Make sure you have a stable and reliable internet connection.
If you are using a VPN or firewall, disable them temporarily and try again.
If you are on a mobile network, switch to Wi-Fi or vice versa and check if the issue is resolved.
Double-check that you are using the correct wallet address.
Verify the blockchain explorer to ensure that the transaction has been confirmed.
If you recently made a transaction, give it some time to be processed on the blockchain.
If a transaction fails, check that you have enough balance to cover the transaction fees.
Ensure that you have entered the recipient's address correctly.
If the issue persists, try adjusting the gas fees for the transaction..
Phantom Wallet Alternatives
Phantom Wallet Vs Trust Wallet
Phantom Wallet was designed for the Solana blockchain and its native tokens, but now also supports Ethereum and Polygon. It has a user-friendly interface with a sleek design and intuitive navigation, making it suitable for beginners. It focuses on simplicity and ease of use, providing features like token management, sending and receiving transactions, staking, and swapping tokens. On the other hand, Trust Wallet is a multi-chain wallet that supports a wide range of cryptocurrencies, including Bitcoin, Litecoin, Cardano, Ethereum and other ERC-20 tokens. It offers a feature-rich interface with comprehensive functionality for managing different cryptocurrencies. It also supports DeFi applications, allowing users to participate in lending, borrowing, and other activities. Both wallets are accessible as mobile and desktop platforms and support hardware wallet integration for enhanced security. They also both give users full control over their private keys, ensuring self-custody of funds. Consider the specific blockchain and tokens you work with when choosing between the two wallets.
Phantom Wallet Vs Exodus Wallet
Phantom supports Ethereum, Polygon, and Solana, providing access to the Solana ecosystem and passive income through staking SOL tokens, Exodus, on the other hand, supports multiple blockchains like Bitcoin, Litecoin, Cardano, Tether, Dogecoin, and Solana, providing access to a wide range of cryptocurrencies. Both wallets offer a range of features like staking, swapping, non-custodial storage, and NFTs, and provide secure environments for users. Phantom offers hardware wallet support and an intuitive interface, while Exodus has third-party integrations with services like Compound Finance and MoonPay, and a modern user-friendly interface. The choice between the two depends on individual preferences.
Final Thoughts
Phantom Wallet is a cutting-edge, non-custodial, multi-chain Web3 wallet that is tailor-made for managing digital assets and accessing decentralized applications on Solana, Ethereum, and Polygon networks. This hot wallet comes packed with a plethora of features that ensure that your assets remain secure and accessible at all times. Some of these features include self-custody, secure storage, multi-chain support, decentralized application integration, token swaps, NFT compatibility, crypto staking capabilities, and hardware wallet compatibility. With such a wide range of features, this wallet is a versatile and secure option for managing digital assets and accessing decentralized finance. It is available as a desktop application and mobile app for iOS and Android devices, which guarantees that you can manage your digital assets on the go. If you are interested in the Ethereum, Polygon, or Solana blockchains, this wallet is definitely worth considering.
Q&A Session
In this section, Eugene Abungana will address your inquiries and the most common questions regarding Phantom Wallet and offer guidance to newcomers in the field. Feel free to submit your questions through our contact form, and we will strive to respond within 48 hours.