Digital tokens are now part of our everyday digital exchange, and they require a mechanism to allow users to store them and make them easily transferable. Metamask is one of the few easily adaptable wallets that interacts with all decentralized applications on the Ethereum network and beyond while giving users complete control over their tokens and wallets! Metamask has entered the blockchain space with the growth of Ethereum and is one of the few wallets to offer multiple features while maintaining asset security. Thus, with seamless integration, easy-to-use features, and robust security metrics, Metamask is the go-to choice for millions of Ethereum and crypto degens.
What is Metamask Wallet?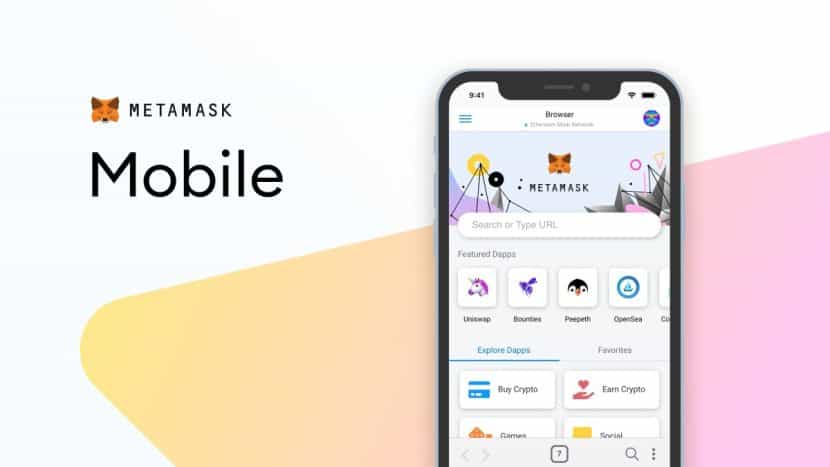 The Metamask Wallet is a web browser extension wallet and mobile app enabling users to interact with the Ethereum blockchain. Users can interact with Ethereum-based decentralized applications while allowing users to hold and transfer Ether tokens. As a hot wallet, Metmask enables users to interact using multiple blockchain features, including DeFi, NFTs, and Play-to-Earn features.
Wallet integrates with leading decentralized applications and allows users to store multiple Ethereum-based cryptocurrencies, including ERC-20 and ERC-721 tokens standards. It comes equipped with some security features where users can recover their wallet from any computer using a seed phrase with the addition of password protection.
Metamask is solely designed for interactions with the Ethereum network and allows storing any ERC-20 tokens standard by adding custom tokens or adding new networks. On the browser, wallet users can add new EVM-compatible networks like Harmony, Fantom, or Polygon while having over a million downloads as a Chrome extension.
Features
As a token storage and transfer tool on Ethereum, the wallet includes various features that expand the opportunities to use Metamask for all ETH network purposes. Here are some of the most convenient features explained in our Metamask review:
Multi-currency support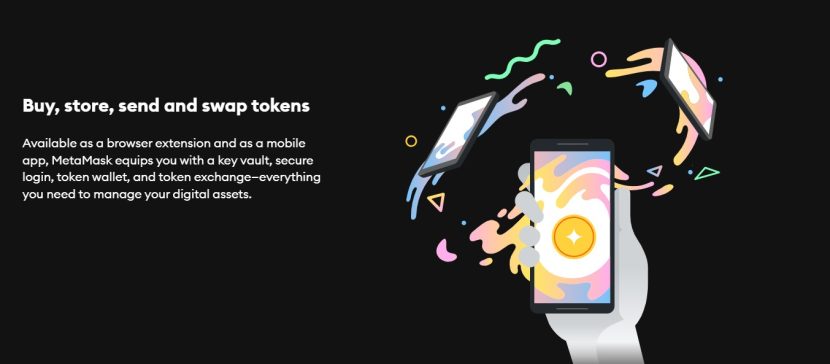 As an Etheruem-only wallet, it does support multiple different tokens that are on the Ethereum network. This means that users can add custom networks to their wallets, add multiple tokens to the wallet and store different tokens. Also supports Arbitrium, Binance Smart Chain, Harmony, Fantom, Polygon, or Tron. As a result, users can easily switch between network wallets or create unique wallets for each token, making it easier to store most tokens in a single place.
Compatible with Hardware Wallets
Users can integrate their hardware wallets like Ledger or Trezor and enjoy an added level of security while being able to connect to decentralized applications. The Ledger and Trezor wallets are two of the most used cold storage wallet, and the compatible nature of Metamask entails that users can rapidly transfer tokens from cold to hot storage.
Staking and Rewards
Liquidity staking is accessible to wallet users as the wallet integrates with Lido Finance and Rocket Pool to allow Ethereum staking. This means that users can stake their ETH tokens, earn stETH or rETH for Rocket Pool, and receive an APY ranging from 4% to 3%. The rewards are accumulated as interest income, and Matamask only allows Ethereum staking if it's done directly from the wallet's UI.
In-App Purchasing
Crypto purchases are available and users can purchase tokens directly on the wallet. It features SEPA bank transfers or credit or debit card payment methods. Purchases are made through a third-party application BANX, which quotes the price of Ethereum or other network tokens depending on the current price. This makes it convenient for new users who are just starting but requires platform users to provide some KYC elements. This feature is particularly useful for individuals who interact with dApps and want to avoid network fees when transferring tokens from the exchange to the wallet.
NFT Compatibility
NFT storage and transfers are supported. Non-fungible tokens (NFTs) are digital assets with unique properties assigned to a digital or physical asset and have gained popularity since 2021. Metamask is one of the most used platforms to connect to NFT marketplaces like OpenSea or Looksrare, where they can finalize the entire buying and storing process all from within the app. The wallet interface allows NFT holders to view, buy, sell, transfer, or manage their NFT collection from the browser.
Seamless User Interface
The user interface is easy to understand, even for new users. The browser extension has only four features that make it convenient for individuals to know what they can do. Other elements are emphasized in the portfolio section and include an extended version of the wallet. Even so, the layout is easy to navigate, and the button clearly indicates each section.
Top-Notch Security

The wallet uses network encryption technology to protect users' private keys, ensuring their digital assets are always secure. Additionally, Metamask's integration with hardware wallets provides an added layer of security, making it one of the safest crypto wallets available. There's also the addition of seed phrase recovery, and as a custodial wallet, this is a crucial security feature that allows users to retrieve their wallet from anywhere.
Services
Here are some of the key services provided in our Metamask review.
Digital Asset Storage
One of the core services provided is digital asset storage. It allows users to store their cryptocurrencies and other digital assets securely. The extension is compatible with Ethereum and EVM-compatible networks which means it supports large numbers of ERC-20 tokens. Metamask allows users to create and manage multiple wallets within the same user interface, which can be accessed on different devices.
In-App Purchases
Users can make in-app purchases using digital assets and even fiat tokens. This saves users the hassle of making purchases on third-party applications, trading fiat to ETH tokens, and sending them to the wallet address. The desktop browser will handle all transactions in the background and only requires users to press a button and approve any transactions that must be actioned out on the wallet.
Crypto Exchange
As a crypto tool, the wallet also features a built-in DEX allowing users to swap tokens directly on the app. Users can only swap tokens on the same chain and have to pay gas fees without incurring additional transaction fees. The exchange supports multiple trading pairs, fetching data in real-time from third-party DeFi protocols such as Uniswap. The only exchange feature is a decentralized exchange, but some on-chain exchanges also allow for integration, meaning wallet users can interact with financial products and trade tokens.
NFT Marketplace
Wallet users who hold ETH or other tokens can easily connect with NFT marketplaces and buy or sell their NFT art. There's no built-in NFT marketplace, but Metamask is one of the two major NFT wallets which can easily connect and trade art, music, video, or profile picture NFTs. The process is simple and straightforward, and there's the possibility to see which NFTs the wallet holds. This means that there are different tabs for NFTs, cryptos, or other types of tokens, making it easier for users to browse these assets/
Customer Support
Metamask wallet customer support is available through various channels, including email, social media, and community forums. Users can reach out to the support team via email by filling out a form on the official website. The support team usually responds within a few hours with a resolution to the issue faced by the user. In addition, to email support, there is an active social media presence where users can contact the team for assistance. The support team promptly responds to queries raised on social media platforms such as Twitter and Reddit. The community forums on the official website are another useful resource for users who need assistance with their wallets.
Supported Tokens
The wallet was built to support the growth of the Ethereum network and be used as asset storage and facilitate quick access to multiple industry features. With that, there are some limitations to what tokens users can send and receive, and these mainly include Ethereum and EVM-compatible tokens, which allow smart contracts to be executed on a piece of software developed by Ethereum. This means that Bitcoin, Litecoin, or other PoW protocols are not supported on the wallet; however, Wrapped versions of the tokens are.
Despite its popularity, wallet does not support all tokens out of the box but offers a simple and user-friendly way to add new tokens using the contract address manually. The wallet also keeps a list of popular tokens, and users can add new networks and EVM-compatible coins, like Solana, Avalanche, Tron, Fantom, Harmony, Binance Smart Chain, or Polygon.
MetaMask supports a diverse range of tokens, including ERC-20, ERC-777, and ERC-721 tokens. ERC-20 tokens are the most popular and widely used tokens on the Ethereum network, and also supports many of them out of the box. ERC-777 tokens, on the other hand, are an alternative to ERC-20 tokens with additional capabilities, making them unique and more advanced than ERC-20 tokens and stablecoins pegged to external values such as fiat pegged at the value of $1. What's also important is that users can add reflection tokens that provide passive income based on token holdings, algorithmic tokens that aim to manage supply volatility, and lastly, ERC-721 tokens. The latter is the equivalent of NFTs which are non-fungible tokens where one token is linked to an asset.
How to Setup a MetaMask Wallet?
The wallet has extended from its web-based software version and includes a mobile app. While the basis of each wallet is the same, a few nuances need to be covered. Here's a step-by-step guide on how to set up each wallet type.
Mobile setup
Step 1: Download and Install MetaMask
To install the wallet on your browser, go to the official website, click "Download," and choose the appropriate mobile app for your device (iOS or Android). Download the app by clicking "Install."
Step 2: Create a New Wallet
Once the wallet is installed, open the MetaMask app on your mobile device, click on "Get Started," and choose "Create a Wallet" to set up a new version or import a new wallet if you have one. Create a secure password to encrypt your wallet locally.
Step 3: Secure Your Seed Phrase
After creating a wallet, the app will generate a seed phrase (with 12 words). Copy and add the words on your computer and write them down, as this will allow you to recover your funds if you ever lose access to your device or forget your password.
You will be asked to confirm your seed phrase by selecting the words in the correct order. Once you have done this, tap "Complete Backup."
Step 4: Start Using Your MetaMask Wallet
You now have access to the full wallet functionality. You can copy your personal wallet address and see your current ETH balance. The wallet address is the same address where you can receive tokens on all EVM-compatible chains. You can also choose to show a QR code when receiving funds. To send funds, tap the "Send" button, enter the recipient's Ethereum address, the amount you want to send, and the gas fee you are willing to pay for the transaction.
Desktop Setup
Step 1: Download and Install MetaMask
Download the browser extension from metamask.io and choose the browser you will be using. If you're using Google Chrome, Click "Add to Chrome" and confirm the installation.
Step 2: Create a New Wallet
Create a new wallet by clicking the Fox icon in your browser, choosing "Get Started," and clicking "Create Wallet."
Step 3: Create a Password
Create a new password to encrypt your desktop wallet. Make sure to choose a difficult but easy-to-remember password, as this needs to be filled in every time you want to open the wallet.
Step 4: Secure Your Seed Phrase
A seed phrase will be shown, a list of 12 words that can be used to recover or retrieve your wallet address from any other computer. This seed phrase is the key to your wallet, and make sure you write it down in multiple places (on your computer, on a piece of paper, on a digital document, and store it on a USB)
Once you've securely saved your seed phrase, click "Next" and confirm the order of the words to verify that you have correctly written it down.
Step 5: Access Your Wallet
You now have complete access to your wallet, and similar to the Mobile version, you can send, buy or purchase ETH. You can also check your crypto assets, see your NFTs and track your wallet activity.
Step 6: Add Networks & Custom Tokens
Users can add new networks and tokens to the wallet, and they can do that by clicking "Add Network" or "Add Token" and filling in the details of the network or the custom token. Once they are added, users can switch between networks or see their new tokens in the wallets.
Step 7: Connect to Decentralized Applications (Optional)
To connect to decentralized applications like DeFi protocols or NFT marketplaces, users must select the Metamask option in the drop-down menu of the websites. Then they must click sign-transaction to link the smart contracts to the app and connect to the dApps.
Who Should Use the MetaMask Wallet?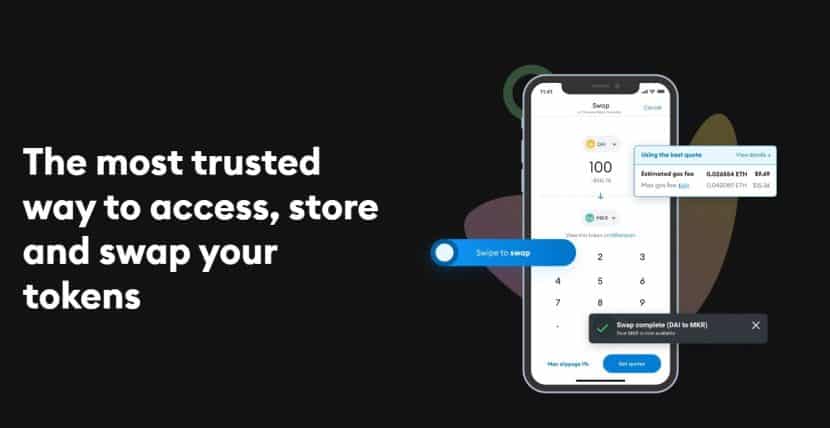 Metamask should be used by crypto holders who want to interact with Ethereum or EVM decentralized applications and use a hot wallet that quickly connects with all apps. The wallet has some security features, primarily designed to facilitate easy access and streamlined interactions between blockchain features and the end user. Because you can easily connect to dApps and feature multiple networks, it's an excellent wallet for traders who prefer DEXs over centralized exchanges and want to take full advantage of decentralized trading in tokens or NFTs. It's also ideal for users for Web3 enthusiasts since all Play-To-Earn projects or NFTs can immediately link with the wallet. While the platform is mostly for Ethereum users, other networks have developed the same functionalities, making Metamask useful for altcoin traders who want to explore the endless possibilities of the decentralized web.
So who is the app really for? The wallet is for those who want to get easy access to all dApps while managing some risk factors since Metamask is a hot wallet with some minor security features.
Wallet Alternatives?
Ledger and Nano hardware wallets, such as the Ledger Nano S and Ledger Nano X, are considered among the most secure cryptocurrency wallets available in the market. These wallets offer increased protection for users' crypto assets by storing private keys offline, isolated from internet-connected devices. The devices also require physical confirmation of transactions which helps add an extra layer of security against unauthorized access. Additionally, Ledger and Nano's wallets support a wide range of cryptocurrencies – including Bitcoin or Litecoin, which aren't available on Metamask.io.
In contrast, wallets like Coinbase or Trust Wallet, which are also software or app-based, are more accessible apps that support more than just Ethereum tokens. Both wallets are free and have similar accessibility features, have a sleek interface, and can integrate with Web3 dApps. One stand-alone feature of Coinbase and Trust Wallet is that they have better on-app staking possibilities and are attractive options for beginners and experienced users alike. However, software wallets carry a higher risk than hardware wallets as they are connected to the internet, but compared to Metamask, they have the same risk level.
Ultimately, potential crypto users should weigh the trade-offs between convenience and security when choosing between software and hardware wallets, considering their specific needs and risk tolerance.
Conclusion
​​Metamask has cemented itself as one of the most popular and well-known Ethereum wallets available. With its ease of access through the browser and mobile interfaces, non-custodial balance storage, token buying options, support for ERC-20 tokens and NFTs, staking capability, a wide range of supported blockchains, and ability to add new networks, it's no wonder that as an Ethereum wallet, Metamask is one of the most widely used and accepted platforms. It makes storing and interacting with Web3 apps easier as it includes all necessary features within the app. Finally, because the wallet includes all EVM-compatible chains – not out of the box, it presents some challenges for novice users but gives the wallet more industry authority. Our Metamask review helps users to pick and secure their digital assets safely while giving them an easy way to manage them from any device.
FAQs