DeFi wallets are online wallets that can help users connect and interact with DeFi protocols. They're best used for those who only want to trade through the blockchain network without intermediaries. Most wallets are free and open source, providing users with complete control over their funds since they control their private keys.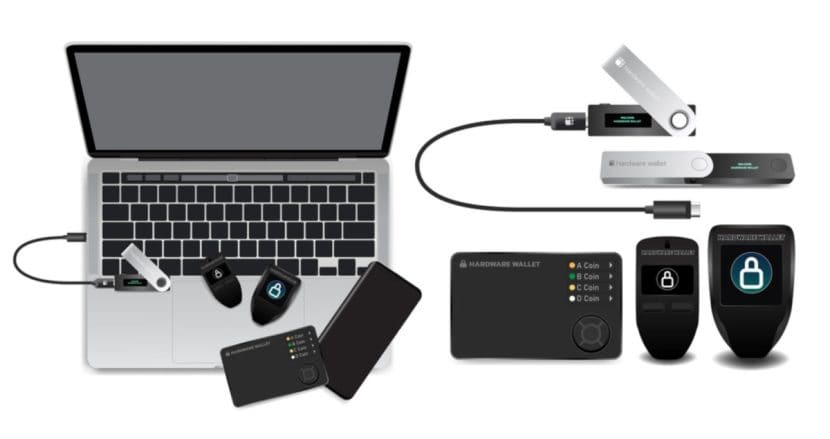 What is a DeFi Wallet
Web3 crypto wallets are getting more niched to facilitate seamless access to new blockchain features such as Decentralized Finance. Every user must have a blockchain wallet that supports the tokens he wants to trade. The main characteristic of a DeFi Wallet is its possibility to trade on-chain using in-house tokens, which allow traders to exchange, swap, and store tokens without using centralized entities. It's the primary access point to the world of peer-to-peer finance.
Types of DeFi Wallets
A DeFi wallet allows individuals to store, manage, and trade cryptocurrencies while keeping a close grip on their security and owning their tokens. With DeFi expected to gain more traction in upcoming years, it's essential to understand the different wallet types.
Cold Wallets
A cold wallet is also referred to as a hardware wallet, and it's the most secure way of storing crypto assets since they're not connected to the internet. Tokens are stored locally on the decide and can only be transferred when connected to a computer and the internet. Popular cold wallets include Ledger and Trezor wallets, which are perceived as the most secure. To a certain extent, they can also integrate with software wallets to make DeFi interaction easier.
Their security features are basic. They are password and pin-protected, and users own their private keys. To approve a transaction, users need to physically approve it on the wallet, which makes it less susceptible to online hacks. With a multitude of tokens, they can be inconvenient since transaction signing and approval are not as easy.
Hot Wallets
A hot wallet or a software wallet is always connected to the internet. They're the ideal DeFi wallets since they can connect and interact with a DeFi platform from anywhere. These wallets can be accessed from the web, app, or desktop. They provide some security risks since they are susceptible to phishing scams or malware attacks, but all this can be mitigated by being careful and only clicking on verified links. They still use strict security measures, and platforms like MetaMask give users access to their private keys.
What to Look for When Choosing a DeFi Wallet
With so many wallet options online, knowing which wallet you have to pick is hard. Here are some main factors to consider to make your decision easier.
Security Level
Security should be your top priority when choosing a DeFi wallet. Look for a wallet that uses advanced security measures such as two-factor authentication, multi-signature options, and seed phrase management. Also, choose a wallet with a proven security track record that reputable firms have audited. Avoid wallets that have experienced security breaches and those that do not have an established reputation.
Services Offered
Different DeFi wallets offer different services and features. Look for a wallet that caters to your needs and goals. For example, some wallets offer staking and yield farming options, while others provide seamless integration with decentralized exchanges (DEXs) for trading. It is also important to check if the wallet allows for fiat currency on-ramps and off-ramps, mobile access, and support for non-custodial or custodial offerings.
Supported Assets
DeFi wallets typically support a range of cryptocurrencies and tokens. However, not all wallets support the same assets, so it's essential to ensure that the wallet of your choice supports the tokens you are interested in storing, trading, or using in DeFi protocols. It's also worth checking if the wallet supports ERC-20 and non-ERC-20 tokens.
Fees
Fees are an important consideration when choosing a DeFi wallet. Different wallets have varying fee structures for transaction processing, staking, and exchange trading. Look for a wallet that has transparent fee structures and offers competitive rates. It's also worth checking if the wallet charges gas fees and if these fees are adjustable.
User-Friendliness
Finally, user-friendliness is an essential factor to consider when selecting a DeFi wallet. Look for a wallet with a clean and intuitive user interface and easy-to-understand instructions. Also, choose a wallet with reliable customer support and comprehensive documentation to help you navigate the platform.
Services Offered By DeFi Wallets
A DeFi wallet is more complex than a regular crypto wallet since it includes services that can only be used on the decentralized network. The most important service they offer is that any transaction takes place on-chain without interacting with intermediaries – enhancing the ideal of blockchain technology. Here's what else you can do with a DeFi wallet.
Users get a hold of their private keys. This is paramount since users are in control of their funds completely. If a DeFi platform goes offline or the software gets uninstalled, users can still retrieve their wallets from anywhere or connect to other platforms without affecting their funds.
Trading becomes decentralized, and traders can access every on-chain protocol. Uniswap, Sushiswap, or Curve are some main platforms where traders can swap and trade their tokens through liquidity pools.
A DeFi wallet also lets you leverage your tokens to start yield farming. The process interacts with smart contracts to provide liquidity to decentralized protocols and earn rewards in return. Staking yields similar rewards, but the goal is different. While liquidity pairing provides users with a fund to trade on DeFi protocols, staking involves enhancing a platform's security by adding tokens for validation. In return, users are rewarded with a stake at a set rate.
Finally, every wallet transaction is visible on a blockchain scanner. Users can track their portfolios and keep track of their holdings by just knowing their wallet address.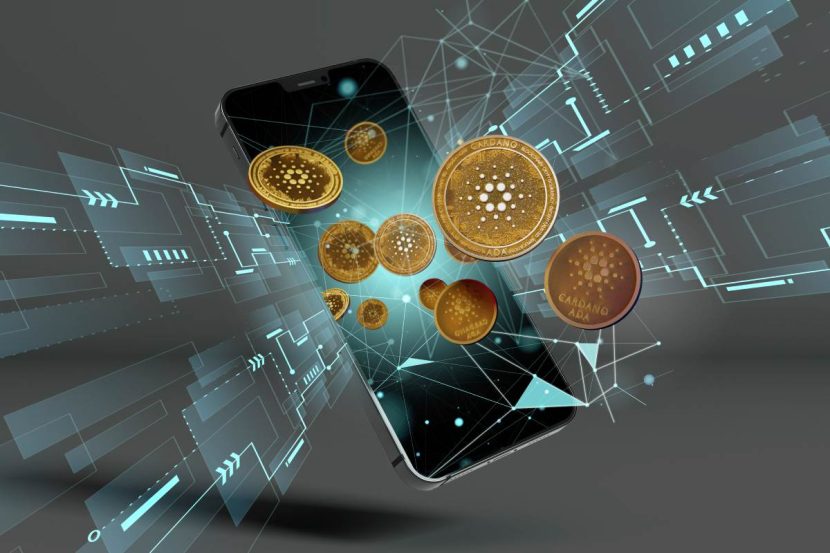 How do I Start Using a DeFi Wallet?
To start using a DeFi wallet, you need to know how crypto works and have some understanding of how to interact with a blockchain network. A Bitcoin wallet is your best option if you want to get started. Regardless of the network, every DeFi wallet must be downloaded and installed. You should read the reviews to understand which networks are supported and how to add a new network.
The most important thing to do after downloading the app is to make sure you save your recovery key. Before doing anything else, make sure your recovery mnemonic phrase is written in multiple places.
The next step requires traders to find a platform they want to connect to. It requires users to open the protocol's app and sign in using the account by approving and signing two transactions that grant access to the platforms. The final step of the process involves navigating the app, finding the tokens, and engaging in a swap. To finalize a swap or any action on the DeFi platform, you must approve it through the wallet and pay network fees.
How to Create an Account
Every wallet setup is different, but most decentralized wallets require a few steps.
Step 1: Research and choose the appropriate DeFi wallet.
There are various wallets, so you must see which fits your needs. Popular options hardware wallet include:
Step 2: Download and Install the DeFi wallet
Make sure to download the wallet from a known source – such as their website or the official app from the app store. Download the apk or file and install it on your mobile or browser.
Step 3: Setup The Account
Getting a wallet address is done in the first step. The wallet will create a unique address and provide you with a recovery phrase. Write the phrase down, as you'll need to re-enter to confirm your account. The seed phrase can also be used to restore your wallet in case you forget your password or lose your device.
Step 4: Start Using The Wallet
Your wallet will be finalized after writing the seed phrase in the same order. You can now interact with DeFi protocols or other decentralized platforms. You can also choose the tokens you want to see and fund your account.
How to Make a Transaction
To make a transaction, you need to have the wallet connected to the protocol. Here's a brief guide on how to make your first transaction.
Connect your wallet to the protocol. Sign the first transaction to grant full access
Type the token you want to swap and the respective trading pair. You can select from the drop-down menus
Type the amount you want to swap on the protocol
Click on "Swap" or "Exchange," and a new transaction will appear in your wallet
Sign the first transaction to make sure you allow the wallet to interact with the protocol
Sign the second transaction, where you have to pay a network fee to finalize the process
The same process is required for trading, swapping, and staking since you interact directly with a smart contract.
How to Make a Deposit
On DeFi, deposits can be made using a crypto transfer. Alternatively, some wallets like MetaMask or Trust Wallet have integrated third-party applications to allow direct credit card deposits. Here's how you make a deposit using crypto.
Open your wallet and type the name of the token you want to deposit. Make sure it's on the correct network
Once you have the wallet, click on "Receive" to get the token address
Copy the address and head over to your exchange
Paste the wallet address in its respective section and type the amount you want to send
Click OK and make sure you have enough to cover network fees
Wait a few minutes for the blockchain to approve your transaction and show your tokens in the wallet.
How to Make a Withdrawal
Withdrawing requires you to have another address where to send the tokens. Here's a short process on how to do it:
Open the wallet and click on the token you wish to withdraw.
Click on "Send" to open the withdrawal section.
Type the amount you want to take out and past the wallet address.
Ensure you have enough funds to cover the network fees; otherwise, the process won't be finalized.
Click "OK," and you'll be prompted to sign the transaction. Sign the transaction to finalize the withdrawal process.
Check your other platform for the funds. Depending on the token, the process can take up to 5 minutes, depending on network congestion.
DeFi Wallets Supported Tokens
The tokens supported by DeFi wallets are the same tokens that have smart contact capabilities. Not every token is a smart contract token, and traders also consider the network fees, transaction times, and interoperability before choosing a DeFi wallet. As a reference, the most popular tokens are ERC-20 (Ethereum) tokens and EVM-compatible tokens.
For a wallet to be truly DeFi, the wallet must be compatible with Ethereum Virtual Machine. These include Ethereum, Fantom, Binance Smart Chain, Link, Polygon, or similar tokens.
Is DeFi Wallets Safe and Legit?
DeFi wallets are secure platforms. There are only a few instances where such platforms have been hacked. Most of them are open-source software, so there's a lot of emphasis on ensuring bounty programs are enforced, and developers release new versions to protect users' funds.
Since wallets require a signature to connect with the DeFi platform, tokens don't leave the wallet only when the smart contract is triggered. This means that all assets are safely stored in the wallet. For that, it's essential that the wallet offers private key access to the holder to increase trust in the wallet.
Backup & Restore
Backing up a DeFi wallet starts when you first set up the account. Wallet providers will provide a seed phrase called a mnemonic phrase. It's a 15-word string that grants you access to the account from anywhere, regardless of whether you're connected to the old device or not. You must store the seed phrase securely offline (by writing it on paper). You can also store it locally on your computer, but keeping the word safe is important. A wallet will require its users to copy the string of words in the same order and type it again before activating the account. An alternative backup option on some wallets like Metamask provides a downloadable UTM extension, which can be added to any browser and instantly get access to the account.
To restore an account, you must click on the wallet and click on I already have a wallet. Then, you'll be prompted to type the string of words in the correct order. This will restore complete access to your wallet.
DeFi Wallets Alternatives
There are only three types of on-chain wallets, and their main difference is their lack of interactivity with DeFi products. Here's how other wallets compare to those who can hold defi crypto assets.
DeFi Wallets Vs Blockchain Wallets
A blockchain wallet, or cryptocurrency wallet, is a software program that can be used only on a PC that helps store private and public keys locally. It allows users to send, receive, and manage their cryptos. DeFi wallets, however, allow users to interact with decentralized apps (dApps), which operate directly on the blockchain. This also extends into DeFi, where users can link their wallets and use smart contracts to transact on a peer-to-peer basis. They can also do other actions, such as lending, borrowing, staking, or yield farming, while not being limited to a single platform. The same wallet can connect to multiple protocols. The only similarity between the two is that they can both be used to manage digital assets. In fact, a DeFi wallet has the same features as a blockchain wallet but also provides ease of use to interact with additional DeFi products. They open an entire ecosystem of financial services without the need for intermediaries.
Final Thoughts
Getting a DeFi wallet hinges on how you want to interact with decentralized products. DeFi protocols are stand-alone products that facilitate financial services without any intermediaries. These wallets can provide a high level of security if used correctly as they provide you access to recovery and see phrases. DeFi wallets open new gateways to blockchain ecosystems while working as a tool to store tokens anonymously. Their only direct connection is with on-chain platform, and interacting with exchanges requires users to send tokens directly. DeFi wallets have more features since they allow you to stake, farm, swap, and change protocols to enhance your DeFi journey.
Q&A Session
In this section, Vlad Hategan will address your inquiries and the most common questions regarding how to withdraw from a DeFi wallet, their anonymity features or what are some of the fees used by these wallets and offer guidance to newcomers in the field. Feel free to submit your questions through our contact form, and we will strive to respond within 48 hours.