Trader Joe crypto exchange is a decentralized exchange providing users with interesting features. It utilizes the Avalanche blockchain and uses this to provide DEX services. Traders can take advantage of trading, staking, and yield farming. As a result, there's plenty to like about what's on offer here.
It has some of the lowest fees available, with just 0.3% on each trade. It makes it perfect for users wanting to increase their profit margin.

Introduction to Trader Joe Crypto Exchange
Traders looking for a high-quality DEX can find an excellent example at Trader Joe crypto exchange. Built using the Avalanche ecosystem, there's plenty to love about this site. It offers a reliable service, which is critical when carrying out trades.
Users have the opportunity to buy and sell crypto, stake funds, and use yield farming. As a result, there's a lot to enjoy here. Although it covers a wide range of cryptocurrencies, we found BTC and ETH aren't available as standard while researching our Trader Joe crypto exchange review. The Trader Joe crypto exchange is a simple site, making it an ideal option for beginner and experienced traders. It also has high levels of security and utilizes cold storage for crypto funds.
In our Trader Joe crypto exchange review, it is apparent there are plenty of incredible features in place. We will take our readers on a journey through the whole experience, ensuring a complete understanding of its services. So, any new traders can discover everything they need to know to start with Trader Joe.
| | |
| --- | --- |
| Founded date | 2021 |
| Native Token | Yes |
| Listed Cryptocurrency | 155 |
| Trading Pairs | 227 |
| Supported Fiat Currencies | None |
| Supported Countries | 200+ |
| Deposit Fees | Only gas fees |
| Transaction Fees | 0.3% |
| Withdrawal Fees | Only gas fees |
| Application | No |
| Customer Support | Discord 24/7 |
Type of Exchange
Trader Joe is a DEX which allows users to trade on both desktop and mobile.
Price
Free.
Fees
0.3% per trade. No fees for deposits or withdrawals apart from gas fees.
Trader Joe Crypto Features
Staking
Yield farming
Native token
Low trade costs
Number of Cryptocurrencies Supported
USDT
USDC
JOE
GMX
WBTC
MIM
& over 160 more
Earn
Users can earn in multiple ways through the Trader Joe crypto exchange. Staking, yield farming, and through trading.
Customer Service
The customer service when using the Trader Joe crypto services includes a Discord server. Although this isn't a traditional method of providing support, it's available 24/7 and provides a high level of service.
Hardware Compatible
Traders can access Trader Joe through their desktop and mobile device. There's no app available, but the browser provides full access.
SPV or Full Node
Trader Joe fully validates transactions. It also allows bettors to bridge crypto.
Who Trader Joe Crypto Exchange Best Suited For?
Trader Joe crypto offers the best experience for advanced traders. However, it has a detailed startup guide, so beginner users can still get value from it if they're willing to dedicate the time.
Trader Joe Crypto Pros & Cons
Pros
Low trading costs at just 0.3%
Staking, yield farming, lending, and other features are available
A fully decentralized platform
Has regular audits to ensure its security and transparency
Cons
Discord is the only security option
Can be difficult for beginner players to access
Services Offered by Trader Joe Crypto Exchange
Our Trader Joe crypto exchange review sees an impressive amount of features available. What we like the most is the numerous ways to earn additional funds beyond just trading. So, let's take a deep dive into what's on offer.
Firstly, traders can do the obvious. They can trade. With extremely low fees, Trader Joe crypto is an excellent way to swap different coins, particularly for users acclimatized to the higher fees and profits at traditional exchanges. Of course, there's always a risk when trading, but successful trades will have a higher profit margin at Trader Joe crypto exchange due to the much lower fees.
Users can also add their funds to the liquidity pool. When carrying out this feature, it provides the chance to yield farm without losing any holding. The basic premise is traders help with the liquidity of Trader Joe crypto holdings, and from there, they get rewards. The rewards come from the fees Trader Joe takes on each trade, so it helps to create a passive income.
There's also the option to stake JOE tokens using the Trader Joe crypto exchange. Here, users get a return, which creates another passive income. It adds to the overall earning potential of Trader Joe, making it a highly appealing platform for users who want to make profits while taking fewer risks than outright trading.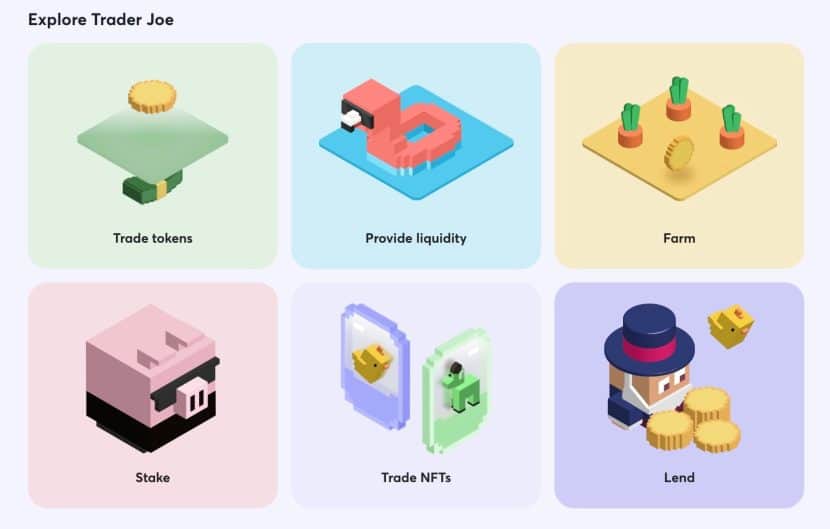 How to Create an Account
Although using Trader Joe crypto exchange has some complexities, creating an account isn't too tricky. In fact, people could reasonably describe it as an easy process. Because it's a decentralized exchange, traders don't have to complete KYC, and there's no real sign-up process. Using our steps, users can quickly discover how to create an account with Trader Joe crypto:
Step One: Navigate to the Trader Joe website
Step Two: Click on the "Connect Wallet" button
Step Three: There are a range of wallets to choose from, so users must pick the appropriate option
Step Four: Connect the wallet
Step Five: Browse the site and decide how to use the funds
So, there's minimal time between signing up and using the features, making Trader Joe crypto exchange perfect for traders looking for a quick process.
How to Proceed with a Transaction
After connecting a wallet, users simply navigate to the trade page to start trading. It's equally simple: ensuring Trader Joe crypto has an entryway for beginner customers. Our step-by-step guide provides easy access to the Trader Joe crypto platform.
Step One: Click the trade button
Step Two: Choose the desired tokens in the trade box
Step Three: Enter the desired trade amount
Step Four: Confirm the trade
After this, users will have to wait for the trade to complete and confirm the trade fee. There's then a slight wait for completion, after which the new token will be present in the user's wallet.
How to Make a Deposit
Making a deposit is slightly more complicated, but it still isn't beyond the skills of an intermediate user. Here, traders must navigate to the pool or stake pages.
Step One: Click on the pool or stake buttons
Step Two: Enter the amount to pool or stake
Step Three: Confirm the transaction
After completing either of these processes, users will see regular rewards. While it won't provide instant riches, it's a positive way of creating a passive income.
How to Make a Withdrawal
Making a deposit is slightly more complicated, but it still isn't beyond the skills of an intermediate user. Here, traders must navigate to the pool or stake pages.
Step One: Click on the pool or stake buttons
Step Two: Enter the amount to pool or stake
Step Three: Confirm the transaction
After completing either of these processes, users will see regular rewards. While it won't provide instant riches, it's a positive way of creating a passive income.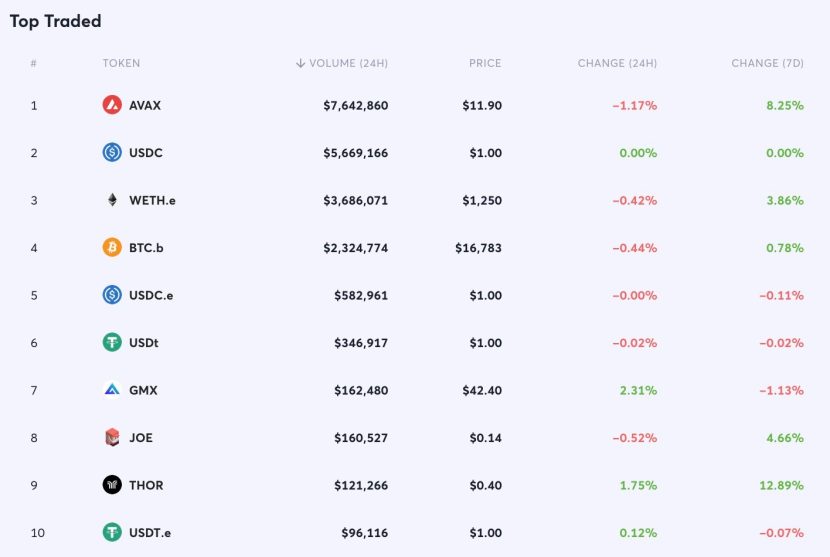 Payment Methods
Cryptocurrency is the only payment method available at Trader Joe crypto exchange, so users looking to use fiat methods cannot do so. It may be a slight inconvenience for some users. Still, as traders can connect their Coinbase wallet, there is the opportunity to purchase crypto with fiat through Coinbase and then trade after connecting the wallet.
Trader Joe Crypto Exchange Supported Tokens
A massive selection of tokens is available at the Trader Joe crypto platform. Although it doesn't offer direct versions of Bitcoin or Ethereum, there are wrapped versions, providing at least some semblance of access. With more than 100 coins, it's difficult to cover every offering. So, here's a selection of the most popular options in place:
GMX
USDC.e
WETH.e
USDT
MIM
PTP
ELK
GRO
AVAX
BOO
COOK
CLY
CRAFT
DAI
LUNA
Is Trader Joe Crypto Exchange Safe and Legit?
While we found during our Trader Joe crypto exchange review the site is too young to have a complete picture, so far, the signs are extremely promising. Because it's built on Avalanche, there are plenty of checks and balances to ensure it operates legitimately.
Trader Joe has no complaints against its name, which is always positive. However, the security protocols mainly fall on the user, as it's a decentralized platform. As a result, if a trader doesn't take due care and attention to how they use the site, they open themselves up to risk.
Despite this, as it's built on the Avalanche blockchain, it has good security protocols, and it makes its audit results public.
Security
Our Trader Joe crypto exchange review closely examines all aspects of the site. As a result, we understand security mainly falls on the user. So, while there isn't 2FA as standard, users can set it up through their wallet. Each wallet has different protocols to complete the process, so users must check how to do it. Without 2FA, it can make traders more vulnerable to hacks.
As previously mentioned, Trader Joe crypto has regular audits and makes them public. So, users can check all security standards before signing up. The site uses a form of cold storage, with user wallets helping to create liquidity. However, the security of each wallet is down to the individual user, so they must be aware of it.
User Interface
The Trader Joe interface is straightforward to use. Everything is available at the top of the screen, with single clicks taking traders to all crucial areas. Even connecting a wallet is initiated with a single press of a button. As a result, it ensures beginners won't have too many troubles getting up and running.
Our Trader Joe crypto review also discovered one of the best startup guides available. So, anyone struggling with the platform has top-class help.
How to Use Crypto Exchange on Android & iOS
Although Trader Joe doesn't provide an app for either platform, there's still complete accessibility for mobile users. It does this through a mobile browser platform, which is fully responsive and optimized.
In fact, the landing page on mobile is more efficient than the desktop version. When it loads, there are large buttons for each area, making navigating to the correct page easier.
Using the mobile browser is a doddle for iOS and Android users, as it's just a case of loading the page and using Trader Joe as usual. So, there are no limits on exchanging and trading with the mobile site.
How to Use Crypto Exchange on Desktop
Our Trader Joe crypto review found the interface on desktop simple to use. However, some users may still want a quickstart guide. Anyone new to DEX platforms should follow our step-by-step guide.
Open the Trader Joe Crypto Exchange
Connect a wallet using the appropriate button
Open the required page. Stake, Farm, Lend, Trade, Pool, or Lend
Move the crypto around to the right areas
It really is simple: ensuring all traders can access the site.
Backup & Restore
Backup options don't have anything to do with the exchange. As it's a decentralized platform, Trader Joe doesn't have built-in backup options. As a result, it's entirely down to the user to create their backup and restore options. It's a difficult task to create a generic backup guide as so many wallets are compatible with the site.
However, using Metamask as an example, the backup process isn't too challenging. Traders just have to follow these simple steps:
Navigate to the menu of the wallet
Select the settings
Enter the security menu from the settings page
Select the protect your wallet link
Choose the backup option
Each wallet will have slightly different instructions, so checking the instructions for each specific wallet is critical. However, the process isn't too complicated, especially with an official guide.
Troubleshooting
Trader Joe provides a range of features to traders, but as it's a decentralized platform, there can be issues around usage. So, to help beginner users, we have put together a small guide to solving the most common problems.
If a swap refuses to complete, it could be due to the slippage tolerance. Contact the project to determine the suggested slippage tolerance to solve this issue. Traders can then select the correct amount and complete the swap.
Traders who complete a trade but can't see their new coins don't need to worry. The new tokens have to be added to the wallet manually, users can do it through the trade screen, which is a one-click operation.
Although there may be other issues, Trader Joe has a common issues page where users can find solutions to more complicated problems.
Trader Joe Crypto Exchange Alternatives
There are other crypto exchanges on the market, which can offer an alternative to crypto users. We've taken a close look at how Trader Joe matches up.
Trader Joe Crypto Exchange Vs Kraken Exchange
When it comes to differences, there are a few significant ones between Kraken and Trader Joe. The biggest is Kraken is centralized whereas Trader Joe is decentralized. As a result, traders have more freedom when using Trader Joe. However, Kraken doesn't leave security and protection down to the user, so it removes some of the personal responsibility behind trading.
The fees are relatively similar, with Kraken offering slightly lower fees, but they're not considerable for either site. Trader Joe provides more freedom for staking, as Kraken doesn't allow traders to stake from their wallet, they must deposit funds directly to Kraken. With Trader Joe requiring personal responsibility from traders, it makes sense to take this approach.
Overall, Kraken is a solid crypto exchange, but crypto users searching for more freedom will prefer Trader Joe.
Trader Joe Crypto Exchange Vs Uniswap Exchange
Uniswap is closer to Trader Joe than Kraken as it's also a decentralized exchange. The trade fees are the same, although Uniswap has a significantly higher volume. It shows it's a more popular platform despite both traders forming in 2021.
Both sites provide a similar service, as traders can link their wallets directly to the exchange and stake tokens. So, it is a personal preference between the two providers. However, Uniswap is a large DEX with a more trusted reputation. Additionally, a Uniswap app and wallet are available, which may sway users towards it.
Final Thoughts
Trader Joe provides an excellent overall experience to traders. With low fees, staking and farming opportunities, and liquidity pooling, this site has plenty to like. It's one of the most impressive new DEXs on the market, ensuring a positive solution for traders.
It would be a positive to see a mobile app appear in the future, particularly with the growth of mobile trading, but the browser site provides a strong alternative. Despite the site having anonymous founders, there is a strong history of successful projects which provide users peace of mind.
Overall, Trader Joe is a high-quality crypto exchange where traders can carry out all essential tasks.
Q&A Session
In this section, Will Wood will address your inquiries and the most common questions regarding Trader Joe and offer guidance to newcomers in the field. Feel free to submit your questions through our contact form, and we will strive to respond within 48 hours.