StormGain crypto exchange is a software and mobile digital custodial exchange with 11 different tokens available and unique features for a no-KYC exchange, such as Bitcoin mining and trading options. The exchange is suitable only for traders in the UK, and it's free to use. This StormGain review shows why fees are low on the platform and how you can leverage this in your trades.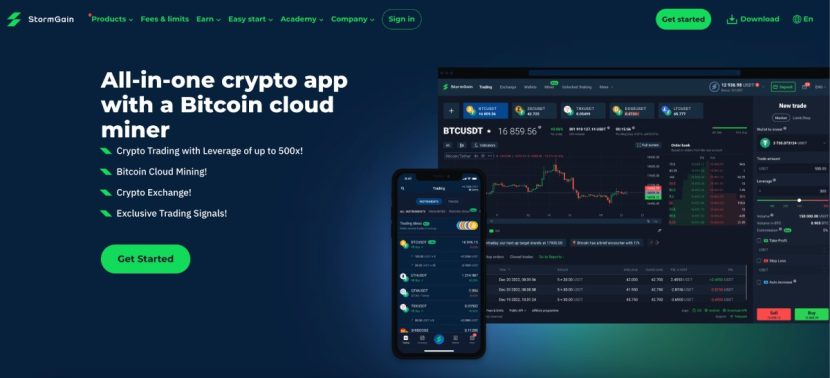 Introduction to StormGain Exchange
StormGain Exchange is a comprehensive platform designed for managing and trading cryptocurrencies. It provides an easy-to-use interface that simplifies the complexities of digital currency trading, making it accessible for both beginners and experienced traders. You can buy, sell, and exchange various cryptocurrencies at competitive rates. Not just that, StormGain also offers a unique feature allowing you to mine Bitcoin directly from the platform, providing an additional avenue to increase your crypto holdings.
The platform also provides timely and accurate buy/sell signals to guide your trading decisions, helping you make informed choices and maximize your profit potential. What sets it apart is its profit-sharing model – it only takes a share from successful trades, aligning their success directly with yours.
Furthermore, StormGain has a dedicated mobile app for iOS and Android devices, ensuring you can manage your crypto investments on the go. With its focus on user experience, security, and profitability, StormGain Exchange provides a robust solution for all your cryptocurrency needs.
Type of Exchange

Desktop and mobile custodial exchange that can be used on any operating system. It features a DEX and a CEX feature implemented into it.

Price

It's free to use the StormGain exchange.

Fees

Trading fees: 10% commission on profitable trades

Trading maker/taker: 0.40%

Withdrawal fees: Network fees + 0.1% additional fee

StormGain Features

Leverage up to 500x
Bitcoin mining features
Decentralized exchange feature
Crypto staking
Options and futures trading

Number of Cryptocurrencies Supported

The exchange supports 28 tokens

Earn (staking/rewards)

Staking is available only for the tokens that can be stored on the platform.

Customer Service

Telegram support, email contact, FAQ page, phone support

Hardware Compatible

Not available

SPV or Full Node

SPV

Who StormGain Exchange Best Suited For?

Traders who want more trading tools like options, future, and tokenized commodities.

StormGain Pros & Cons
Services Offered by StormGain Exchange
Bitcoin Mining
Users can mine Bitcoin directly from the StormGain platform, a unique feature differentiating it from many other exchanges.
DEX Trading
StormGain users can also trade cryptocurrencies through a DEX, which means they must connect using their own crypto wallet. Decentralized trading means traders' activity is more private since it takes place fully on-chain, allowing traders more control over their tokens.
Mobile Trading
StormGain offers a comprehensive mobile application for iOS and Android devices. Users can perform all their trading activities on the go using this app. The app also allows users to store their funds, making it an all-in-one crypto solution.
Future and Options Trading
Future and derivatives trading is nothing new in the world of crypto, and bigger exchanges like Binance offer these options in some jurisdictions. StormGain's Option instruments mean traders can put Calls and Put orders on the price of BTC to USDT and ETH to USDT. It's a new trading tool that's less frequent among crypto traders but still powerful.
Profit Share
With this feature, traders are only paid a fee when a trade is profitable and successful. This means that only when you close a trade StormGain will withdraw 10% from the total profit rather than paying a fee from the bet amount. This is ideal for new traders who aren't paying useless fees even when losing.
Trading Signals
StormGain provides users with customized buy/sell signals to offer a trading edge. These trading signals are known for their accuracy and provide a good indication of when to enter a trade and when to exit. It's a good feature to get a head start on the trading game, especially for new users.
Crypto Purchase
StormGain allows users to buy cryptocurrencies directly on the platform without a hassle. They can easily use credit and debit cards and seamlessly integrate with trusted partners to facilitate the purchase.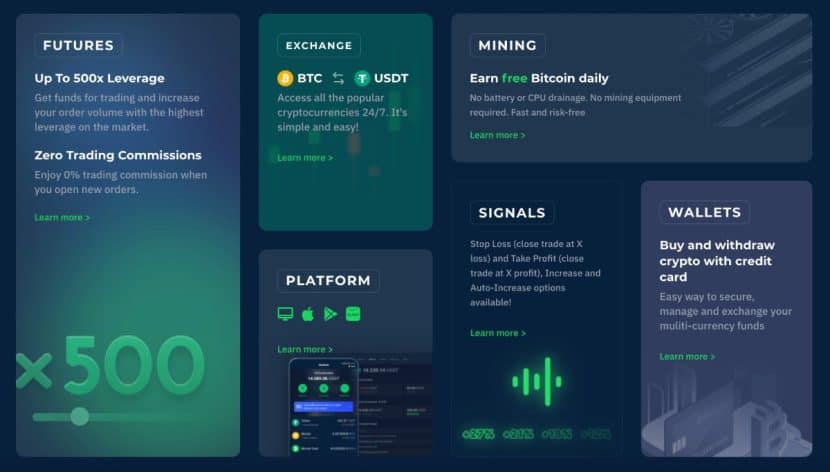 How to Create an Account
If you want to get started with StormGain easier, this step-by-step StormGain review section gives you the best overview of setting up your account.
Step 1: Visit the StormGain Website or Download the App
You first have to access the correct StormGain website. Just type stormgain.com in your search bar as the URL and click go. You can also set it up from a mobile app from either Google Play or the App Store.
Step 2: Click on the "Register Account" Button
Once you've accessed the home page, look for the "Get Started" button in the top right corner. Find the big green button and click on it. A new form will appear on the screen.
Step 3: Enter Your Details
The form that appears after clicking the "Get Started" button will have three sections to fill in. It will require you to add a valid email address and a password. Additionally, if you have a Promo code, you can add that as an option to get a referral bonus. Make sure the information is correct, and you can remember the data.
Step 4: Agree to StormGain's Policies
Once you have entered your personal details, you'll have to approve the terms and conditions. Approve the fact that you're not a US citizen, you agree with the terms and conditions, and you don't have an Islamic account.
Step 5: Verify email/phone
An email will be sent to verify that you own the account. Open your email, search for the verification email (even in Spam), and click on the provided email. StormGain also requires users to verify their phone number. Add your phone number, copy the verification code, and click OK.
Step 6: Verification complete
Now everything is complete. You can start trading on the platform with no restrictions.
How to Proceed with a Transaction
To start trading cryptocurrencies on StormGain, you need to have an account. Go to the StormGain website and log in to your account with your email and password.
Once you have successfully logged in to your account, click on the "Exchange" tab on the main menu to access the trading platform.
The trading platform will display a dropdown list of different cryptocurrencies available for trading. Choose the cryptocurrency you want to buy or sell from the list.
After choosing the cryptocurrency you want to trade, enter the amount you want to buy or sell. You can choose to enter the amount in either the cryptocurrency you are trading or its equivalent in your base currency.
Before executing the transaction, review the transaction details displayed on the trading platform. The details will include the fees and the total amount you will pay or receive. The transaction fees vary depending on the cryptocurrency that you are trading.
After reviewing the transaction details, you can choose to execute the transaction by clicking either the "Buy" or "Sell" button.
How to Make a Deposit
You need to make a deposit to start trading and interacting with the StormGain tools. Here's how you do it.
Step 1: Access the Wallets Section
Navigate to the "Wallets" section in your StormGain dashboard's top menu. This will allow you to see all the available tokens to be deposited.
Step 2: Start the deposit process
Click on "Deposit" and choose the type of payment you want to make. You can either deposit using fiat, such as credit cards, or deposit using other cryptocurrencies.
Step 3: Copy The Wallet Address Your Deposit Address
Copy the wallet address of the respective token. Head over to your cryptocurrency wallet and paste it there. Click on the "Get" option to generate your unique deposit address. If you have a mobile wallet, you can scan the generated QR code and fill in the form with the address.
Step 4: Send Cryptocurrency to Your Deposit Address
Type the amount you want to deposit in your wallet to initiate the process. Make sure you double-check the network the wallet is on. Transactions are irreversible, so make sure your network is the correct one.
Step 5: Finalize and wait
Once all the details are complete, click OK in your wallet to send the funds. The network will process the payment, and you should see the amount credited to your StormGain account.
How to Make a Withdrawal
When you want to terminate your trading, here's what you must do to remove any remaining funds.
1. Go to your Wallets
On the main website, access the "Wallet" section, which is located on the top bar.
2. Choose the token
The right side of the screen will show you which tokens you currently hold in your account. Click on the token you want to cash out and click on the "Withdraw" button. A Minus sign illustrates the Withdrawal button.
3. Enter your wallet details
A new section will open where you must add the amount of tokens you want to withdraw and your wallet address. Make sure you copy the correct address from your crypto wallet.
4. Review and finalize
Make sure to double-check that all the information is complete and accurate. Once that's done, select OK and wait for the network to add your transaction to your wallet.
Payment Methods
StormGain offers multiple ways of funding your account. Fortunately, traders aren't limited to only a few options. With that, the easiest way to deposit is if you already have cryptocurrencies lying around. StormGain users can deposit using 11 different tokens, including USDT, USDC, XRP, LTC, ETH, BTC, BCH, DASH, ZCASH, XLM, and DAI. The same tokens can also be used to withdraw funds.
Additionally, you can also use fiat to fund your account. StormGain accepts Debit/Credit Card payments and SEPA transfers for European Union players to fund the account. Either way, traders will use fiat methods to purchase tokens on the platform. Furthermore, StormGain uses a fiat gateway called Simplex to facilitate access between fiat and crypto.
StormGain Exchange Supported Tokens
On StormGain, users can buy and store 11 different crypto tokens, which include:
Bitcoin
Ethereum
Ripple
Bitcoin Cash
Litecoin
USDT
USDC
ZCash
Dash
Monero
Dai
These tokens are available to purchase and store on the account; however, traders can access more altcoins than those available through the available trading markets. For example, the future market offers Cardano, Shiba Inu, or Tron trading with the USDT pairing.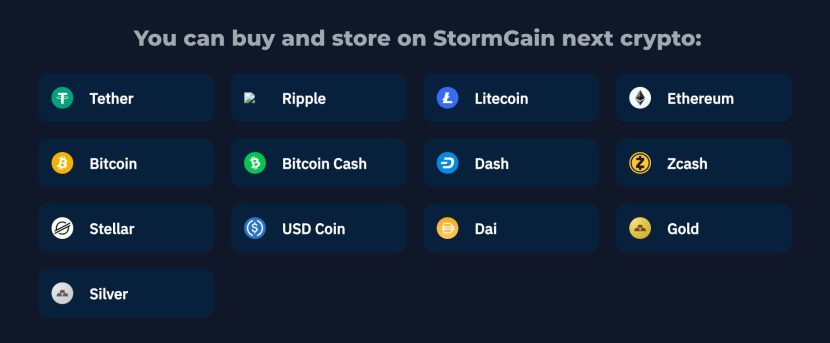 Is StormGain Exchange Safe and Legit?
StormGain is recognized by the Blockchain Association as a leading platform providing UK traders with favorable trading and interest rates. While the exchange is operating legally in the UK, it's not strictly regulated by any financial institution. With a simple registration process for a leverage broker, the exchange includes security features to help secure users's funds, which includes 2-factor authentication and SSL encryption on top of the multi-signature wallets.
The number of unique features, such as profit sharing, Bitcoin mining, and options trading, makes StormGain a bargain, especially considering its legal status. It's unavailable for traders in several jurisdictions, including the US, and can mainly be accessed from within the UK. Even so, its lack of regulation with an authority has to be considered when trading on the no KYC platform.
Security
StormGain takes the security and protection of its users' funds and personal information very seriously. To ensure this, StormGain employs advanced security measures such as two-factor authentication (2FA) to prevent unauthorized account access. Additionally, multi-signatures are required for users who want to make a withdrawal. By default, users must add 2 or more signatures before completing the withdrawal process.
At the site data level, StormGain implements SSL encryption to safeguard user's personal data and ensures that all transmissions between their devices and StormGain servers are secure. Moreover, StormGain's compliance with the Payment Card Industry Data Security Standard (PCIDSS) and the General Data Protection Regulation (GDPR) protects users' personal and financial information.
The exchange also features a mix of cold and hot wallets, with some of the funds being stored digitally to facilitate quick trading access. In contrast, large amounts of tokens are stored locally for safekeeping. Overall, StormGain provides powerful security measures that guarantee the safety and security of its users' funds and personal information.
User Interface
StormGain has a seamless user interface, with easy access to all features and self-explanatory top menu sections, which makes trading and accessing the platform straightforward. Once signed in, traders can know which section provides access to the specific tool, and StormGain explains each feature in detail, leading users to the right screen. The trading screen has a familiar layout, which helps connect with active and experienced traders. The same, easy-to-understand layout can be found on mobile and desktop. At the same time, the video education section provides in-depth details on how to use and navigate complicated segments of the platform. Even novice traders who haven't accessed a trading tool can find the deposit, trade, or withdrawal button.
How to Use Crypto Exchange on Android & iOS
The mobile app provided by StormGain is accessible on Android and iOS, and here's how you can access all the features:
To even have access to the exchange features, you need to sign in. If you don't have an account, then the sign-up process is straightforward and only requires an email address and a phone number.
The wallet features let you deposit, withdraw, and make token swaps, all without even having to use a computer. If you use a mobile wallet, then it's easy to send and receive tokens from StormGain.
Once registered, you can access the trading or exchange feature of the platform. This means from within the app, you can click on Exchange or Trade to access market orders, futures, or options betting.
The last tab and feature on the mobile app is the mining feature, which lets you mine BTC tokens. To do that, you have to buy purchasing power from the platform, and you'll be able to earn Bitcoins.
How to Use Crypto Exchange on Desktop
Using a cryptocurrency exchange platform on a desktop device is seamless and straightforward. To begin, you can access the trading platform by logging in and navigating to the "Exchange" tab. Once there, you can choose the cryptocurrency you would like to buy or sell. This can be done on various digital assets, ranging from Bitcoin and Ethereum to lesser-known altcoins.
After you have made your selection, enter the amount of cryptocurrency you wish to trade. Reviewing the transaction details before executing the trade, including the transaction fees and total amount, is essential. This way, you can ensure that you are getting the most value for your trade.
The platform might offer you different order types, including market orders, limit orders, and stop-loss orders. Each order type is designed for a specific purpose, so it's essential to understand their functions and which one best suits your trading strategy.
Once you have reviewed the transaction details and made any necessary adjustments, you can click the "Buy" or "Sell" button to execute the trade. If you do not have sufficient funds in your account, you may need to deposit additional funds to complete the trade.
Backup & Restore
StormGain offers its users an easy way to backup and restore their account information in just a few simple steps. To back up your account, log in and navigate to the "Security" section. From there, click on the "Backup" button and follow the provided instructions to create a backup file of your account. It's important to save this file in a secure location to protect your information.
In the event that you need to restore your account, log in once again and head to the "Security" section. Here, you will find the "Restore" button. After clicking on this button, you will be prompted to select the backup file you wish to restore. It is essential to have created a backup file previously, as this is the only way to restore your account information.
Backing up and restoring your account information is crucial to retain vital data and access. StormGain's simple process makes it easy for users to safeguard their information when they need it. Make sure to follow all instructions carefully and save your backup file in a secure location to have peace of mind in the event of an unexpected issue.
Troubleshooting
When faced with issues on the exchange, the best way to fix them is to contact support promptly and take a print screen. It's always good to have proof of any issues that can arise during financial transactions, so better be prepared.
Another issue that's common and has a quick fix is a lagging market price, which can be solved by simply refreshing the page. This will show you the exact price, and you won't have to wait for customer support.
StormGain Exchange Alternatives
There's no shortage of alternatives to StormGain, and in this section, we compare the exchange to some of the most established crypto trading platforms and exchanges to see how they stand up against one another.
StormGain Exchange Vs Binance Exchange
StormGain and Binance have some similarities, but Binance is on a different level when it comes to crypto offers and accessibility. Only on StormGain can traders commodities or put up Options trades. However, this feature is unregulated, and Binance doesn't include it since the latter platform is regulated and licensed in the jurisdictions it operates in. Binance is a platform ideal for both starters and experienced traders. It includes the same trading tools and charting options as on StormGain. Still, Binance traders can access a broader range of crypto elements, including futures and derivatives, margin trading, NFT buying and storing, and even staking. What StomGain offers as an alternative is a 10% profit share from trade, while on Binance, users have to pay a maker and a taker fee after every trade. Binance has one of the lowest credit card fees and offers the same options for depositing and withdrawing tokens – with lots more crypto selections.
StormGain Exchange Vs Coinbase Exchange
Coinbase is an established cryptocurrency exchange that's publicly listed. It's highly regulated by the SEC. By comparison, StormGain isn't licensed and isn't regulated, so KYC isn't mandatory. A Coinbase account, on the other hand, can only be opened with a proper KYC. On StormGain, traders pay standard trading fees of 0.40% for both maker and taker, while on Coinbase, users can pay between 0.05% and 0.60%, depending on the 30-day volume. The biggest difference is that on StormGain, users can mine Bitcoin and also interact with Options and Commodities trade. While Coinbase doesn't include these options, they provide a safe platform for trading, where assets are secured, and allow users to stake, trade, and hold NFTs. The only trading options available at Coinbase are market buys with stop loss and limit orders. Overall, Coinbase can offer more trading advantages compared to StormGain.
Final Thoughts
Our StormGain Exchange review clearly shows that the platform is ideal for those who want to trade and exchange without doing a KYC. In fact, it's an unregulated crypto exchange that provides several features – such as the DEX or Bitcoin Mining which help it stand out from the rest of the market. The fact traders can engage with the platform and only pay a commission is a huge plus, especially for new users. However, in this StormGain exchange review, we saw the lack of diversity offered by the platform. Only a few tokens are available, and users can't stake multiple tokens. Finally, the fact that traders require a valid mobile phone to register makes the StormGain exchange unavailable to players outside their jurisdiction.
Q&A Session
In this section, Vlad Hategan will address your inquiries and the most common questions regarding the exchange quality and offer guidance to newcomers in the field. Feel free to submit your questions through our contact form, and we will strive to respond within 48 hours.