Second most popular cryptocurrency exchange by user base around the globe.
Boasts more than 350 crypto tokens and 500 trading pairs.
Users can access it as a web extension, an app or by simply visiting the website.
It comes with a non-custodial, multichain digital asset storage hot wallet which makes it easy for both beginners and professionals to hold, trade, and swap crypto.
Signing up with the exchange is free.
It's the ideal exchange for people who want to buy and sell cryptocurrencies with low exchange fees.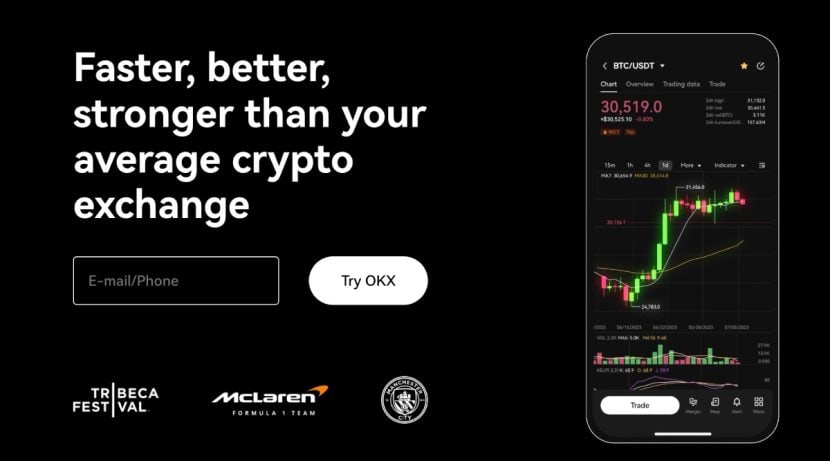 Introduction to OKX Exchange
OKX is one of the largest cryptocurrency exchanges by user base globally and also a leading Web3 ecosystem. It's trusted by over 50 million professional traders because of its fast and reliable crypto trading services. The exchange was launched in 2017 by Star Xu, who is also the current CEO. Over the past six years, the platform has spread its services to reach 180 countries, and they expect to do even better.
OKX Exchange doesn't come with a subscription fee, and the only transaction charges you might have to pay are for on-chain withdrawals. What's more, the exchange has its native blockchain, the OKX chain, and a native token, OKB. The exchange has a lot for traders to experience from OKX and we'll discuss it all in detail.
OKX Summary
Type of Exchange
Decentralized Exchange
Price
Free
Fees
Market maker: 0.08%

Taker: 0.1%

Features

Different order types
Staking function
Different asset classes
Leverage function
Over the Counter Desk

Number of Cryptos Supported
340+
Earn

Dual Investment
Shark
Fin

Customer Service

Telephone support
Email ticketing
Whatsapp
Live Chat
FAQs on the support center

Hardware Compatible

Ledger Nano X
Trezor Model T
Ellipal Titan
SecuX V20
NGRAVE Zero

SPV or Full Node
Who is OKX best Suited For

Both beginners and experts in decentralized finance

Pros and Cons

Over 350 cryptos
500 currency pairs
Accepts multiple payment options
Zero deposit fees, reasonably low withdrawal fees.
Demo trading feature available
OKX academy
OKX pool for crypto mining
NFT marketplace
Excellent security measures
Lite and pro versions available
Educational resources on OKX learn
Mobile application available

Cons

Restricted in the US, Canada
Withdrawals come with certain limitations
Low liquidity for certain currencies
Type of Exchange
OKX is a non-custodial digital asset storage and exchange service provider. This means that it's your full responsibility as an account owner to manage your private keys and assets. You can access it as an extension to your browser, and also from mobile and web applications.
Price
Registering on the website and downloading the app is free.
Fees
There's no monthly or other subscription fee connected with owning the account. However, you might have to pay network fees, and certain cryptocurrency-dependent withdrawal fees from the exchange.
OKX Features
OKX has invested in a wide array of features for both beginners and experts in crypto trading. Here are the most notable ones:
Order Types
OKX allows users to place the following order types:
Limit Order: This one allows you to buy or sell a custom amount at a specified price or better. For example, suppose the current market price for bitcoin is 28,000 USDT and you want to buy it when it's 25,000 USDT. You can place a limit order to buy when the coin gets to that price. The order is automatically filled out when the market price for bitcoin hits 25,000USDT. This way, you can never miss out on buying the currency when at your desirable price point.
Advanced Limit Order: The limit order is an excellent choice, but it gets canceled by default. It's advisable to try the advanced limit order as it offers three additional options:
Post only: here, you're the market marker and your orders are guaranteed to enter the order book. Also, a post-only order is canceled when its about to match an existing one.
Fill or Kill: This is an order that must be fulfilled entirely, if not, it's scrapped entirely.
Immediate or Cancel: These orders must be executed immediately. Any part of the order that's not executed is automatically canceled.
Market Order: This allows you to instantly buy and sell at the best market price available as long as it doesn't exceed 100,000USDT.
Reduce-Only Order: This only reduces your position instead of increasing it. You can only have 100 reduce orders, and any additional ones will automatically fail.
Crypto Staking
You can generate passive income on OKX by staking and earning rewards in specific digital coins. It's an excellent opportunity where traders can earn up to 200% APY depending on the token in question. For example, you can stake the BRC-20 tokens on the platform without even having to lock or transfer them to a third party platform. TON staking has the potential to give you as much as 200% APY. Here are other highly beneficial tokens to stake and their respective APY's.
Coin APY
Cardano 5.5%
Solana 7.5%
Polkadot 12%
Tezos 6%
Polygon 17%
Ethereum 20%
Bitcoin 21%
Yield Farming is a related OKX feature that helps users earn passive income. You simply deposit selected cryptos into yield-generating pools on DeFi platforms and wait for the returns. Most farms are offered on the Ethereum network because it's more open and fluid than bitcoin. DAI, USDC, and USDT tokens are typically used in yield farming.
Token Exchange
OKX has two native tokens. The original was OKB, and is helpful to users that need to access certain features on the exchange. You can use the token to compute and pay trading fees, staking, and access to administrative and voting on the site. OKT is new, and it acts as the base currency for OKChain's DPOs Consensus.
Asset Classes
You'll find the following digital asset classes on OKX:
Utility Tokens: Users on the platform buy the tokens, and use them to access certain products and services. The utility tokens include: Link, UNI, MANA, ADA and VET.
Stable Coins: These are digital assets whose value is pegged on a stable asset like the US dollar or Euro. Some of the stable coins that you'll find on OKX include: USDT, USDC, BUSD and DAI.
Derivatives: Futures and Perpetual Swaps are two derivatives supported by OKX exchange.
Currently, OKX supports futures contracts for some currencies that settle weekly, bi-weekly, every one and a half months and every three months.
On the other hand, Perpetual Swaps are like futures without an expiry date. This means that you can keep your position open for as long as possible, provided that you have the balance to sustain it in your account.
Exchange Leverage
OKX allows certain users to access margin trading on the pro version of the exchange. However, they emphasize that they're invested in users asset security and long time PnL. Therefore, while they'll allow you to do high copy trading, they generally recommend that users keep the leverage below 20x.
OTC Desk
The OTC Desk feature is an excellent addition, especially for people that trade large crypto volumes. The feature is decentralized, which means it allows users to avoid centralized market supply and demand dynamics. Instead, they can agree on prices between themselves.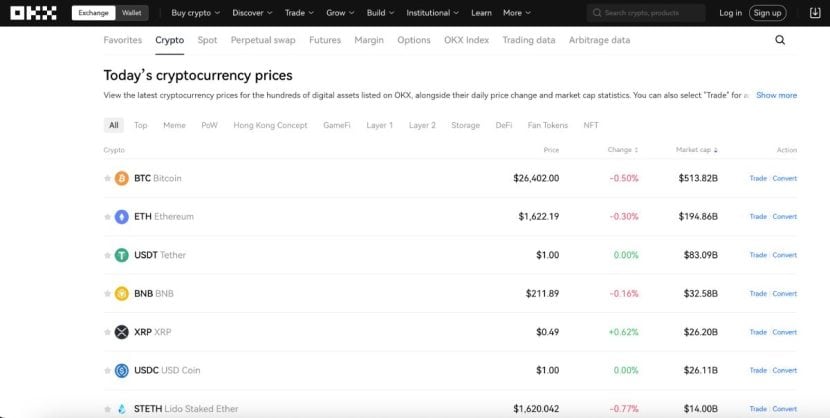 Number of Cryptocurrencies Supported
The exchange supports 340+ cryptocurrencies. They include: Tether, Bitcoin, Litecoin, Ethereum, Ethereum Classic, Ripple, EOS, Chainlink, Cardano, Mana, Tron, Maker, OKB, USD Coin, Bitcoin Cash, and 100+ others.
Earn
Staking is simply holding your tokens in a designated Web3 wallet and locking them so they can be used to validate transactions. In return, you get rewards from the CEX or DEX for your contribution to blockchain. You can stake OKT and then vote for more than one validator. In return, users get massive rewards from the chain. The rewards are calculated according to how much you've staked, the period of time you stake it, your historical and current rewards.
Customer Service
OKX has a 24/7 customer service line to support users with any challenges they might face using the platform. You can reach them through the following avenues:
Telephone support
Email ticketing
Whatsapp
Live Chat
FAQs on the support center
You can contact the support team when you need help with issues like deposits, cryptocurrency loss, sending crypto to the wrong address, hacking and phishing attacks and more. However, it's best to search the live support page as the FAQs might have the answer to your question.
Hardware Compatible
The web wallet extension is compatible with Chrome, Brave and Edge. if you're thinking about pairing the hot wallet with a hardware wallet for a higher level of crypto private keys safekeeping, you should consider the following compatible hardware wallets:
Ledger Nano X
Trezor Model T
Ellipal Titan
SecuX V20
NGRAVE Zero
SPV or Full Node
OKX fully validates transactions and nodes using DPOS Consensus Algorithm (Delegated Proof of Stake). This is an evolved form of the classic proof of stake algorithm. Instead of carrying out the work, the stakeholder community employs a voting system where they delegate the function to third parties. The system ensures the continued generation and validation of new blocks.
Who OKX Exchange Best Suited For?
OKX is popular because it has products and services for everyone, regardless of their level of experience in crypto, web3 and all DeFi functions. For example, people new to crypto trading can easily access the Lite version of the application and learn simple functions like buying crypto with their credit card, sell, and convert cryptocurrencies.
OKX Pros & Cons
Pros
Supports over 350 cryptocurrencies and 500 currency pairs in spot, margin and derivatives markets.
Integration with the Trading view app which makes it simple to seamlessly switch platforms for easier transactions.
Accepts multiple payment options including visa cards, mastercards, apple pay and many others.
Zero deposit fees, reasonably low withdrawal fees.
Demo trading feature available.
OKX academy that teaches crypto beginners and enthusiasts everything about crypto investments.
OKX pool where traders can mine cryptocurrencies.
Dedicated marketplace where you can trade in Non-Fungible Tokens on a secure blockchain.
Mobile application available
Cons
US, Canada Citizens not allowed on the exchange
Withdrawals come with certain limitations
Low liquidity for certain currencies
Services Offered by OKX Exchange
OKX currently offers these services:
Spot trading: Here, you trade cryptocurrencies at the immediate market prices. The goal is to buy low and sell high, creating a profit margin for yourself.
Margins Trading: This is also called leverage trading. Here, the user borrows crypto from the exchange and uses it to bet on the possibility of the price of certain cryptocurrencies going up.
Futures Trading: These are contracts that you make with buyers or sellers to buy or sell a certain cryptocurrency at a predetermined date and also at a given price. Here you're simply speculating on the price of the assets without actually owning them.
Perpetual Swaps: This is an agreement to buy or sell a cryptocurrency at a non-specified time in the future. OKX allows you to choose between USDT Margined and USDC-Margined Cryptos in the Swaps. There are also crypto-margined perpetual swaps offered on the exchange, including: BTCUSDT, XRPUSDT, BTCUSDC, ETHUSDC, BTCUSD an ETHUSD.
DeFi Lending: Decentralized finance lending follows the same rules as the traditional lending systems. The only difference is that there are no intermediaries. For example, OKX save is a lending and borrowing DeFi protocol that allows users to also earn APY on coins like AAVE.
Cloud Mining: OKX has a mining pool allowing users to earn in a simple system backed by top tier security. Cloud mining is a new concept that's been adopted. Through it, you can earn crypto without the complications of the traditional mining practices. Examples include host mining, and leasing hash power.
These are the main services and offerings at OKX, there's more you can access once you create an account and familiarize yourself with the platform .
How to Create an Account
Here's a simple step-by-step process to follow to create an OKX account:
Visit the main website on your laptop to access the main website. You can also download the app for Android or iOS.
Click on the sign-up button at the top of the page. It'll give you the option of using your number or email address to register. You can pick either method. You can also fill out a referral code if someone else invites you to the platform.
The site might ask you to verify you're human. Once you finish the captcha verification, you get a verification code sent either to your phone or email address. You can enter the code to finish registration.
You can access the basic features of the site once you've completed these basic verification steps. However, you'll need to perform KYC verification using details like your ID, and selfie.
How to Proceed with a Transaction
You can only proceed with transactions once you have passed through the first and second levels of the verification process. The first level is simply verifying your email address and phone number. The second level involves sending a scanned copy of your ID and a selfie and waiting for the system to verify their authenticity.
How to Make a Deposit
Follow these steps to make a deposit into your OKX wallet:
Log in to your OKX account and go to the Assets section. Here, you'll choose 'Deposit'
Choose the cryptocurrency that you want to deposit, and also the network. Make sure these details are correct before clicking the 'Next' button.
The system will generate the deposit details.
Choose your OKX account when prompted with the message on where to deposit to. Choose whether you want to receive the crypto in the Funding or Trading account.
You can copy the deposit address or scan the QR code for the address. Again, ensure that you correctly copy the address to avoid sending your crypto to the wrong address and losing it.
Move to your wallet and press send crypto. Specify the amount and paste the wallet address provided in the previous step. Check the details and ensure they're correct before hitting the 'deposit' button. The deposit will be verified within minutes.
How to Make a Withdrawal
Follow these steps to make a withdrawal from your OKX exchange account:
Log in to your OKX account on the main website and hover over the 'Assets' icon.
Click on the withdraw button next to the crypto that you want to withdraw.
Fill in the withdrawal method, amount of crypto you want to withdraw, the network and tap continue.
Go to your receiving wallet and copy the address. You can paste it in the space that requires the destination wallet address.
Ensure all the details are correct before clicking on the 'OK' button.
The system will ask for the password to your funds, email, sms or Google authentication code. Confirm all the details once more and click send.
The system will validate the request and send the crypto to your wallet.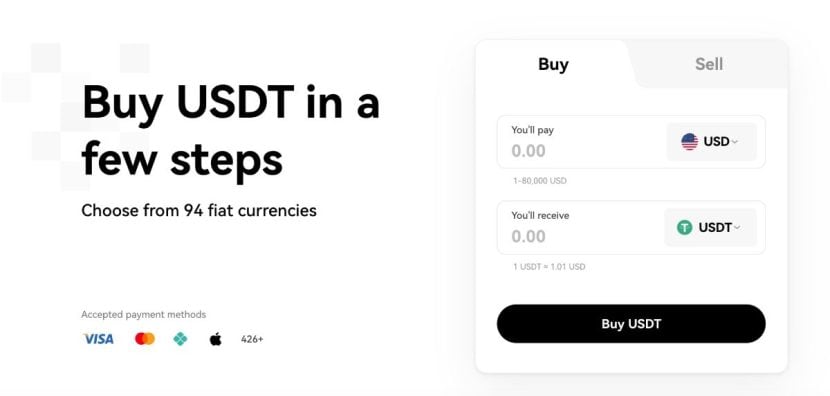 Payment Methods
OKX allows users to pay for crypto using more than 430 payment methods. These include:
Bank transfer
Mobile wallets
Credit cards
Debit cards
Here are some of the most popular methods and dApps supported by the site: ApplePay, GooglePay, Mastercard, Visa, Simplex, Banxa, Coinify, Sepa, PayID, POli, MoonPay, Changely, Bank Transfer, Itez, Mercuryo, and hundreds of others.
OKX Exchange Supported Tokens
Crypto tokens play a utility role in the crypto ecosystem. The main difference between them and coins is that they rely on another blockchain and have very specific utilities within the system. Here are some exchange supported tokens on OKX: Open DAO, Toncoin, Internet Computer Coin, Klaytn Coin, Coinflux Network Token, UMA, Woo Network, Radio CaCa, and Chia among others.
Is OKX Exchange Safe and Legit?
OKX is registered in Malta and Hong Kong, and offers trading services that are compliant with the VAA guidelines. It's rated as the fastest and most reliable exchange for professional traders. It has a user-base of 50 million. The platform is safe to use as it employs token security based on the private key encryption core algorithm. Both the hot and cold wallets are very secure from hacking and phishing attacks. User feedback across the platforms is generally very positive.
Security
The VAA, whose laws OKX operates within, is Malta's comprehensive Virtual Financial Asset Act-regulated under the country's financial services. OKX has never been hacked, something that cannot be said about most of its competitors, and this makes it one of the most secure platforms to trade and store your cryptocurrencies. They also use features like 2FA Authentication.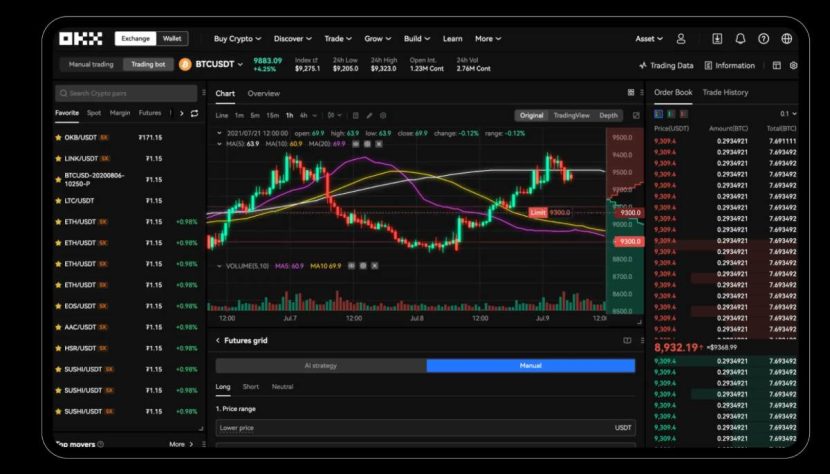 User Interface
OKX has one of the most pleasant user interfaces in the crypto exchange space. It's easy to create an account, log in and start trading. There's a Lite and Pro option to choose from depending on your experience level and the services you want from the exchange.
How to Use Crypto Exchange on Android & iOS
The mobile application is also simple and easy to configure and start trading. Like the desktop app and site, it's available in multiple languages, and you also get to choose between OKX Lite and OKX pro. You should follow these steps to set up OKX on Android and iOS:
Download the App: visit the Google Play Store or Apple's App store and download the OKX application.
Sign Up or Sign In: If you don't have an account, click signup and follow the steps explained in the earlier section on account creation. If you have an account, simply click sign in and fill in your details.
Make your Transaction: It'll take you straight to the Apps homepage where you can access all the functions of the exchange.
How to Use Crypto Exchange on Desktop
The desktop app's interface is minimalist with all the crucial features located within easy access. Here are steps to follow to setup the desktop site:
Install the Desktop App: You can do this by clicking on the download link on OKX website homepage. Choose between Windows and MacOS.
Open the App: Once you've downloaded the app, run it and follow the steps to install it on your desktop. Also, check and ensure that your PC's hardware, Ram and memory are compatible for the functions you want to use OKX.
Sign up/Sign in: You can either click sign up or sign in depending on whether you've already created an account or not.
Start Trading: Once all is set up, it's time to start the transactions.
Backup & Restore
OKX introduced a feature allowing users to back up their wallets to iCloud and Google Drive. This is an excellent measure to safeguard your crypto. You can recover your crypto assets if you've backed them up properly, even if you lose or damage your wallet. Here are the simple steps to follow when creating the backup:
Create an account with OKX exchange.
Once the account is set up, you'll find the option of creating a wallet or importing an existing one. Choose 'create wallet' if you don't have one. The 'import wallet' option helps you add an existing wallet to your account.
The wallet creation process is simple, and OKX will give you a seed phrase to ensure you're the only one with access to the site.
You can then backup your wallet in the cloud. OKX will prompt you to back it up either on Google or iCloud. The backup process is simply allowing Google or iCloud to capture the seed phrase and store it for you.
It's important to note that OKX is a non-custodial wallet, which means that it doesn't store your seed phrases and will not be of much help if you lose them and need backup. The iCloud or Google Drive backup is your best shot at ensuring that you can recover your crypto regardless of what happens to your wallet.
Troubleshooting
.Here is a list of the issues that might come up when you're using the OKX app:
Delays in deposit crediting and pending withdrawals.
Opt for a manual withdrawal when dealing with large sums of crypto. You can also ask the staff for assistance.
Getting locked out of the app after changing your phone number.
Locking is done by the system to safeguard your assets. You should contact support and confirm you're the one using a different number.
Complications with KYC verification
Start by ensuring all uploads are clearly legible, and there's enough lighting when taking the selfie. Contact support if you keep running into problems.
OKX Exchange Alternatives
OKX Exchange Vs Binance Exchange
Binance is currently the world's largest crypto exchange by trading volume. The platform, which was launched in 2017. The exchange currently holds an average 24-hour trade volume of $5.1 billion operating in 1278 markets. Binance also has the largest user base at 90 million worldwide users. The services offered by binance include, Trading, Earning, Lending, Smart pool, and Development. Here's a summary comparison between Binance and OKX exchange
| | |
| --- | --- |
| OKX Exchange | Binance Exchange |
| 50 Million users | 90 million users |
| $920 Million 24hr volume average | $5.1 Billion 24-hr volume average |
| 340 cryptocurrencies | 363 cryptocurrencies |
| 500 trading pairs | 1372 trading pairs |
| 180+ Countries | 100+ countries |
| Restricted in US and Canada | Operates in US and Canada |
| Has an Android/iOS app | Has an Android/iOS app |
| NFT marketplace present | NFT marketplace present |
| Free training through OKX Learn | Free training through Binance Academy |
| 90+ fiat currencies | 50 Fiat currencies |
| 125x Leverage on futures | 100x leverage on futures |
| OKX wallet is non-custodial | Binance Wallet is custodial |
Both exchanges pack a punch in the products and services they offer both beginners and professionals in crypto. However, they have their distinct differences and might appeal to different types of traders.
OKX Exchange Vs Coinbase Exchange
Coinbase is a much older crypto exchange, having been launched in 2012. It currently has a user base of 73 million people, and operates in more than 100 countries. Their daily trade volume typically averages $1.003 Billion, which is quite impressive. Like OKX, they offer buying, selling, storing, transferring, and swapping crypto, and other services. Here's a summary comparison between OKX and Coinbase Exchange:
| | |
| --- | --- |
| OKX Exchange | Coinbase Exchange |
| 50 Million users | 73 Million users |
| $920 Million 24hr volume average | $1.003 Billion 24h volume average |
| 340 cryptocurrencies | 150+ cryptocurrencies |
| 500 trading pairs | 525 trading pairs |
| 180+ Countries | 100+ countries |
| Restricted in US and Canada | Operational in Canada and USA |
| Has an Android/iOS app | Has an Android and iOS app |
| NFT marketplace present | NFT marketplace present |
| Training through OKX learn | Training through Coinbase Crypto Learn |
| 90+ fiat currencies | 60+ Fiat currencies |
| 125x Leverage on futures | 5x leverage on futures |
| OKX wallet is non-custodial | Coinbase Wallet is also non-custodial |
Both coinbase and OKX have quite some amazing features for all levels of crypto traders. The reason why coinbase is more popular is that it cuts down all the technicalities involved in crypto trading, making it simple and beginner-friendly.
Final Thoughts
OKX Exchange is an excellent place to start when you want an amazing crypto trading experience. The services offered, ease of access, user friendliness and customer support are top notch. There's also the learn feature that introduces beginners to crypto and equips them with skills on how the ecosystem operates. There's simply too much to gain from OKX to overlook creating an account there.
Q&A Session
In this section, Millicent Ngugi will address your inquiries and the most common questions regarding OKX Exchange and offer guidance to newcomers in the field. Feel free to submit your questions through our contact form, and we will strive to respond within 48 hours.