Hardware wallets have become a crucial component of the cryptocurrency ecosystem because they offer investors security when transacting on the blockchain. You should consider getting one if you don't already have one. But first, let's discuss what they are, how they work, the best models in the market, their features, benefits, and how to buy and set them up.
Introduction to Hardware Wallets
Today's cryptocurrency ecosystem comes with certain security risks for investors. However, this wasn't always the case. Between 2009 and 2013, most people stored their cryptocurrency in hot wallets because there were few risks associated with owning crypto. Operating the early models of Bitcoin wallets needed some level of technical skills, and newbies often forgot or lost access to their coins. However, when the price of Bitcoin started mooning in 2014, investors realized phishing and other attacks aimed at online devices could lead to loss of valuable digital assets. Trezor was the first company to create a cold wallet, which provided a safe, offline crypto storage. Since then, other companies have come up with their versions of wallets, each presenting its special features and advantages.
Top Crypto Hardware Wallets
Ledger Nano X – Overall Best Cold Wallet
Trezor Model T – Most User-friendly Operation
Ledger Nano S Plus – The Best Wallet on a Budget
ELLIPAL Titan – Best 100% Air Gapped Wallet
Cool Wallet Pro – Best Wallet for NFTs
Safepal S1 – Best Wallet for Beginners
Keystone – The Best MetaMask Wallet Partner
BitBox02 – Best Wallet for ERC20 Tokens
Gridplus Lattice 1 – Best for Holding an Unlimited Number of Crypto Wallets
Secu X V20 – Best Wallet for Speedy Transactions
Best Hardware Wallets Reviewed
1. Ledger Nano X – Overall Best Hardware Wallet
Ledger Nano X tops our hardware wallet review list as the best overall cold wallet. The device is manufactured and distributed by a Paris-based company, Ledger. It was launched in 2019, following the success of its predecessor, Ledger Nano S. You can get this wallet for $149 from the company's website or their authorized sellers. The manufacturer's package typically contains the wallet, a USB-C to USB-A cable, an information leaflet, 3 recovery sheets, and a keychain strap. Ledger Nano X's best qualities are that it supports over 5,500 cryptocurrencies and works with Windows, Mac, Linux, iOS and Android devices. Since its establishment in 2014, Ledger has sold over 6 million devices in more than 200 countries, making it one of the most trusted cold wallet manufacturers. Additionally, Nano X has English, French and Spanish language options. It offers users several layers of security including a pin code, and a secure element chip. You don't have to worry about losing your crypto if your Ledger Nano X gets lost or damaged as you can order another device and retrieve it using your seed phrases. The wallet has over 11,000 reviews, with 70% giving a 5-star rating. The overall rating is 4.5 stars, making it the most trusted hardware market in the market.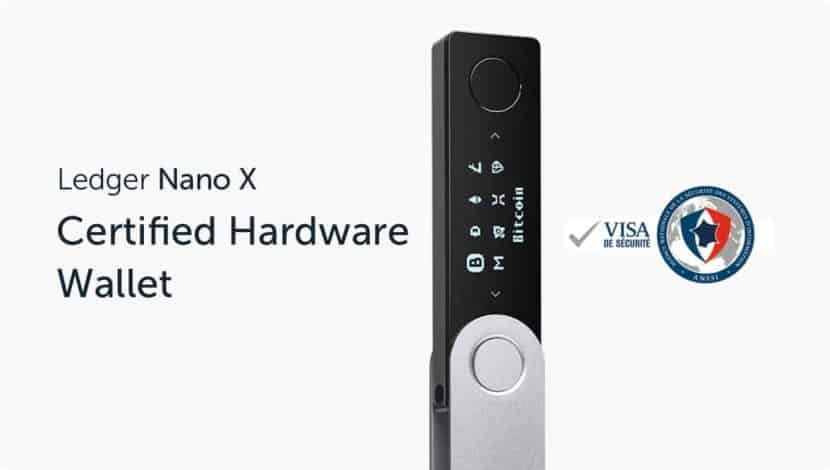 Pros
Offers Bluetooth connectivity
Supports 100+ apps
Works with MetaMask
Supports crypto buying, staking, swapping and managing
CC EAL 5+ certified for security
Can be used to secure your hot wallet
Compatible with Android 10+ and iOS 14+, 64-bit computers ( Windows 10/11, MacOS Big Sur/Monterey and Ventura and also Ubuntu LTS 20.04/22.04
Cons
Incompatible with Chromebooks
The button-operated interface is tedious
Unsuitable for mining
You have to connect the device to a computer via USB to update firmware
2. Trezor Model T – The Most User-friendly Wallet
Trezor is a product of Satoshi Labs, the makers of the very first cold wallet prototype. After developing the cold wallet concept in 2012, the Czech company embarked on creating a simple version for regular users. They put the first Trezor Model T on the market in 2018, and it has cemented its place as the oldest and one of the most reliable cold wallets. Once you order the package, you'll receive a pack containing the wallet, a magnetic dock USB cable, two recovery seed cards and Trezor stickers. Trezor Model T supports over 1800 cryptocurrencies; you can sell, receive and buy them using it. The wallet retails at $219 and comes in a package containing the wallet, USB cable, getting started card, magnetic dock, and two recovery seed cards. It boasts an LCD touchscreen display which simplifies the overall user experience. You can choose between English, Czech, Russian, Japanese and Spanish. The model's security features include a user-generated passphrase, firmware verification during setup, and protection from unauthorized entry with a 50-character pin. Being the oldest cold wallet manufacturers in the market, Trezor wallets are very popular. More than 2,000 users have left stellar reviews on the site. The overall user rating is at 4.5, making it the second most trusted cold wallet.
Pros
Supports more than 1000 cryptos
Compatible with The Onion Router for enhanced anonymity
Easy onboarding process and general usage
Isolated private keys with the passphrase and PIN protection
Allows Bluetooth connections
Can hold more than 100 apps
Cons
Doesn't support iOS and Windows phones
No Bluetooth connectivity
It doesn't use a secure element and is easy to hack physically
Costly
3. Ledger Nano S Plus – The Best Cold Wallet on a Budget
Ledger Nano S Plus was released in April 2022 after Ledger decided to retire the older Nano S version. The new model supports over 5500 coins and tokens and also easily links with more than 100 Apps. It retails at $79, making it one of the cheapest high-quality cold wallets on the market. Additionally, it has a larger display than its predecessors, making it more user-friendly. The box that you receive from the seller contains a wallet, USB-C to USB-A cable, starting leaflet, 3 recovery sheets and a keychain strap. The wallet is compatible with all 64-bit computers, Windows 10 and 11 and also MacOS Big Sur, Ventura and Monterey. You can customize the device to use English, French, or Spanish. These specs are quite impressive for the modest price tag. 1500+ users left positive feedback about the wallet on the manufacturer's site, with the average rating being 4.5. Our hardware wallet review recommends this wallet if you're looking for a pocket-friendly and highly efficient model.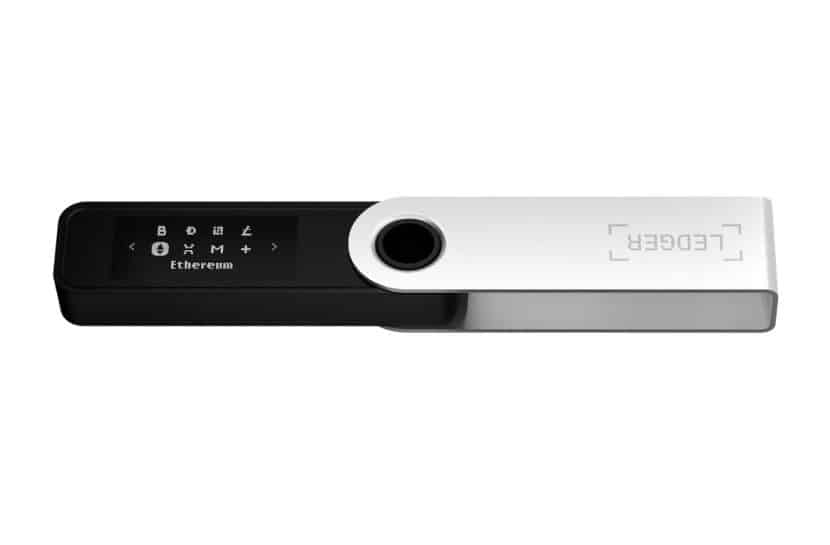 Pros
Affordable
Private keys never leave the device
Has a durable metallic casing
Easy to set up and use
Certified CC EAL 5+ security
DeFi and NFT friendly
Cons
Doesn't work with iOS devices
Tedious seed phrase backup process
Lacks bluetooth connectivity
4. ELLIPAL Titan – The Best Air Gapped Crypto Wallet
ELLIPAL Titan is the perfect cold wallet for anyone looking for a completely air-gapped device. The Hong Kong based company, ​​Shenzhen FengQi QingPing Network launched ELLIPAL Titan in 2017. Due to their high-security level and total network isolation, the devices haven't reported any hacking incidents since their launch. It supports 52 blockchains and more than 10,000 coins and tokens. The wallet costs $169, and the packaging comes with the wallet, seed phrase steel, type C charging cord, 2 seed recovery sheets, user manual, SD Card and a Security Adapter. The wallet only uses QR codes to complete transactions and is only compatible with Android and iOS devices. It's completely metal sealed for safety. More than 700 users left positive reviews on the manufacturer's website, with a 4.7 average rating.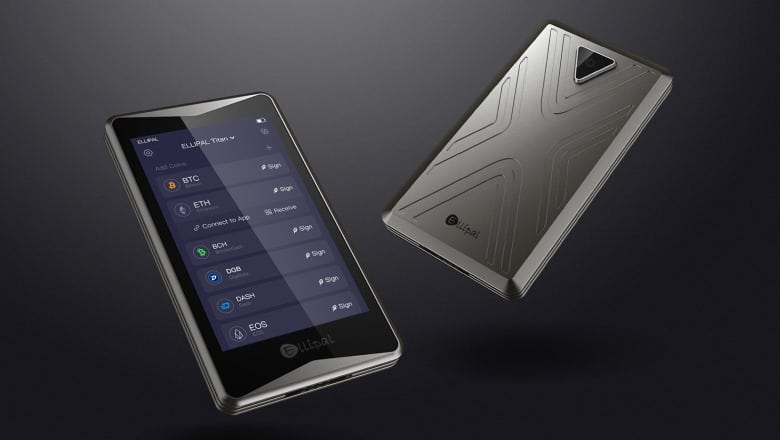 Pros
Completely Air Gapped
Tamper Proof
Security Keys never leave the wallet
Phrase steel allows seed phrase safe-keeping
Cons
Allows transacting and storing fewer assets than other wallets
doesn't work on PC
Costly
5. Cool Wallet Pro – The Best Cold Wallet for NFTs
Cool Wallet Pro manufacturers, CoolBitX, pride themselves in being the first to make a wallet allowing in-app NFT trading. The Taiwan-based company released Cool Wallet Pro in 2021, and has sold more than 300,000 units all over the world. The wallet has an upgraded chipset and CC EAL 6+secure element. Currently, the wallet supports 27 chains and more than 12,000 coins and tokens. You can get it from the manufacturer's website for $149. The package typically contains a credit card-sized wallet, charging set, guide to get started, and two recovery phrase cards. You can set it to English, French, German, Dutch and Chinese. Bluetooth connectivity makes it easy to link the device to your Android or iOS device. From the features and the positive customer feedback seen during our hardware wallet review, we give this wallet a 4.4 /5 rating.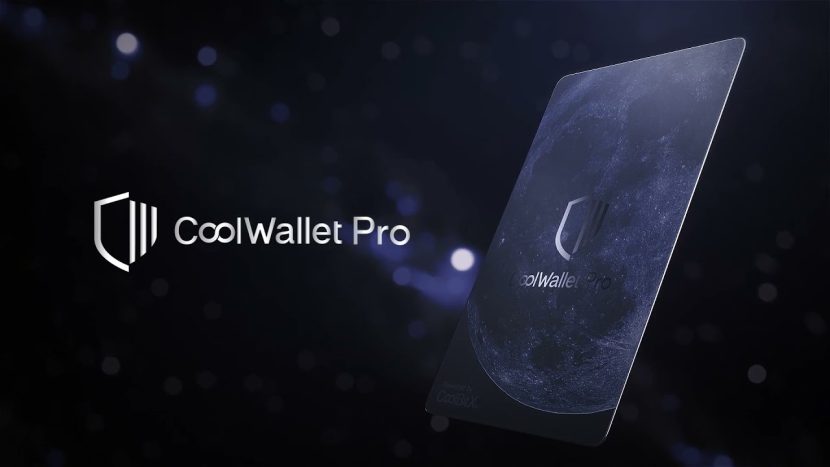 Pros
Allows In-app NFT trading
CE and RoHS certification for enhanced security
Open Source Code
Water resistant and tamper proof
Highly portable
High security level
Cons
6. SafePal S1 – The Best Hardware Wallet for Beginners
SafePal was launched in 2019 by Veronica Wong, backed by Binance Labs. If you're new to using offline wallets for crypto storage, you will find SafePal S1 very convenient. The wallet is 100% air gapped, which means you cannot use USB, NFC, WiFi or Bluetooth with the device. It supports 54 blockchains and more than 30,000 currencies and tokens. You can buy the wallet for $49.9. The package comes containing the wallet, three mnemonic phrase cards, a user manual, USB cable and a download app card. It supports over 15 languages including English, German, French, Turkish, Bahasa, Thai, Vietnamese, Chinese and others. It's compatible with iOS, Android and PC. It allows crypto and NFT management, cross-chain swap and trade, yield and earn. User experience from more than 200 countries is generally positive with the majority of buyers leaving 4 and 5-star reviews on the website. We'd rate SafePal 4.3 out of 5.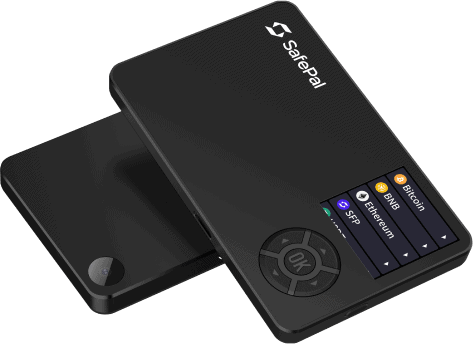 Pros
EAL 5+ independent secure element
Random number generator
100% Air Gapped
Unlimited currency allowed
Self destructing mechanism
Light and easy to carry around
Cons
Vulnerability/ air gap trap during firmware update due to USB connection
7. KeyStone Wallet – The Best MetaMask Wallet Partner
The Keystone is another 100% Air-gapped cold wallet originally created and launched by Lixin Liu. The first version of the wallet was known as Cobo Vault, but later rebranded. In 2021, it was integrated by MetaMask as its main cold wallet partner. It supports more than 5,500 cryptocurrencies across 200 blockchains. The wallet only allows QR code scanning as a means of communication and doesn't allow Bluetooth connectivity, WiFi or USB port connectivity. You can purchase the device for $169 from the manufacturer's website. It's packaging typically contains the wallet, a triple-A battery holder, a rechargeable battery, and a charging cable. The wallet has a companion app compatible with Android and iOS. The companion app allows English and Chinese. You can sign various transaction types and transfer assets using the wallet QR code scanning mechanism. You'll also be pleased by its ability to decode smart contracts to a language you can read, eliminating blind signing. The wallet is very popular with users and has an average trust rating of 4.3. We'd also recommend it, especially for people who use MetaMask.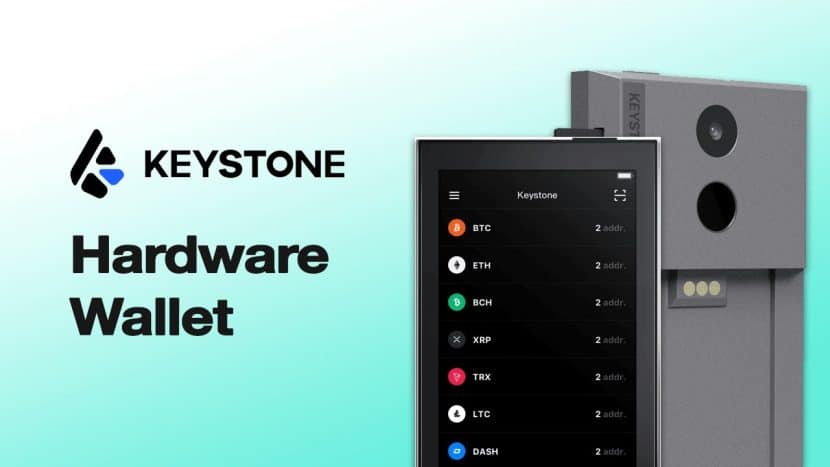 Pros
Allows 5,500+ assets
Highly intuitive, beginner-friendly color touchscreen
Complete Air-gap with QR code scanning
EAL 5+, shamir backup and multisig for added security
Self-destruct mechanism to safeguard crypto
Fingerprint authentication
Open source code
Offline firmware upgrades
Cons
No MicroSD for firmware updates
No gateway to buy crypto
8. BitBox02 – Best Wallet for ERC20 Tokens
BitBox02 was launched by Swiss-based Shift Cryptosecurity in 2019 to improve on its predecessor, BitBox 01. It's one of the older and most trusted cold wallets in the market, supporting more than 1500 coins and tokens, and is the ideal choice for securing ERC20 tokens. The wallet retails at $149, and comes in a package containing a microSD card, USB-C cable, USBC to A adapter, rubber pulls and the wallet itself. You can plug it directly into your Android, MacOS, Linux and Windows computers. The companion app supports English, French, German, Bulgarian, Persian, Japanese, Slovenian, Russian and many other languages. You can also use the onion router with BitBox02 to enhance your privacy and anonymity when transacting. Users expressed a lot of confidence in this swiss-based wallet, and we'd also rate it 4.2 for security, ease of use and simple onboarding process.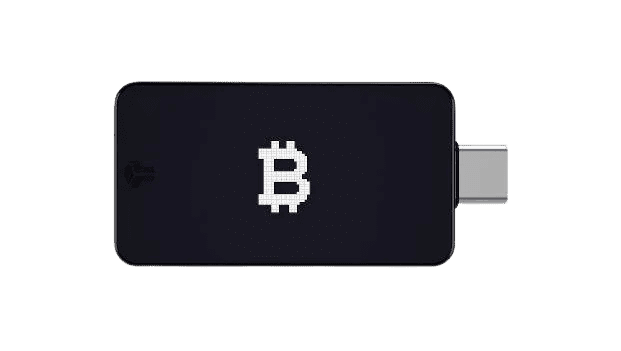 Pros
Secure element for security
Open-source
Large OLED display
Bitcoin only version available
Cons
Doesn't support as many coins as its counterparts
doesn't support iOS devices
9. GridPlus Lattice 1 – Best for Holding an Unlimited Number of Crypto Wallets
The offline wallet was launched in December 2020 by the USA-based company Gridplus. GridPlus Lattice1 is different from other cold wallets because of the sophisticated features that make it more of a computer than the regular USB stick-sized models. The model resembles one of the old IP phone models and has a 5-inch TFT screen. It retails at $397, which is significantly higher than the cost of most of the other devices in the market. However, the enhanced security level is worth the high cost. The device has a general computer environment that connects to the Internet and a secure computing environment that contains private keys but can't access the Internet. The package comes with the wallet, Safecard and Type A power supply. It supports more than 5000 coins and its app is compatible with both Android and iOS. Most people who purchase it want to perform secure transactions via MetaMask. It's only available in English, but still a great choice for those who need a premium wallet. We rated it 4.1 out of 5.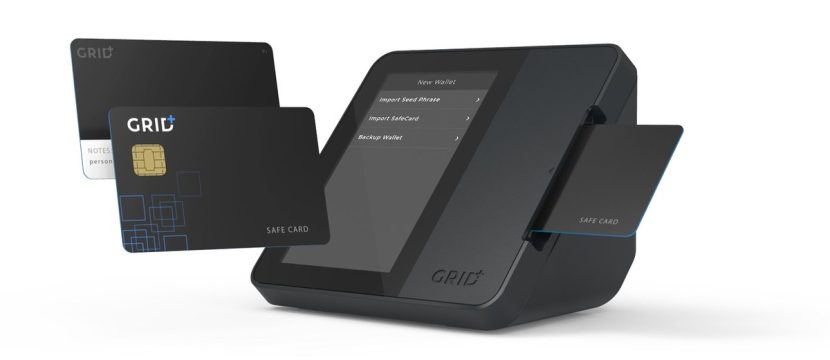 Pros
High level of security
Supports 5,000 coins
Safecard for locally generated seed phrases
CDLS tamper detection mesh
Cons
Bulky and hard to carry around
doesn't allow as many functions as the other options in the market.
Must be connected to a power source to be functional
10. SecuX V20 – Best Vault – Grade Cold Wallet for Crypto and NFTs
This wallet was launched in March 2019 by the Taiwanese company SecuX Technologies. SecuX V20 takes a different shape from the regular USB-shaped models in the market. It has a diamond-shaped aluminum frame and a large touch screen to simplify the user experience. It supports more than 10,000 coins and up to 500 wallets. It retails at $139, which is reasonably affordable, especially for the specs it offers. It's compatible with MacOS, Windows and Linux, Chromebooks, Android, and iOS. Once you order the device, you receive 1 SecuX V20 wallet, a USB cable, a black pouch, a recovery sheet, and one quickstart guide.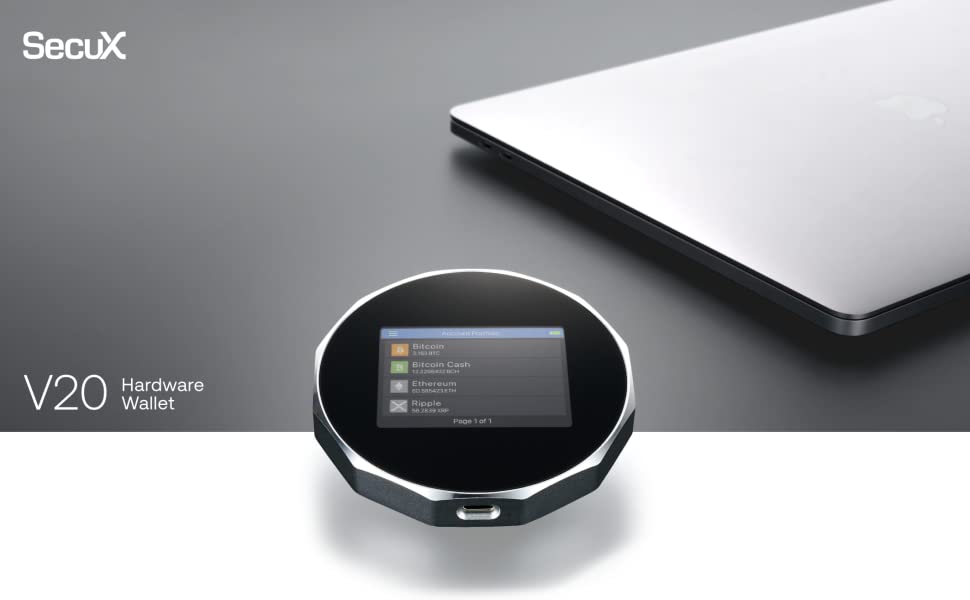 Pros
Certified EAL 5+ secure chip element
Dynamic pin entry
More than 10000 coins
QR-based MetaMask integration
Bluetooth connectivity
Large touchscreen display
Supports NFTs
Cons
The wallet is bulky
The software isn't open source
Doesn't support multisig transactions
What is a Hardware Wallet?
It's a physical device that stores the private keys to your assets in an offline environment. It allows you to manage your private keys and have full control of your crypto assets. Having a cold wallet gives you a higher level of security from loss of your assets to hackers, phishing attacks and even loss of access to hot and custodial wallets.
Why Should You Use it?
Cold wallets take your private keys away from the online environment where they're constantly exposed to scammers, hackers and other types of malware. You should consider using a cold wallet because it gives you peace of mind and ensures nobody can access your crypto without your consent.
The Benefits & Drawbacks Of A Hardware Crypto Wallet
If you're new to crypto, you've probably bought and are holding some of your assets in hot and custodial wallets. While most of them are relatively safe to use, they do not offer you control and autonomy over your crypto assets. For example, losing the password to a custodial wallet might lead to the complete loss of the assets in it. Cold wallets are an excellent investment when you have a substantial crypto portfolio and don't want to lose your assets.
Benefits of Hardware Wallets
The private key remains unexposed to potential threats like hackers and scammers.
You have to verify every transaction on the device, minimizing the chances of someone else making unauthorized transactions.
Encrypted pin protection makes the wallet tamper-proof as it locks out anyone without the code.
You can hold multiple digital currencies in the same wallet.
Your assets won't be susceptible to virus attacks, malware and other types of malicious actors found online.
You cannot lose your assets as long as you have the recovery seed phrases.
The Drawbacks of the Wallets
Most allow transactions with a limited number of cryptocurrencies.
Some models are expensive.
Some are susceptible to 'Evil maid' attacks where someone physically accesses and ruins the wallet.
The setup process can be confusing when you're new to crypto.
Security Tips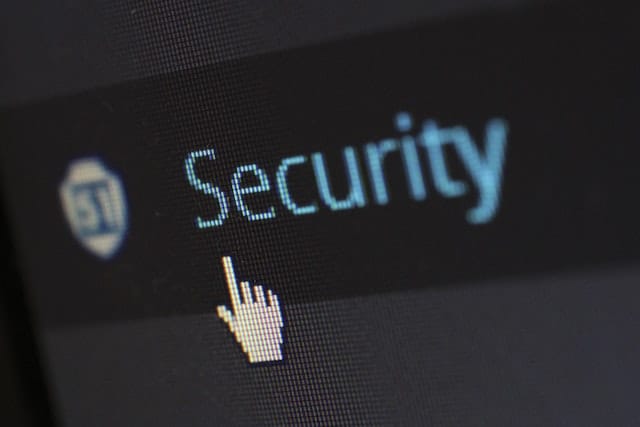 As mentioned, these wallets don't store crypto. Instead, they hold the private key to the public address where your crypto is on the blockchain. Losing access to the private key could still lead to the loss of your crypto assets. Remember these security tips to avoid losses.
No Wallet is 100% Secure
There's no wallet offering 100% security from theft or loss of your assets. Even the Air gapped versions still need to connect to computers and phones when transacting and also updating firmware. Therefore, you should take cautious steps like having antivirus on your devices. Also, choose the wallet models with the best security features and no history of getting hacked.
Only Buy From a Trusted Seller
Many people distribute cold wallets online. It's advisable to only buy from the manufacturer's website or a trusted seller. Some bad actors will tamper with devices or deliver them with preconfigured seed phrases, and compromise the security of your assets.
Don't Share Private Details
Details like the pin to your wallet and seed phrases are personal and you should never share them with anyone. Additionally, avoid uploading them to any online account as someone could hack it, compromising your assets.
Don't Lose Your Recovery Seed Phrase
The recovery seed phrase will help you regain access to your assets if you lose or damage your cold wallet. It's advisable to store them in a place where nobody can tamper with or destroy them.
How to Choose the Right Wallet?
Choosing the ideal wallet for your needs can be complicated because of the countless options in the market and their features. However, these guidelines can help you simplify the selection process.
Security Features
The top security features to look out for in cold wallets include:
Password protection
2 Factor authentication
Secure chips
Biometric access control
Firmware authentication protocols
Ease of Use
Cold wallets are generally a little more complex than their software counterparts. However, you should pick a model that is easy to set up and operate. Features like a touchscreen display, decoding the encrypted transactions and user-guides will simplify the setup and operation process.
Supported Cryptocurrencies
Check the type and number of cryptocurrencies a wallet supports before investing in it. It's best to invest in a model that allows many tokens as it gives you limitless trading options.
Supported Operating Systems
You'll have to connect your wallet to a software counterpart to perform transactions like buying, selling, staking and swapping. Check whether the wallet is compatible with your gadget's operating system. Typically, the manufacturer will inform you whether the wallet is compatible with operating systems like:
Android
iOS
MacOS
Windows
ChromeOS
Linux
Backup and Restore Feature
Despite the countless measures you might make to secure your device against threats, you could still end up exposed to threats or lose it. The wallet's backup and restore feature typically involves using the seed phrases to regain access to your private keys after compromising or losing the wallet.
Price
Manufacturers and distributors offer different wallets at various prices. The best way to determine how much to pay for a wallet is by assessing the features it offers and comparing it to similar products in the market. Choose a wallet that gives you the best features and benefits at the most affordable cost.
Portability
Cold wallet design has evolved a lot as some models mimic the sleek and slim debit cards, and can fit in your wallet . However, the market still has other models that you can't carry from one place to another. The lightweight models are easier to carry and use on the go.
How to Set Up a Crypto Hardware Wallet?
Cold wallets come in packages with the device, supporting accessories and guidelines on setting up the system for transactions. However, knowing the general steps you're supposed to follow simplifies your process. Here are some guidelines to follow:
1. Buying the Wallet
Always buy from the manufacturer or a trusted seller. Make sure the wallet comes from a trusted source to avoid receiving devices with preloaded viruses and other malware. The toplist above contains some of the best choices in the market.
2. Installing the Software
Unbox the package and assess the contents to ensure they haven't been tampered with. If the wallet needs USB to connect to the phone or PC, make the connection and visit the manufacturer's website for the software. Download the appropriate software for your device. For example, once you connect the Ledger Nano X to your PC, it will light up and prompt you until you access the ledger live app.
3. Securing the Seed Phrase
Most wallet packages come with two or three sets of cards where you're supposed to write down the seed phrases. Generate the phrases and copy them onto the three cards. Storing the cards in different places ensures you can regain access to your crypto even when the device gets compromised. Also, create a pin and store it securely.
4. Creating the Wallet
Create different wallets for the cryptos you want to store in your hardware device. For example, you cannot store Bitcoin and Ethereum in the same wallet, which means you'll need a different wallet for each currency.
5. Connect with a hot wallet
Once you've set up the hardware and software, you can connect the device to a hot wallet and start trading, swapping and other transactions.
Hardware Wallet Comparison
| | | | |
| --- | --- | --- | --- |
| | Ledger StaX | Ledger Nano X | Ledger Nano S Plus |
| Price | $279 | $149 | $79 |
| Screen Type | E Ink | OLED | OLED |
| Digital Assets | 5000+ | 5000+ | 5000+ |
| Recovering Access to Assets | 24-word Secret Recovery Phrase | 24-word Secret Recovery Phrase | 24-word Secret Recovery Phrase |
| Third Party Wallets | Compatible with 50+ wallets | Compatible with 50+ wallets | Compatible with 50+ wallets |
| NFT's | Ethereum and Polygon | Ethereum and Polygon | Ethereum and Polygon |
Conclusion
In crypto transactions, the safety and ease of access to coins, tokens and other assets depends on who holds the key. Buying a wallet gives you completely control over the private keys to your assets, minimizing the fear of losing the assets. A hardware wallet review helps you to compare various wallets in the market with their pros and cons, the assets they support, security, cost, and ease of operation before buying one. Understanding how wallets work helps you gain complete control over all your crypto assets.
FAQs