Discover the benefits and drawbacks of playing at no-KYC sportsbooks. Our guide covers the best sportsbooks, what's to expect without KYC and all essential factors for sportsbooks. So, any crypto bettors looking to protect their privacy will enjoy the information we provide!
Settle in and take the first steps on the road to becoming an expert in anonymous betting and the benefits it offers!
Top No ID Verification (KYC) Crypto Betting Sites Sites
Trust Dice – Best Overall No-KYC Crypto Sportsbook
Winz.io – Best for eSports Betting
Crashino – Best for Trying Provably Fair Games
Thunderpick – Best for Low Minimum Stake
Vave – Best for Crypto-Only Betting
Betcoin – Best for Market Selection
N1Bet – Best for Live Betting
BC.Game – Best Sportsbook for Free Crypto
Coinplay – Best for Cryptocurrency Choice
Bitsler – Best for Good Value Odds
No ID Verification (KYC) Crypto Betting Sites Reviewed
With a wealth of different crypto sportsbooks available, it's a challenge for bettors to find the best one. However, our mini-reviews provide the most critical details for anonymous sports players. So dive into our toplist and reviews to discover the perfect no-KYC crypto betting site.
1. Trust Dice – Best Overall No-KYC Crypto Sportsbook
Trust Dice is a crypto sportsbook eliciting many players' trust, hence the name. However, part of what grabs a lot of attention is the ability to play without completing KYC. The ability to enjoy what a crypto operator offers without providing identification ensures blockchain bettors can enjoy anonymous gambling. Of course, Trust Dice provides more than just anonymity to players, it also has an incredible passive income opportunity. Users can earn tokens on every bet, which they can then stake to earn cryptocurrency. It's a fantastic way to increase potential profits while reducing the risk of betting.
While the staking is a big positive, sports bettors will obviously look for more. Fortunately, Trust Dice includes a great sportsbook. It features a whole host of different sports, with top-class market choices also available. Users can also enjoy e-Sports betting, providing more variety. When signing up at Trust Dice, a superb welcome bonus allows bettors to claim up to 30,000 USDT as a 225% matched bonus.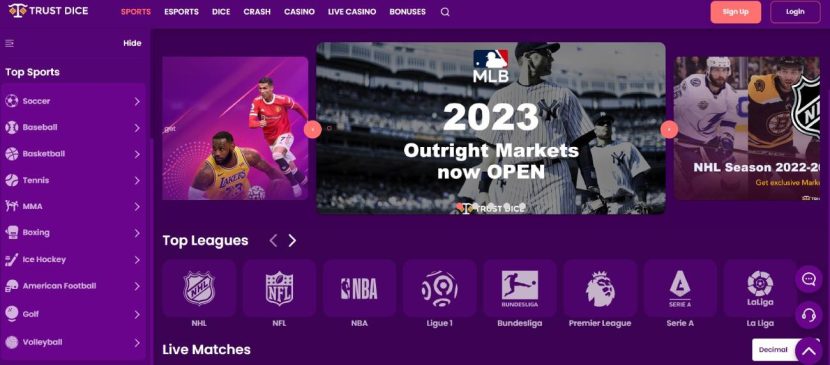 | | | | |
| --- | --- | --- | --- |
| Crypto Bonus | Wagering Requirement | Minimum Deposit | Available Currencies |
| 225% up to 30,000 USDT | 40x | 10 USDT | 4 |
Pros
Up to 30,000 USDT is available as a 225% matched welcome bonus
Players can enjoy anonymous betting due to the lack of KYC
Users can earn token which they can then stake to earn extra crypto
Fantastic selection of sports and betting markets
Cons
The welcome bonus has high wagering requirements
2. Winz.io – Best for eSports Betting
Crypto betting and eSports have a significant link. Many of the first crypto sportsbooks provided eSports as a betting option long before operators saw it as a mainstream selection. So, seeing a crypto sportsbook supporting gaming betting is always a huge positive. Winz.io offers some excellent eSports options, helping it stand out from other sites without the same range. It's perfect for players who love the eSports world.
Winz.io provides more than just eSports betting, though. It also includes a top-class sports selection. Users can enjoy the most prominent events from the biggest sports. There's also a comprehensive market choice, so finding excellent value bets is straightforward. The welcome bonus is a 100% matched bonus of up to $500. The lack of wagering requirements makes it one of the most generous promotions in the industry.
Of course, crypto bettors looking for anonymity will enjoy what Winz.io offers. There are no KYC checks here, so wholly anonymous play is possible. An excellent option for players who value their privacy.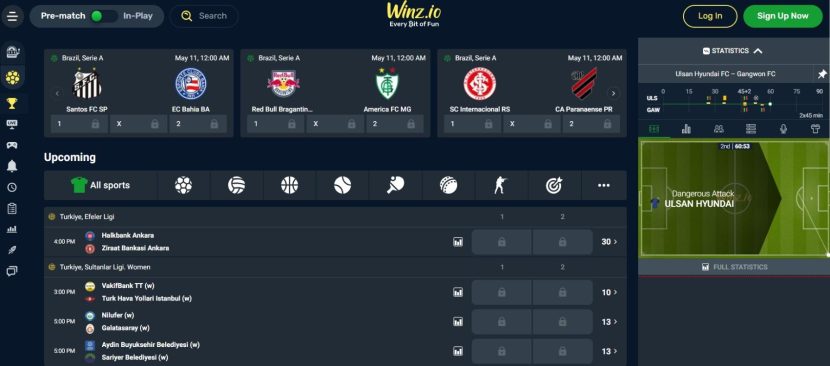 | | | | |
| --- | --- | --- | --- |
| Crypto Bonus | Wagering Requirement | Minimum Deposit | Available Currencies |
| 100% up to $500 | N/A | 20 USDT | 9 |
Pros
Anonymous betting is a possibility with Winz.io
Fantastic choices of eSports and sports betting markets
Players can claim the welcome bonus without wagering requirements
No fees on financial transactions
Cons
Expanding the range of promotions would be positive
3. Crashino – Best for Trying Provably Fair Games
Sports bettors may not see the value in provably fair games, but it's a short-sighted view. The ability to confirm the fairness of a title in real time makes these games some of the most valuable for users. It provides an extra option with a lower house edge than traditional games, which should appeal to players searching for good value bets. Crashino has a wonderful line of provably fair titles, making it an extremely worthwhile choice.
Of course, users who want sports options can still find them here. It covers the most significant sports, such as soccer, NFL, NBA, NHL, and more. It adds to this fantastic range of betting markets. The welcome bonus is purely for casino players, which is a minor drawback for sports bettors. However, there are other promotions available.
Crypto players can enjoy anonymous play with Crashino. It's impressive to see, as some sites feature KYC even though the developers host them on the blockchain.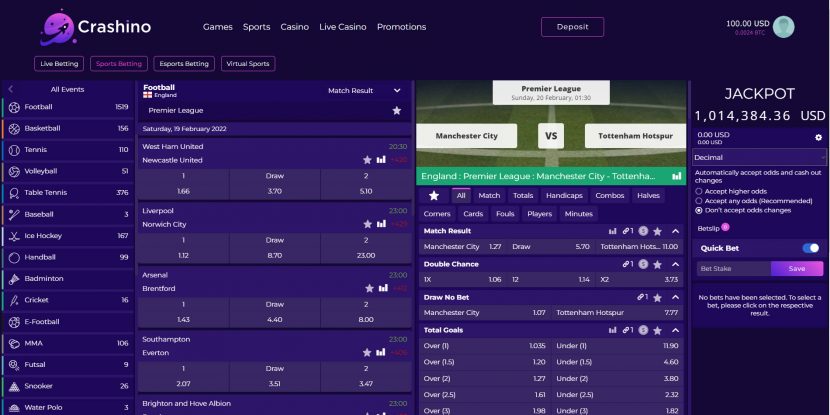 | | | | |
| --- | --- | --- | --- |
| Crypto Bonus | Wagering Requirement | Minimum Deposit | Available Currencies |
| 100% Multibonus | No wagering | $10 | 10 |
Pros
No KYC so anonymous play is possible
Has plenty of sports betting events and lots of markets
Provably fair games are available with Crashino
An excellent welcome bonus for casino players
Cons
The welcome bonus is quite substantial
4. Thunderpick – Best for Low Minimum Stake
Many sportsbooks ignore low-budget players. Fortunately, Thunderpick isn't one of them. It allows bettors to stake just 0.00000001 BTC as a starting point, well below the vast majority of other crypto betting sites. The low minimum stake ensures Thunderpick is accessible to all players, which is fantastic.
It also offers a specific sports welcome bonus, another aspect many sportsbooks tend to ignore. While the value of the welcome bonus is below most others, it has benefits for sports bettors. They can claim a 100% matched bonus up to a maximum of $550. However, wagering requirements of just 10x make it extremely appealing to users. It backs this up with a comprehensive sports choice and plenty of markets!
There's no need to complete KYC with Thunderpick, which is fantastic. It allows bettors to access the site without providing personal information, ensuring their privacy remains paramount!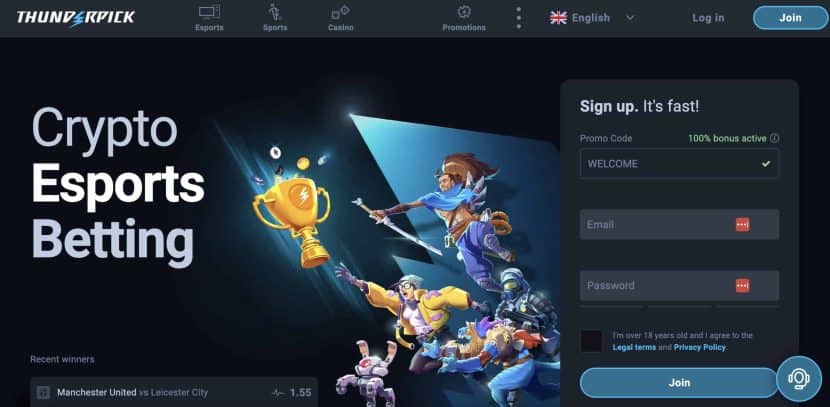 | | | | |
| --- | --- | --- | --- |
| Crypto Bonus | Wagering Requirement | Minimum Deposit | Available Currencies |
| 100% bonus up to $550 | 10x | $20 | 7 |
Pros
The low minimum stake makes Thunderpick accessible to all
Plenty of market options across many different sports
Low wagering requirements on the welcome bonus
It has a great VIP scheme
Cons
The odds can be pretty high
5. Vave – Best for Crypto Only Betting
Vave provides one of the most essential factors for crypto bettors, anonymous play. Privacy is at a premium in the modern world, so many sportsbooks tend to cave in to pressure and require KYC checks. It's refreshing to see Vave bucking the trend and allowing players to retain anonymity. There are no document verification processes when creating an account with Vave, which makes it rapid and private, an appealing combination. It also features purely crypto betting, which is a significant benefit for blockchain bettors.
With players looking for a quality sports betting selection, Vave ensures it doesn't disappoint anyone. It features the most significant sports and events, so players can find anything they want. It backs it up with a varied choice of markets, which also covers the eSports selection. So, prop bets, parlays, and everything in between are available with Vave. Bettors can also claim a welcome bonus of up to 1 BTC as a 100% matched bet. Although it has 40x wagering requirements, it's still an appealing first promotion for new players.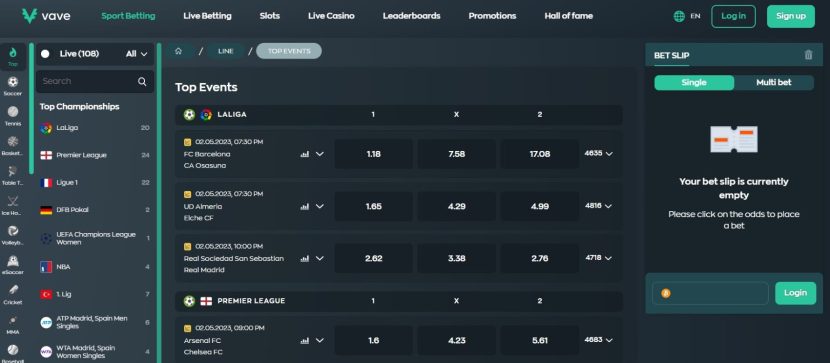 | | | | |
| --- | --- | --- | --- |
| Crypto Bonus | Wagering Requirement | Minimum Deposit | Available Currencies |
| 100% up to 1 BTC | 40x | 20 USDT | 8 |
Pros
Up to 1 BTC available as a welcome bonus
Anonymous play is a feature of Vave sportsbook
Plenty of sports and eSports with lots of markets
Is a purely crypto sportsbook
Cons
The 40x wagering requirements are above the market average
6. Betcoin – Best for Market Selection
A variety of markets is critical for any sports bettor who wants to be successful. Without a significant market selection, finding the best value is almost impossible. Researching games with odds above their probability often requires a range of prop bets. Fortunately, Betcoin allows bettors to select from more than 100 markets, providing a substantial choice. It also offers a welcome bonus of up to 100 m฿ as a 50% matched bonus, which also benefits from relatively low wagering requirements of 15x.
It adds a fantastic choice of sports to the wide range of markets. There's everything from the NBA to eSports in place with Betcoin. It's superb to see access to such a range of betting options, as many sites only cater to the most popular sporting events.
Anonymity is possible with Betcoin due to the lack of KYC. So, players don't have to provide personal information when creating an account, enhancing their privacy.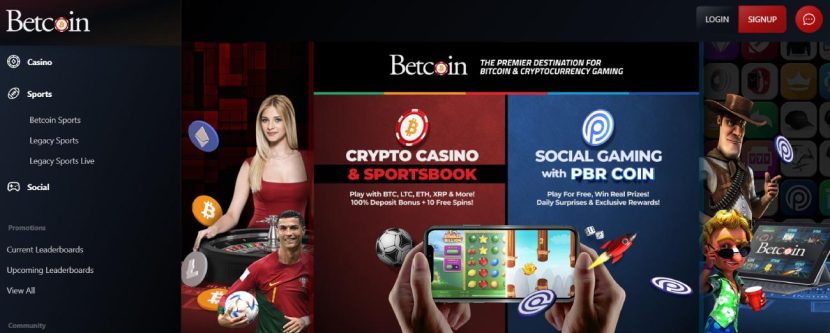 | | | | |
| --- | --- | --- | --- |
| Crypto Bonus | Wagering Requirement | Minimum Deposit | Available Currencies |
| 50% up to 100 m฿ | 15x | $10 | 11 |
Pros
Amazing choice of different cryptocurrencies
Players are able to bet anonymously at Betcoin
The welcome bonus has low wagering requirements
Instant crypto payment processing
Cons
A significant number of countries have restrictions
7. N1Bet – Best for Live Betting
Live betting often goes under the radar with sports bettors. It's not fully understood, so its benefits aren't common knowledge. However, players who realize what live betting can offer can discover some of the best value bets on the market. N1Bet caters to these users perfectly with a well-designed and straightforward live betting platform. It also provides an excellent welcome bonus of a free bet worth 20% of the initial deposit. With no wagering requirements, it's a solid bonus for bettors on a small budget.
There's a positive betting selection with N1Bet. Firstly, players can enjoy the most prominent sports. So, the Premier League, NBA, NFL, and more are all available. However, it also covers less well-known events like beach volleyball and sailing. Each event also has an excellent choice of markets aligning well with the live betting options.
While N1Bet does cover KYC in its terms and conditions, crypto bettors don't have to go through the process when creating an account. Additionally, N1Bet has a track record of leaving crypto players alone as long as their account has no suspicious behavior.

| | | | |
| --- | --- | --- | --- |
| Crypto Bonus | Wagering Requirement | Minimum Deposit | Available Currencies |
| 20% risk free bet + 300% Hunting Bonus | No Wagering | 0.0001 BTC | 6 |
Pros
An excellent selection of live betting choices
Some positive crypto selections
The welcome bonus doesn't have wagering requirements
Good choice of betting markets
Cons
Live chat begins its process with a chatbot
8. BC.Game – Best Sportsbook for Free Crypto
Of course, BC.Game is a highly-regarded crypto sportsbook. It provides bettors with access to a significant selection of features. However, where it really stands out is the free crypto options it provides. Players can claim a daily bonus wheel spin, which awards free crypto. Up to 1 BTC is available with the wheel, although it's typically below this amount. There are also no wagering requirements for any wins on the bonus wheel. As a result, it provides low-budget users access to the site.
While the bonus wheel is an apparent benefit, BC.Game also offers additional positive factors. The sports choice is incredible, with a wide range of events in place daily. It backs it up with superb market options, ensuring bettors can easily find value. There's also a crypto casino, so users who want a change have other options available.
KYC is a bit of a sticking point with BC.Game. Although players don't have to complete the process to sign-up, the policy is in the T&Cs. However, crypto players generally get left alone, so avoid KYC with BC.Game is possible.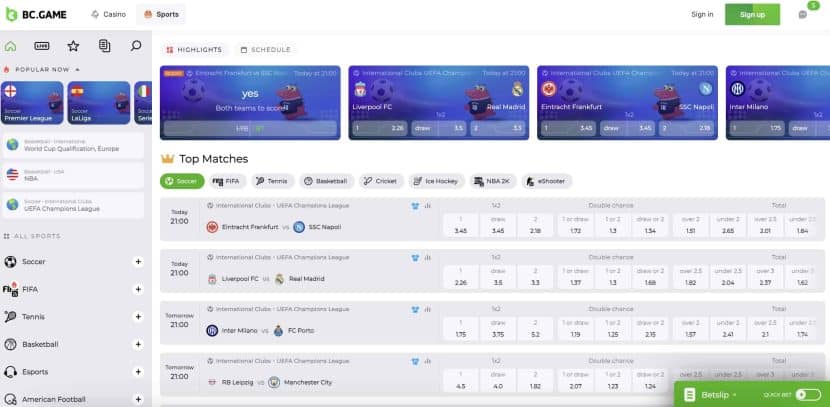 | | | | |
| --- | --- | --- | --- |
| Crypto Bonus | Wagering Requirement | Minimum Deposit | Available Currencies |
| Daily wheel spin up to 1 BTC | N/A | $10 | 14 |
Pros
Up to 1 BTC is available daily with the bonus wheel
All bonus wheel crypto has no wagering requirements
Players can potentially avoid KYC
Some great sports betting markets are available
Cons
No regular sports betting promotions
9. Coinplay – Best for Cryptocurrency Choice
There are players with a diverse selection of crypto, all part of their portfolio. Coinplay provides the perfect environment to make use of their crypto. It offers a wide selection of cryptos, allowing players to choose the best option for their needs. It also features an excellent mobile app, so users can avoid the mobile browser site and go straight to a dedicated app.
There's also a superb welcome bonus at Coinplay. A 100% matched bonus of up to 5,000 USDT with 40x wagering requirements. Although the wagering is relatively high, it's a substantial bonus. The sports choices are also superb, with many events in place and excellent market options.
Players don't have to complete KYC to join Coinplay. However, suspicious behavior does cause the company to ask for KYC. So, while it is a possibility, it's also not a guarantee.

| | | | |
| --- | --- | --- | --- |
| Crypto Bonus | Wagering Requirement | Minimum Deposit | Available Currencies |
| 100% up to 5,000 USDT | 40x | 0.001 BTC | 22 |
Pros
Massive selection of different cryptocurrencies
A generous welcome bonus
Lots of superb sports and market options
Extra promotions available to claim
Cons
No ability to play with fiat currencies
10. Bitsler – Best for Good Value Odds
One of the most critical requirements for bettors is good value odds. Finding the best value bets is exceptionally challenging without good odds. As a result, it makes it harder to be successful when sports betting. Bitsler stands out from the crowd with its odds, offering some of the best value odds in the industry. Although it doesn't provide a welcome bonus, players can still claim free bets weekly, so there's a lot for players to enjoy here.
The sports selection is comprehensive. From the most prominent events on the calendar to less popular, niche sports, there's something for everyone. It even provides virtual sports, so betting is still an option when no other events occur. Each sport has a solid choice of markets, so Bitsler really does the work for bettors.
KYC is a bit of a grey area with Bitsler. Although players don't have to complete the process when creating an account, there is always the possibility of it asking for a check. However, users should be able to avoid the process if they don't behave suspiciously.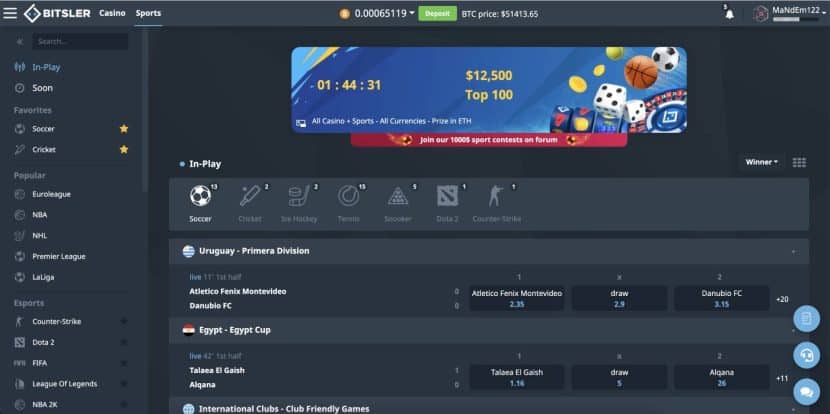 | | | | |
| --- | --- | --- | --- |
| Crypto Bonus | Wagering Requirement | Minimum Deposit | Available Currencies |
| 100% up to $700 | $1 every 200XP earned | $20 | 17 |
Pros
Some of the best odds in the industry
Players can claim free bets weekly, with up to 1,000 available
Superb choice of different sporting events
Has a fantastic choice of markets
Cons
Bitsler doesn't offer a welcome bonus to players.
What is a No ID Verification (KYC) Betting Site?
A no-KYC betting site allows players to create a sports betting account without completing ID verification checks. There are two tiers of no-KYC sportsbooks. The first has no checks and always allows players to bet anonymously. The second has no verification on sign-up but may require reviews later. The first is the more desirable option, but avoiding KYC at the second tier is still possible by remaining transparent with all deposits and withdrawals.
Using a no-KYC sportsbook provides higher privacy levels and guarantees protection from identity theft. It also streamlines the sign-up process and gives bettors access to sites within minutes.
Pros & Cons
All forms of crypto sportsbooks will have pros and cons, so we have covered the most pertinent for no-KYC sites.
Pros
A faster sign-up process allows for rapid access
Higher levels of privacy and protection of identity
No way for banks to track sportsbook usage
Crypto acceptance comes as standard
Cons
Some no-KYC sites operate without regulation
Can be legal issues if users break the law
Factors to Consider when Choosing a Bitcoin Sportsbook with No KYC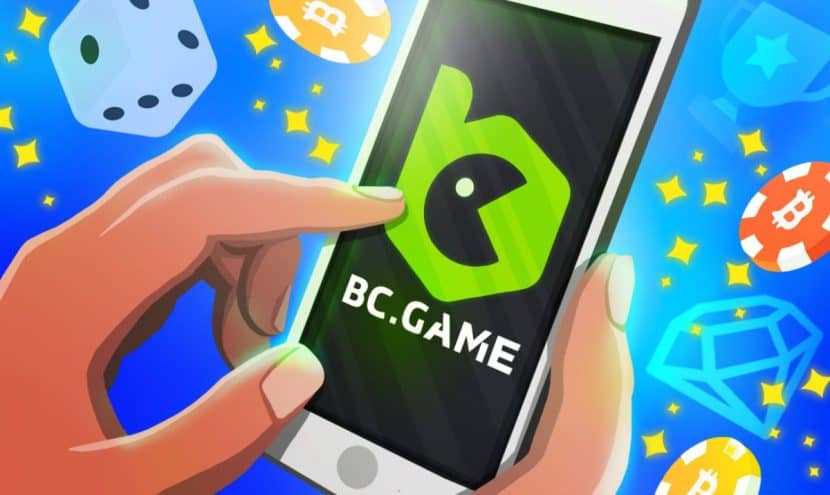 Selecting the best no-KYC sportsbook is challenging for beginner players. As a result, we have collated a selection of vital factors all users must understand before creating an account.
Reputation and Licensing
Finding a trustworthy site is critical. An excellent way to ensure players can trust a site is through licensing. If a site has a regulatory license, it has to abide by certain rules. So, it provides users with a better betting environment. However, it is essential to understand not all no-KYC sites have licenses in place.
Secure Crypto Payments
Protection when making a payment is vital, without protection, players can lose funds instantly. So, ensuring the sportsbook has the requisite security should be one of the first steps bettors take.
Fast Deposits & Withdrawals
Although crypto provides almost instant access to funds, users are typically accountable for how the sportsbook handles its funds. So, players who want fast access should look at the operator's terms and conditions first. For example, if a betting site has a three-day processing time, it will remove some of the advantages of playing with crypto.
Crypto Bonuses and Promos
A considerable advantage of crypto is the ability to claim substantial bonuses. There are crypto bonuses that hit 7 BTC and 100,000 USDT, far above what traditional bonuses can offer. So, players looking for a significant bonus must research the promotions at each site.
Low Crypto Banking Fees
Making a transfer to another country can cost a lot. A benefit of using crypto is it reduces the costs of transatlantic transactions. Although there are gas fees for most crypto payments, it's still well below the costs of a foreign transfer. Bettors can save significant amounts by using crypto.
Fair Deposit & Withdrawal Limits
The excitement of landing a big win is unparalleled. However, it can soon become disappointing if the sportsbook has low withdrawal limits. So, bettors must research how much they can take out at a time, especially if they place high-risk bets with high-rewards potential.
Wide Range of Crypto Betting Markets
Access to many markets is one of the best ways for users to level the playing field with betting. Carrying out research allows bettors to discover the best value bets. However, if the markets aren't available, it removes this benefit. So, players must check to ensure the markets they need are in place.
Good Betting Features & Resources
Crypto staking is a benefit of cryptocurrency which fiat misses out on. Some crypto sportsbooks provide bettors with the opportunity to stake and bet. It's just one of the potential features which can help an operator to stand out from the crowd. Other factors, such as responsible gambling resources, can also help sites differentiate themselves from the competition.
Restricted Countries
Some sites will have restrictions on which countries can access its services. It's vital for players to research which countries can sign up as it can break terms and conditions to create an account. It can lead to losing funds and the removal of accounts, so it is a critical step.
VIP Programs
Users always appreciate a reward for being loyal. So, a solid VIP program is something bettors must research. Whether it's available for sports users and any crucial terms and conditions should always make up the bulk of any research.
Is it Legal and Safe to Bet Without Identification?
The short answer is yes, it is. However, there are some caveats that are vital to address. Firstly, as long as the betting operator is trustworthy, it will be safe to bet without an ID check. So, bettors must use reliable sources, like our reviews and toplist, to discover the sportsbooks they can trust.
Secondly, the legality of no-KYC betting depends on the player's location. For example, UK bettors will have more difficulty finding a legal operator without ID checks. So, users must research the local laws before deciding if they want to begin playing.
Age Restrictions
Any restrictions on age will vary between jurisdictions. For example, some countries allow betting at 18, while some require players to be 21. An age restriction is critical for betting as younger people don't have the cognitive understanding to gamble responsibly. For example, a 14-year-old would behave far more impulsively than an 18-year-old.
Reasons to Use Crypto for Sports Betting?
Crypto provides a range of benefits for bettors. Although the reasons are almost exhaustive, we've collated a list of our most crucial positives.
Instant Payouts
Crypto provides instant access to funds, something fiat transactions still don't offer. As a result, it makes it far better for players to use crypto. Waiting for a withdrawal to process leaves bettors in a state of limbo, which can be frustrating, especially if they have bills to pay. So, using crypto removes this issue due to the rapid transaction speed.
Anonymous Transactions
Anyone who has ever requested a bank loan or applied for a mortgage will understand the detective work a bank carries out. Using crypto removes some of these issues, as the bank cannot track what players do with cryptocurrency. So, using crypto allows players to bet on sports without missing out on essential bank services.
More Favorable Odds
There are sportsbooks that provide a superior overround to players purely because of using crypto. As a result, it allows players to find the best value. So, users looking for the best chances of success must research the overround among different operators.
Mobile Bitcoin Betting
Crypto is no longer purely for desktop users. Some incredible mobile betting apps are available, providing ease of access for bettors.
No Third-Party Involved
Using crypto allows players to remove third-parties. It's critical to retaining privacy but also helps to reduce overall costs. Furthermore, the lack of a third-party is something fiat transactions will never offer, so the decentralized nature of cryptocurrency is highly appealing to modern users.
List of Cryptocurrencies Eligible for Betting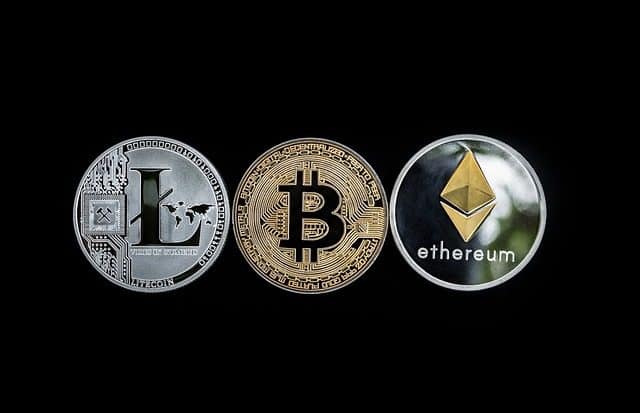 As crypto becomes more popular, the available selection becomes more diverse. As a result, there's a wider range available to players than ever before. While our list doesn't cover all cryptos, it provides context for the options players are most likely to see.
Bitcoin
Anyone who has any engagement with mainstream media will be aware of Bitcoin. It's the most popular and high-value crypto on the market. It's also the most accessible as the majority of crypto sportsbooks accept Bitcoin.
Bitcoin Cash
BCH is a fork of Bitcoin, so it has a lot of similarities to BTC. However, it has a lower-value, faster transaction speed, and lower gas fees.
Litecoin
Bettors will enjoy the fast payments and excellent security Litecoin offers, but it's not the only significant advantage. It also provides a lower entry price point, making it easier for low-budget users.
Avalanche
As one of the newer cryptos on the market, Avalanche may have flown under the radar for many bettors. However, it provides a lot of potential for further development with its dedication to dapp creation. It also provides low gas fees and rapid payments.
Binance
As a major player on the crypto exchange scene, Binance was always going to take steps into the token market. Binance is a significant crypto holding a large market share. It's also accessible as many operators accept Binance.
EOS
It might not be as well-known as other cryptos, but EOS still provides excellent features. It's rapid, has high security, and minuscule gas fees. Perfect for users looking for a simple but effective choice.
Ethereum
As the number two crypto on the market, ETH is available at the majority of crypto sportsbooks. However, the dedication of the Ethereum team to updating what ETH can do is undoubtedly its most significant benefit.
Dogecoin
While it may have started as a joke, Dogecoin is almost the perfect crypto for low-budget gamblers. It's cheap, fast, and secure. What more could anyone ask for?
Monero
Players who want complete anonymity should look towards Monero. With the highest possible security levels, it's a fantastic choice.
Ripple
There's a lot to like about Ripple. After getting past its previous issues, players can enjoy a fast and secure token with low costs.
Tether
USDT provides players with a stable alternative to other cryptos. While it removes the potential for huge profits, it also eliminates the potential for huge losses. As a result, it's perfect for bettors wanting the benefits of crypto without the drawbacks volatility brings.
Tron
There are low costs when purchasing Tron, which is perfect for players on a limited budget. It's not as accessible as other cryptos, but it still provides plenty of advantages when available.
How to Place a Bet with Crypto?
Placing a bet at a no-KYC crypto betting site is a simple concept. Players only have to follow a few steps to begin:
Use our toplist to find the most suitable No ID verification crypto sportsbook
Complete the sign-up process and create an account
Make a deposit using a crypto wallet, following the site's instructions
Use research to find the best betting option
Select a stake and place the bet on the event
Wait for the event to finish and check its win status
If the bet wins, either keep playing with the funds or make a withdrawal
How to Place a Deposit and Withdrawal?
Depositing and withdrawing will have slightly different processes at each sportsbook. However, our basic steps will be appropriate for most procedures, with any slight differences fully explained by the site.
Depositing
Navigate to the account page at the crypto sportsbook
Note down the wallet address for the site
Players must then make a deposit from their own crypto wallet
Once the transfer processes, the funds will be available
Withdrawing
Players must navigate to the withdrawal page
At this step, players must enter their own wallet address
Enter the amount to withdraw
Request the withdrawal and wait for it to complete
The Future of Bitcoin Sports Betting Sites with No KYC
The future of no-KYC betting sites is an uncertain one. But, currently, they look incredibly bright. With more players understanding the benefits of playing without an ID check, anonymous sportsbooks consistently gain popularity.
However, at the same time, regulatory bodies aim to stamp out the ability to play without verification. Unfortunately, it's a process that reduces the safety of bettors, even though it purports to be doing the obvious. Moreover, clamping down on no-KYC sites makes trustworthy sites less likely to offer the service. Despite this, there are currently a lot of sites that offer the ability to create an account without an ID check.
The future can still be bright for no-KYC sites, though. With crypto providing decentralized betting, there are far more opportunities to bet anonymously as the technology improves. One example could be ID verification behind an encrypted firewall. It will allow bettors to attach a token to their crypto when signing up, confirming they can legally use the site without verifying directly with the site. Although it removes some privacy, with the right level of protection, it can still be reliable.
Conclusion
Playing at a no-KYC betting site provides bettors with privacy unavailable at sportsbooks with verification checks. Anyone looking to remain anonymous will prefer this method of betting. Our toplist makes it a simple process to discover the most suitable sportsbook, removing one barrier to beginner users.
The most significant benefit to betting privately is the opportunity to avoid giving banks details. When betting, banks can use it against players. However, players can avoid these issues using a no-KYC site and still claim vital bank services. There's also protection from identity theft. If a user never provides their ID, there's nothing available to steal.
Overall, using a no-KYC site can provide some risks. However, by using our toplists and sportsbook reviews, users can avoid problems. We only recommend the most trustworthy and reliable sites, so bettors can feel safe with our selections. No-KYC is a critical aspect of crypto betting, providing users with privacy and security. It makes it vital for players to use our guides to access the benefits of anonymity while also remaining safe.
FAQs