Trezor is the creator of the leading crypto wallets on the market. It has a fantastic track record of providing high-quality hardware wallets to users with industry-standard security. Although it doesn't cover some of the most impressive features, such as access to Web3 browsers, it's undoubtedly the most secure option for traders and covers some beneficial options.
With our Trezor Model T review, traders struggling to choose from the raft of cryptocurrency wallets can learn the most important facets of this Trezor hardware wallet. Keep reading to discover if the Model T is the right choice.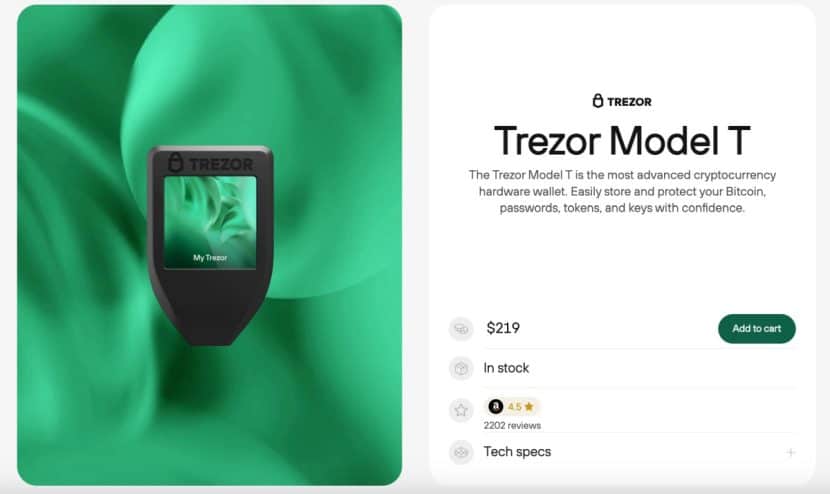 Introduction to Trrezor Model T Wallet
The Trezor Model T is a hardware wallet allowing for decentralized cryptocurrency storage. It provides easy access to funds, and although it doesn't have a built-in exchange, the management app will enable users to connect to third-party exchanges. With incredible security, it's an excellent way to keep crypto safe.
The Trezor Model T is impressive for users who look to trade and stake directly through their Web3 wallet. However, with just a browser suite available, it's not as comfortable for mobile users. An impressive aspect is the security features, with the ability to add a passphrase and recovery.
With our Trezor Model T review ensures users can find out the complete picture of the device. With such a substantial range on the market, users need our expert analysis to help them choose the best cryptocurrency hardware wallet.
Type of Wallet
Hardware, decentralized and Custodial
Price
$219
Fees
Gas and exchange fees
Trezor Model T Features

Great choice of cryptos
NFT storage and staking is available
High-quality web suite
Can expand storage

Number of Cryptocurrencies Supported
Over 1,800 cryptos
Earn
Staking is possible with the Trezor Model T
Customer Service
Live chat, email and social media
Hardware Compatible
Desktop and mobile
SPV or Full Node
It depends on the exchange
Who Trezor Model T Wallet Best Suited For?
Beginner users, high-volume traders, significant investors
Trezor Model T Wallet Pros & Cons
Pros
1,800+ cryptocurrencies are available
Incredible level of security, with a top-class reputation
Access to third-party exchanges for trading through the device
Simple, sleek design
Cons
No dedicated mobile app
Has a substantial cost
Services Offered by Trezor Model T Wallet
The features of the Trezor Model T are excellent. Although it doesn't jump in with both feet like other devices, for example, there's no dApp support, it still does the basics well. As a result, it's an appealing device for beginner users.
The device has no built-in exchange, but our Trezor Model T Wallet review discovered users can connect to third-party exchanges to purchase crypto. As a result, it offers the opportunity to buy and sell crypto without downloading a separate app.
It covers almost 2,000 cryptocurrencies, which is a solid selection. Although there are devices with a more extensive choice, there are none with the level of security the Model T provides. It also allows instant access to the crypto portfolio, so checking on the status of any investments is simple.
NFT users can also enjoy this hardware wallet, with our Trezor Model T Wallet review discovering excellent Non-Fungible Token support.
How to Create an Account
It's simple to get started with the Trezor Model T Wallet. Users should begin by downloading the app or accessing it through the browser. Then, the device's setup process will take investors through each step, ensuring connections are easy and traders don't make any common mistakes.
How to Proceed with a Transaction
Getting up and running with transactions isn't difficult with the Trezor Model T Wallet. Users can send funds simply by entering the correct wallet address. However, to purchase funds, users must connect to a compatible exchange. Users can buy and sell funds with the following steps:
Use the Trezor suite to connect to a compatible exchange
Choose whether to buy or sell crypto
Select the amount and include the gas fee in the transaction calculation
Ensure it's correct
Complete the transaction process
It will depend on the available exchanges and the potential gas fees, but it shouldn't be any more expensive to buy and sell with the Trezoe Model T.
How to Make a Deposit
Making a deposit is simply a case of sending their crypto to the correct wallet. The Trezor suite makes it simple, with plenty of tools helping to complete the process, including access to the Trezor Model T wallet address.
How to Make a Withdrawal
Withdrawals are also simple. It's a reversal of the deposit process, so users can just enter the suite and send their funds to the correct wallet.
Trezor Model T Wallet Supported Tokens
While the Trezor Model T doesn't have support on par with other crypto wallets, it still allows access to over 1,800 cryptos. So, it's certainly not a poor selection. Users can choose from a mix of prominent and newer coins, giving impressive choices. Here are some of the top names available on the Model T.
BTC
ETH
LTC
USDT
USDC
BUSD
BNB
XRP
ADA
Is Trezor Model T Wallet Safe and Legit?
While creating our Trezor Model T Wallet review, it soon became apparent it has an incredible reputation amongst the crypto community. There are very few negative stories directly attributed to Trezor. So, it's safe to say this is a secure and legitimate hardware wallet. While nothing is 100% safe, this device works hard to come as close as possible to it.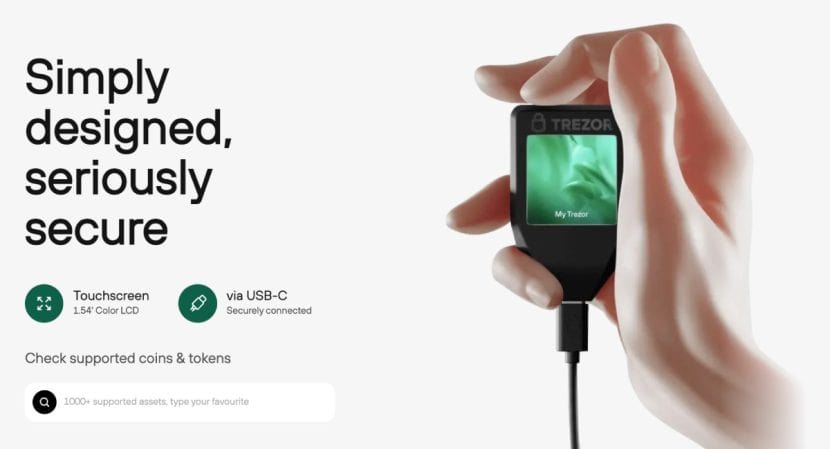 Security
One thing we soon realized with our Trezor Model T Wallet review is the level of security it offers. However, it's critical to understand there is some user responsibility towards security. The device is tamper-proof, but unless it comes directly from Trezor, there's always the risk it's been compromised. So, users must ensure they only buy from the manufacturer to protect themselves. Additionally, the lack of Bluetooth makes it more difficult to hack the device, which many see as a positive.
The device uses ultrasonic welding to assemble the parts, so hackers can't take it apart without breaking it. However, a second-hand device could still have a stolen backup phrase, so users must remain careful.
It doesn't store personal information on the device but uses passcodes and a backup phrase. As a result, it provides standard protection for traders.
User Interface
The user interface for the Trezor Model T is excellent. Users can easily access the different aspects of the device using the touchscreen interface. It's also available on mobile and desktop devices. So, it is accessible on a variety of platforms.
How to Use Crypto Wallet on Android & iOS
There are two critical factors to consider before using Trezor's Model T on mobile. Firstly, it doesn't have an official app, it's only available on a browser. So, all apps on the app store are fake, do not download a mobile app. Secondly, it's unavailable to iOS users, so only Android traders can invest on mobile. With these factors considered, mobile investors must follow these steps to begin:
Update the device to the latest firmware
Connect the Trezor to the mobile device
Open the Trezor Suite in the web browser
Find the device and start using the Trezor Suite
How to Use Crypto Wallet on Desktop
Desktop usage is much simpler, with just a few easy-to-follow steps required:
Download the Trezor Suite
Connect the Trezor Model T to the desktop
Open the suite and search for the device
Begin trading
Backup & Restore
Just like any high-quality hardware Bitcoin wallet, the Trezor Model T provides the opportunity to back up the device. It's simple but effective, so it's the perfect process.
After setting up the device, the 12-word recovery phrase is available
In the event of a broken or stolen device, users can use the phrase to load funds back to the new wallet
It's extremely easy and ensures traders don't have to worry if their device fails.
Troubleshooting
Troubleshooting is an essential aspect of owning a hardware wallet. Just like any technology, there can be a range of issues which can crop up. Our Trezor Model T Wallet review covers the most prominent issues to help facilitate easy use of the device.
While users can encounter many complex problems, the most common issue relates to the cable. As a result, traders struggling to connect their devices should follow these steps to resolve the problem:
Ensure they use the official Trezor cable. While other leads may work, they may not be suitable for the device, so it's best to use the official cable
If it still doesn't work, try a different USB port
Re-install the software
Update the desktop drivers
Ensure the VPN or firewall aren't impeding the connection
Users who suffer from other issues can find more specific help at the Trezor website.
Trezor Model T Wallet Alternatives
The Trezor Model T is a highly respected hardware wallet, so we've compared it to other top-class wallet options. Our comparisons cover all angles to get a lowdown on which wallet is the best.
Trezor Model T Wallet Vs Ledger Nano X Wallet
There are plenty of benefits and drawbacks between these two devices. The Ledger Nano X is the top device from the Ledger family of hardware wallets, and the Model T is the Trezor equivalent. However, there are areas where each wallet stands out from the other.
Firstly, the Nano X has a lower price point, so it will be the preferable choice for users on a budget. However, the Model T arguably has superior security as it doesn't connect via Bluetooth. iOS users can't use the Model T, which instantly rules it out for Apple mobile traders.
The Nano X also provides access to dApps, which the Model T doesn't currently. On the whole, there's not a huge amount between the two devices, but the Nano X is better value for money.
Trezor Model T Wallet Vs Trezor Model One Wallet
The Model T is an upgrade of the Model One in all ways. It has an updated design, higher levels of coin support, and runs more smoothly. However, the Model One is around a third of the price for budget users.
So, there's no comparison between the two devices in terms of quality. But, the Model One is the best option for users on a tight budget. It provides an adequate experience for less than $100.
Final Thoughts
The Trezor Model T is a fantastic hardware wallet. It provides plenty of storage and has incredible security. However, it is the most expensive device on the market. Users are paying for the design, with some of the case innovations adding much value regarding protection.
While it doesn't have some of the more advanced features, such as dApp support, users looking to remain safe will appreciate what it offers. It's an excellent device on the whole, but the price is what will put users off. The Nano X is a slightly preferable option for functionality, but the Model T is in a league of its own when it comes to security.
Anyone who chooses a Model T should remember to always buy directly from Trezor, as this removes potential security threats.
Q&A Session
In this section, Will Wood will address your inquiries and the most common questions regarding Trezor Model T Wallet and offer guidance to newcomers in the field. Feel free to submit your questions through our contact form, and we will strive to respond within 48 hours.