Trust Wallet provides an interesting option for crypto holders. It's typically more focused on business users but still has some value for general traders. After being taken over by Binance, it brought greater eyes to the Trust Wallet, and it has more than 25 million users. One area where it stands out from competitors is its dApp support, with its built-in Web3 browser allowing access to a host of different decentralized applications.
Our Trust Wallet review covers every aspect of what it offers and which users it suits the best. Anyone looking for a new way to interact with crypto will benefit significantly from our guide.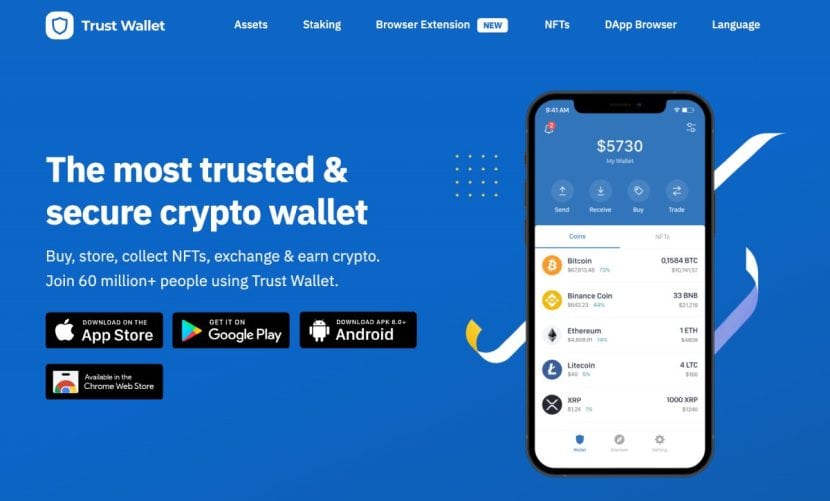 Introduction to Trust Wallet
Trust Wallet is a decentralized software wallet for cryptocurrency. Although it has some simple-to-use features, it also has advanced options which can make it slightly more complicated. One minor inconvenience is the lack of hardware wallet support, but Trust Wallet still has high levels of security.
One impressive feature is the access to dApps and DEXs within the wallet. So, users can enjoy many decentralized services without opening any other apps. Although Trust Wallet doesn't include 2FA, it does offer PIN support and biometric logins.
By checking our Trust Wallet review, users can discover all it offers while deciding if it's the most suitable wallet choice. Keep reading to get a complete insight into Trust Wallet.
Type of Wallet

Software, decentralized and Custodial

Price

Free

Fees

Gas and exchange fees

Trust Features

Millions of cryptos supported
dApp access is available
Biometric logins are available
Web3 browser included

Number of Cryptocurrencies Supported

1,000,000+

Earn

Traders can stake with Trust Wallet

Customer Service

Live chat, email and social media

Hardware Compatible

Desktop and mobile

SPV or Full Node

SPV

Who Trust Wallet Best Suited For?

Business users, high-volume traders, and experienced investors
Trust Wallet Pros & Cons
Pros
Ability to use millions of cryptocurrencies
Users can connect to a Web3 browser to use dApps and DEXs
Free download for mobile and desktop
Provides the chance to create a passive income
Cons
Users can't connect Trust Wallet to a hardware solution
Services Offered by Trust Wallet
Trust Wallet includes some high-quality features for users. Despite being a software wallet, there's a lot here to help it stand out. We have taken a deep dive into everything the Trust Wallet offers to users, whether they're just starting or experienced investors.
Although Trust Wallet doesn't have an exchange built-in as standard, it does provide access to various DEXs. With the ability to stake coins, there's also the chance to create additional income, a significant positive for many long-term holders.
The crypto choice is one of the best available. Trust Wallet covers over a million different cryptos, ensuring almost every coin is available. So, it's perfect for traders who closely monitor trends. With charts in the app, it's excellent for investors who use stats to inform their investments.
We also found access to NFTs when creating our Trust Wallet review, so traders looking for additional services won't be disappointed.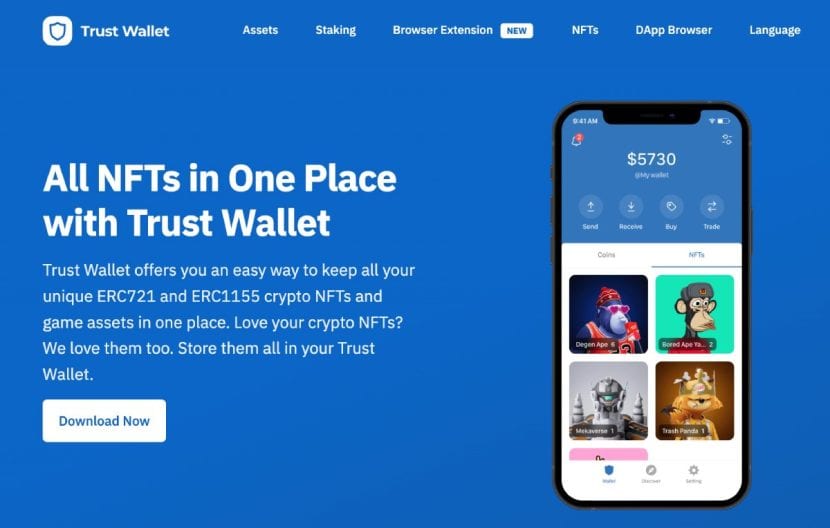 How to Create an Account
Creating an account is extremely simple here, so users don't have to undergo a complicated process. The first step is downloading the app to their preferred platform and creating an account. As soon as they complete those two steps, traders are up and running.
How to Proceed with a Transaction
It's simple to complete transactions with Trust. All users have to do is send funds to the wallet. While most platforms have a list of accepted cryptos, they tend to cover almost all options. So, it's a simple process to carry out a transaction. The following steps make it easy to use:
First, users must connect to one of the compatible DEXs
Select which crypto to send between wallets
Choose how much to send
Pick the right wallet address and send
Double-check it's correct
Carry out the transaction process
It will typically work for any DEX, but some may have slightly different instructions.
How to Make a Deposit
Deposits are extremely easy to complete. With this platform, all traders have to do is send the crypto amount to the correct wallet address.
How to Make a Withdrawal
Just as with deposits, it's easy to complete a withdrawal. Users need to send the appropriate funds to the receiving wallet using the correct address.
Trust Wallet Supported Tokens
There's one of the most impressive crypto selections available here. It covers over a million cryptocurrencies, which is incredible. So, traders can easily find a collection of popular and emerging cryptos. Some of the top available choices are in our list:
BTC
ETH
LTC
TWT
SOL
ADA
USDT
BNB
Is Trust Wallet Safe and Legit?
Our Trust Wallet review found it to be one of the safest software wallets on the market. As it's linked to Binance, it has a fantastic reputation and provides industry-standard protections. As a significant number of software solutions are available, it has to offer a legitimate service to stand out.
Security
Security is a critical aspect for crypto users. With cyber security a constant threat, a lack of protection can mean a potential disaster for users. However, Trust positively approaches security. Although it doesn't offer the chance to connect to a hardware wallet, which limits the overall protection, there are still plenty of opportunities to mitigate the risks.
There's no hardware wallet support, so it only functions as a hot wallet. So, users must be cautious with their behavior. Fortunately, Trust works hard to provide the best security possible.
Users don't have to complete KYC, which is always a positive, but there's no 2FA available. However, traders can create a PIN and use biometric login processes. It helps to keep the device secure, particularly when users keep it on their person.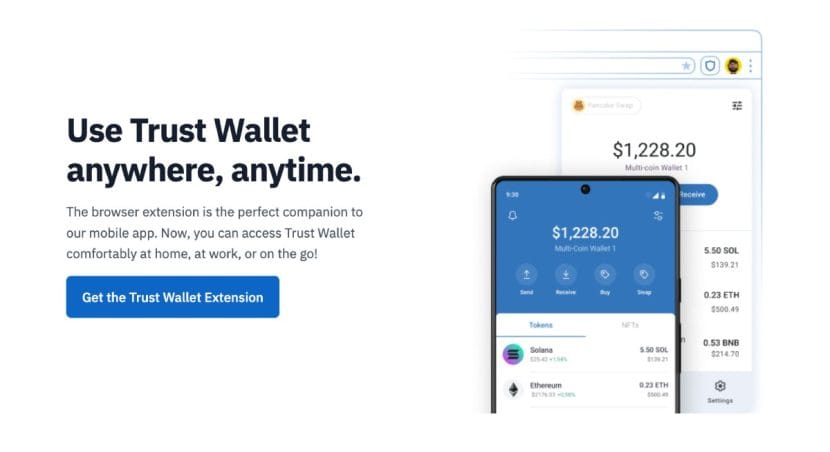 User Interface
The Trust wallet provides a fantastic interface, making it simple to use. It's easy to navigate, whether on mobile or desktop. There are differences between the two layouts, but each one is simple enough to use.
How to Use Crypto Wallet on Android & iOS
Users can easily download the wallet to their devices. It's available across iOS and Android, so all users can download the app. It's available on both app stores and is simple to find. The following steps make it even simpler:
Search the appropriate app store to find the app
Download and install the Trust app
Either create an account or log into an existing one
Select the crypto to hold and send it to the address
How to Use Crypto Wallet on Desktop
Starting up on a desktop is also simple. Users can easily download an app which works smoothly on most modern PCs.
Load up the preferred browser
Open the Trust website and click on the app download button
Complete the install process
Log into the account or create a new one
Start using the Trust wallet
Backup & Restore
There's a backup process with Trust, which is the case with most software wallets. As it's a hot wallet, it's vital to have a recovery option. To complete the process the following steps make it simple:
When creating an account with the wallet, users get a 12-word recovery phrase
If the device is lost or stolen, users will need the phrase to complete the recovery
When loading up a new device, users just have to enter the phrase, and the accounts will backup
It makes it rapid to access a recovered device and the cryptocurrency wallet!
Troubleshooting
There are plenty of troubleshooting requirements for Trust Wallet, as with any software, issues can sometimes arise. We've collected solutions for some of the most common problems to ensure users can easily use their wallet without any hitches.
Although there are specific issues, general troubleshooting is the most useful for the majority of traders. So, for any case, try the following steps first, as it could result in a simple fix to a common issue.
Make sure the app version is up to date, older versions may not work correctly
Turn the device on and off again, it's the classic way to solve problems and often works
Try changing from WiFi to 4/5G or vice versa
Check to make sure the VPN or firewall isn't impacting connections
For more specific issues, traders can contact Trust crypto and bitcoin wallet support.
TrustWallet Alternatives
As Trust Wallet is a software wallet, comparing it to other software wallets makes sense. Users always want to know the best crypto wallet, so our comparisons help them decide.
Trust Wallet Vs Coinbase Wallet
Coinbase tends to have a higher level of security than Trust, partly due to its compatibility with hardware wallets. So, for users who value security, Coinbase is the best cryptocurrency wallet between these two. However, it's not to say Trust has poor security, but the lack of cold wallet support brings it down slightly.
Customer support is relatively even between the two wallets. Many times, when using a wallet for cryptocurrency, the support is poor. However, these two both offer some solid operatives to resolve issues. When it comes to crypto support, nothing comes close to Trust, it has the most options on the market by far.
There isn't much between these choices to decide which is the best BTC wallet, so it is entirely down to personal preference. Business users may prefer Trust, but low-volume traders will usually plump for Coinbase.
Trust Wallet Vs Exodus Wallet
A digital wallet crypto solution provides a different experience to a hardware option. Because of this, Exodus wallet stands out for security. The ability to connect a Trezor wallet puts it above Trust for safety.
With a broader selection of cryptos available at Trust, it may appeal to more serious traders, but the choice at Exodus is still good enough for most users.
Final Thoughts
Trust provides users with a top software wallet, but some minor issues stop it from being the best. The excellent crypto choice makes it highly appealing, and the app is straightforward to use. The security is as good as it can be for a software wallet, with only a change to design offering any improvement.
It's free to download the app; the only costs are gas and exchange fees. The lack of hardware wallet connectivity takes it down slightly, due to the slightly reduced security level.
On the whole, Trust is a fantastic software wallet. It's not quite as suited for everyday users and beginners as Coinbase or Exodus, but it's an excellent option for business users and high-volume traders.
Q&A Session
In this section, Will Wood will address your inquiries and the most common questions regarding Trust Wallet and offer guidance to newcomers in the field. Feel free to submit your questions through our contact form, and we will strive to respond within 48 hours.