KuCoin is an impressive crypto exchange providing many features to traders. Although it might not have the name value of Binance or Coinbase, it still claims to cater to around 25% of the total crypto market. The crypto choice is incredible, covering more than 400 options. As a result, it's a high-quality option for any trader looking to utilize the altcoin market. Our KuCoin exchange review covers every aspect of this hugely popular crypto trading platform.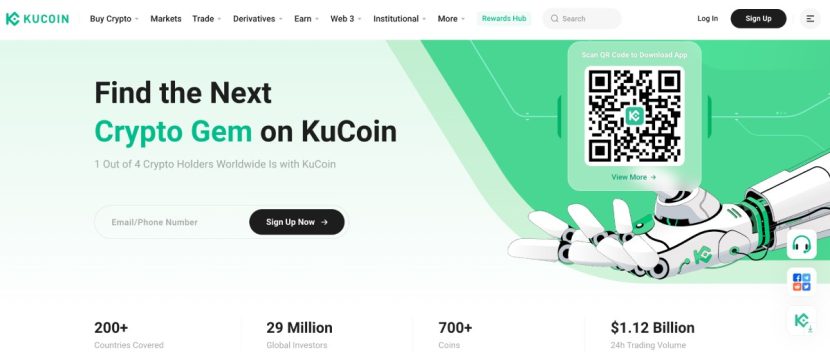 Introduction to KuCoin Exchange
KuCoin has one of the most impressive earning sections of any exchange. Traders can pool, stake, and lend their coins using the built-in asset management of the wallet. Although the platform isn't decentralized, it rivals many of the top DEX options for creating a passive income.
The choice of cryptos at the platform is superb. Traders can exchange more than 700 cryptos, which provides a massive variety. With lots of altcoins here, it's perfect for speculators. There's also the native token at the KuCoin exchange, offering additional benefits to users.
Our KuCoin exchange review covers all essential aspects of the exchange, ensuring users are up to speed with what they can expect to find. Due to our relentless obsession with detail, we ensure all traders are fully prepared.
| | |
| --- | --- |
| Founded date | 2017 |
| Native Token | Yes |
| Listed Cryptocurrency | 700+ |
| Trading Pairs | 1,000+ |
| Supported Fiat Currencies | 50+ including GBP, USD, EUR, and CAD |
| Supported Countries | 200+ |
| Deposit Fees | Only gas fees for crypto, fee for fiat deposit |
| Transaction Fees | Between 0.0% and 0.08% |
| Withdrawal Fees | Only gas fees |
| Application | Yes |
| Customer Support | Live chat, social media, blog |
Type of Exchange
KuCoin is a centralized exchange with mobile and desktop platforms.
Price
Free.
Fees
0.0% to 0.08% maker and taker fees.
KuCoin Crypto Features
Many earning options
Asset management choices
Native token
NFT marketplace
Number of Cryptocurrencies Supported
BTC
ETH
XRP
KSC
ADA
SOL
& 700+ more
Earn
KuCoin doesn't just cover trading options. There are plenty of opportunities to create a passive income. Some of the yield options here are incredible, providing over 60% returns. Of course, such high returns require research, but with our KuCoin review covering the most essential aspects, traders can discover what's available easily.
Customer Service
The customer service at KuCoin is high-quality. Traders can get in touch with the live chat 24/7, access multiple social media channels, and even get help through the app. It provides many ways to get a resolution to issues, which is always a positive sign.
Hardware Compatible
KuCoin exchange offers access for traders on both mobile and desktop. As a result, the majority of the market can use the platform. There's a mobile browser and app, giving all mobile traders access. Such substantial market penetration is an excellent start for users.
SPV or Full Node
KuCoin uses an SPV process to provide payments as fast as possible.
Who is KuCoin Crypto Exchange Best Suited For?
KuCoin is available to all traders, from beginner to expert. However, with some features requiring a broader knowledge base, the exchange is slightly better suited for more experienced users. Despite this, the incredible cryptocurrency selection ensures there's something for everyone here.
KuCoin Crypto Pros & Cons
Pros
The fees are some of the lowest on the market
KuCoin has some of the highest yield opportunities in the industry
Many different ways to create a passive income
One of the biggest cryptocurrency offerings
Cons
KuCoin isn't decentralized
There are no off ramp options for users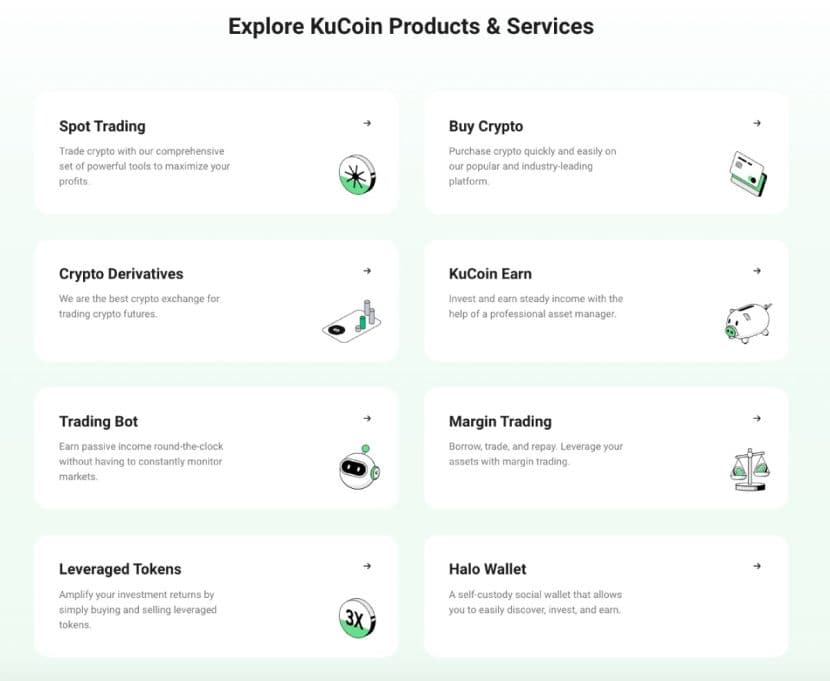 Services Offered by KuCoin Crypto Exchange
KuCoin exchange has one of the most substantial selections of features of all exchanges. It starts with trading but extends to earning opportunities, so there's a lot to get hold of. Our KuCoin review intricately examines what's on offer when investing at KuCoin.
The trading opportunities are the first aspect users will look to. As a crypto exchange, the ability to trade seamlessly is vital. Fortunately, this exchange provides an impressive collection of cryptocurrencies. With more than 700 options, traders can easily find their favored altcoins. It also has some of the lowest fees, with some trades offering zero commissions. It makes for an overall impressive trading experience.
There are also fantastic passive income features. Traders can stake many different assets, providing some of the best yields in the industry. Some can even go above 60%, which is a massively impressive return. Of course, risks remain, so traders must evaluate the risk and return level. Taking a slightly different approach, KuCoin also features an NFT marketplace. Although still a growing niche, there's plenty of potential in the world of NFTs.
KuCoin also has its own native token. It's far more rewarding than most exchange coins, providing daily rewards, fee reductions, and staking benefits. As a result, holding the KuCoin token is well worth it for regular crypto investors.
How to Create an Account
Creating an account with KuCoin is a simple process. Traders can sign up through both desktop and mobile sites. So, no matter the platform, anyone can start trading. We've put together a simple guide to creating an account with our KuCoin exchange review, so follow along to start trading:
Step One: Find the exchange's website
Step Two: Desktop users must click the sign up button
Step Three: Mobile traders have to find and download the app on their app store
Step Four: After downloading, open up the app and click sign up
Step Five: Fill in the required details and complete the registration process
Step Six: Go through the KYC process and provide the correct details
Although KuCoin doesn't have a regulatory license, there are still KYC requirements. It's slightly disappointing as anonymity is an important part of the crypto community.
How to Proceed with a Transaction
Starting the trading journey isn't a challenge with KuCoin. After creating an account, there are just a few steps to complete a trade. With our KuCoin exchange review, we offer a simple guide to carrying out a transaction:
Step One: Use the trade drop-down menu
Step Two: Select the form of trade to complete
Step Three: Specify the amount of crypto to purchase
Step Four: Make sure to fill in the memo for the applicable crypto
Step Five: Make sure the transaction is correct and complete the process
When carrying out a trade, it's critical for traders to include the fees as part of their calculation. Otherwise, working out accurate profit and loss figures is much more difficult.
How to Make a Deposit
There's no option to make deposits in the traditional sense. Instead, users can purchase crypto to add to their accounts using fiat. It's currently only for bank transfers and eWallets, so users can't use a debit card to complete the process.
How to Make a Withdrawal
Unfortunately, there's no offramp with this broker. So, while traders can send cryptos to other wallets, there's no way to withdraw from a crypto account to a fiat account.
Payment Methods
The crypto choice is utterly remarkable. It covers more than 700 cryptocurrencies, which is a considerable amount. Additionally, there are plenty of fiat options for purchases. The only real issue is the inability to withdraw funds using fiat, so there's no offramp option.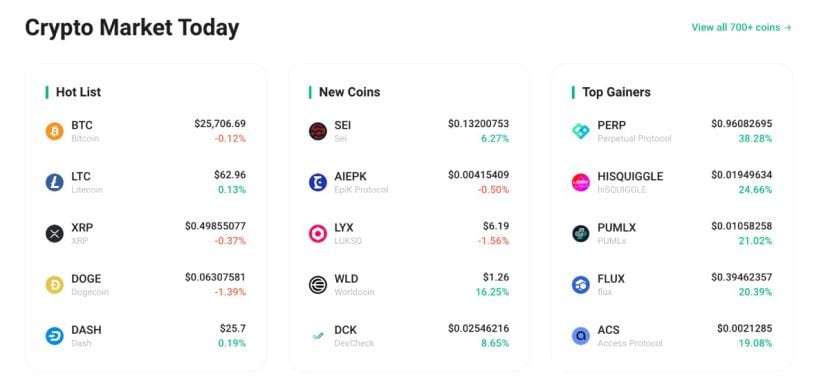 KuCoin Crypto Exchange Supported Tokens
Over 700 cryptocurrency choices is one of the best available. It ensures traders can discover the best trading options. The range of altcoins is comprehensive, so prospectors have many options. Some of the most prominent options are as follows:
BTC
ETH
LTC
BNB
DOGE
TRX
SOL
XRP
Of course, this is just a snapshot of the available choices, traders wanting the full rundown can find it on the platform's information page.
Is KuCoin Crypto Exchange Safe and Legit?
When it comes to safety, the KuCoin exchange has a superb reputation with consumers. Although there's no regulatory license, it still ensures users' protection, with many positive stories about its conduct.
There are no active complaints against the platform, and with it being one of the most prominent exchanges, it's fantastic to see it treating users fairly. It has an SSL certificate from CloudFlare, ensuring excellent encryption on all incoming and outgoing connections. With protection on crypto connections, it reduces the chances of hacks.
Despite the protections on the site, traders still have to be careful with their own funds, as security keys are critical.
Security
KuCoin has excellent security in place, which is partly due to it being the victim of a hack in 2020. Part of the trust in the exchange is how it dealt with this issue. All user funds were fully reimbursed, and the site spent heavily to upgrade its security. As a result, it has some of the best in the industry, helping traders to remain safe when using the site.
Although it doesn't have a regulatory license, its past behavior shows it's trustworthy. So, even if there's a hack, user funds will have protection.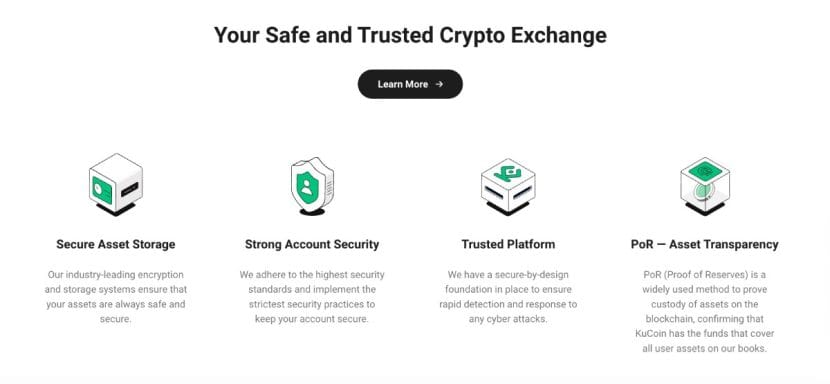 User Interface
KuCoin exchange has an excellent user interface, ensuring site navigation is simple. The menu is all at the top of the screen, which is the standard site layout. All menu options have drop-down bars, increasing the options without cluttering the screen. It ensures access to all critical areas of the site.
The guides in our KuCoin review make navigating any available platforms simple.
How to Use KuCoin Crypto Exchange on Desktop
Desktop trading is also relatively simple. The site has complete optimization, ensuring access to all areas is rapid. It ensures traders on a traditional PC don't have any barriers to trading. Our guide provides a simple start to KuCoin trading:
Navigate to the KuCoin site
Log into the trading account
Find the trading section
Choose the trade to make
If using fiat, select the payment method
Complete the trade
With only a few steps, it offers a fast process to go from signing in to completing a trade.
How to Use KuCoin Crypto Exchange on Android & iOS
Traders can use KuCoin on mobile whether they have an account or not. Our step-by-step guide makes it easy to download and get started.
Navigate to either the app store or Play store
Find the KuCoin app, download and install it
Either create an account or log into an existing one
Find the market options and the most appropriate way to trade
Select the best crypto and complete the transactions
There is a mobile browser site for users without the space to download the app. So, all mobile players can enjoy it without missing out on any trading opportunities.

Backup & Restore
Backups are a vital part of holding crypto. With the potential for hardware crashes and hacks, a backup reduces the risk of losing substantial funds. Each wallet offers a different approach to making backups, which means there isn't a single way to create one. However, the basic premise remains the same, whichever wallet traders use.
Anyone using Metamask can follow these steps to create a backup:
Find the menu and open it up
Search for the settings and enter the section
In the settings menu, find the security button
Press the protect the wallet button
Follow the instructions to create a wallet backup
While it's a relatively straightforward process, it's imperative to complete. It ensures any issues have protection available. Additionally, this method is purely for Metamask, so anyone using a different wallet must seek their instructions.
Troubleshooting
Of course, KuCoin isn't infallible, so sometimes issues do appear. Traders can sometimes come across common problems which require a resolution. We have carried out research to find the most regular issues and have provided solutions to those problems.
Traders who forget to fill in the memo when making a deposit can still use self-service recovery to complete the process. It requires traders to access the help center and follow the instructions to complete the crypto purchase.
It's not only this issue which can crop up at KuCoin. There are other issues, with solutions all available in the customer support.
KuCoin Crypto Exchange Alternatives
KuCoin is a prominent name in the crypto exchange world. However, it's not the only game in town. With other traders available and offering impressive selections, we've closely examined some of the other options, providing our readers with a quick and simple rundown.
KuCoin Crypto Exchange Vs. SwissBorg Exchange
There are a lot of similarities between KuCoin and SwissBorg. Perhaps the most obvious is they were both formed in 2017. However, both sites also have low fees, staking opportunities, native tokens, and KYC requirements. So, from the outset, they have a lot in common.
SwissBorg stands out from KuCoin with its regulation. It has regulatory licenses, whereas KuCoin legally trades as a digital assets platform. Each site provides a fantastic selection of different features, but SwissBorg is a close second overall.
Crypto offerings are way ahead at KuCoin, but it's the case with most exchanges. With over 700 cryptocurrencies, very few sites can compete with KuCoin. It also provides more access to purchase crypto with fiat, but SwissBorg offers an offramp, which KuCoin doesn't.
KuCoin Crypto Exchange Vs. Coinbase Exchange
KuCoin tends to offer a superior experience to Coinbase in general. There are some similarities, but generally, KuCoin has better options for traders. It has more cryptos, a larger range of features, and a native token. While Coinbase has regulation, it's not enough to compete with KuCoin overall.
So, unless regulation is a sticking point, traders will get more out of creating an account here.
Final Thoughts
KuCoin purports to have 1 out of every 4 crypto holders, and it's easy to understand why. It provides some fantastic features, with the amount of cryptocurrencies being an impressive starting point. The ability to create passive earning opportunities is also remarkable, as it adds some risk mitigation for users. It's awe-inspiring right from the outset.
KuCoin allows traders to access it from both desktop and mobile. It makes it simple to trade on their preferred platform. Low trading fees and the chance to decrease costs are excellent for low and high-volume users. There are also additional benefits to using the native token, such as rewards and extra staking.
Although it may have a steep learning curve, there's still enough in place to make it accessible to beginners. New traders may prefer a different exchange for more complicated functions, but most users can get started easily for standard trades.
Q&A Session
In this section, Will Wood will address your inquiries and the most common questions regarding KuCoin Exchange and offer guidance to newcomers in the field. Feel free to submit your questions through our contact form, and we will strive to respond within 48 hours.