Non-fungible tokens have gained a lot of popularity since the first one, Quantum, was minted in 2014. As a crypto enthusiast or investor, you've probably come across a few tokens and even invested in them. Every crypto investor knows about the security threats associated with owning assets, and has ways to safely store their tokens. We've created this NFT wallet review to help you understand how the storage systems work, the best models in the market, features, and also how to create and use them.
Introduction to NFT Wallets
NFTs' inherent quality is that you cannot replace them, which has led to substantial value appreciation over the years for most tokens. The most expensive NFTs ever sold was Merge, collectively bought at $91.8 million dollars. Others like 'Clock' and 'Human One' sold at $52 million and $29 million respectively. It only makes sense that an investor would want safe storage for these highly valuable assets. The possibility that your low-cost tokens could appreciate thousands of times their current value in the future should also motivate you to secure them.
Top NFT Wallets
Binance – The Overall Best Wallet
Ledger Nano X – The Most Secure Cold Wallet
ZenGo – The Best Free Software Wallet
Crypto.com – The Most Secure DeFi Wallet
MetaMask – The Best Free Self-Custody Wallet
Trust Wallet – The Best Open-Source Wallet
Math Wallet – The Best Web3 Hot Wallet for Multichain Transactions
Enjin Wallet – The Best Hot Wallet for Ethereum-Based Tokens
Coinbase – The Best Self-Custody Wallet for Beginners
Alpha Wallet – The Most Secure Open-source Wallet
Best Hardware Wallets Reviewed
1. Binance – The Overall Best NFT Wallet
Binance Wallet was launched in 2017 by Binance Holdings, which is based in the Cayman Islands. The platform started with the initial coin offering of the Binance Coin, however, it has transformed into one of the most popular exchanges and custodial wallets in the world. Binance works both as a wallet and exchange, allowing its users to buy, sell, stake, loan and swap NFTs and other crypto assets. The most impressive thing about Binance Wallet is the high volume of tokens and their high liquidity. Binance has a listing of more than 2.5 million tokens, which you can access using Wallet Direct. It has a complete portfolio including Binance Smart Chain, Ethereum and Binance Chain tokens. Binance Wallet's most impressive security features include 2-factor authentication using email or phone number, API access control, IP and wallet number whitelisting. The wallet is compatible with Android and iOS and also has a web extension. It offers a selection of 44 different languages. We'd give Binance a 4.8/5.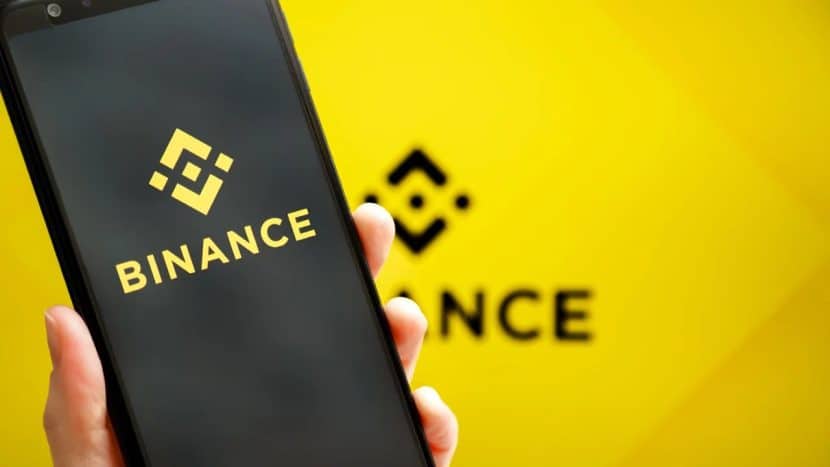 Pros
Wide variety of tokens to choose from
A global community of NFT Enthusiasts to work with
High-quality projects including drops from huge brands and celebrities.
Support for multi-chains and multi markets
Lots of free information and guides for beginners
Ease of use for both beginners and experts
KYC, 2FA and other anti-phishing security measures
Quick token conversions and fiat cashout processes
Cons
Binance chain tokens only available through the browser extension
2. Ledger Nano X – The Most Secure Cold Wallet
Ledger Nano X is one of the world's most trusted hardware wallets for storing both cryptocurrencies and NFTs. It was launched in 2019 and retails at $149. Since it's a hardware wallet that stores your private keys offline and ensures nobody can tamper with them or access your assets. The Nano X package from Ledger typically contains the wallet, cards to write your seed phrases, and a USB cable to connect the device to a phone or laptop. You need to pair it with the Ledger Live App to make transactions. Ledger can secure 5500+ tokens, making it one of the most versatile hardware wallets. You can easily set up the live app to receive Ethereum non-fungible tokens on both Ethereum and Polygon blockchains. The cold wallet is compatible with Windows, MacOS and Linux, and you can also use Bluetooth to connect it to your Android or iOS device. It's available in 10 languages including English, German, Turkish, Spanish, Russian, French and others. Users trust this cold wallet because it minimizes the chances of your private keys getting exposed to malware, hacking and phishing attacks. Our overall rating for this wallet is 4.7/5.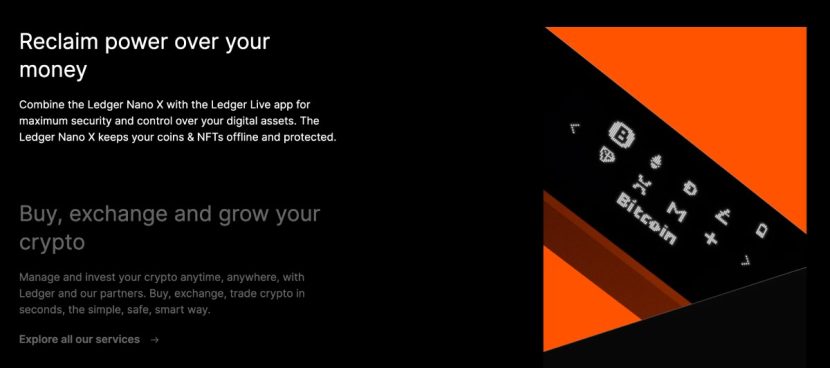 Pros
Stores the keys to your tokens offline
Compatible with many devices and operating systems
Supports all the major NFTs
Supports more than 100 apps
Staking available for Eth2
EAL 5+ Certified for security
Has passphrase and 2FA to minimize physical tampering
Cons
Many users find the interface tedious
Setting up the wallet is complex for beginners
Trading needs you to have third-party apps
3. ZenGo – The Best Free Software Wallet
The ZenGo software wallet was launched in March 2020 by the TelAviv-based software company, KZen Networks. Its most impressive feature is that it offers threshold signatures to create two mathematical secret shares instead of giving users private keys to lock their assets. You keep one of the shares in your device and the second is stored in their servers. This way, you're always in control of your NFTs as there's no single point failure. The system is also secure enough to eliminate the loss of your assets should your devices get hacked. Eliminating seed phrases makes it easier to keep your assets safe. ZenGo allows direct sale, purchase and swapping of tokens. It supports tokens minted on Ethereum, Tezos and Polygon blockchains, and allows users to display their favorite tokens in the gallery. They have Android and iOS compatible versions of the application on their site, and you can set the language to either English and French. ZenGo users have a high trust rating for this free software wallet, and our NFT Wallet Review it 4.6/5.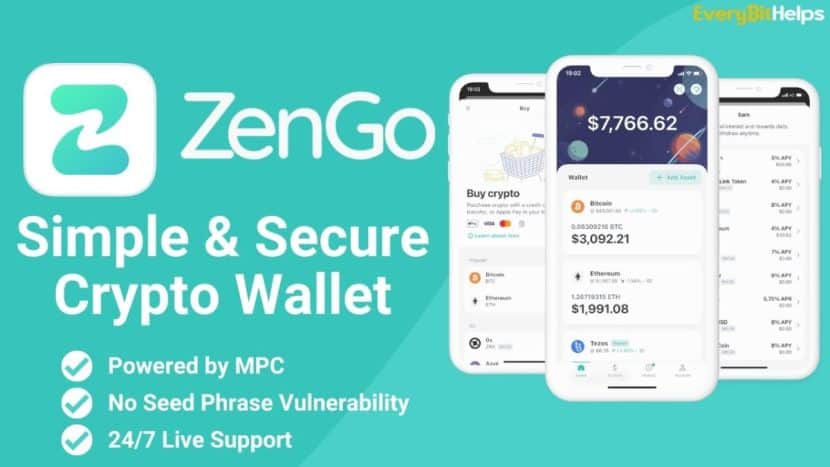 Pros
Secure wallet with MPC cryptography to eliminate seed phrase vulnerabilities
3 Factor Authentication process for maximum asset security
70+ assets supported
Multichain
Alerts and information against Web3 attacks, and also use of Forta security networks
Perfect hybrid of custodial and non-custodial wallets
Simple and friendly user interface for beginners
Cons
Only allows access to Ethereum non-fungible tokens
Hybrid custody gives a third party some level of asset control.
4. Crypto.com – The Most Secure DeFi Wallet
Crypto.com has been in operation since 2016. It currently serves as an app, hot wallet, exchange and marketplace. The Singapore-based company has built a reputation for itself for offering one of the most secure platforms to store, and transact non-fungible tokens. The wallet's most impressive feature is that it makes it easy for beginners to venture into DeFi without much technical knowledge. Its code is also open-source, and people constantly assess and improve its flaws. The application is compatible with Android and iOS devices and also as a browser extension. The wallet is free to use but you have to pay for some transactions. It also supports over 1000 tokens and NFTs. It's available in 10 languages including English, Italian, Portuguese, Polish, Russian, Spanish, Turkish, Romanian, Chinese, and French. Crypto.com has a high user trust rating, which is why we've ranked it third with an overall score of 4.5/5 in our NFT wallet review.
Pros
Supports NFT Storage, Web3 Support, staking, swaps and purchases
Token spotlight to help users review what's trending and profitable
2FA for added security
Helpful educational content for beginners in trading
Features tokens from top corporations like Formula 1
Cons
Doesn't have multisig
Low variety of tokens
5. MetaMask – The Best Free Self-Custody Wallet
Metamask was launched by Consensys in 2016, and started operations as a browser extension for Chrome and Firefox. However, the NewYork based company developed a downloadable app and made it available to users in 2019, increasing the ease of usage and popularity of the platform. It supports Ethereum, Polygon and BNB Smartchain, and you can add both ERC-721 and ERC-1155 NFTs from any network. This gives a wide selection of tokens to buy, swap or sell. The hot wallet app is compatible with both Android and iOS, but you should ensure you have the latest versions. The wallet offers both a password and seed phrase. The password encrypts your private keys while the seed phrase helps you recover your account's funds after loss. The wallet also offers users 20 languages to choose from, including French, Italian, German, Spanish, Filipino, Russian and Vietnamese among others. Metamask is popular and trusted by millions of users, which is why we've rated it 4.4/5.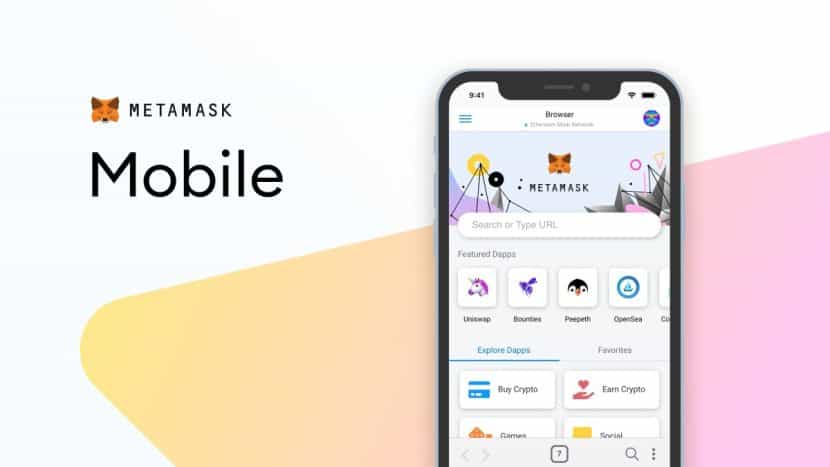 Pros
Access to the best collectibles and applications
Comprehensive guides on using the site for beginners
Compatible with all devices as its both an app and browser extension
High-security level
Access to Coinbase and Shapeshift exchanges
Open source code
Cons
Has slow processing speeds
Transaction fees
6. Trust Wallet – The Best Open Source Wallet
Trust Wallet was launched in 2017 and acquired by Binance in 2018. It immediately gained traction as one of the safest, most reliable and user-friendly hot wallets supporting more than 250,000 crypto assets. It's a multichain wallet supporting more than 33 blockchains including but not limited to Ethereum, Solana, Polygon, Tezos, xDai, and BNB Smartchain. Its multichain support gives users a wide selection of non-fungible tokens to buy, sell, and swap. It features a seed phrase recovery system that's currently popular in helping users reclaim their assets after losing access to their apps. It's compatible with iOS, Android, and Chrome. You can also choose from its 11 languages including English, French, German, Portuguese, Japanese, Bahasa, Turkish, Korean, Japanese, Chinese, and Vietnamese. Its security features include the open source code that people constantly improve on, and also the seed phrases for asset recovery. After our NFT wallet review, our overall rating for Trust Wallet is 4.2/5.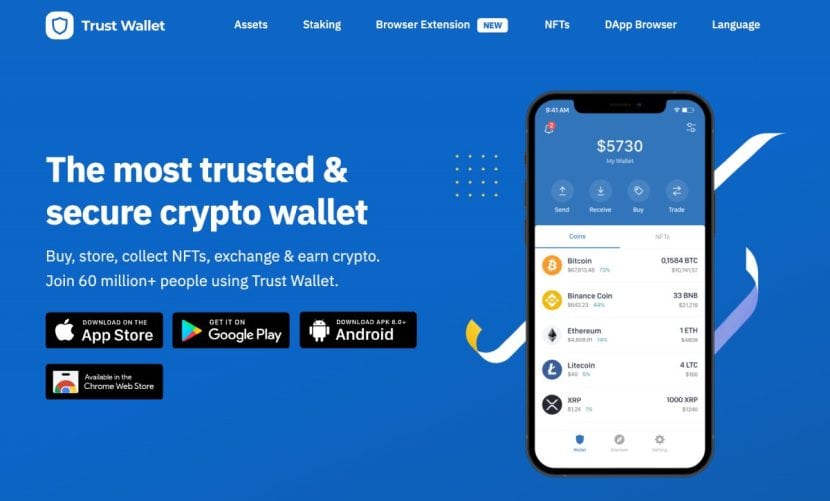 Pros
User-friendly mobile app
The decentralized non-custodial app, giving you complete control of your tokens
Ability to access NFT marketplaces through DApp browser for Android and Wallet Connect for iOS.
Supports 33 blockchains
No user data collection
Users can earn interest on NFTs
Cons
High fees are charged when swapping assets.
Seed phrase recovery is tedious to set up
7. Math Wallet – Best NFT Hot Wallet for Multichain Transactions
Math Wallet was launched in 2017 by Eric Yu. The Singapore-based company later got backing from Binance Labs and other investors to help expand its functionality and reach. Currently, it is one of the most popular wallets supporting more than 158 public chains. The hot wallet works with both Android and iOS, and you can also pair it with Ledger's cold wallets for an added security layer. They also have a browser version that works with Chrome, Edge and several other browsers. It is easy to integrate it with 9 other wallets for easier transactions, including Binance, Solana, Bitcoin, Tron, Polkadot, Harmony, Cosmus, Ethereum and Cloud. Languages available include English, Vietnamese, Japanese, Chinese, Bahasa, Portuguese, German, French, Vietnamese, Russian, Arabic, Hindu and Korean. Security features include mnemonic phrases, 2-factor authentication, and private keys. Math Wallet is popular and secure, and we'd give it a 4.1/5 rating.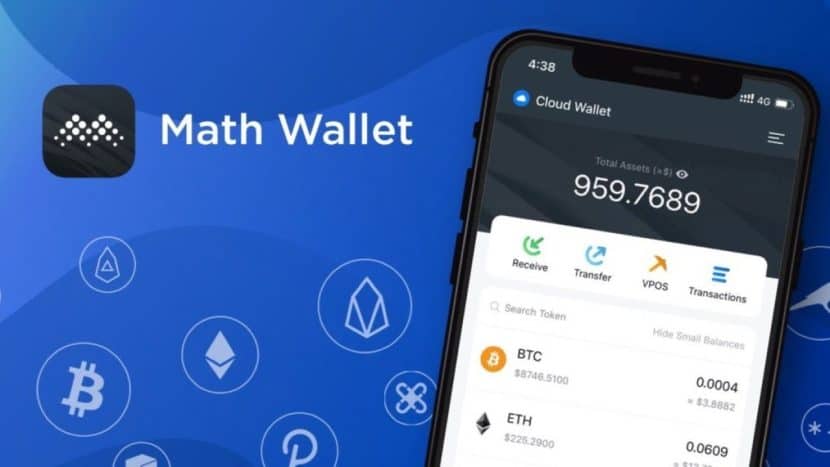 Pros
Supports 3000+ tokens and 158 public chains
Supports direct staking through the math vault
You can connect a hardware wallet
Cloud access to multi-private wallets
Has a DApp browser to search for NFTs
Cons
Fees when switching between the main wallet to a cloud extension
8. Enjin Wallet – The Best Hot Wallet for Ethereum-Based NFTs
Enjin Wallet was released in 2018 and has had more than 3 million downloads. The Singapore-based company created the wallet with gamers in mind, and hoped it would simplify their transactions. The best feature of the Enjin wallet is its user-friendly interface and compatibility with Android, and iOS devices. You can send as many as 100 NFTs in a single transaction using the Enjin wallet. You can create as many wallets as you need on the app and trade directly on the Ethereum wallet. Additionally, users get access to custom token libraries, simplifying their collection process. The security measures that Enjin developers have taken include blocking video recording, screenshots and keylogging, It also offers auto-lock biometrics to raise security. Available languages include English, Japanese, Romanian, and Filipino. Our overall rating for Enjin Wallet is 4.0/5.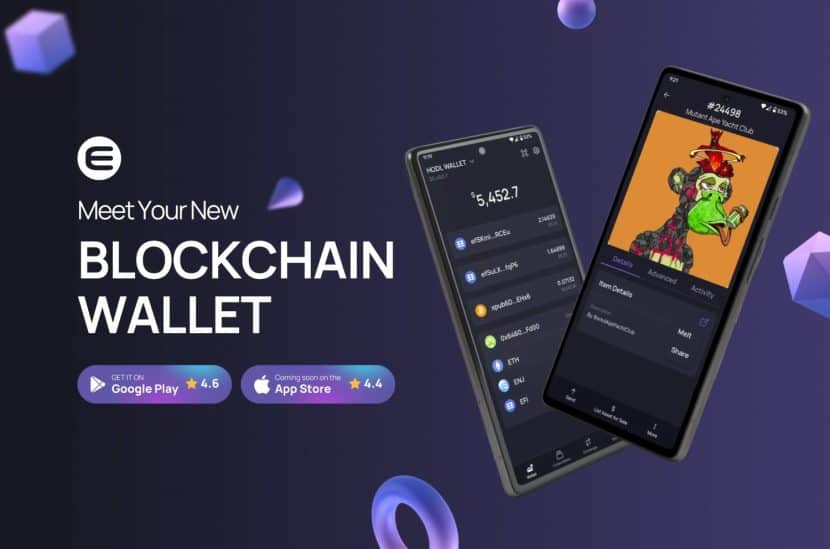 Pros
Supports the 10 major blockchains
Dual layer encryption and hardware AES
Allows biometric lock, minimizing vulnerability
100% Decentralized, enhancing privacy and security
Cons
9. Coinbase – The Best Self-Custody Wallet for Beginners
Coinbase has been in operation since 2012 as a distributed company. The US-based platform started out as a cryptocurrency exchange and later scaled to offer other products within the cryptocurrency ecosystem. The Coinbase self-custodial wallet came into the market in 2017 to give users more control over their tokens and assets. The wallet supports Polygon, Ethereum, Bitcoin, Litecoin, Dogecoin, Stellar Lumens, Solana and Ripple blockchains. Additionally, it works with these Layer 2 Ethereum networks: Avalanche C-Chain, Arbitrum, BNB Chain, Optimism, Fantom Opera, and Gnosis. The Android and iOS compatible wallet has a simple user interface that makes it perfect for beginners, and is available in English, French, Spanish, Italian, Dutch, German and Portuguese. Coinbase offers top-notch security measures like 2FA, AES 256 Encryption and compatibility with ledger cold wallets. We recommend Coinbase and according to our NFT wallet review, the platform deserves 3.9/5 stars.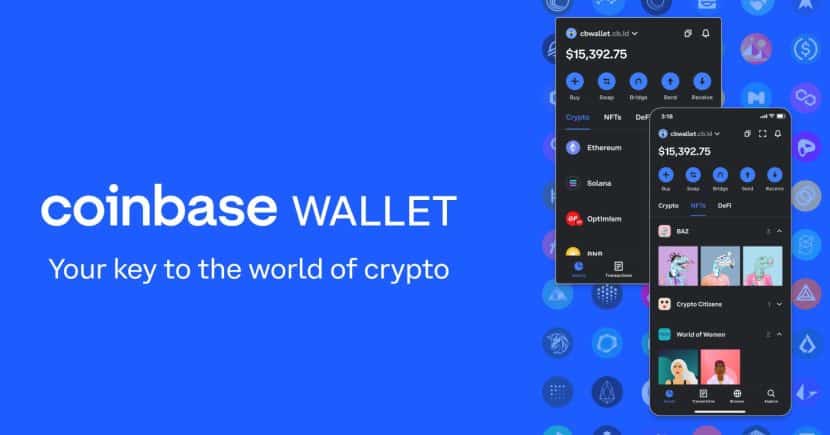 Pros
Easy to exchange tokens using the wallet
Supports all ERC20 tokens built on the Ethereum blockchain
High security level
Easy for for beginners in NFT trading
Web3 functionality means you can buy, sell and swap tokens without leaving them in CEXs
Cons
Not open source
It does not have a desktop App
10. Alpha Wallet – The Most Secure Open-Source Wallet
Alpha Wallet was launched in 2018, and was the first to natively support non-fungible tokens. The self-custodial wallet is owned by Stormbird PTE, LTD and has its headquarters in Sydney, Australia. The application supports all Ethereum-based tokens and DApps because it's multi-chain. It has a simple user interface, which is excellent for beginners. However, it's only available in English and Chinese. The app is compatible with both Android and iOS, and also allows you to avoid opening DApps by integrating Token Script in its operations. Currently, it has more than 500 forks in code, which has greatly improved the user experience on the app. We'd rate Apha Wallet 3.8 out of 5.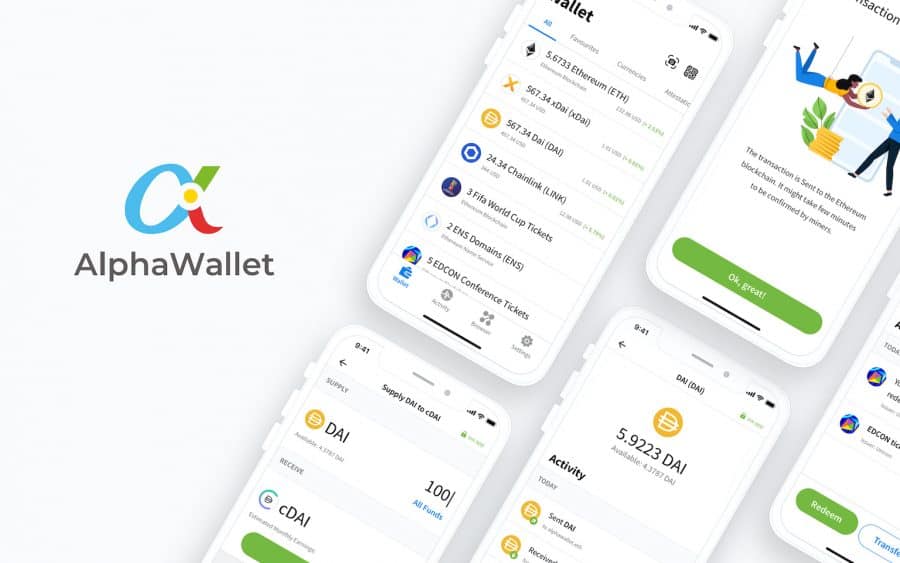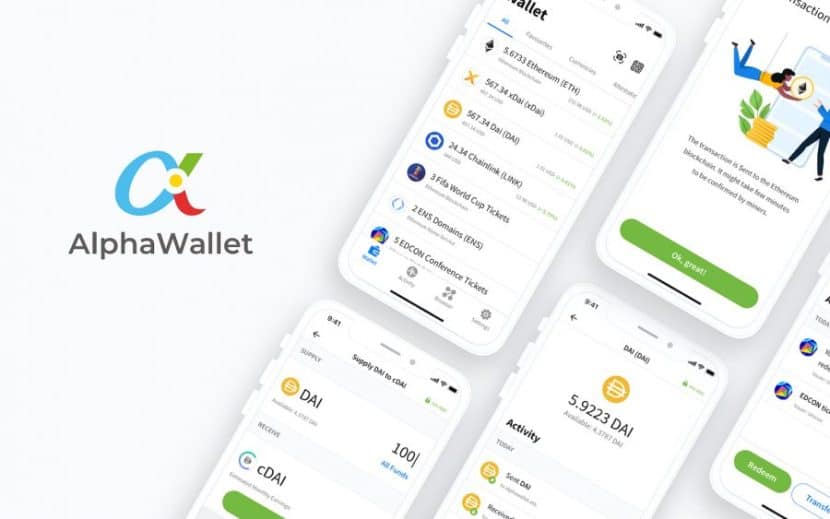 Pros
Uses enclave technology which is as secure as cold wallets
Supports all Ethereum-based networks
Works with Android, iOS and Desktop
Fully open source
Has the best security measures for users
Cons
Poor UI Design
Not user-friendly for beginners
What is a NFT Wallet?
These are programs that allow you to save your non-fungible tokens after acquisition. They're simply vaults where you can store your digital collectibles and access them any time you want to sell, swap or perform other transactions. Therefore, the wallet is a program that supports the specific blockchain that your tokens are based on. During a transaction involving NFTs, you have to generate a private key and send it to the recipient, and a wallet helps do that. The recipient only gets the asset in their wallet after you perform two factor authentication. NFT wallets can either be hot or cold. Hardware wallets are devices that store your private keys offline while the hot wallets are software that is always connected to the internet.
What to Look for When Choosing a Wallet?
Many software and developers have come up with wallets and made them part of the crypto ecosystem. It might be confusing to pick one unless you get an objective hardware wallet review to follow. Consider the following factors when picking a wallet.
Compatibility with NFT Marketplaces
The wallet will only be as useful as the number of marketplaces that allow it. Many marketplaces are trying to integrate cross-chain compatibility to reach a wider audience with their tokens. For example, an Ethereum-based NFT can only be bought and sold using a wallet that has Ethereum compatibility.
Security
NFTs are costly and they also have the potential to appreciate in value over time. People who buy and hold them should be wary of bad actors who might train to gain unauthorized access to their assets. The security protocols you should check for when investing in wallets include:
2 Factor Authentication
Passwords and Seed Phrases
Multisig operation
Cold wallet backup
Friendly UI
The user interface can also determine whether you'll have an easy experience with a wallet or not. A simple user interface will guide you on how to set up the wallet, perform transactions and secure your assets. You should also check if the wallet is available in your preferred language.
Multichain Support
Getting a multi-chain wallet will increase the number of tokens you can acquire and transact. Compatibility leads to the following benefits:
Access to more tokens
Increased liquidity as you can buy and sell to people across different blockchains
Increased decentralization and autonomy when trading
Cross-device Use
Some wallets have limitations on types of devices you can use them on, which makes it hard to do NFT transactions on the go. The best wallets will have downloadable apps for the major phone operating system, and also PC versions and browser extensions for ease of use across devices. The wallet should also sync all your transactions across the devices in real time.
How to Create a Wallet?
You can follow these simple steps in setting up a wallet to store, buy, sell and perform other NFT transactions. For example, you can follow these steps to create a Binance Chain wallet for transactions:
Log into your Binance App or website from your device.
The page will give you options for the version of the wallet compatible with your device. Pick the right one and download the file.
If for example, you want the wallet to be a browser extension, choose the software corresponding to the browser you commonly use.
When the installation process is complete, you will get a popup page to sign up your details. You can use your Gmail email address for the signup process. Note that you will use the email address for all your future signups.
Create the wallet and set up a recovery process. You can use a seed phrase with a tPhrase.
Add a password to your account as a second safety layer. It will keep all unauthorized people out of your wallet.
The wallet will generate a seed phrase that you can use to recover your tokens and other assets in case you lose access to the wallet. Once you confirm the seed phrase, your Binance chain wallet will be ready to use.
The Benefits & Drawbacks Of A NFT Wallet
Getting an NFT wallet is a necessity for both beginners in collecting tokens and people who have been doing it for some time. The security, transaction options and other features can be either beneficial or problematic. Here are some benefits and drawbacks of getting a wallet.
Benefits
Easier access to marketplaces like OpenSea and also DApps
All your tokens will be in one place for easier management
You can control your private keys securely
You can send and receive tokens all over the world
Galleries where you can see your investment portfolio
Search functions that help you find out trending and potentially beneficial tokens
Drawbacks
Hot wallets can compromise the safety of your digital assets when not backed with the right security measures.
Wallets without multi-chain support limit the transactions you can make.
Some wallets are incompatible with specific devices, making it impossible to access the marketplace.
Conclusion
The entry of big brands like Nike, Times Magazine, McLaren, Budweiser and others into the world of non-fungible tokens, confirms that these tokens are here to stay. They secure your investment, increase access to marketplaces and connect you with buyers and sellers. As a crypto investor or enthusiast, you cannot ignore the potential role that tokens can play in expanding your portfolio. Storing your tokens safely will ensure you do not lose your money, and that you can perform the transactions you'd like to at all times. Most importantly, there's no limit to the number of wallets you can have, and knowing a few of the best will improve your overall transaction and holding experience.
FAQs