As cryptocurrencies gain wider adoption, mobile cryptocurrency wallets are growing in popularity. They provide a convenient way to manage digital assets while on the move and are typically easier to use than most of their desktop equivalents. However, selecting the best mobile crypto wallet could be difficult for some people. Here is a review of the best 10 wallets we found, along with details on how we chose them.
Best Mobile Crypto Wallets
Binance – Overall Best Mobile Wallet
Coinbase – Best Mobile Wallet for Beginners
Metamask – Best for Ethereum Standard Tokens and dApps
TrustWallet – Mobile Wallet Supporting 1 million + Assets
Exodus Wallet – Best Choice for use with Trezor Hardware Wallet
Coinomi – Best Mobile Wallet with Long-Standing Reputation
Atomic Wallet – User-Friendly Wallet Supporting 500+ Coins
Electrum – Best Mobile Crypto Wallet for Bitcoin
Mycelium – Best for Multiple Hardware Wallet Support
Crypto.com – Best for Staking Rewards
Top Mobile Crypto Wallets Reviewed
1. Binance – Overall Best Mobile Wallet
Binance mobile crypto wallet is our top choice. It's available for iOS and Android users via AppStore and Google Store. Due to its robust features, it touts itself as the world's number one crypto wallet and exchange. Users can manage multiple portfolios on the wallet thanks to its support for over 600 cryptocurrencies. The wallet boasts a user-friendly interface, making it easy for beginners and experienced users to navigate. Binance also seamlessly integrates with its popular exchange platform, allowing users to conveniently trade and manage their assets.
In terms of fees, Binance does not charge anything for crypto deposits. If you, however, choose to use your credit card to buy virtual money, you may incur up to 3.75% in fees. Trading and instant buy/sell fees are reasonably set at 0.1% and 0.5%, respectively. Binance prioritizes security, employing numerous levels of protection, including SSL encryption and cold storage for assets. Users can also enable two-factor authentication for added security. The ability to stake particular cryptocurrencies and earn passive income is a unique feature of the Binance wallet. This feature makes it an attractive option for users looking to maximize their earnings.
Whether you're a beginner or an experienced trader, Binance provides a reliable and user-friendly option to manage your digital assets on the go.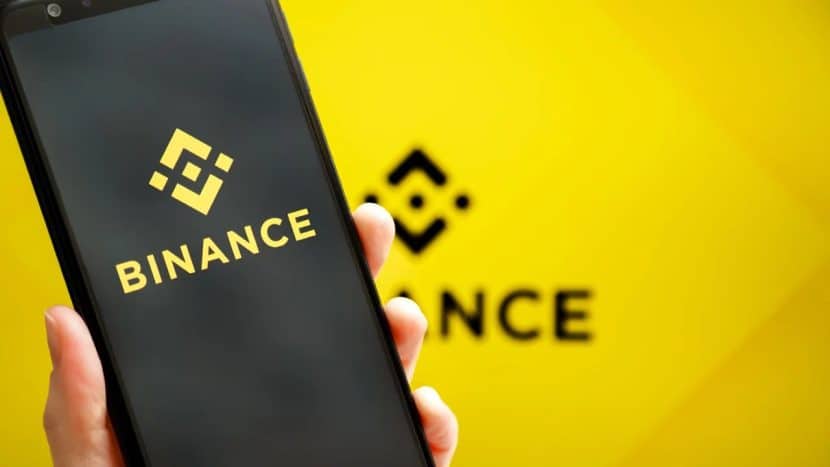 Pros and Cons
Pros
Accepts clients globally
600+ cryptocurrencies
Low transaction costs
Cons
2. Coinbase – Best Mobile Wallet for Beginners
Coinbase wallet is a self-custody crypto and NFTs storage solution owned by the famous Coinbase.com exchange company. Users can easily transfer funds between the wallet and the exchange, enabling seamless trading and asset management. As a non-custodial wallet, users have complete control of their private keys and hence the security of their coins. Your private keys are directly stored in your mobile device and encrypted with your password. Like Binance, the wallet also comes with a decentralized exchange (DEX), where you can trade digital currencies. In addition, the Coinbase wallet offers easy access to the Web3 world, thanks to its dApp browser. Users can also stake different tokens and earn passive income. It supports 100,000+ cryptocurrencies, including popular ones like Bitcoin, Ethereum, Litecoin, ERC tokens, and more. When it comes to fees, Coinbase charges a variable fee for transactions, which is typically a percentage of the transaction amount. Expect to incur between 0.5% and 4.5% depending on the type of transaction. The wallet itself is free to download and use. Coinbase is keen on user security and has implemented features such as two-factor authentication and biometric login options. It's a popular choice for individuals new to crypto or those who prefer simplicity and convenience.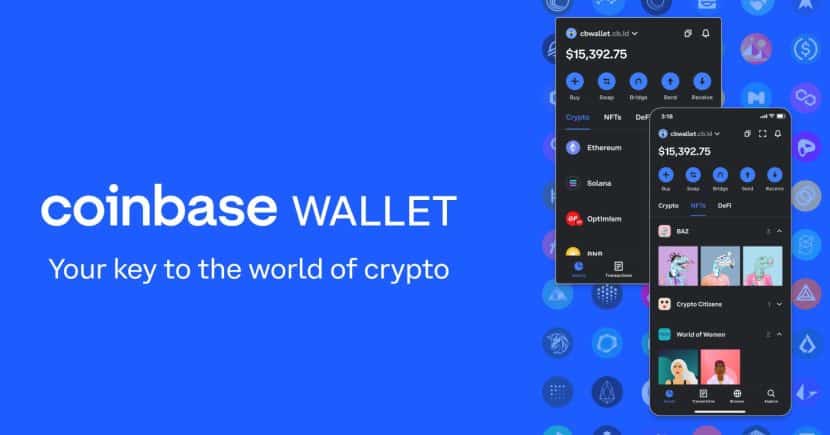 Pros and Cons
Pros
Beginner friendly
Easy to download and set up
Wide range of crypto support
Cons
Relatively high transaction fees
Limited NFT support
3. Metamask – Best for Ethereum Standard Tokens and dApps
Metamask is a mobile cryptocurrency wallet that is primarily made for connecting with Ethereum blockchain-based decentralized apps (DApps). The wallet offers consumers a straightforward and safe method to manage their Ethereum-based assets and take part in the expanding DApp ecosystem. It supports several cryptocurrencies built on the Ethereum platform, including Ether (ETH) and ERC-20 tokens. Users can stake and earn interest as well as receive rewards like airdrops. It does not, however, provide support for other blockchain networks or assets other than Ethereum. Users with diversified cryptocurrency portfolios may find this restricted support to be a disadvantage. In terms of fees, Metamask utilizes the Ethereum network's gas fees for transactions, which can vary depending on network congestion. You may also incur a 0.85% charge for any swaps. Security-wise, there is no question since this is a non-custodial wallet that gives you full control of your crypto through custody over your private keys. One of the unique features of Metamask is its built-in browser, allowing users to access and interact with various DApps directly from the wallet. This integration simplifies the process of engaging with decentralized finance (DeFi) protocols, NFT marketplaces, and other Ethereum-based applications.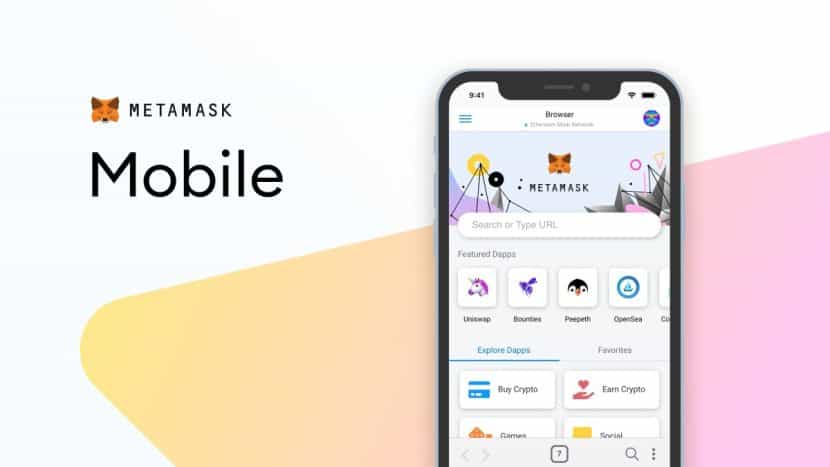 Pros and Cons
Pros
Supports popular dApps
Broad acceptability for Ethereum-based tokens
Intuitive user interface
Cons
Limited blockchain support
Slow customer care
4. TrustWallet – Mobile Wallet Supporting 1 million + Assets
TrustWallet is another popular mobile crypto wallet. It supports over 1 million assets, including different types of cryptocurrencies and NFTs. The wallet comes with other functionalities, such as staking to earn crypto rewards, a dApp browser, and an inbuilt crypto exchange. TrustWallet's support for staking adds an extra dimension of utility for users looking to maximize their crypto investments. It doesn't charge any fees, even for swapping. You are, however, responsible for settling all network fees. The wallet is highly secure and has never had a history of fraud ever since it was launched in 2017. Like Coinbase and Binance, it uses strong encryption technology and also offers biometric access to protect user funds. While it's a software wallet, it allows you to store EVM-compatible blockchain cryptos offline using the Ledger wallet. One of the unique features of TrustWallet is its integration with the Binance decentralized exchange (DEX). Users can trade cryptocurrencies directly within the wallet, making it convenient for those utilizing the Binance ecosystem.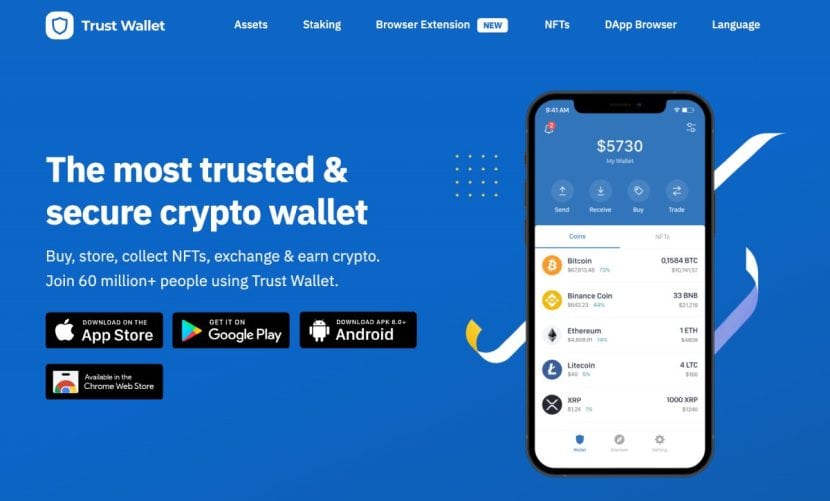 Pros and Cons
Pros
Supports 1 million+ assets
In-built decentralized exchange
Easy setup
Cons
5. Exodus Wallet – Best Choice for use with Trezor Hardware Wallet
Exodus stands out as a sleekly designed mobile crypto wallet with a user-friendly interface. It supports at least 250 cryptocurrencies, including Bitcoin, Ethereum, Litecoin, and several ERC-20 tokens. With its intuitive layout and easy-to-understand features, Exodus is an excellent choice for beginners entering the crypto space. The wallet is free to download and doesn't charge for using it. However, users still incur crypto network charges which vary across different blockchains. Securitywise, users have their private keys stored in their devices and encrypted with their password. We, however, didn't find a 2FA feature on the wallet during this review. Its code is also a closed source meaning it's not open for auditing by the public. The wallet also offers cold storage through its integration with the hardware Trezor wallet. Apart from that, it allows extra functionalities like staking and swapping of supported virtual currencies within the app. This integration simplifies the trading process and eliminates the need for third-party exchanges. The mobile wallet also provides a comprehensive portfolio tracker, giving users a clear overview of their cryptocurrency holdings and current value. This feature is handy for individuals managing multiple assets across different blockchain networks.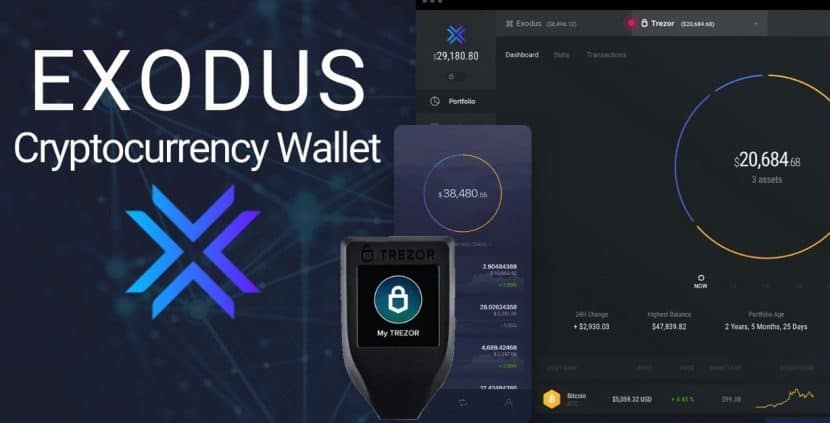 Pros and Cons
Pros
250+ crypto support
Great customer care
Staking available
User friendly
Cons
No 2FA security feature
Closed source
6. Coinomi – Best Mobile Wallet with Long Standing Reputation
Coinomi, a renowned digital asset storage platform, is highly recommended for novice and experienced crypto investors. Launched in 2014 by George Kimionis, it has become one of the oldest and most reliable multi-chain, multi-asset wallets available. Initially launched as a smartphone-only wallet, Coinomi has evolved to expand its compatibility to iOS mobile devices and Windows/ iOS PCs. This expansion has broadened its user base, allowing investors to access and manage their digital assets across multiple devices conveniently. One of the standout features of Coinomi is its extensive support for over 1700 tokens and coins, making it a versatile option for investors with diverse crypto portfolios. It offers Bitcoin, Ethereum, Litecoin, and numerous other digital assets, including a wide range of ERC-20 tokens. The wallet is compatible with 125 networks, ensuring seamless connectivity and accessibility for users across various blockchain ecosystems. Security is of paramount importance in the crypto space, and Coinomi prioritizes this aspect. It offers users 12 to 24 seed phrases to aid recovery in case they lose access to their wallet. Coinomi has multiple built-in integrations with third-party services, such as exchanges and payment processors. In addition, it supports SegWit addresses for Bitcoin, which can lead to lower transaction fees and faster confirmation times. This feature is particularly beneficial for Bitcoin users who value cost-efficiency and speed.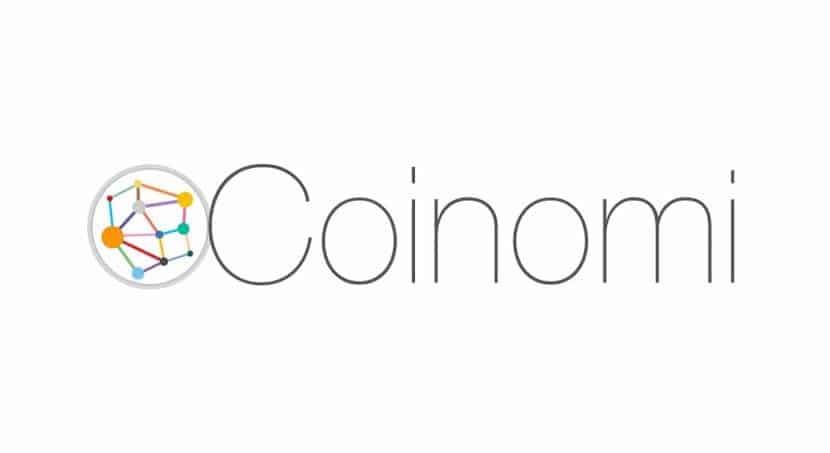 Pros and Cons
Pros
Long-standing reputation
String security features
1,700+ crypto support
Compatible with multiple blockchains
Cons
7. Atomic Wallet – User-Friendly Wallet Supporting 500+ Coins
Atomic Wallet is a mobile virtual currency wallet allowing users to manage their digital assets securely. Users can also engage with other blockchain-based services and participate in token sales or staking activities through the Atomic Wallet interface, which includes access to decentralized applications (DApps). It's accessible as a mobile app for iOS and Android smartphones. Atomic Wallet distinguishes itself by supporting multiple assets, being decentralized, and having a built-in exchange called atomic swap. Atomic swaps enhance user privacy and eliminate the risk of funds being held on centralized platforms. It is compatible with a wide range of cryptocurrencies, which is one of its primary benefits. Users may store, manage, and exchange over 500 coins and tokens within the wallet. Because of its versatility, it provides a comprehensive solution for individuals with a wide cryptocurrency portfolio. Regarding safety, the wallet protects secret keys and wallet data with robust encryption techniques, giving customers complete control over their funds. Users may back up their wallets using a mnemonic seed phrase, adding an extra degree of security in case of device loss or failure. Generally, the wallet aims to offer a user-friendly experience with an intuitive interface that simplifies cryptocurrency management. Like Coinomi, it provides real-time market data, portfolio tracking, and customizable token lists, allowing users to stay informed about their investments.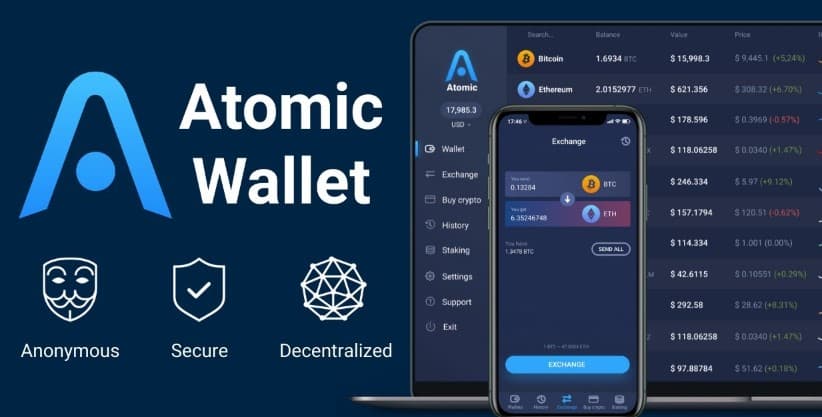 Pros and Cons
Pros
500+ coins supported
Simple user interface
Multiple user tools
Cons
8. Electrum – Best Mobile Crypto Wallet for Bitcoin
Before releasing a mobile version for iOS, Windows, and Android, Electrum was primarily developed as a desktop cryptocurrency wallet. It is a well-known open-source Bitcoin wallet that has become well-known for putting a strong emphasis on speed, simplicity, and security. Since its release in 2011, it has grown to be one of the oldest and most reliable Bitcoin wallets on the market. Users may safely handle their Bitcoin funds and have complete control over their private keys thanks to Electrum. The wallet uses a hierarchical deterministic (HD) system, which means it generates a unique seed phrase that can be used to back up and restore the wallet. In the event of gadget loss or malfunction, this functionality makes sure users may retrieve their wallets and cash. In addition, it comes with multi-signature support, which allows users to create wallets that require multiple signatures for transactions, enhancing security and enabling efficient control of funds. The wallet also enables users to set custom transaction fees, providing flexibility in managing transaction speed and cost. In terms of usability, Electrum is known for its straightforward interface and user-friendly experience. It does not require users to download the entire Bitcoin blockchain, making it faster to set up and use than full-node wallets. While it's a software wallet, it offers compatibility for Ledger, Trezor, and KeepKey hardware devices, allowing users to enhance security by storing their private keys on external devices.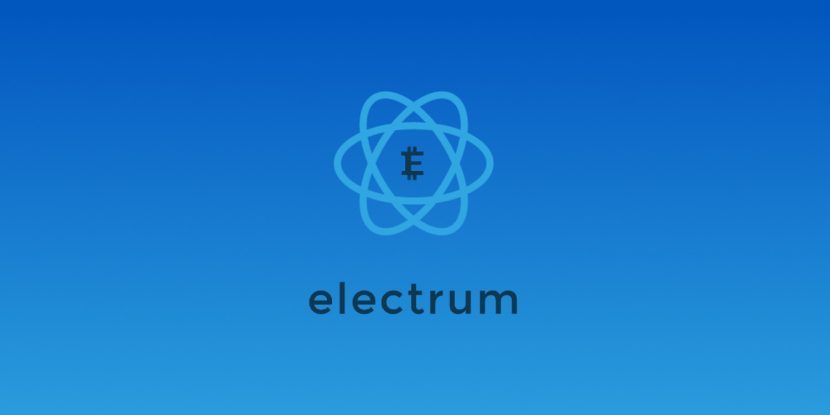 Pros and Cons
Pros
Easy setup
Open source code
Intuitive and beginner friendly
Cons
Slow customer support
Supports Bitcoin only
9. Mycelium – Best for Multiple Hardware Wallet Support
Mycelium is a popular mobile cryptocurrency wallet thanks to its robust security features, advanced functionalities, and user-friendly interface. It is specifically designed for Android and iOS devices, providing a convenient way for users to manage their digital assets on the go. While it was developed with a primary focus on Bitcoin, it now supports multiple other virtual currencies like Tether USD, USD Coin and Ethereum. We were able to store, send, and receive Bitcoin directly within the wallet without any errors during this review. The application offers integration of third-party services, such as exchanges and hardware wallets, to provide users with a seamless and comprehensive cryptocurrency management experience. We noted a strong emphasis on security. Mycelium employs Hierarchical Deterministic (HD) wallet structure, which generates a unique seed phrase to back up and restore the wallet. This seed phrase is crucial in recovering the wallet in case of device loss or failure. While it's software-based, it supports secure cold storage through its compatibility with offline hardware devices like Trezor, KeepKey, and Ledger Nano S. The Local Trader feature of Mycelium, which enables peer-to-peer Bitcoin trading within a certain geographic area, is another noteworthy aspect of the platform. Without the use of middlemen or centralized exchanges, users can communicate with local Mycelium users and conduct secure, private Bitcoin transactions. Mycelium has a solid reputation and is well-known for its stability and safety measures. To better serve its consumers, it is constantly upgrading.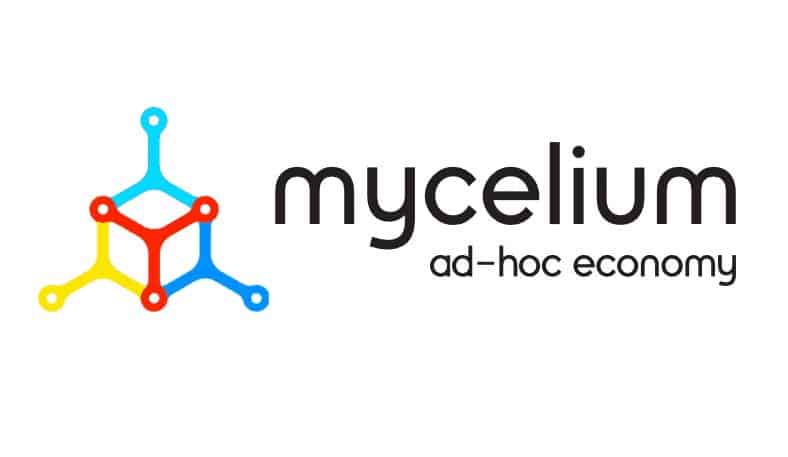 Pros and Cons
Pros
Highly reputable
Strong safety features
Has inbuilt exchange
Cons
Limited customer support
No staking feature
10. Crypto.com – Best for Staking Rewards
Crypto.com Wallet is one of the most popular mobile applications that serve as a comprehensive cryptocurrency wallet and financial platform. It was created by Crypto.com exchange company to offer cryptocurrency users a secure and user-friendly way to manage their digital assets on their smartphones. You can transact 250+ cryptos using this platform at competitive fees of up to 0.40%. The wallet has multi-currency support. You can use it with a wide range of cryptocurrencies, including popular ones like Bitcoin (BTC), Ethereum (ETH), and Litecoin (LTC), as well as numerous ERC-20 tokens. This allows users to manage multiple portfolios from one interface conveniently. As a non-custodial wallet, users have full responsibility for the storage of private keys. Additionally, the wallet incorporates advanced security measures, such as multi-signature technology, cold storage, and two-factor authentication (2FA), to protect against unauthorized access and potential threats. Navigation is easy even for first-timers, making it an excellent choice for beginners and professional digital asset users. Users can stake their cryptocurrencies to earn rewards of up to 14.5%, participate in token sales, and access other investment opportunities. The wallet interfaces with DeFi protocols, allowing users to engage directly with DeFi applications and services from the mobile app. Users can use this to gain access to features like decentralized exchanges, loan platforms, and yield farming. The wallet connects to the Crypto.com Exchange, allowing users to access their exchange accounts, check market prices, and trade cryptocurrencies directly from the wallet UI.
Pros and Cons
Pros
Supports an extensive list of cryptos
Competitive trading fees
Highly user friendly
Offers trading fees discounts
Cons
What is a Mobile Crypto Wallet?
A mobile crypto wallet is software created for mobile devices, such as iOS/Android smartphones and tablets. It allows users to securely store, manage, and interact with their cryptocurrencies on the go and perform various crypto-related activities conveniently. Mobile wallets are created with the user in mind; hence commonly come with user-friendly interfaces and intuitive functionalities to help crypto enthusiasts manage their funds effectively. They may have varying crypto support abilities ranging from multiple coins to specific blockchains like Bitcoin and Ethereum. Some wallets could have extra functionalities like in-built exchanges allowing users to buy, sell and swap supported virtual currencies from a single interface. They may also be integrated with NFTs marketplaces like OpenSea, giving you a chance to own and trade different non-fungible tokens. Mobile crypto wallets like Metamask and TrustWallet connect users with various DeFi features through their decentralized applications support. With this, you can stake your funds or invest in yield farming to earn passive income. Safety-wise, these applications offer varying security features. The most common ones include seed phrases to secure private keys, login passwords, and 2FA logins. Some may have extra features like biometric access
How Do They Work?
A mobile crypto wallet combines encryption, digital signatures, and blockchain technology to store and manage your cryptocurrencies securely. Typically, it doesn't hold your coins but the keys to the coins stored in their respective blockchains. To start using it, you must first download and install the software from a trusted source, such as an app store or Google Store. The app will generate a unique set of cryptographic keys: a public key and a private key while setting it up. The public key is your wallet address, which you can share with anyone to send you cryptocurrencies. On the other hand, the private key is a secret code that grants access to your funds and should be kept secure. Once your wallet is fully set up, you can receive, store, and manage various digital coins. Your wallet will keep track of your cryptocurrency balances and transaction history.
Advantages of Using a Mobile Crypto Wallet
Convenience: You can easily manage your digital currencies on the go with mobile wallets. They are accessible from anywhere and anytime allowing you to send, receive money, check your balance and make payments as long as you have your mobile device and are connected to the internet. They eliminate the need for carrying hardware wallets or relying on desktop wallets, providing a seamless user experience.
Security: Mobile cryptocurrency wallets put security first by taking a number of precautions. These include supporting biometric authentication, providing PIN or password protection, and encrypting private keys. Some mobile wallets provide backup and recovery tools to ensure you can restore your wallet in the event that your device is lost or damaged. Additionally, having easy access to your virtual money wallet means you can act swiftly if you sense your wallet has been compromised. What's more, there is a high sense of safety in being able to check your funds anytime from wherever you are.
Easy to use: These wallets are created with the user in mind. They are user-friendly, highly intuitive and straightforward even for first-timers. You can easily sign up, and access different features including managing your coins and completing transactions without requiring any complex training. They frequently suggest prompts to help learn your way around quickly.
Accessibility: You always have immediate access to your money with a mobile crypto wallet. You can quickly make payments or send funds without the need for third parties like in traditional banking systems. This accessibility can come in handy when traveling or in circumstances when access to a computer or physical wallet is restricted.
Interoperability: Mobile crypto wallets support a variety of cryptocurrencies and provide interoperability across numerous blockchain networks. They offer popular cryptocurrencies such as Bitcoin (BTC), Ethereum (ETH), and more, making it possible to manage a broad portfolio from a single dashboard. This adaptability allows for smooth interaction with various decentralized applications (DApps) and easy trading on exchanges.
Risks of Using a Mobile Crypto Wallet
App security: To store and handle cryptocurrency, mobile crypto wallets rely on smartphone software. The security of the software itself is a huge issue. If the app contains flaws or lacks adequate security measures, it may give way to other fraudsters. This can lead to the loss of your finances or sensitive data. You can prevent these threats by using a reliable wallet provider and keeping the software updated.
Anonymity: There are two major anonymity risks a mobile wallet user is exposed to. First, if they send money to the wrong address, or get hacked, it may be hard to trace and recover the funds since the recipients are anonymous. Second, most may request a Know Your Customer (KYC) process, which involves supplying personal identity information. This may endanger user privacy in many ways. For example, if a user's mobile device is stolen or hijacked, it can reveal the contents of their wallet and jeopardize their anonymity.
Platform risks: Typically, mobile cryptocurrency wallets are created for certain operating systems like iOS or Android. Every platform has unique security flaws and hazards. For instance, compared to iOS devices, Android devices are more susceptible to malware and unauthorized software installations. When downloading and installing wallet apps, users must exercise caution, make sure they are from reputable sources, and check the app's security features.
Cryptography risks: To safeguard transactions and private keys, mobile crypto wallets rely on cryptographic methods. Attackers may be able to take advantage of weaknesses in the wallet's implementation of cryptography if it is weak or defective. For instance, improper generation or storage of the encryption keys could allow someone to access the wallet without authorization. It's critical to select wallets that have passed thorough security audits and adhere to accepted encryption best practices.
Interoperability risks: The ability of various systems and wallets to operate together effortlessly is referred to as interoperability. While your wallet may have all the key security features, not all the services you connect to might be secure. This may expose you to the dangers of leaking sensitive data such as passwords due to the vulnerability of the different applications and websites you are using. To prevent any potential interoperability risks, it's imperative to check the security status of third-party applications and websites before connecting with your mobile wallet.
User risks: As a crypto wallet user, you are also a risk factor in the security of your wallet and funds. Activities such as sharing your private keys or other sensitive information with unknown parties result in the loss of your funds. You also have a high chance of getting your funds stolen if you fail to protect your mobile devices with strong passwords or biometric authentication. Ensure you are following best practices for wallet security including using 2FA, backing your data safely and only using trusted internet connections to reduce this risk.
How To Choose the Best Mobile Crypto Wallet for Your Needs?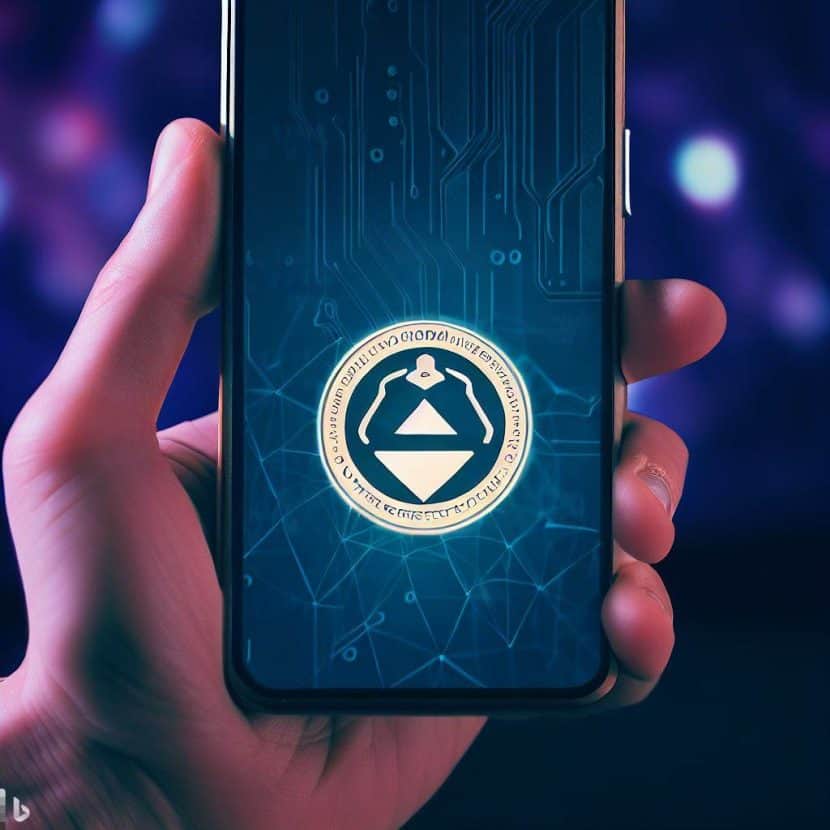 Choosing the best mobile crypto wallet is a key step for securely managing and accessing your cryptocurrencies. With numerous wallet options available, it's important to consider several factors to ensure you select a wallet that aligns with your requirements. Here are key aspects we consider:
Supported Cryptocurrencies/Crypto Networks
The variety of cryptocurrencies and crypto networks supported by the wallet is one of the first things to take into account. Some wallets may have restrictions on the networks they can connect to, and different wallets support different coins. Make sure the wallet you select is compatible with the exact cryptocurrency you plan to use. Additionally, if you plan to hold many coins, it may be best to consider going for a wallet that supports all the cryptos you intend to use. Generally, unless you are looking for a service that is unique to a specific wallet, it's best practice to have a mobile crypto wallet that gives you flexibility in terms of the number of cryptocurrencies you can own and transact with.
Supported NFTs
In today's fast-paced world that's quickly adopting the use of NFTs in different sectors including gaming, you may want to consider a wallet that supports them. That is not enough, the type and number of NFTs accepted are also important. If you already have specific ones you want to buy, then ensure your wallet is compatible with them. Otherwise, consider general compatibility with major NFTs marketplaces like OpenSea.
Interface & UI
A mobile crypto wallet's user interface (UI) and overall user experience are essential for usability and accessibility. Look for wallets with user-friendly interfaces that make it simple to explore different features and complete transactions. You should be able to navigate to different sections with ease, receive and send money and also secure your wallet without much hassle. Your overall experience while managing your cryptocurrency can be significantly enhanced by a well-designed wallet with simple and intuitive interfaces.
Security
The most important factor to consider when selecting a mobile crypto wallet is security. Choose wallets with high-security features such as biometric authentication, two-factor authentication (2FA), and strong encryption as a priority. Wallets that let you safely keep your private keys locally on your device and control them are typically favored over custodial wallets because they offer higher levels of security. The wallet's history of security problems and whether it has undergone external security audits should also be taken into account.
Compatibility
Consider the compatibility of the mobile crypto wallet with your device's operating system. The majority of wallets can be used on both iOS and Android devices, but it's crucial to make sure the wallet you select works well with your particular gadget. Also find out if the mobile crypto wallet supports synchronization across numerous devices. This will give you access to your funds from different platforms without compromising your overall user experience.
Price
While many mobile crypto wallets are generally free, some may come with premium features or charge fees for specific services. When comparing the cost structures of different wallets, keep your budget and the exact features you desire in mind. Sometimes, the higher-priced wallets may provide more functionality or better security features, but it's crucial to consider if the cost is justified depending on your demands.
How to Set Up a Mobile Crypto Wallet?
Setting up a mobile crypto wallet is a straightforward process. Here's a step-by-step guide to help you get started:
Step 1: Research and Choose a Wallet
To find a reputable wallet that meets your needs, it will be necessary to invest some time in research. Consider essential factors such as supported cryptocurrencies, security, customer care, ease of use and what existing clients are saying about their experience.
Step 2: Sign up and Download
Once you've made your decision, download and install the wallet app from the official app store for your device (Google Play Store for Android or App Store for iOS). Carefully read the terms of service and any disclaimers presented by the wallet app. Understand the conditions and risks associated with using the wallet. If you agree, proceed to the next step. Locate the app in your apps folder to launch it once the installation is complete.
Step 3: Create a Wallet
Usually, you will be asked to create a new wallet when you launch the software for the first time. To continue, select "Create New Wallet" or an equivalent option. Some platforms might provide extra options like importing an existing wallet.
Step 4: Create a Password
Make your wallet's password strong. A good password should be multifaceted, difficult to guess, and unique. You may want to use both uppercase and lowercase letters. Adding numbers, and special characters might enhance your password's strength. When prompted, enter your chosen password and then confirm it. Be sure to remember or securely store your password, as it is crucial for accessing your wallet.
Step 5: Backup Your Wallet
Most mobile cryptocurrency wallets will prompt you to back up your wallet by securing your recovery phases. These are usually a string of 12 words, also referred to as seed phrases. Write them in the precise order supplied. Make numerous copies and keep them safe, such as in safe or offline storage. In the event that you misplace your smartphone or forget your password, this recovery phrase is crucial for retrieving your wallet or gaining access to your money. Some wallets will ask you to verify your backup by selecting specific words from the recovery phrase. This ensures that you have accurately written down the backup and helps prevent mistakes.
Step 6: Start Transacting
Congratulations! You have successfully set up your mobile crypto wallet. The wallet app will typically redirect you to the main dashboard where you get to see an overview of your account balance and transaction history. From here, you can explore additional features, such as sending and receiving cryptocurrencies, connecting to decentralized applications (DApps), or managing specific tokens. Remember to regularly update your wallet app to benefit from the latest security enhancements and features.
How to Use a Mobile Crypto Wallet?
Using a mobile crypto wallet involves various actions, such as sending and receiving cryptocurrencies. Here's a step-by-step guide on how to perform these functions:
How to Send Crypto:
Step 1: Open the Wallet App
Launch the crypto wallet app on your mobile device and sign in to continue.
Step 2: Select the "Send" or "Send Crypto" Option
From your user dashboard, find the "Send" or "Send Crypto" button and click on it. The specific location may vary depending on the wallet you are using.
Step 3: Enter the Recipient's Wallet Address
Fill out the recipient's wallet address to whom you want to send the cryptocurrency in the appropriate field. You can either do this manually through copy-paste or scan a QR code containing the recipient's address.
Step 4: Specify the Amount to Send
Enter the amount of cryptocurrency you wish to send.
Step 5: Confirm the Transaction Details
Double check the information provided including the recipient's address, the amount to be sent, and any associated fees.
Step 6: Confirm and Send
Once you have reviewed and verified all the transaction details, confirm the transaction. Some wallets may prompt you to enter your password or provide additional verification, such as using biometric authentication to complete the payment. The time it takes for the transaction to be confirmed and reflected in the recipient's wallet depends on the specific cryptocurrency and network congestion.
How to Receive Crypto:
Step 1: Open the Wallet App
First, click on the mobile app to launch it then sign in.
Step 2: Locate Your Wallet Address
Look for the "Receive" or "Receive Crypto" option in your wallet. It may be accessible from the main screen or through a specific menu, or may be displayed on the dashboard openly.
Step 3: Copy or Share Your Wallet Address
You will be provided with a recipient address associated with your wallet and QR code too. You may send these details to the sender through email or any other convenient method. Always double check that the details are correct. Remember you may not be able to recover your crypto if it's sent to the wrong address.
Step 4: Wait for the Transaction
Now sit back, relax and wait for the sender to complete the transaction. Once they have initiated the payment, you will receive a notification informing you of incoming funds. However, you will have to wait for the relevant number of confirmations before you can access your money. This will vary depending on the coin you are using.
Conclusion
Mobile crypto wallets are a convenient means to store, manage, and transact digital money. They allow you to easily access your money from anywhere at any time as long as you have an internet connection. They are also user-friendly and secure. If you've read this review all the way through,you have probably already identified your favorite choice. Consider using Binance if you still require our assistance. Its numerous features, high level of security, and low fees make it our top pick. Coinbase, our second choice, may be the best fit if you have never used a crypto wallet before. We found it to be the best user-friendly mobile crypto wallet. Feel free to continue browsing our website for more useful articles. We are here to make your crypto and gambling journey smooth.
FAQs