Started in 2014 and headquartered in the British Virgin Islands
Has more than 1 million active users
Supports 125 blockchains and 1700+ tokens
Doesn't have KYC requirements
Supports a wide array of asset categories including coins, tokens, Segwit, DeFi, Forks, Test coins, Exclusives and more.
Outstanding features include a built-in exchange, wallet interoperability, Dappbrowser and web3 support, cold staking and crypto DNS.
Introduction to Coinomi Wallet
Coinomi is a non-custodial wallet you can easily access and use on both desktops and smartphones. It was started in 2014 by George Kiminois, and has its headquarters in the Virgin Islands. Today, the wallet supports more than 125 blockchains and holds more than 1700 cryptocurrencies. It's free to sign up, and has registered more than a million active users, making it one of the best crypto wallets to have, whether you're starting out in crypto, an expert or institutional client.
Coinomi's in-built exchange is a liaison between the wallet and two instant exchanges: Shapeshift and Changelly. Coinomi also allows users to access 168 Fiat currencies, and you can customize it into 25 different languages. In this Coinomi wallet review, we shall look at the features, services, Coinomi fees, ways to earn, pros and cons and everything else about owning the wallet. Let's start.
Type of Wallet

Software for Desktop and Mobile

Price
Fees

Free crypto storage and transactions
Outgoing transactions charged a fee depending on network

Features

Built-in Crypto Exchange
Cold Staking
Interoperable wallet
Crypto DNS
Giftcards
Dapp Browser and Web3 Support
Multi-seed support
Privacy and anonymity
24/7 customer support

Number of Cryptos Supported
1770+ coins and tokens
Earn
Yes, you can earn interest on specific crypto holdings
Customer Service

Support Center
Knowledge base
Support tickets
Live chat

Hardware Compatible

No hardware wallet integration feature

SPV or Full Node
SPV
Who is it Best-suited For

Crypto traders who value their privacy when making transactions

Pros

Doesn't charge transaction fees
Supports 25+ languages
Hosts many blockchains
Has many security measures in place
Is non-custodial
Supports 1770 tokens from different blockchains
No KYC needed

Cons

Incompatible with hardware wallets
Lacks two-factor authentication
Services Offered by Coinomi Wallet
Coinomi walet's level of organization sets it apart from others in the same field. Here are the services they offer users:
Inbuilt Crypto Exchange: Changelly and Shapeshift have collaborated with the wallet to allow users to make instant crypto swaps without exiting the wallet.
Cold Staking: The wallet supports the cold staking of certain assets, which allows users to invest and earn APY even when offline.
Wallet Integration: The multi-seed support feature makes it easy for users to import and use countless wallets, regardless of their encryption settings.
Multichain and coin support: Currently, you can store and transact with more than 1700 coins and tokens from 125+ chains. Coinomi supported coins are selected by following very specific criteria for the best customer experience.
Giftcards: you can easily convert your crypto into gift cards and use them in your favorite stores across the web.
Connecting Own Nodes: Coinomi also supports users who want to connect and run their Bitcoin nodes.
Access to Digital collectibles: The wallet also gives you access to ERC 721 Tokens. You can access and share your collectibles on the wallet's interface.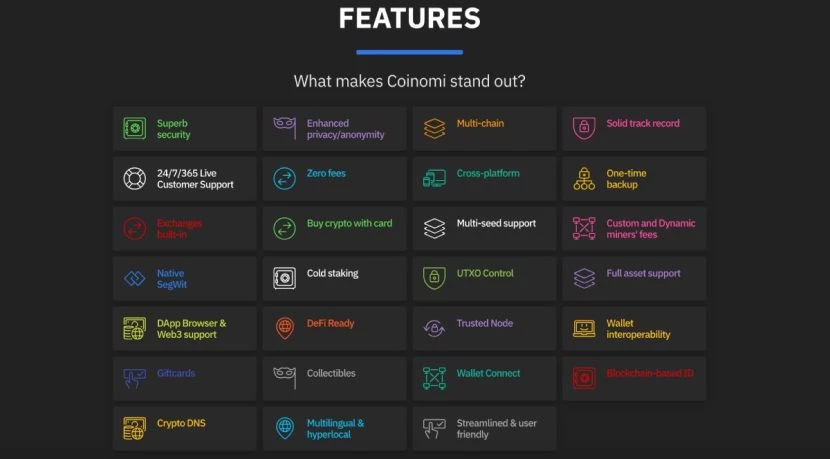 How to Create an Account
Follow these steps to create an account with Coinomi:
Visit Coinomi's website on your desktop or mobile device.
On the top left hand side of the exchange, you'll find the option to download the web3 wallet. It'll automatically download the desktop version if you're on a PC. On the other hand, it'll redirect you to the Android and iOS versions if you're using a phone.
After the installation is complete, launch the Coinomi app. it 'll ask you whether you want to sign in or sign up for an account. Choose to sign up.
Once you click on sign up, the application will open a popup with 24 seed phrases. This is sensitive information that you shouldn't share with anyone. Write the phrases or back them up on Google Drive.
Click next. The app will ask you to click on the seed phrases in the correct order from a list. Ensure you follow the order when feeding them into the system. Once you complete the 24, the system will ask you to click 'confirm'.
The next step will require you to create and confirm a strong password for your account.
Next, you have to choose the coins you're most likely to use on Coinomi from a drop-down list.
Once you accept the legal terms and conditions, your cryptocurrency wallet will be ready to use.
How to Proceed with a Transaction
In our Coinomi Wallet review, we discovered there are countless ways to transact using the crypto wallet. Here are details on how to proceed:
How to Make a Deposit
Sign into your Coinomi wallet on desktop or mobile.
In the dashboard or overview, you can select the asset you want to deposit into your wallet.
If for example you want to deposit Bitcoin, click on Bitcoin. The wallet will open details about your Bitcoin balance and also a Coinomi wallet address.
Carefully copy the receiving address, you'll need it to make the deposit.
You can post this in the send section of the wallet you'll be depositing the currency from. Choose the amount to deposit and complete the transaction.
The Bitcoin should reflect in your Coinomi wallet within a short time.
How to Make a Withdrawal
Log into your Coinomi on your desktop wallet or android app.
Choose the asset you'd like to withdraw by pressing the 'send' button next to the asset.
The system will ask you for the recipient's address. Here, you can key in the destination wallet address.
Decide the amount of cryptocurrency you want to withdraw and ensure you have enough for the withdrawal and any fees charged by the network.
Click high priority if you need to fast track the process, and then confirm the transaction.
The cryptocurrency will reflect in your account within a short time.
Coinomi Wallet Supported Tokens
Our Coinomi wallet review found that it supports more than 150 blockchains and 1,700 plus coins and tokens. Some of the top tokens supported include: Bitcoin, Bitcoin Cash, Ethereum, Dash, Digibyte, KoboCoin, Komodo, Feathercoin, Hellenicoin, Bata, Aeron, Bitcore, BlackCoin, Gridcoin, Internet People +thousands of others.
Is Coinomi Wallet Safe and Legit?
Coinomi is a non-custodial wallet, which means that you store your private keys. It's worth noting that Coinomi has never been hacked. The self-custodial arrangement places the responsibility over your crypto assets fully in your hands. It also enforces the no KYC and bureaucracy when you want to access your funds. This means they don't track transactions or store details of your IP or activity. These measures enhance safety because when there's no tracked data, there's nothing for hackers to use against you. It's trusted by more than 1 million users, making it a convenient and legit cryptocurrencywallet.
Security
Coinomi offers a plethora of safety features to its users. These include:
Encryption and Authentication: The website has SSL encryption which means that third parties cannot access information posted on the website.
Two-Factor Authentication: You have to authenticate every login using a code sent to your email address. This is the only way for Coinomi to ensure you're the one accessing the account.
Cold Storage: Coinomi doesn't store the private keys to your crypto. It also allows you to integrate a wide selection of wallets into its system. You can choose to store your crypto in any wallet whose level of security you trust.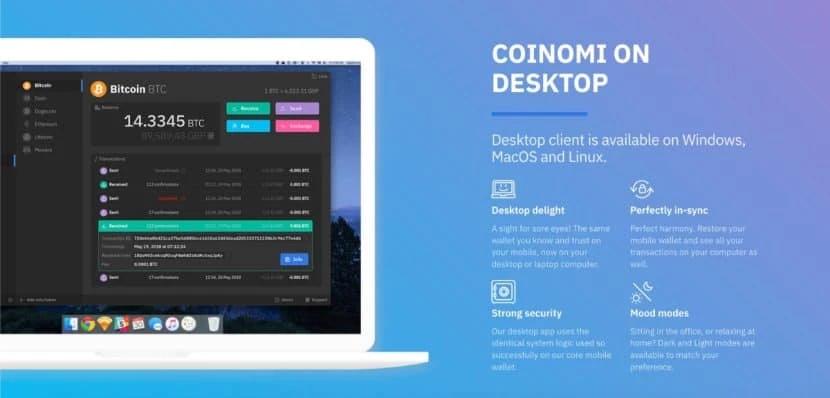 User Interface
Coinomi has a simple and user-friendly interface that works excellently on both desktop and mobile.
How to Use Crypto Wallet on Android & iOS
Download the Coinomi eWallet on your Android or iOS device
Click sign in and follow the 2FA process
Once the dashboard opens up, you can access all the features and services like receiving, buying, transfering, and exchanging assets.
You can also switch to other complex features like NFT marketplaces, yield farms, crypto loans and more.
How to Use Crypto Wallet on Desktop
Open the Coinomi desktop app you already installed on your PC.
Sign in with your credentials and complete the two-factor authentication.
The app will open the dashboard where you can access the basic functions of Coinomi's wallet.
You can also access advanced features on a separate tab.
Backup & Restore
Backup
Backup is performed when creating the Coinomi wallet for the first time.
You get a 24-word seed phrase you're supposed to use to verify account ownership.
Write down the phrase on paper or create a backup on Google drive.
Restore
Download the app on your desktop or mobile device.
After the initial setup, click on the app to start the setup
Instead of clicking 'create new account', choose to restore an old account.
The system will ask you for the 24 words or seed phrases. Enter them in the right order.
Click confirm once you complete the process.
You will regain access to your old crypto wallet.
Troubleshooting
Here are solutions to some of the most common problems you might encounter according to our in depth Coinomi wallet review:
Money deposited doesn't reflect in the account
You should give a deposit between 24 and 48 hours to reflect in your Coinomi account. If the money still doesn't reflect in your account, contact support.
Try and clear the cache if you're using an Android device. Restart the device if the first option doesn't work.
You cannot see some coins in the wallets
You can uninstall the wallet concerned and install it again. If the problem persists, check the ISP, router and firewall and ensure they aren't blocking any ports.
Coinomi Wallet Alternatives
Coinomi is an excellent example of a secure multi-chain wallet that allows you true ownership for 96 cryptocurrencies and ability to interact with 1,600 other tokens. It has an amazing array of features for both crypto and fiat transactions. Look at these two alternatives our Coinomi review recommends:
Coinomi Wallet Vs Phantom Wallet
Phantom wallet was launched in 2021 and has its headquarters in Boston, Massachusetts. It's very popular within the Solana ecosystem as it's a decentralized and self-custodial wallet. Phantom also allows users to hold and transact with thousands of other tokens in the Polygon and Ethereum Blockchains. However, compared to Coinomi, Phantom offers very limited options, as Coinomi supports 150 blockchains. The two cryptocurrency wallets are still excellent for decentralized transactions.
Coinomi Wallet Vs Jeton Wallet
Jeton wallet is UK based and regulated by the FCA. it's more geared towards fiat transactions as it supports over 50 fiat currencies. It only offers 6 cryptocurrencies, which is very limited when compared to Coinomi's 1700+ options. Jeton crypto wallet is also centralized and has KYC requirements, which is different from Coinomi's no KYC rule. However, you can still check out what Jeton wallet has to offer.
Final Thoughts
Coinomi is a hierarchical and deterministic wallet that derives all private keys from a master key. It offers one of the best selections of multi-chain solutions to users. You can deposit, withdraw, swap and perform other transactions using the wallet. The fact that it's never been hacked shows how much the creators have invested in security of the user's assets. You can download and use Coinomi for crypto swaps, to access dApps, web3 features, and other functions within the DeFi market. After comprehensive Coinomi Wallet reviews, we're sure you'll enjoy a lot of convenience using it.
Q&A Session
In this section, Milicent Ngugi will address your inquiries and the most common questions regarding Coinomi Wallet and offer guidance to newcomers in the field. Feel free to submit your questions through our contact form, and we will strive to respond within 48 hours.
You can withdraw crypto by sending it into another wallet.
It's free to send and receive cryptocurrencies on the Coinomi Wallet. Any network fees charged goes directly to miners.
Coinomi is owned by George Kiminois, and has its headquarters in Nicosia, Cyprus.
Yes, there's several ways to buy crypto on Coinomi. These include BTC direct, and using credit cards.