Software wallet for desktop and mobile phones
UK based and regulated by the FCA (Financial Conduct Authority)
Free to install, and offers low transaction fees
Offers more than 70 payment methods and 50 fiat currencies
Accepts 6 major cryptocurrencies
Offers business banking and merchant payment solutions.
Introduction to Jeton Wallet
Jeton wallet was launched in 2017 and is headquartered in the United Kingdom and regulated by the FCA. The wallet developers aimed to create a payment solutions provider with an international reach, which they've achieved. Currently, Jeton offers more than 50 fiat currency transfers across the globe, and supports more than 70 payment options. They also have a cryptocurrency wallet that accepts Bitcoin, Bitcoin Cash, Ethereum, Litecoin, Dogecoin and Ripple.
Setting up an account with Jeton is easy and free. The Web3 wallet has gained a massive following and they currently boast more than 1 million users. In this Jeton Wallet review, we delve into features of the wallet, services, accepted currencies, how to get started, benefits of the wallet and more. Shall we start?
Type of Wallet
Software for desktop and mobile
Price
Free
Fees

Free sending and receiving fiat and crypto
1%crypto withdrawal sender fee
3.95% Wholesale exchange rates

Features

Money transfer
Crypto Deposit and Withdrawal
Save Money
Business banking solutions
Merchant Payment solutions
Affiliate program
Jeton Card

Number of Cryptos Supported
6
Earn
Yes
Customer Service

Live chat
Help desk
Support email

Hardware Compatible
Yes
SPV or Full Node
SPV
Who is it Best-suited For

Individuals who want to make fiat money transfers
Businesses
Crypto traders

Pros

Supports over 70 payment methods
ISO27001 accredited payment solution
Available in more than 100 countries
Accepts crypto transactions
Allows users to save and earn
Supports 50+ Fiat currencies

Cons

Only supports 4 cryptocurrencies
High wholesale exchange fees
Services Offered by Jeton Wallet
Jeton Debit Card
You can apply for a contactless Jeton visa card that will be delivered to your doorstep. You can use the card for all your online and physical transactions, and load it in your Jeton wallet platform. The card is acceptable in all stores that accept visa cards.
Jeton Cash Payments
Once you create an account with Jeton, you're able to top up funds and use them for all manner of online services. Jeton has resellers where you can buy their credit and reload your wallet. The payment system is convenient because you can safely make online transactions without revealing your banking details.
Jeton Business Account
The wallet also offers business banking services for companies that want a simple and convenient way to make and receive online payments. The business account allows users streamline and manage remittances from one place.
Merchant Payment Gateways
We also found out during our Jeton wallet review that it also offers payment gateways for businesses that want to expand their customer base around the world. With their merchant payment gateway, you can integrate more than 70 currencies and access 40 global payment options into your online store. The setup is free, PCI DSS compliant, and has fraud protection.
Crypto Deposits
Jeton has a cryptocurrency wallet that allows you to send and receive crypto payments. You can deposit Bitcoin, Bitcoin Cash, Litecoin, Ethereum, Dogecoin, and Ripple. The deposited cryptocurrency will be shown in currencies like USD and Euro. However, you can still send it to other crypto wallets.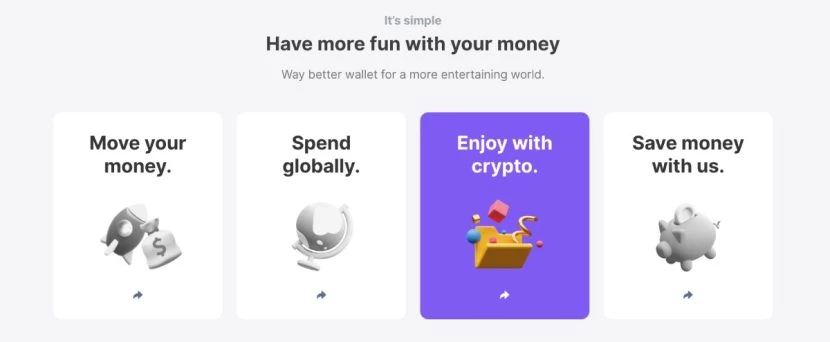 How to Create an Account
Visit Jeton's website on your desktop computer to get started.
At the top left hand corner, you'll see the sign up option. Click on it to access the registration form.
The form will require you to fill in details like your phone number, email address, password, first and last name, and date of birth. Ensure you give accurate details.
Once you click the Sign up button, the system will send a verification code to your email address. Fill in the code and give the system a few seconds to process it.
The second part of the registration process will open up requiring your address details. These include your country of residence, address and postal codes.
Once you fill in the details and agree to the terms and conditions, you can access the wallet.
How to Proceed with a Transaction
You cannot make a transaction with the Jeton ewallet before completing the KYC verification. You have to complete the ID verification and proof of address before you can access the transactions page.
How to Make a Deposit
Log in to your Jeton account after completing the registration and KYC process.
Click on the link that says 'Deposit' on the dashboard and choose instant bank transfer. Click continue.
Enter the amount you'd like to deposit. The site will redirect you to the instant deposit page where you can select your bank from the list.
After choosing your bank, the site redirects you to your bank's website, where you can login with your online banking credentials.
Confirm the transaction and click deposit. The transfer will be completed and you'll see the amount in your Jeton ewallet.
How to Make a Withdrawal
Click on the withdrawal tab on the dashboard.
You will get options such as the Jeton Card, bank transfer and card payment and the corresponding processing time.
Choose one and pick the currency and amount. The system will automatically calculate the transaction fee.
The process will be complete within a few seconds.
Jeton Wallet Supported Tokens
The wallet only supports 6 cryptocurrencies:
Bitcoin
Litecoin
Ethereum
Bitcoin Cash
Dogecoin
Tether.
Is Jeton Wallet Safe and Legit?
Jeton is UK based and licenced by the FCA (Financial Conduct Authority). They also provide superior quality data protection through their level 1 Payment Card Industry Data Security standard. Therefore, the wallet keeps your money safe at all times.
Security
We found the following security measures in place during our Jeton Wallet Review:
Encryption and Authentication: All data on the website is encrypted following DSS standards. You won't have to worry about data breaches when using the wallet.
Two-Factor Authentication: The site helps users set up the two-factor authentication when setting up the account. The system keeps the account free of hackers.
Cold Storage: You can connect with a cold wallet for safe keeping of your private keys.
User Interface
Our Jeton Wallet Review found that this is one of the few wallets with a simplistic and straightforward interface. The desktop version has an orange background with the links and buttons carefully placed within reach. You can log in, signup, access personal and business solutions and even contact support with any queries via the live chat. The site is available in ten other languages besides English. The wallet and all its functions are simplified for even beginners in crypto to carry out successful transactions.
How to Use Crypto Wallet on Android & iOS
Download the Jetton App on Google Play Store, or the Apple App store. It will create an icon on the phone's homescreen.
Click to open the app. It will give you a signup option after the login tap. Click on sign up.
Fill in your email address, phone number, first and last name and date of birth.
Once you fill in these details, the app will redirect you to the page where you have to provide your home address, location and postcode. Provide accurate details.
It'll then send an authentication code to your email. Once you verify, it will redirect to the KYC verification.
After providing proof of ID and address, you can access all app functions.
How to Use Crypto Wallet on Desktop
Visit the Wallet's website on your desktop browser.
At the top left corner, choose 'Sign In' to access your account.
Once you provide your email and password, it will initiate the two-factor authentication.
Fill in the code sent to your email.
The site will direct to your dashboard where you can access all the services available on the Global eWallet.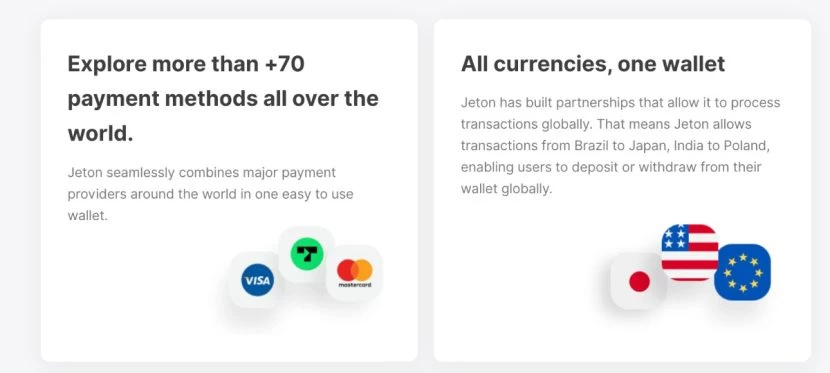 Backup & Restore
The two-factor authentication is set up to ensure people who don't have access to your account and email cannot access your Jeton ewallet. The ideal way to backup is ensuring you've backed up your Google password to Google Drive.
Restore
You can reset your password using the automated password retrieval process.
On the login page, click on the 'Forgot your Password' Link.
Enter the email address you opened your ewallet with.
Check the verification link sent to your email and use it to create a new password.
You can also contact support if you also cannot access your email address.
Troubleshooting
Here are answers to some of the common issues you might encounter when using the wallet:
When a bank deposit doesn't appear on Jeton Account
Bank transfers can take as much as 48 hours to reflect on your Jeton account. If this timeline has elapsed and you still can't access your funds, contact support for assistance.
Depositing money from someone else's card
Jeton doesn't allow users to deposit funds into the wallet using someone else's bank account. They treat this as a fraud attempt and could suspend your account for it. Ensure you make deposits from your accounts.
There are several reasons why your security verification might fail. The quality of the ID provided might be poor, or there could be a difference between the name you registered using and the name on the document. Check the email sent by Jeton to resolve the issue.
Jeton Wallet Alternatives
Jeton is an excellent wallet for cash and crypto transactions. While it leans heavily on cash transfers, it also offers a decent number of options for people new to crypto. Let's compare it to other similar wallets.
Jeton Wallet Vs Circle Wallet
Circle Wallet was launched in 2013 as a peer-to-peer digital currency exchange platform. It's a US-based wallet with headquarters in Boston, Massachusetts. Circle supports thousands of tokens in Ethereum, Bitcoin and Polygon. Over the years, circle has evolved into a provider of the most popular stable coin, USDC, and even introduced another stablecoin, EUROC. Circle is currently more focused on business and institutional clients, and leans more towards crypto services than Jeton wallet. If you're looking for a simple and convenient wallet for cash and basic crypto transactions, Jeton would be a better choice than Circle.
Jeton Wallet Vs Phantom Wallet
Phantom wallet was launched in 2021, and gained a lot of popularity in the Solana ecosystem. It boasts more than 1.8 million users. The main difference between Jeton and Phantom is that Jeton is centralized and regulated while Phantom is a decentralized self-custodial wallet. You can also hold thousands of Solana, Polygon and Ethereum assets on your Phantom Wallet, which is more than what you can do on your Jeton Wallet. Phantom Wallet is therefore more suited for users invested in crypto functions.
Final Thoughts
After completing our objective Jeton Wallet Review, we concluded that it's an excellent e-Wallet when you want an easy way to send and receive both cash and crypto payments around the world. However, it might not be the best choice when you want to venture into swaps, futures and other derivatives because that choice isn't available. Sign up with Jeton for easy and convenient fiat and crypto transfers between countries.
Q&A Session
In this section, Millicent Ngugi will address your inquiries and the most common questions regarding Jeton Wallet and offer guidance to newcomers in the field. Feel free to submit your questions through our contact form, and we will strive to respond within 48 hours.
Yes, Jeton wallet is regulated by the UK FCA and is safe to use for money transfers.
Withdrawal timelines depend on your method. Some will take less than an hour and others up to 5 business days.
The wallet does not charge a withdrawal fee. However, they could charge you if you terminate your account with funds in it and try to withdraw later.
Yes, you can make a direct bank deposit from your Jeton wallet.