Gemini Exchange is a reliable and secure platform for managing digital assets. It offers a user-friendly and trustworthy exchange platform for both seasoned investors and beginners in the cryptocurrency world. The platform's emphasis on security is one of its key advantages, with industry-leading security measures such as offline storage of digital assets and two-factor authentication employed to ensure the safety of funds. Join us in this Gemini Exchange review to learn more.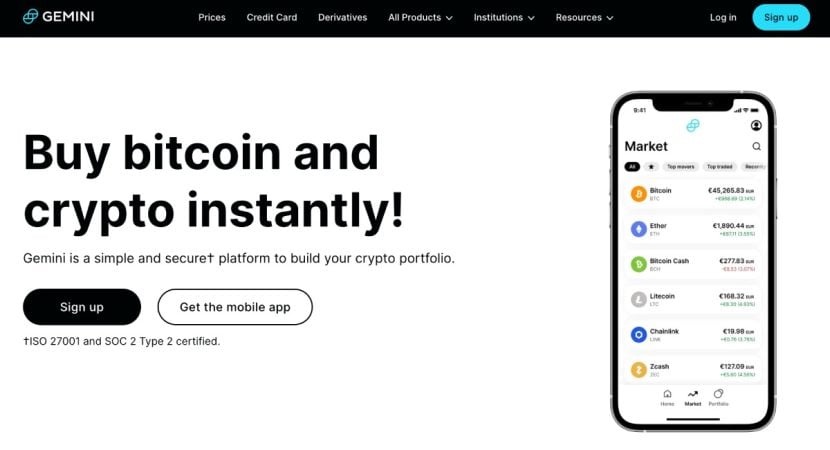 Introduction to Gemini Exchange
Cameron and Tyler Winklevoss founded Gemini, a cryptocurrency exchange, in 2014. It offers a variety of innovative products and services to help individuals and institutions buy, sell, invest, and store cryptocurrencies. The marketplace is well known for its security precautions and permission-based strategy. It is governed by the New York State Department of Financial Services and is the first cryptocurrency exchange and custodian to be SOC 1 Type 2 and SOC 2 Type 2 accredited. Active traders can use Gemini Exchange's trading interface, which offers services such as filling orders, order books, and trading pairs. It also features a mobile app with a wallet for purchasing products with bitcoins. Gemini Exchange supports over 100 cryptocurrencies, including Bitcoin and Ether, as well as over 20 crypto-to-crypto trading pairs. Its primary goal is to provide innovative security solutions that secure the assets of its users. Gemini Exchange is committed to assisting you with your bitcoin and cryptocurrency needs, whether you are an individual or an institution.
Summary Table
Founded In
2014
Native Token
Gemini Dollar
Listed Cryptocurrency
110
Trading Pairs
110
Supported Fiat Currencies
USD, AUD, CAD, EUR, GBP, HKD, SGD
Supported Countries
60+
Minimum Deposit
Variable
Deposit Fees
0
Transaction Fees

Debit Card Transfer- 3.49%
Gemini Custody to Gemini Exchange – $125 USD
Maker fees- 0.20% to 0.00%
Taker fees – 0.40% to 0.03%

Withdrawal Fees
0
Application
Yes
Customer Support
email support, support ticket, FAQ, chatbot
Type of Exchange
Gemini Exchange is a centralized cryptocurrency exchange that offers a range of products. It's available on multiple platforms, both desktop and mobile devices, and provides a user-friendly interface for various operating systems, including MacOS, Linux, Windows, iOS, and Android
Price
You don't need to spend anything to start using Gemini Bitcoin exchange. Signing up is 100% free. The mobile app is also available at zero cost in the iOS App Store and Google Play Store.
Gemini exchange Fees
Deposit and Withdrawal Fees
This Gemini Exchange review established that the platform does not charge fees for deposits or withdrawals of cryptocurrencies.
USD Wire Transfer is free
Debit card transfer incur 3.49% of total purchase amount
Withdrawal transactions to crypto addresses outside of Gemini typically incur a "transaction fee" or "network fee". This fee is not paid to Gemini but to miners or validators, who are responsible for processing the transactions and securing the respective blockchain network.
Transferring crypto from Gemini Custody to Gemini Exchange incurs a fee of $125 USD per withdrawal.
Convenience Fees
Gemini Exchange charges a convenience fee of 3.49% for credit and debit card purchases.
Trades placed through Gemini's website application are charged a convenience fee of 0.5% above the cryptocurrency's current trading price.
Maker and Taker Fees
Gemini utilizes a maker-taker fee model for determining trading fees for all orders. Liquidity-making orders are charged between 0.20% to 0.00% based on the previous 30 days trading volume, while liquidity-taking orders incur 0.40% to 0.03% based on the trading volume within the same period.
Stablecoins have fixed fees of 0.01% taker and 0.00% maker costs.

Gemini Features
Trading Platform: Gemini Exchange provides active traders with a comprehensive trading platform. Users can easily fill orders, access order books, and trade various pairs. Additionally, more experienced traders can take advantage of the advanced trading platform offered by Gemini Exchange.
Gemini Wallet: The mobile app features the Gemini Wallet, providing users with the convenience of making payments for their purchases using their cryptocurrency holdings.
Insurance on Holdings: Gemini Exchange is distinguished from its competitors by a special perk it provides to its customers: insurance on their assets. Gemini customers may be certain that their accounts are protected up to $250,000 by FDIC insurance, the same level of security offered by many traditional financial institutions. However, the insurance doesn't cover unauthorized access to your personal account; it only covers security breaches affecting the company's systems and hot wallet.
Gemini ActiveTrader: Gemini ActiveTrader is a high-end trading platform provided by Gemini. It offers extensive trading capabilities such as advanced charting tools, order types, and trading pairings that may be customized. This feature is intended for active and experienced traders in need of sophisticated tools.
Gemini Mobile App: Gemini offers a mobile application that is compatible with both iOS and Android devices, enabling users to manage their accounts and trade on the go. The application provides a seamless trading experience, allowing users to stay up-to-date with the market and execute trades from any location.
Gemini Earn: Gemini Earn is a useful feature that enables users to earn interest on their cryptocurrency holdings. By lending out their cryptocurrencies to institutional borrowers, users have the opportunity to generate passive income from their crypto assets. This feature provides a safe and reliable way to earn interest on your holdings, and is a great option for those looking to maximize their returns on their investments.
Institutional-grade custody: Gemini provides institutional-grade custody services for digital assets. This means that user funds are securely stored and insured against theft or loss. Gemini's custody solution offers peace of mind for users who want to ensure the safety of their digital assets.
Gemini Clearing: Gemini Clearing is a feature that allows institutional traders to settle trades off-exchange. It provides a centralized clearing and settlement process, reducing counterparty risk and streamlining the trading process for institutional clients.
Number of Cryptocurrencies Supported
While Gemini offers fewer cryptocurrencies than other significant exchanges, around 100 assets are currently available on its platform. Here's a partial list of cryptocurrencies and stablecoins available on Gemini:
Bitcoin (BTC), Ether (ETH), Tether (USDT), Staked ETH (stETH), Cardano (ADA), Shiba Inu (SHIB), Litecoin (LTC), Uniswap (UNI), Stellar (XLM), Filecoin (FIL), Wrapped Filecoin (EFIL), Lido Dao (LDO), Arbitrum (ARB), Frax (FRAX), Immutable X (IMX), ApeCoin (APE), Chiliz (CHZ), Frax Share (FXS), Pepe (PEPE), Compound (COMP), Enjin (ENJ), Helium (HNT), Livepeer (LPT), STEPN (GMT), Ribbon (RBN), Merit Circle (MC), Biconomy (BIC), IoTex (IOT), SushiSwap (SHUSHI), Stargate (STG), AMP (AMP), Kyber Network (KNC), PlayDApp (PLA), Dogelon Mars (ELON), Numeraire (NMR), Alchemy Pay (ACH), Radicle (RAD), Bancor (BNT), Artificial Liquid Intelligence (ALI), Galxe (GAL), Euler Finance (EUL), Metis (MET), Loom (LOOM), Keep Network (KEEP), Zebec Protocol (ZBC), Maple (MPL), Cryptocurrency Moons (MOON), Orchid (OXT), TrueFi (TRU), tBTC (tBTC), Refereum (RFR), Ethernity Chain (ERN), Keep3rV1 (KP3R), Orca (ORCA), Goldfinch (GFI), Bonfida (FIDA), DeFi Pulse Index (DPI), Somnium Space (CUBE), Samoyedcoin (SAMO), Cryptex (CTX), REVV (REVV), Saber (SBR), Total Crypto Market Cap (TCA), Wrapped ETH (wETH), Moss Carbon Credit (MCO2),
Earn (staking/rewards)
Gemini Exchange offers staking services to cryptocurrency holders in order for them to earn incentives. Users may secure blockchain networks and earn incentives on their cryptocurrency assets by engaging in Gemini Staking. When you register a Gemini account, you can buy any amount of cryptocurrency supported by Gemini Staking and immediately transfer it to Gemini Staking to begin earning staking rewards on your holdings. There is no minimum amount of cryptocurrency required to stake on Gemini, and there are no staking transfer or redemption costs. Gemini's fee will be removed from your staking rewards. The quantity of rewards is set by the protocol in question and is proportional to the total amount of cryptocurrency staked on the network. Gemini retrieves accrued rewards once every day and adjusts customer balances as appropriate. Users can transfer their staked digital currencies at any moment, but they will only get rewards up to the point of transfer.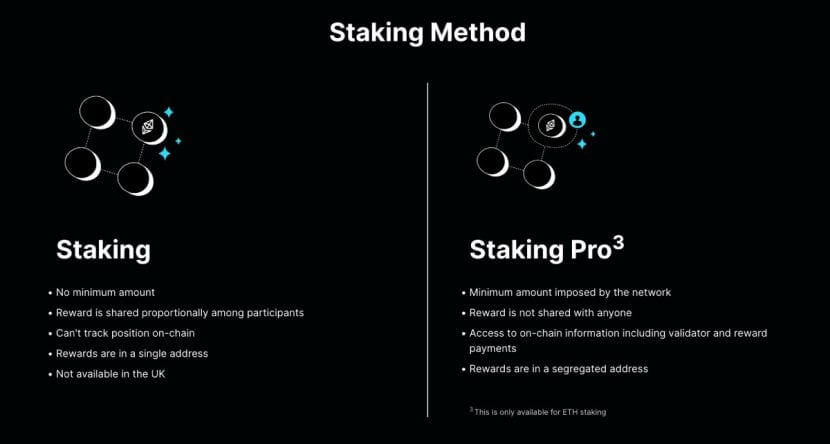 Customer Service
Gemini Exchange provides customer support through various channels to ensure that users can get help when they need it. Here are some of the customer support features provided by Gemini Exchange as of writing this:
Help Center: The Gemini Exchange help Center has been enhanced to provide users with more sophisticated tools to effortlessly onboard, manage their accounts, trade cryptocurrency, and much more. The Help Center has a Status Bar that displays real-time information on the status of the exchange. It also includes a chat function where you can interact with a Bot to quickly resolve your issues.
Support Request Form: Users can submit all Gemini Credit Customer Support inquiries via the support request form on the Gemini Exchange website. The form allows users to select the category that best describes their issue to help get their request to the right team.
Email Support: Gemini Exchange provides support via email.
Hardware Compatible
Gemini supports all major hardware wallets for non-custodial cold storage, including KeepKey, Ledger, and Trezor. The exchange is also compatible with hardware security keys, such as YubiKey, for added protection. This Gemini exchange review found out that the platform has integrated support for wireless hardware security keys into its mobile application, and users can use USB and near-field communication, or NFC, security keys to securely sign into the Gemini Mobile App.
SPV or Full Node
SPV is a method that allows a lightweight client to check if a transaction is on the Bitcoin blockchain without having to download the entire blockchain. On the other hand, Full Nodes are all Bitcoin miners that need a complete copy of the blockchain to mine. Gemini Exchange does not operate as either a Simplified Payment Verification (SPV) or a Full Node. Instead, Gemini Exchange is a centralized cryptocurrency exchange that allows users to buy, sell, and store cryptocurrencies
Who Gemini Exchange Best Suited For?
Gemini Exchange is a user-friendly cryptocurrency exchange that could be a good choice for beginners and experienced traders alike. Here are some of the types of users who may find Gemini Exchange best suited for:
Beginner Crypto Investors: Gemini Exchange offers a simple interface for new crypto investors, making it easy for them to use. The exchange also provides educational resources, such as its blog and Cryptopedia platform, to help beginners broaden their knowledge on different investment topics.
Advanced Traders: Gemini Exchange offers an advanced trading platform, Gemini Active Trader, for more experienced traders. This platform comes with a number of perks, including faster trade execution, multiple order types, auctions for different crypto trading pairs, and more.
Institutional Users: Gemini Exchange is a regulated exchange that is suitable for institutional users interested in trading and storing different cryptocurrencies and tokens.
Cryptocurrency Traders: Gemini Exchange is a good fit for cryptocurrency traders who are interested in peer-to-peer trading, crypto-to-crypto trading, and staking.
Gemini Pros & Cons
Pros:
Excellent customer service with 24/7 support
User-friendly interface
Operates in all U.S. states
Provides educational resources
Offers an advanced trading platform
Offers more than 100 cryptocurrencies
Supports staking services
Cons:
Relatively limited selection of cryptocurrencies
Fees can be higher compared to certain competitors
Occasional slow response times from customer support
Some features are geo-controlled
Services Offered by Gemini Exchange
Gemini Exchange offers a range of services designed to cater to the needs of both individual and institutional cryptocurrency traders. Here is an overview of the services provided by Gemini:
Cryptocurrency Trading: Gemini allows users to buy, sell, and trade over 100 cryptocurrencies, including popular options like Bitcoin and Ethereum.
Staking Services: Gemini Exchange offers staking services that allow users to earn rewards on their cryptocurrency holdings
Fiduciary Custodial Service: The Bitcoin exchange offers a secure custodial service for digital assets with $200 million in insurance coverage for user funds stored in their hot wallet.
Advanced Trading Features: For advanced traders and institutions, the platform provides an advanced trading platform with features such as real-time market data, advanced charting tools, and multiple order types.
Institutional Services: Gemini caters to institutional clients with services like exchange, custody, over-the-counter (OTC) trading, and staking.
How to Create an Account
To create an account with Gemini Exchange, follow these step-by-step instructions:
Go to the Gemini Exchange website by typing "gemini.com" in your web browser's address bar and pressing Enter.
On the homepage, you will find a "Sign Up" button on the upper right side of the header. Click it to start registration.
Gemini offers two types of accounts: personal and Institutional. Choose the account type that best suits your needs and click on the corresponding option.
Fill in your email address and create a strong password for your account. Make sure to use a unique password that includes a combination of letters, numbers, and special characters for security purposes.
Read through Gemini's terms of service and privacy policy. If you agree to them, check the box to indicate your acceptance.
Complete the captcha verification to ensure you are not a robot.
Once you have filled in all the required information and completed the captcha, click on the "Create Account" button. Provide the verification code sent to your phone and proceed.
Gemini will send a verification email to the address you provided. Open your email inbox and locate the email from Gemini. Click on the verification link within the email to confirm your email address.
Your account is now ready. You may complete your profile and enhance your safety by activating 2FA before exploring the various features in your dashboard.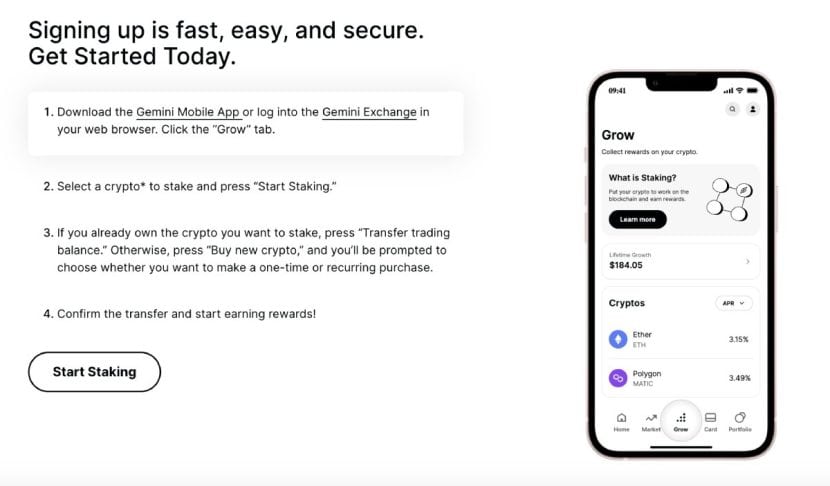 How to Proceed with a Transaction
How to Make a Deposit
Here are the step-by-step instructions on how to make a deposit using Gemini Exchange after creating an account:
Log in to your Gemini Exchange account.
Navigate to the "Deposit" section of the platform.
Select the cryptocurrency or fiat currency you want to deposit.
Choose your deposit method. Gemini Exchange offers several deposit methods, including bank transfer (ACH), wire transfer, and debit card.
Enter the amount you want to deposit.
Follow the instructions provided by Gemini Exchange to complete the deposit process.
Wait for the deposit to be processed, which can take up to 5 business days depending on the deposit method
How to Make a Withdrawal
Here are the step-by-step instructions on how to make a withdrawal using Gemini Exchange:
Log in to your Gemini Exchange account.
Navigate to the "Withdraw" section of the platform.
Select the cryptocurrency or fiat currency you want to withdraw.
Choose your withdrawal method from the choices provided, including bank transfer (ACH), wire transfer, crypto, and debit card.
Enter the amount you want to withdraw.
Enter the destination address for the withdrawal.
Review the withdrawal details, including the amount to be withdrawn, receiving account, and applicable fees.
Confirm the transaction by tapping on "Withdraw" button.
Wait for the withdrawal to be processed.
Payment Methods
Gemini Exchange supports various payment methods for users to deposit and withdraw funds. Here are the payment methods supported by Gemini Exchange:
Bank Transfers: Gemini Exchange supports bank transfers, including wire transfers and ACH transfers. Users can link their bank account for ACH and wire transfers.
Debit Card: Gemini Exchange accepts debit cards for instant purchases. Accepted cards are Visa, MasterCard, and American Express.
Mobile Wallets: The Bitcoin exchange supports Apple Pay and Google Pay to buy popular cryptocurrencies.
Crypto Payments: Gemini supports over 100 digital coins and has partnered with Flexa, a crypto payment processor, to allow users to make payments using cryptocurrencies at retailers such as Nordstrom, Home Depot, and Whole Foods.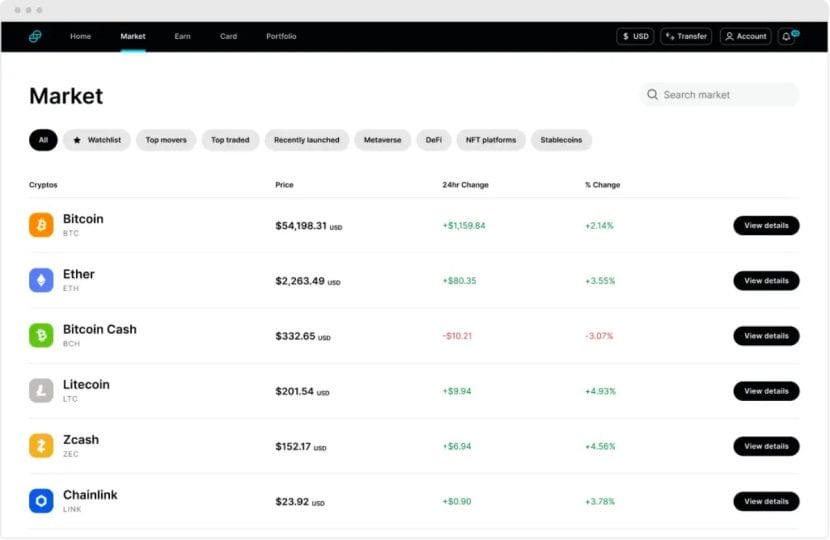 Gemini Exchange-Supported Tokens
Apart from its native coin the Gemini Dollar, this exchange supports a wide range of cryptocurrencies, including:
Major Assets: The marketplace supports native assets such as Bitcoin (BTC) and Ethereum (ETH).
Stablecoins (ERC-20): Gemini supports stablecoins that are based on the Ethereum blockchain (ERC-20), including USD Coin (USDC) and Gemini Dollar (GUSD).
SPL Tokens: Gemini also supports SPL tokens, which are tokens built on the Solana blockchain.
ERC-20 Tokens: In addition to stablecoins, Gemini supports various ERC-20 tokens, including popular ones like Chainlink (LINK), Uniswap (UNI), and Aave (AAVE).
Other Altcoins: The platform supports a wide range of other cryptocurrencies, including Dogecoin (DOGE), and Bitcoin Cash (BCH).
Is Gemini Exchange Safe and Legit?
The New York State Department of Financial Services (NYDFS) has licensed Gemini Exchange to keep customers' digital assets in trust. Through third-party security audits such as SOC2 Type 2, ISO 27001, and annual penetration testing, the company has invested significant resources in being transparent about its safety measures. Gemini has never been hacked, owing to its strong security standards. It is crucial to note, however, that no exchange is totally risk-free, and cryptocurrency investments are inherently volatile and speculative. Before investing, users should exercise caution and conduct their own research.
Security
Gemini Exchange is a cryptocurrency exchange that prioritizes security and offers several features to ensure the safety of its users' assets. Here are some of the security features offered by Gemini Exchange:
Encryption and Authentication: The Bitcoin exchange uses encryption and authentication measures to secure its platform. We found out during this Gemini review that the firm uses Transport Layer Security (TLS) to encrypt all data transmitted between users and the exchange.
Two-Factor Authentication: Gemini Exchange offers two-factor authentication (2FA) to its users to protect their accounts from unauthorized access. Users can set up 2FA by downloading an authenticator app, such as Google Authenticator or Authy, and scanning a QR code provided by Gemini Exchange.
Cold Storage: Gemini Exchange stores the majority of its users' cryptocurrency holdings in cold storage to keep them secure. Cold storage refers to the practice of storing cryptocurrency offline, away from the internet, to prevent hacking attempts. Users can also transfer their coins to a hardware wallet for offline storage.
User Interface
Gemini Exchange has an easy-to-use user interface that is simple and intuitive, making it an excellent alternative for beginners. For more experienced traders, the exchange also has a complex trading interface, Gemini Active Trader. The mobile app features the Gemini Wallet, which allows users to utilize their cryptocurrency holdings to pay for things. Users can also use the exchange's charting tools to examine price movements and make informed trading decisions. Gemini also offers a comprehensive trading platform with a range of educational resources to help users make informed trading decisions and discusses security best practices with its customers to shield them from phishing campaigns and other security dangers.
How to Use Crypto Exchange on Android & iOS
Here is a step-by-step guide on how to use the Gemini Exchange on both Android and iOS platforms:
Download the Gemini Exchange app from the Google Play Store or Apple App Store.
Create an account by providing your personal information.
Verify your account, your email, and phone number.
Fund your account by linking your bank account, using a debit card, or using cryptocurrencies.
Select the cryptocurrency you want to buy or sell from the Market page.
Choose whether you want to make a single buy or recurring one.
Enter the amount you want to buy or sell.
Review the details of your transaction, including the fees and the total amount.
Confirm the transaction by tapping on the "Buy" or "Sell" button.
Use the Gemini Wallet to store your cryptocurrencies or pay for goods using your crypto holdings.
How to Use Crypto Exchange on Desktop
To use the Gemini crypto exchange on a desktop computer, follow these step-by-step instructions:
Open your preferred web browser and go to the Gemini Exchange website.
Click on the aqua "Sign up" button and follow the instructions to create a new account.
Once your account is created, log in using your registered email address and password.
To start trading, you need to deposit funds into your Gemini account. Navigate to the payment section and select the option to deposit funds, then follow the on-screen instructions to complete the deposit.
Once your funds are deposited, you can access the trading interface. You will find a variety of trading tools and features to enhance your trading experience.
Gemini supports various order types, including limit orders and market orders. Select the cryptocurrency you want to trade and choose the appropriate order type.
After placing an order, you can monitor your trades in the "Order History" or "Trade History" section.
If you want to withdraw funds from your Gemini account, navigate to the payment page, select your preferred withdrawal method, and follow the instructions to complete the process.
Remember to familiarize yourself with Gemini's terms and conditions, fees, and security measures to ensure a safe and smooth trading experience.
Backup & Restore
Backing up and restoring your Gemini Exchange account is an important process to protect against data loss. Here are the steps to follow for both backup and restore procedures:
Backup:
Log in to your Gemini Exchange account.
Click on your profile icon and select "Settings."
Click on "Security" and select "Backup Phrase."
Write down the 24-word backup phrase provided.
Store the backup phrase in a secure location, such as a password manager or a physical safe.
Restore:
Go to the Gemini Exchange website and click on "Sign In."
Click on "Forgot Password."
Enter your email address and click on "Reset Password."
Enter your 24-word backup phrase.
Follow the instructions provided by Gemini Exchange to complete the restore process.
Troubleshooting
Here's a troubleshooting guide to help you resolve common problems and navigate potential challenges on Gemini:
Login Issues:
Double-check your email and password for accuracy.
If you forgot your password, click on the "Forgot Password" link and follow the instructions to reset it.
Clear your browser cache and cookies, then try logging in again.
If the issue persists, contact Gemini Customer Support for further assistance.
Account Verification:
Ensure you have provided all the necessary documents for account verification.
Check your email for any verification requests from Gemini.
If your account is still not verified, contact Gemini Customer Support for help.
Deposits and Withdrawals:
Ensure you have sufficient funds in your linked bank account or cryptocurrency wallet for deposits and withdrawals.
Verify that you are using the correct deposit or withdrawal address or bank account details.
Check for any maintenance notices or temporary issues on the Gemini website.
If the problem persists, reach out to Gemini Customer Support for assistance.
Trading Issues:
Make sure you have enough funds available in your account to place orders.
Check for any temporary trading halts or maintenance periods on the Gemini platform.
Verify that you are placing orders within the specified trading limits.
If you encounter errors while placing orders, try refreshing the page or using a different browser.
Contact Gemini Customer Support if the issue persists or if you have any questions regarding specific trades.
Security and Account Safety:
Enable two-factor authentication (2FA) for added security.
Regularly update your password and ensure it is strong and unique.
Be cautious of phishing attempts and only access Gemini through the official website or mobile app.
If you suspect any unauthorized activity or security breaches, immediately contact Gemini Customer Support.
Technical Issues:
If you experience slow loading times or site errors, check your internet connection and try accessing Gemini from a different device or network.
Update your browser to the latest version and disable any browser extensions that may interfere with the website's functionality.
Clear your browser cache and cookies, then restart your browser.
If the problem persists, contact Gemini Customer Support and provide them with details about the issue you are facing.
Gemini Customer Support is dedicated to helping you with any problems you may encounter while using the platform. It's important to reach out to them if you need assistance. To ensure a quick resolution, make sure to provide them with detailed information about the issue you are facing. This will help them understand and address the problem more efficiently.
Gemini Exchange Alternatives
Gemini Exchange Vs Coinbase Exchange
Gemini Exchange and Coinbase are two of the most popular cryptocurrency exchanges available today. The two decentralized exchanges are reputable and secure, offering user-friendly platforms and a range of cryptocurrencies for users to buy, sell, and trade. They are both licensed in the US and also serve users from other parts of the world. Gemini is available in 61 countries and 50 states, while Coinbase is available in 100 countries and 49 states. While both are user-friendly, the latter offers a better and smoother experience, making it the best fit for beginners. In terms of fees, Gemini stands out with free deposits and withdrawals unlike its counterpart, that charges up to 3%. Coinbase, however, lists over 170 cryptos compared to only about 100 on the Gemini exchange. Both sites are safe, legit and reliable.
Gemini Exchange Vs Binance Exchange
Binance is the world's largest crypto exchange by volume, with a 24 hour volume exceeding $ 5 billion as of writing this. It serves clients from over 100 nations and boasts about 30 million active users. Gemini, on the other hand, only records an average daily volume of $19.8 from its 500,000 active users. It has about 100 digital coins compared to Binance's over 600 cryptocurrencies. Both exchanges have convenient deposit and withdrawal methods and offer a mobile app, digital wallet, and interest accounts. They both emply SSL encryption and offer 2FA to enhance user safety.
Final Thoughts
Gemini Exchange is a reliable and secure cryptocurrency exchange that allows users to buy, sell, and trade various cryptocurrencies. It is registered with the New York State Department of Financial Services (NYDFS) and offers enhanced security measures such as two-factor authentication and cold storage. Experienced traders can use the advanced trading platform, Gemini Active Trader, which is free to set up and provides faster transaction execution, additional order types, and auctions for different crypto trading pairs. The exchange also provides educational resources through its Cryptopedia platform and blog to help users expand their knowledge on various investment themes. If you are searching for a safe and straightforward platform to manage your cryptocurrencies, Gemini Exchange is the perfect choice. Join the many satisfied clients who rely on Gemini Exchange for their bitcoin needs and start your cryptocurrency journey with confidence.
Q&A Session
In this section, Eugene Abunagna will address your inquiries and the most common questions regarding Gemini Crypto Exchange and offer guidance to newcomers in the field. Feel free to submit your questions through our contact form, and we will strive to respond within 48 hours.