Circle wallet was launched in 2013 by Jeremy Allaire and Sean Neville. It's headquartered in Boston, Massachusetts and fully manages USDC, a stablecoin whose value is pegged to the value of the dollar. Circle wallet allows its users to efficiently carry out the following transactions:
Making cross-chain transactions.
Accessing Stablecoins like USD Coin and Eurocoin from the source.
Getting superior quality reporting on transitions for effortless analysis.
Fortifying your digital security when making transactions.
Making instant settlements.
What started as a peer-to-peer payment technology company is now a fully-fledged digital currency source of the second most popular stable coin in the world. Creating an account with Circle is free, and it's well suited for fintechs, exchanges, corporate wallets and institutional traders. In this Circle Wallet Review, we shall discuss everything about its features, services, fees, supported cryptocurrencies, pros and cons and more. Let's start:
Introduction to Circle Wallet
Circle Wallet is owned and managed by the Global Fintech Company, Circle. They've been in operation for the past decade, and currently grants users access to two stable coins, USDC and EURC straight from the source. The latest development from circle is the programmable wallets. You can get Web3 wallets and embed them to your app within minutes if you're familiar with UX. Here's a detailed summary on Circle.
Type of Wallet

Software/Hot wallet for desktop and mobile

Price

Free

Fees

No fees for deposits and withdrawals
1.5% trading fees

Features

Trade multiple currencies
Deposits and withdrawals
Recurring purchases
Market data and price alerts

Number of Cryptos Supported

1000+ Ethereum, Matic and Avalanche tokens

Earn

Yes

Customer Service

FAQs
Support Portal
Email
Communities

Hardware Compatible

Yes

SPV or Full Node

SPV

Who is it Best-suited For

Fintechs
Exchanges and wallets
Individuals
Corporate wallets
Institutional traders

Pros

Simple and intuitive interface
Very safe for crypto storage and transactions
Supports more than 10 chains
Accepts 13 cryptocurrencies
Low transaction fees
NFTs available

Cons

Risks related to crypto investment
Services Offered by Circle Wallet
Stable coins (USDC, EURC)
When you set up an account with Circle, you gain instant access to two popular stable coins, USDC and EURC. Their reserves for USDC stand at $26.3 billion, all backed by a similar fiat amount in the bank. Their EURC reserves also stand at €46.1 million, also backed by a similar fiat amount. USDC is seen by the crypto industry as the blueprint to follow when creating a stable, regulated and reliable stablecoin, and getting it directly from Circle speeds up your transactions.
You can perform a wide array of transactions when you register an account with Circle. These include: instant cash and crypto settlements across the globe, and round-the-clock transactions. All these can help you fortify your digital security when transacting and get reports on your account activity.
The wallet supports more than 10 chains including Avalanche, Chain, Ethereum, Flow, Algorand, Arbitrum, Hedera, Base, OP Mainnet, Solana, Stellar, Tron and others. Some of the latest updates on the cross-chain transfer service include the availability of USDC on the Polkadot Asset Hub, Near and Noble.
This is a brilliant feature that Circle has recently introduced. If you're a business owner that wants to venture into crypto payments for your business, you can get the Web3 wallets and embed them into your app. This will simplify global transactions for you and also drive deeper customer engagement.
This feature allows businesses to build and scale Web3 applications within a short period.
You can get USDC and Eurocoin from Circle and allocate it to yield. This will earn you APY depending on the length of time you stake and other prevailing market conditions.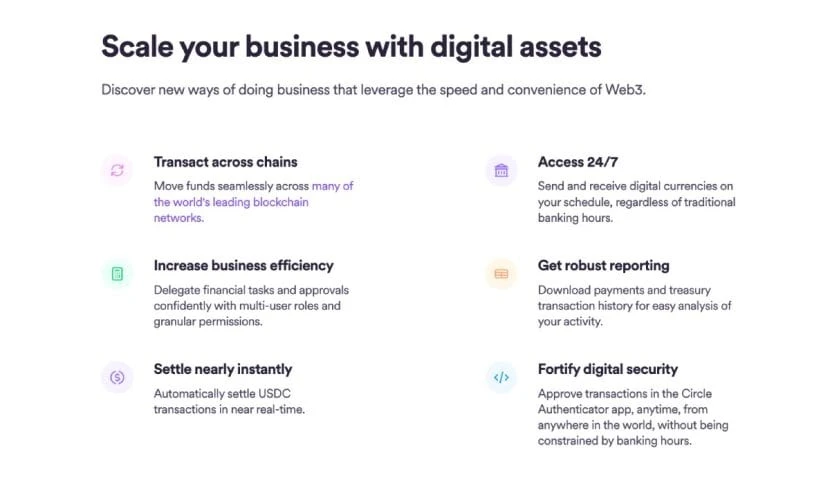 How to Create an Account
You can follow these steps to create an account with circle:
Visit the Circle's website on your desktop computer.
On the top left side of the home page, you'll see a button that says 'Get Started'. Click on it to create your account.
The system will redirect you to a page where you have to choose how you want to use Circle. The options include building Web3 apps and minting USDC.
Once you pick one of the options, a registration form will open up where you provide your names, business name, business email, country and password. Click 'create account', when you fill in the fields.
The system will send a verification email to the address you provided. Once you verify the email, you can start transacting.
How to Proceed with a Transaction
Let's look at how you can transfer money into and out of your account.
How to Make a Deposit
You have to link a card to the Circle account for this option to become available. To do this, visit settings after logging into your account.
Choose cards and banks and search for the name of the bank or institution that issued your card, and the card details
The system will ask for credentials connected to your bank. Provide them and click accept.
You can start using your card once you've completed this process.
How to Make a Withdrawal
Withdrawals are possible when you've linked a bank account to Circle
Visit Circle and log into your account.
Head to settings, and choose banks and cards. Search for the name of the institution you bank with and click on it.
The system will ask that you provide details of the bank. Complete it and click 'Link'
You'll have to wait two days for the system to complete their internal authentication processes before you can transfer money into your bank account.
Circle Wallet Supported Tokens
Circle supports tokens from 3 networks. These include:
Ethereum: All tokens on ETH Mainnet and ETH GOERLI (Testnet) are supported by Circle.
Avalanche: Tokens from AVAX Mainnet and AVAX FUJI (testnet) are supported.
Polygon: MATIC (Mainnet) and MATIC MUMBAI by Testnet are both supported.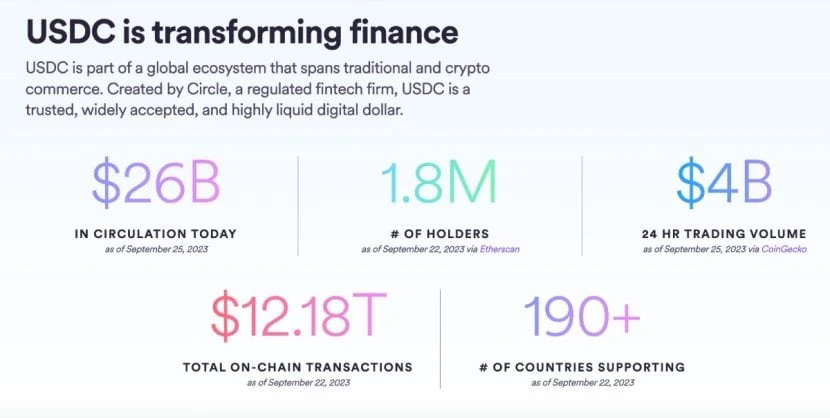 Is Circle Wallet Safe and Legit?
Circle is a regulated fintech firm that has been in operation since 2013. For the length of time they've been operational, they've provided constant liquidity and convenience. They liaise with Silvergate, Silicon Valley Bank and Bank of New York Mellon to back up their USDC reserves with real dollars and maintain stability. Your digital currency will also be covered by an insurance package adding to the level of safety.
Security
Circle employs industry standard security measures to ensure users constantly enjoy excellent security while using circle. These measures include:
Encryption and Authentication: Upon registering an account with Circle, you'll be required to verify your email address and also set up two-factor authentication. This measure keeps your account safe from hackers.
Encryption and Authentication: Circle.com has standard SSL encryption, which ensures that data hackers cannot make sense of any intercepted data.
Cold Storage: The wallet is not custodial, and users can choose to store their currency in hardware wallets safe from the risks of hot wallet storage
User Interface
Our Circle Wallet Review determined that the crypto wallet has one of the simplest to navigate user interfaces in the market. The interface is minimalist, and you can easily locate the link or button to navigate through different site functions. All options are customizable, and you even get the chance to craft web3 wallets suited for your specific purpose.
How to Use Crypto Wallet on Android & iOS
Circle doesn't have an Android or iOS app at the moment. However, the main website is easy to navigate on mobile:
Use the browser on your mobile device to visit the website.
At the bottom of the page, there's a black 'Get started' button, click on it to create an account.
If you're signing in, click on the three lines depicting the drop down menu on the top left. The sign in option is the last one on the drop down list. Click on it.
There are two options, the web3 wallet circle console and the circle account. Choose the one you'd like to sign into and provide your email and password.
The system will initiate the two-factor authentication, after which you can access all the features of the wallet.
How to Use Crypto Wallet on Desktop
Visit the Circle website on your desktop's browser.
Choose the sign in button at the top left of the page. You'll get the web3 wallet and Circle account options. Choose the appropriate one.
l You can provide your email and password at this juncture, and then proceed to the two-factor authentication.
After this, you can easily access all functions of the account and navigate through it.
Backup & Restore
Backup
You get private keys when you create and customize a web3 wallet with Circle. The best way to backup the wallet is copying the password on paper or backing it up to the cloud. With this customization, you can easily retrieve the wallet even after losing access to a device.
Restore
Visit the Circle website and click on the sign in button.
If you can access the backed up password, copy it and use it to sign in.
If not, click on the 'forgot password' button.
The site will ask you to provide the email address and send you a reset link. You can use the link to gain access to your account.
You can reset the password if you forgot it.
Troubleshooting
You'll encounter a few of the following issues with your circle wallet.
Money Stuck in the Circle Account
As of August,2019, Circle terminated the Circle Pay product that enabled users to send and receive fiat money. All users were notified to withdraw their funds. If you still have funds in the system, you can contact Circle through the help center and get help accessing the funds.
Changed The Device and Cannot Access Your Account
Circle will naturally raise a red flag if you try to log in from a new device. However, you can access the help center and fill out the form. Provide your government issued ID to regain access to your account and funds.
Circle Wallet Alternatives
Circle Wallet Vs Phantom Wallet
Phantom wallet is a hot wallet that is very popular within the Solana ecosystem. It has over three million users and most praise it for being user-friendly and secure. You can use Phantom to collect NFTs, Manage Crypto assets from different blockchains and interact with decentralized applications in the Solana network. The main difference between Circle and Phantom is that Circle is currently more of a B2B solution provider while Phantom deals with individual consumers. Also, Circle offers users the chance to build wallets while Phantom doesn't.
Circle Wallet Vs Trust Wallet
Trust wallet was launched in 2017, 4 years after Circle. The developers had a vision for a wallet to transact ETH and ERC 20 tokens. Unlike Circle wallet, Trust wallet solves consumer problems like storing their cryptocurrency private keys, allowing them to stake their crypto and also giving them access to decentralized applications. Trust wallet has 60 million users, making it more popular than Circle. However, it doesn't have the type of business solutions you find on Circle.
Final Thoughts
Our Circle Wallet review determined that the service provider has evolved over the years, transitioning from a crypto wallet into a provider of digital currency solutions for businesses. You can create an account if you need access to Circle USDC and EURC, or want to develop web 3 apps. It's worth considering if you're creating solutions based on the Ethereum, Avalanche and Polygon Blockchains.
Q&A Session
In this section Millicent Ngugi will address your inquiries and the most common questions regarding Circle Wallet and offer guidance to newcomers in the field. Feel free to submit your questions through our contact form, and we will strive to respond within 48 hours.
No, our Circle's wallet review revealed that at the moment you cannot send or receive Bitcoin on Circle.
Yes, it's regulated by the Financial Crimes Enforcement Network, and also goes through regular audits to maintain safety.
Yes, USDC and EURC are fully backed by fiat in the mainstream banks.
Circle started out as a peer-to-peer payments technology company and evolved into a management company for USDC and EURC stablecoins.
Circle offers programmable Web3 wallets that allow businesses to integrate digital currency transactions into their apps.